Chicken Marsala Instant Pot or Ninja Foodi style is the perfect dinner everyone in your house will love. Tender meat with a savory mushroom gravy that's to die for.
This chicken marsala Instant Pot recipe is so good! Made with chicken breasts and a homemade gravy with mushrooms, we serve it with rice or mashed potatoes regularly. Find this and more easy Instant Pot recipes here on The Typical Mom blog. (affiliate links present, originally published 9/20)
Instant Pot Chicken Marsala Recipe
Have you ordered this at a restaurant and were blown away? You can make it in your Ninja Foodi or any other brand of pressure cooker you have too… Wonder how to make it yourself at home in a jiffy? We have the answers y'all. Let's get started with the basics.
You can use dark meat or white but cutlets are what is typically used. This can be found at the store or you can thinly slice boneless skinless breasts yourself. This way you can saute to brown the outsides but the insides will stay tender and juicy when done. With this rich mushroom sauce you'll love every bite.
FIRST – You should sign up for my free newsletter so you get new posts emailed to you twice a week and never miss out on anything! Now let's start with a few basic tips:
Make sure to Bookmark our InstaPot recipes page. We add new ones each week!
Then PRINT this —–> Instant Pot cooking times cheat sheet that will help you understand how long meat, vegetables and beans take to cook in your pressure cooker.
For reference, this is the pressure cooker I have (a 6 quart) and use for all recipe creations.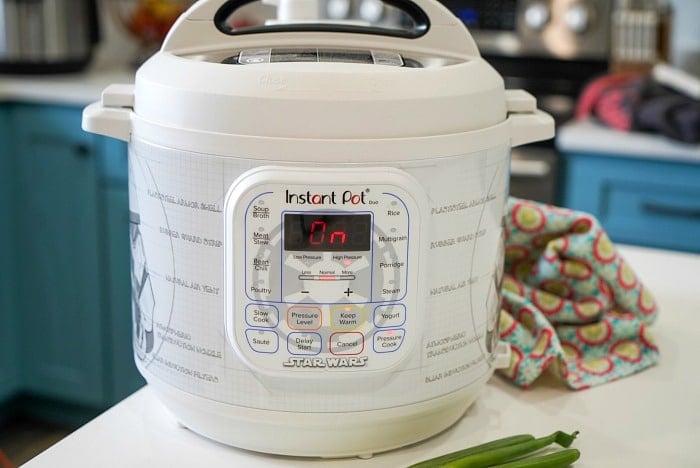 Ninja Foodi Chicken Marsala
Here are a few questions you might have before getting started on this:
What can I use instead of Marsala wine?
We used Marsala wine in this recipe, instead you could omit and use chicken broth for the liquid. You could use dry Madeira wine or a darker sherry such as Oloroso.
What is chicken marsala served with?
We personally like rice but traditionally it is served with wide noodles or another pasta of choice.
Instant Pot Chicken Marsala Frozen Chicken
You could use frozen if they were already sliced thin. Unfortunately you would have to skip the first step of sauteeing and instead just throw them in after that step. Increase the time by just 1 minute, that is it.
What does chicken marsala taste like?
Maybe you have heard of this dish but it is too expensive to order when you go out. No worries, this will taste surprisingly similar. The sauce is slightly sweet, especially when reduced and thickens. Using boneless skinless chicken breasts, it is a tasty meal served alongside white rice or pasta.
You can just enjoy it as is too without a side really if you want to reduce the number of carbs in your meal. To make this you just need a few simple ingredients you see here. Really, chicken thighs could be used as well.
Chicken Marsala Instant Pot
What if you don't have or want to use wine to make this? That is totally okay. Note that the flavor will be different if you substitute in broth instead for sure but will still be a killer dish for sure. The sauce will be a bit thinner as well but could be thickened with a little roux with cornstarch and water whisked together at the end.
Chicken cutlets

buy a few for this and to make air fryer chicken cutlets later

All purpose flour
Butter
Onion
Minced garlic
Cornstarch to thicken sauce
Seasonings like salt and pepper of course
Let's talk chicken for a minute shall we? I do like to save money but sometimes it isn't that much more to buy what you need already done. What I mean is if you can find boneless skinless on sale it may not be much more expensive than with bones. I have found cutlets already done too. I just purchase whatever is reasonably priced.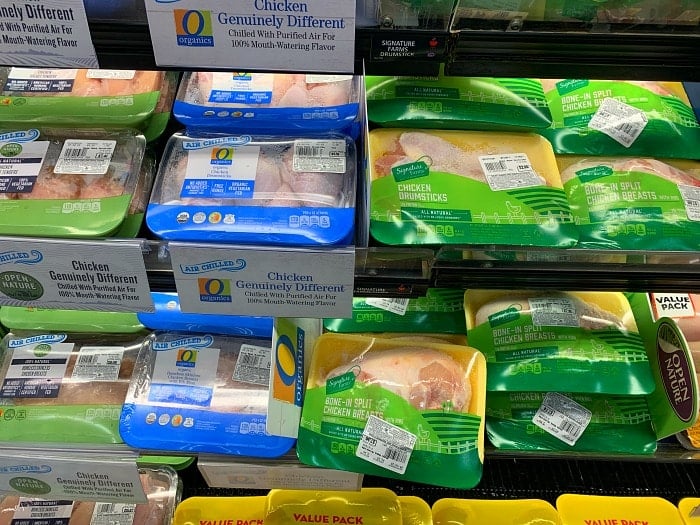 As always you are free to use the type you like. If you just swear by chicken thighs then by all means choose those without bones or skin. This was made with cutlets which can be prepared by yourself or bought as is.
What is a chicken cutlet?
It is simply a boneless skinless chicken breast that has been cut in half (to make it thinner) and pounded to an even thickness. This will make the meat very tender. You can do this yourself or buy them this way for a bit more $.
Once you have completed this step you're going to coat the outside with some flour and seasonings on both sides as you see here.
Instant Pot Chicken Marsala Easy
Here's a quick step by step. There is a printable recipe card at the bottom of this post as well. First you are going to mix seasonings into your shallow plate with flour and coat chicken on both sides.
Set pressure cooker to saute and add some olive oil. Add coated thinly sliced chicken and brown on both sides. Remove the chicken, and scrape off browned bits (means deglazing).
Put in butter, onions, seasonings like Italian seasoning or others of choice and mushrooms. Cook until onions soften. Add wine and cook for 3 more minutes.
Add the chicken back into the pot with chicken broth.
Close lid and steam valve and set to high pressure for an 8 minute cook time followed by a quick release.
Remove chicken and keep warm. Set pot to saute again. Add heavy cream or whisk water and cornstarch until smooth and add that. In 1-2 minutes marsala sauce should be perfect thickness. Serve alongside spaghetti squash low carb "noodles", pasta or rice.
As with any other Instant Pot chicken recipe you can add any and all seasonings you love. Below is just an example of what worked well for us.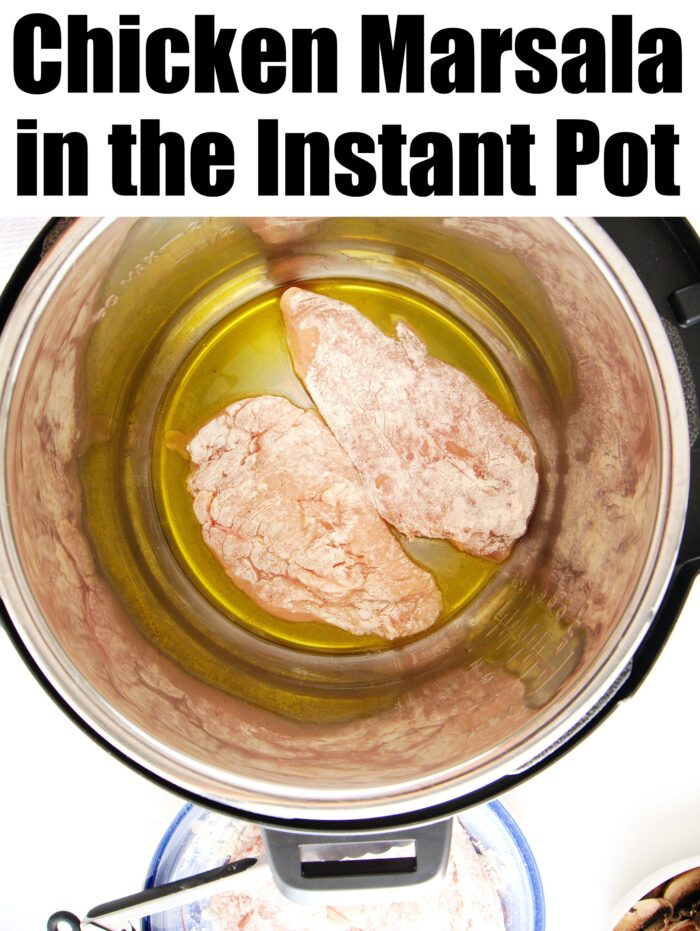 Instant Pot Chicken Cutlets
If you are new to pressure cooking, or sauteeing in your pot you need to understand how to avoid the burn message. The way you do this is to ensure that after you brown meat, you eliminate stuck on food.
I always use wooden spatulas and spoons when cooking in my IP. It is a good idea so that you don't scratch your pot and it's best to get all food off. If there is one piece still there your pot may stop working.
On the screen it will say BURN meaning it is sensing that it is too hot.
Yes you can release the pressure, lift lid, scrape and cook again but then the timing will be off.
It is VERY important to just get in the habit of scraping after cooking ground beef or any type of protein in your pot.
It's quite frustrating if you don't because most likely "fixing" it will change the consistency of the meal you're making.
Easy pressure cooker chicken recipe
If you follow The Typical Mom blog regularly you know we don't make anything complicated. Also, the ingredients can all be found at your local grocery store. If you're in a smaller area you might need to order the wine.
What vegetable goes good with chicken marsala?
Really anything goes with this, that is up to you but here are a few suggestions. A side salad is easy to throw together of course. You can serve this over rice and just be done, but veggies are nice on the side as well.
Personally I like corn on the cob or air fryer vegetables. They can both be made at the same time and will be ready together.
Here are a few other easy chicken recipes you can try after you enjoy this one:
Then give Instant Pot chicken and potatoes a whirl. A one pot meal cooked together makes it an under 30 minute dinner.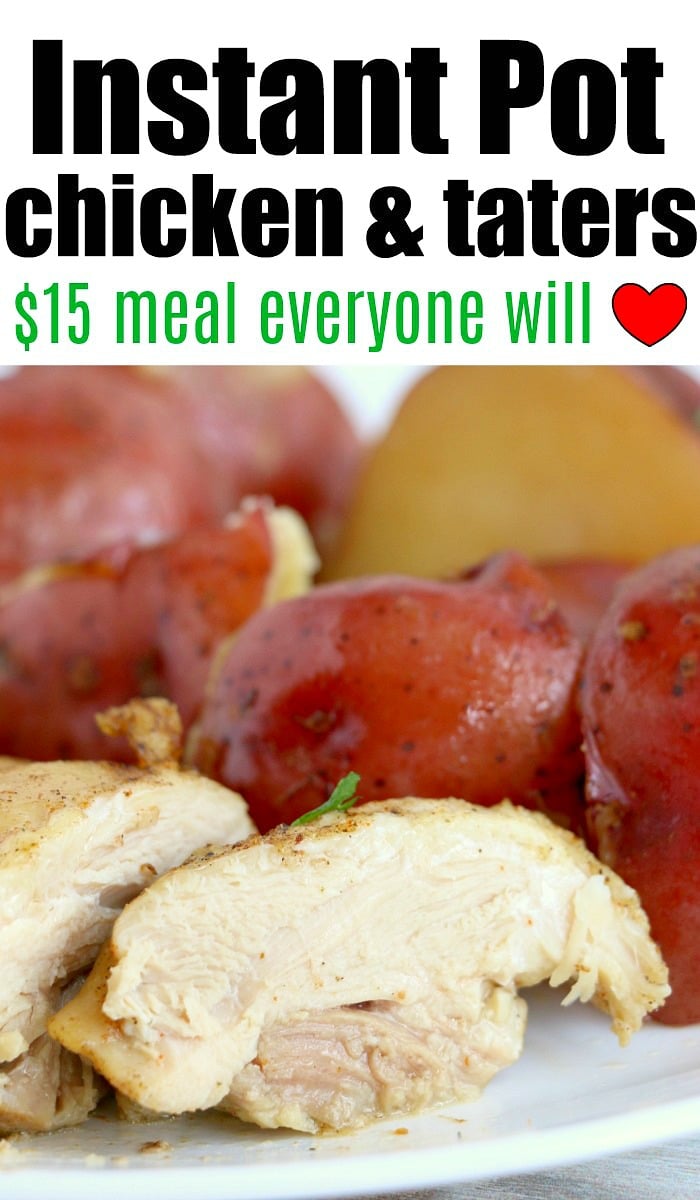 How long is Marsala cooking wine good for?
If you cringe buying something that you may use and will have to throw away because it's going to go back fast, this isn't so. It is good for 4-6 months refrigerated once opened. This gives you plenty of time to make this recipe a few times.
Can you substitute red wine for Marsala?
Yes, this is possible too. If you already have an open bottle then by all means use that. The difference is in the taste of course but if you have a type you really enjoy then likely it will be a favorite cooking with it too.
Want to see a few of my favorite things that I am totally obsessed with?? Take a peek and see how many you might already have…twinsies!
Looking for more easy family recipes and tips? LIKE The Typical Mom Facebook page?
Then sign up for my free newsletter, and follow me on Pinterest! 😉
***** If you LOVED this recipe give it 5 Stars below and let everyone know what you thought about it. 😉
Chicken Marsala Instant Pot
Chicken Marsala Instant Pot style is the perfect dinner everyone in your house will love. Tender meat with a savory mushroom gravy that's to die for.
Instructions
In a bowl or plate combine flour, 1/4 tsp salt and 1/4 tsp pepper. Mix together. Coat each chicken cutlet with flour mixture and set aside.

Once all pieces are coated set pressure cooker to saute and add olive oil. Add cutlets so they're not overlapping so you can lightly brown both sides of each piece. Remove when done and set aside. Once they're all done use 1/4 c the broth to deglaze the pot to get all stuck on pieces off.

** Using frozen chicken cutlets start here ** Add butter on saute function, allow to melt and then add onions. Saute until they're soft, then add mushrooms and remaining salt and pepper, and garlic. Continue to saute for a few minutes just to soften mushrooms.

Add wine and stir cooking for 3 more minutes. Turn off saute function and pour in your broth. Stir contents.

Add browned chicken into the pot now. Close lid and steam valve and cook on high pressure for 8 minutes. Do a quick release.

Remove chicken and keep warm. Set pot to saute again and in a small bowl whisk together 2 tbsp of cornstarch with some of the hot liquid from the pot until it is smooth. Then pour this into your pot once contents are boiling.

Stir, allow to bubble and thicken sauce.

Serve chicken with this mushroom gravy poured on top.
Nutrition Facts
Chicken Marsala Instant Pot
Amount Per Serving (2 oz)
Calories 341
Calories from Fat 117
% Daily Value*
Fat 13g20%
Cholesterol 119mg40%
Sodium 570mg25%
Potassium 728mg21%
Carbohydrates 11g4%
Protein 38g76%
Vitamin A 168IU3%
Vitamin C 6mg7%
Calcium 17mg2%
Iron 1mg6%
* Percent Daily Values are based on a 2000 calorie diet.