This healthy Instant Pot chicken cacciatore recipe is so easy to make and just takes 3 minutes to cook in your pressure cooker. Moist and full of flavor, you just need 3 main ingredients for this low carb dinner idea! Serve over rice it's our favorite comfort food.
This new Instant Pot chicken cacciatore recipe we made tonight and it came out great! I have been creating lots of easy Instant Pot recipes ever since I got mine 3 Christmas' ago and it is the best way to make a full on healthy dinner in less than 20 minutes! (originally published 6/17, affiliate links present)
Really healthy great recipe, using a few ingredients and inexpensive at just under $11 to fed 6 of us.
If you do not have one of these fancy pressure cookers I can't say enough about them!
You can make this in your Crockpot Express or Ninja Foodi too.
I've used chicken thighs and chicken breasts depending on which I find on sale.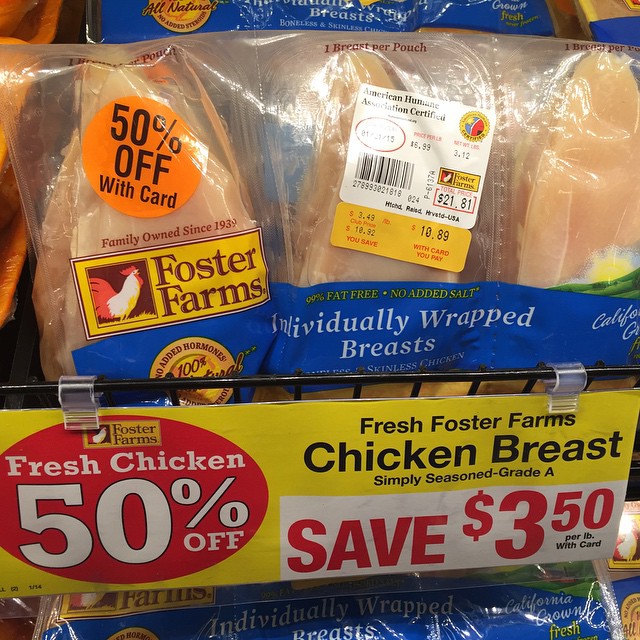 Where did chicken cacciatore come from and why is it called this?
Italy
Name means hunter in Italian. It's said they're the first to eat this dish.
Why I prefer cooking dinner in a pressure cooker
Making Instant Pot chicken recipes makes the cook time fast!
Pressure cooker recipes are packed with flavor as the meat really soaks up the sauce
You can cook veggies, meat, and sauce together like our pressure cooker chicken and rice. Everything comes out tender all at the same time.
I can walk away from the pot and let everything cook on it's own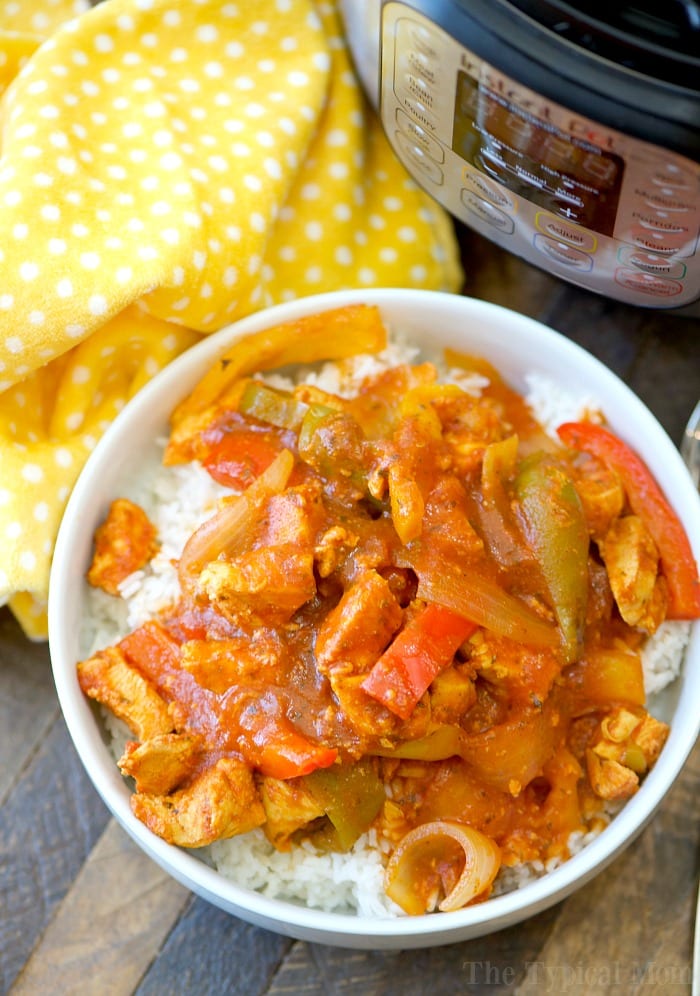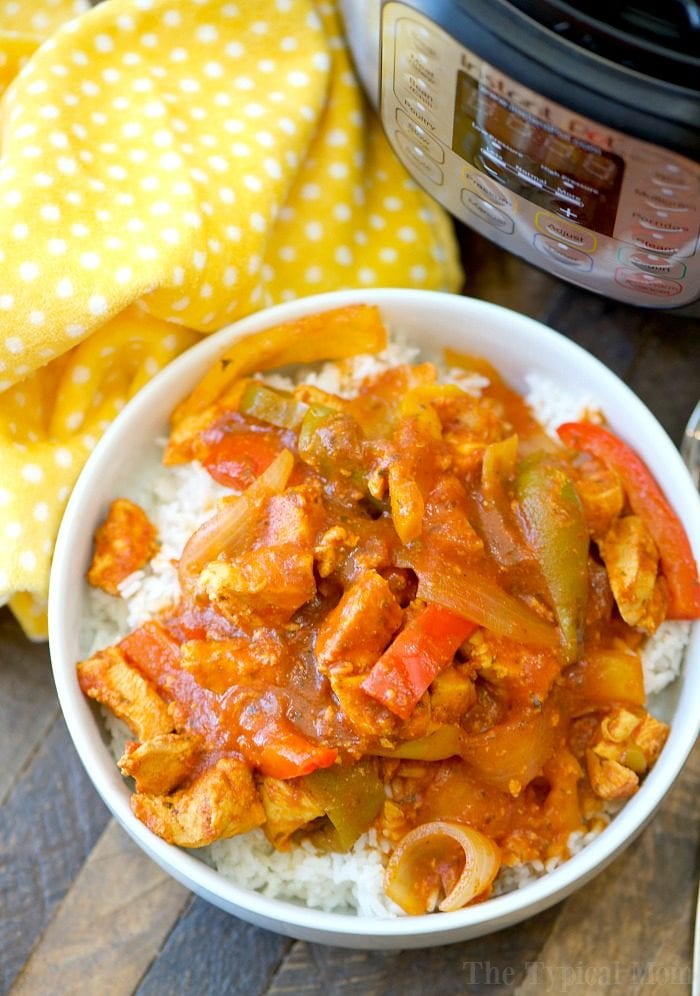 Full of flavor from the spaghetti sauce (could use homemade recipe for spaghetti sauce but I am all about easy), seasoning and the flavor from the bell peppers it's a great dinner idea.
If I can pressure cook a meal we all love in under 30 minutes it's a huge win. This chicken cacciatore in my pressure cooker got a thumbs up from all of us.
This is what you need to make this easy Instant Pot chicken cacciatore recipe
Chicken breasts – boneless, skinless, cut into bite size pcs. (could use chicken thighs if you preferred)
Onion
Bell peppers
Chili powder
Garlic salt
Spaghetti sauce – we like this one

Can use tomato sauce, Italian seasoning and diced tomatoes instead (to total 24 oz.)

Quartered mushrooms, red pepper flakes & Kalamata olives are optional
What does Hunter style mean?
It is just a term used to describe this dish which is sometimes made with wine. Prepared with tomatoes, onions, mushrooms and herbs it comes from the Italian definition cacciatore which means to hunt.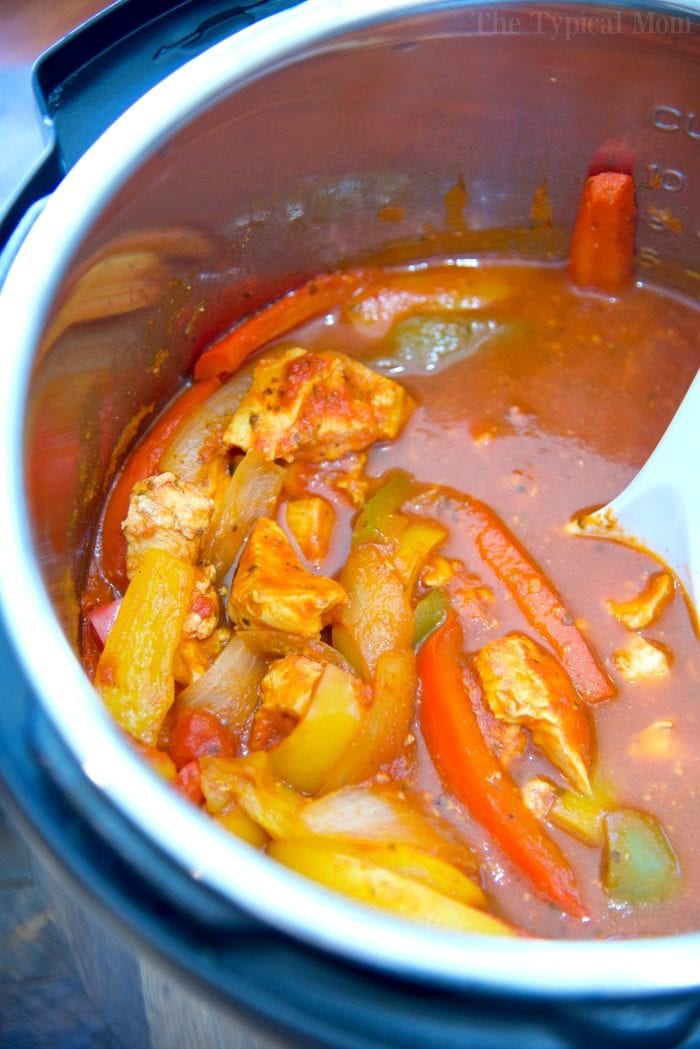 I call it a best recipe win when all of us like it, it's easy to prepare, and it costs under $20 to feed all of us.
This checked all those boxes, plus I had enough for lunch the next day. You can slice the onions and bell peppers thin if you want them to be soft when it is done.
I like them a bit firmer so I cut them a bit thicker before throwing them in, either way it's great.
Looking for more easy Instant Pot chicken recipes?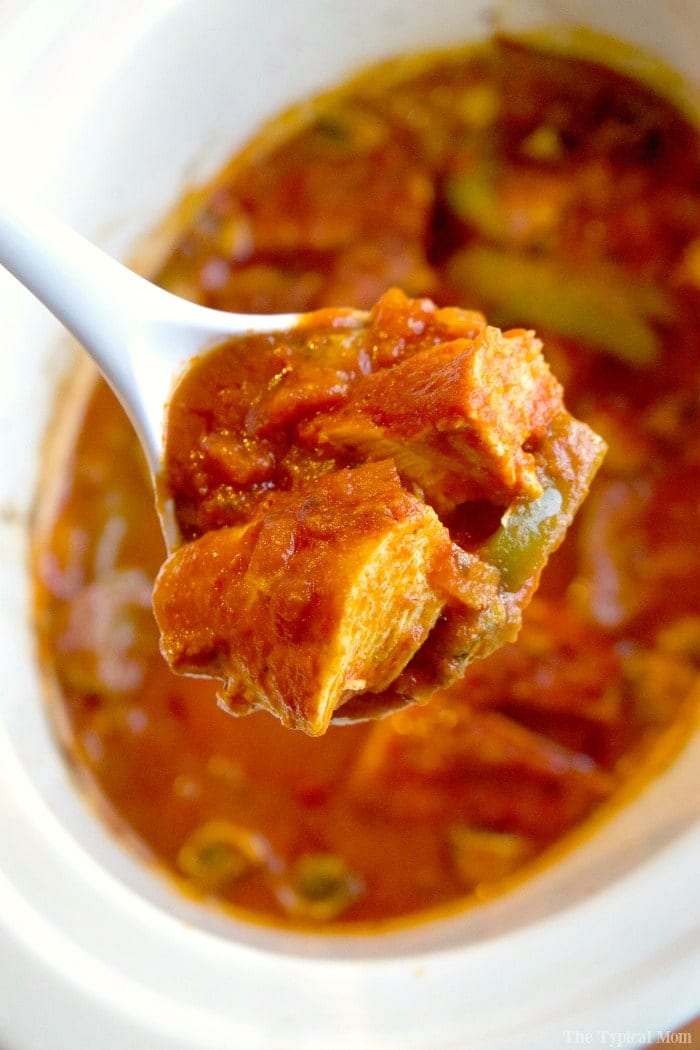 What do you serve chicken cacciatore over?
You could add chicken to a plate as is for a low carb dinner
Or make this easy Instant Pot white rice and serve it on top
Over egg noodles works well too
How long does chicken cacciatore last in the fridge?
Usually 3-4 days is the general rule if stored in an air tight plastic container or freezer bag.

Here's a video showing you how we make it at home:
Note: Don't forget to dice before you add the chicken to the pot. Bite size pieces are best so they cook evenly and come out tender.
If you'd like to season the chicken with any additional herbs and black pepper / salt at this time feel free.
After you lock the lid and timing is done, allow pot to naturally release steam for 2 minutes. Then quick release pressure release to maintain juicy meat.
For more easy recipes, tips and free printables please LIKE The Typical Mom on Facebook and follow me on Pinterest! You can also sign up for my free weekly newsletter which is packed with goodies I know you'll love. 😉
Here's the printable pressure cooker chicken cacciatore recipe to follow. Let us know what you think!!
Instant Pot Chicken Cacciatore Recipe
This healthy Instant Pot chicken cacciatore recipe is so easy to make and just takes 3 minutes to cook in your pressure cooker. Moist and full of flavor, you just need 3 ingredients for this low card dinner idea! Serve it over rice and it's one of my kids' favorite meals. Cheap and healthy is a total score!

Instructions
Pour half jar of spaghetti sauce on bottom of pot. Cube chicken into small bite size pieces and add into your Instant Pot.

Pour rest of spaghetti sauce over that. Add 1/2 c. water into your spaghetti sauce jar, put on lid and shake to get remaining sauce out of jar. Pour this liquid on top of chicken.

Cut bell peppers and onion into strips (thicker if you want them firmer when done, thinner if you want them really soft). Add into your pressure cooker.

Sprinkle your chili powder, garlic salt, and any other seasonings you like over that.

Set your Instant Pot to manual, pressure, high, for 3 minutes.

Allow to naturally release steam for 2 minutes, then quick release, lift lid carefully and serve over rice!

(as always, check chicken when done to make sure it is thoroughly cooked thru, 3 min. is plenty of time if cut into bite size pcs. initially)
Nutrition Facts
Instant Pot Chicken Cacciatore Recipe
Amount Per Serving (8 oz)
Calories 135
Calories from Fat 18
% Daily Value*
Fat 2g3%
Cholesterol 48mg16%
Sodium 1075mg47%
Potassium 792mg23%
Carbohydrates 10g3%
Protein 18g36%
Vitamin A 2445IU49%
Vitamin C 85.5mg104%
Calcium 25mg3%
Iron 1.7mg9%
* Percent Daily Values are based on a 2000 calorie diet.