This white bean chicken chili Instant Pot recipe is great year round. Using fresh or shredded rotisserie leftover meat, it's a hearty healthy one pot meal.
Our very first IP recipe was this Instant Pot chili. Now we're tweaking it to make a variety of choices!
Years ago when I first got my multi function pot I made a batch of Instant Pot white chicken chili. That was fabulous but I also love my 5 ingredient Instant Pot chili so this is kinda' a cross between the two.
It is super versatile because whether you have boneless skinless breasts you want to use or have leftover chicken, it comes out great either way. Heck, if you had pulled pork you needed to use, that would be great too.
Instant Pot White Bean Chicken Chili
The type of beans are pretty versatile as well, I use what I have on hand. White beans are called for but if you wanted to double up on the kidney then have at it.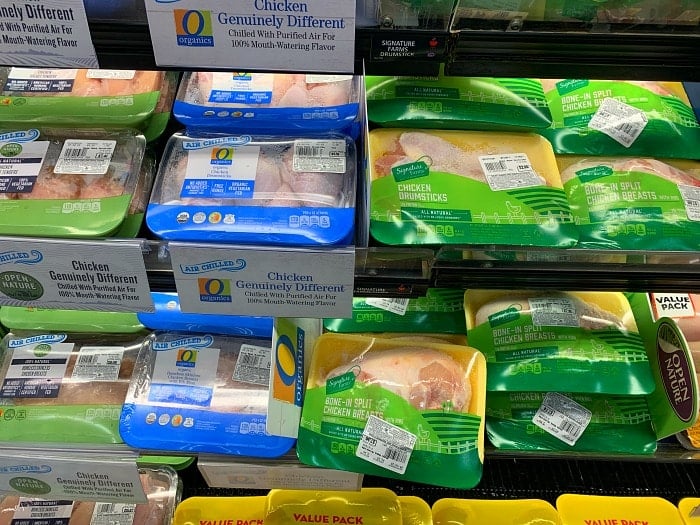 As you can see, other than 2 items, this is a great pantry item recipe! If you're looking for a really cheap Instant Pot recipe to stretch your budget, this is a great one.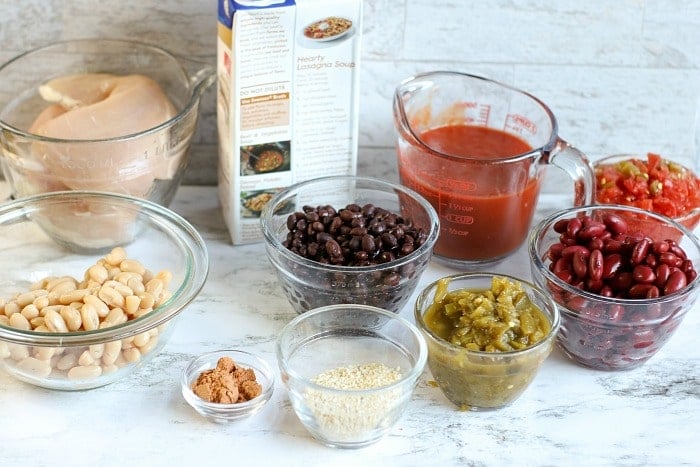 We have made Crockpot white chicken chili too but this way is much faster. Here are a few questions you might be asking yourself before getting started.
If you want chicken chili no beans you can of course do that too. Using dry beans in Instant Pot, no problem! We have instructions for that method too. It takes longer but some prefer super homemade and fresh to canned.
We used a 13 bean mixture for this pressure cooker chili with dry beans recipe here.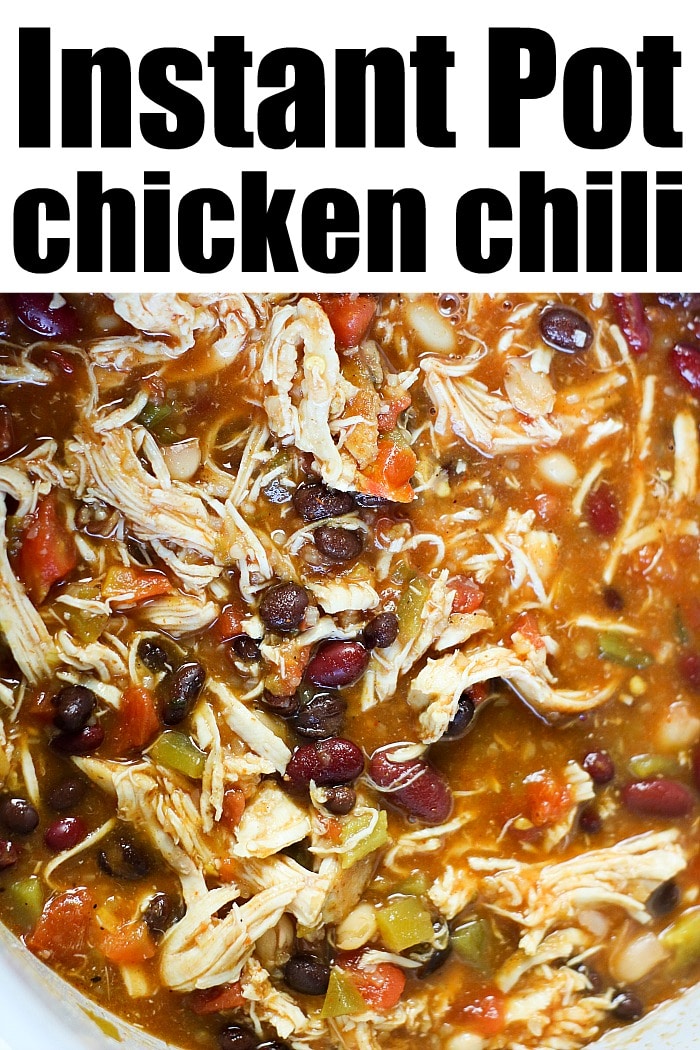 Add what you like and omit what isn't your favorite. You could load it with vegetables too if you wanted or make it completely vegetarian. It is just a great base to make to your liking. We love this recipe for that very reason.
With a really quick cooking time your white chicken chili recipe will be done a lot faster than in a slow cooker.
I almost always make this with leftover rotisserie shredded chicken, or our Instant Pot chicken and rice is a close second.
Done cooking in about 15 minutes it's not only fast but healthy and super filling too.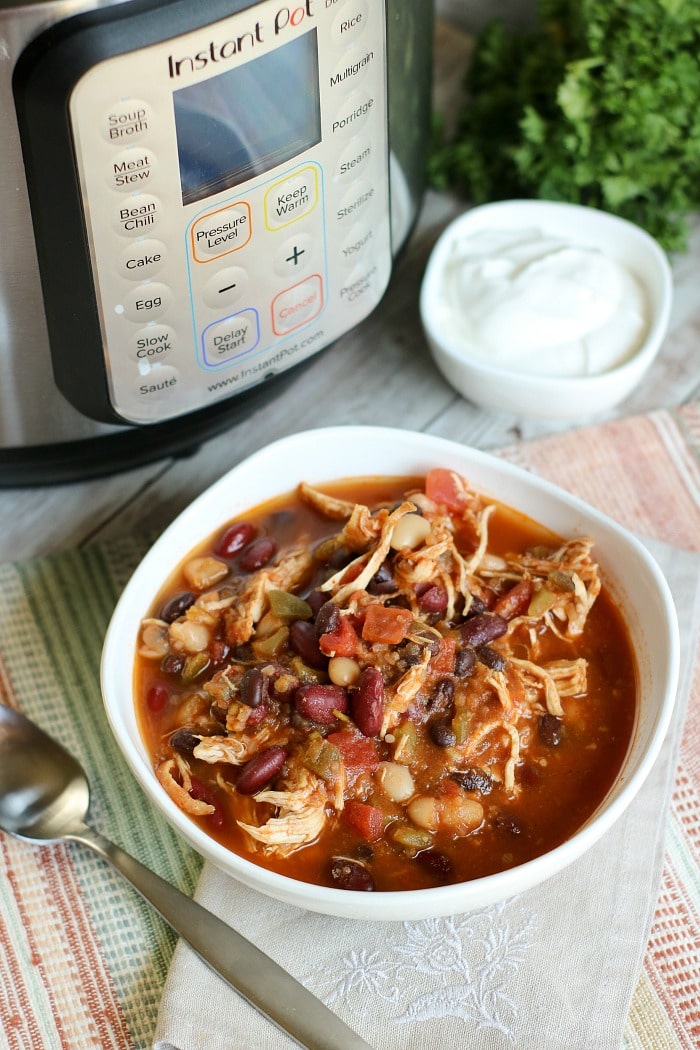 Top with things like avocado slices, green chilies, or we love shredded cheddar cheese!! What else should you make next?
We have a bunch of easy Instant Pot chicken recipes to choose from, or:
Want a creamier version of this? Try our Instant Pot white chicken chili recipe too.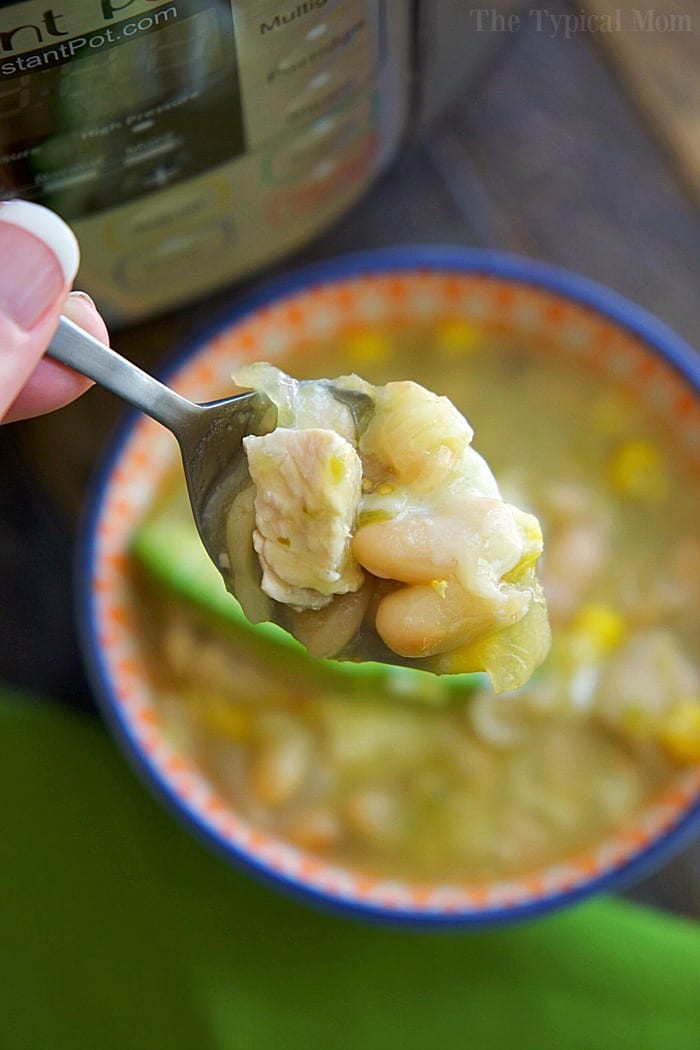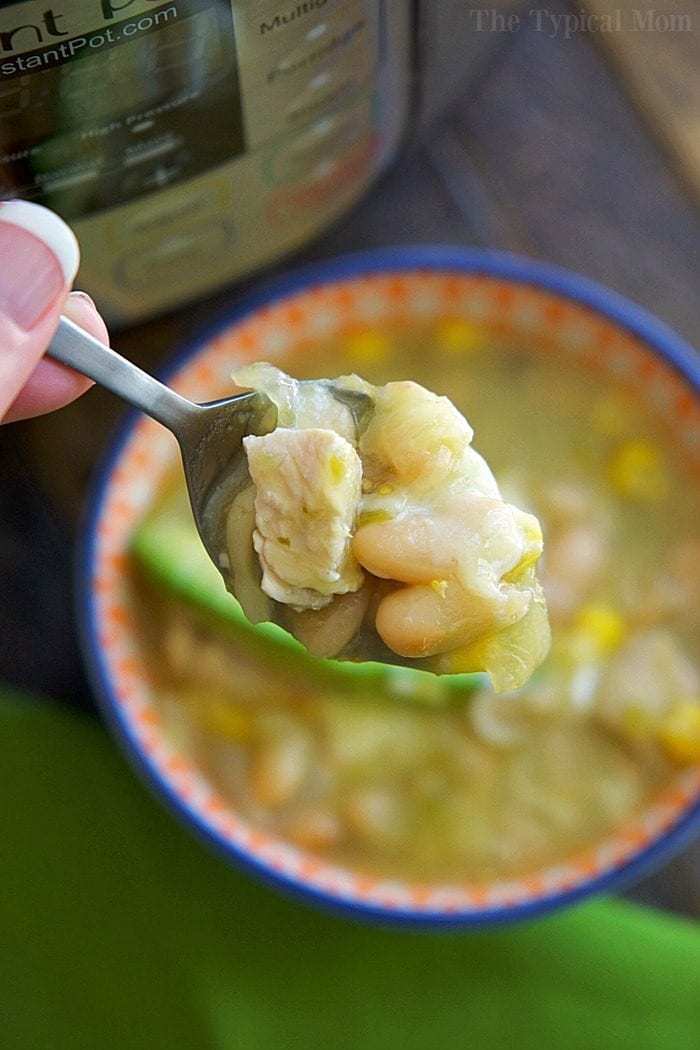 How long can you leave cooked chili out?
It is recommended that once you're done cooking it you store it and put it in your fridge within an hour or so. I like to break it up into individual airtight containers so you can reheat easier the next day.
Does chili freeze well?
It does!! As long as you put it into freezer bags or storage containers free from air it can last as long as 6 months. Allow it to defrost before reheating for best results. Microwave in 30 second increments stirring in between times.
Do you let chili cool before freezing?
Whether you want to put it in the fridge or freezer it should always come to room temperature first. This will prevent bacteria from growing inside as rapidly.