This white bean chicken chili Instant Pot recipe is great year round. Using fresh or shredded rotisserie leftover meat, it's a hearty healthy one pot meal. If you loved our creamy Instant Pot white chicken chili you'll love this tomato based choice too.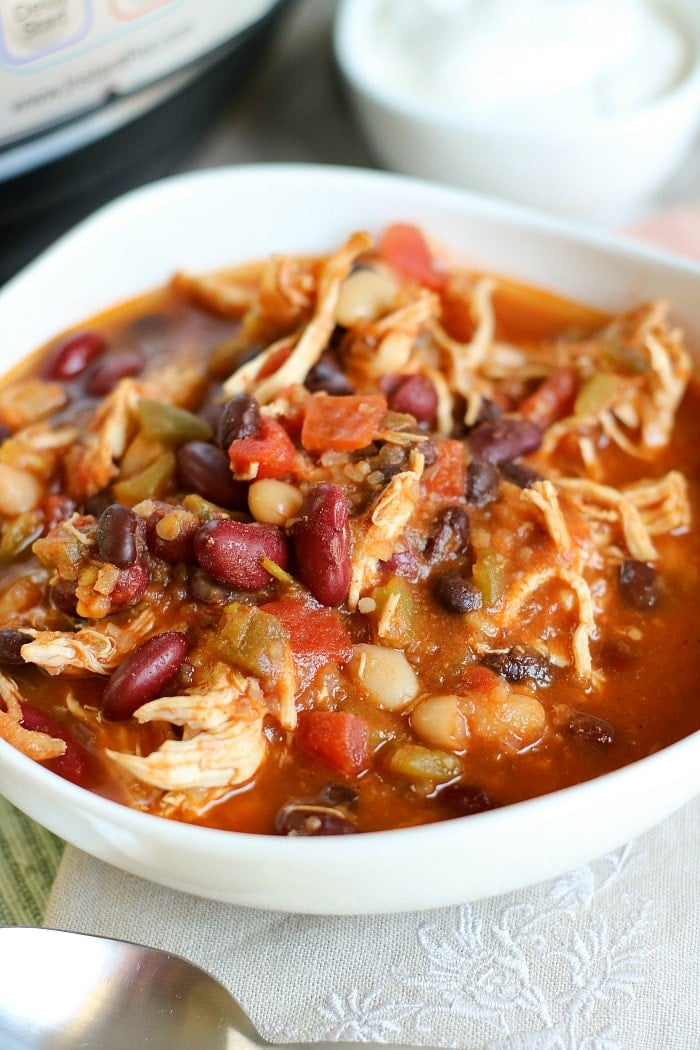 Instant Pot white bean chicken chili is great if you have some leftovers + a couple canned ingredients. Super cheap to make and even the kids will clean their bowl with this easy Instant Pot recipe. (affiliate links present, originally published 10/20)
Instant Pot White Chicken Chili with Rotisserie Chicken
Our very first IP recipe was this Instant Pot chili. Now we're tweaking it to make a variety of choices! If you really just love poultry more than bee we get it. My kids have always kinda' been the same way. You don't have to have fresh meat though to make this goodness, it is very versatile.
It is great made in any brand of pot too. I have a few of them because I want to always make sure the timing is the same for them all before sharing. If you're looking for an easy Crockpot Express recipe go for it. Same goes for the Ninja Foodi. You will just use the lid not attached and pressure cook button.
FIRST – You should sign up for my free newsletter so you get new posts emailed to you twice a week and never miss out on anything! Now let's start with a few basic tips:
Make sure to Bookmark our InstaPot recipes page. We add new ones each week!
Then PRINT this —–> Instant Pot cooking times cheat sheet that will help you understand how long meat, vegetables and beans take to cook in your pressure cooker.
For reference, this is the pressure cooker I have (a 6 quart) and use for all recipe creations.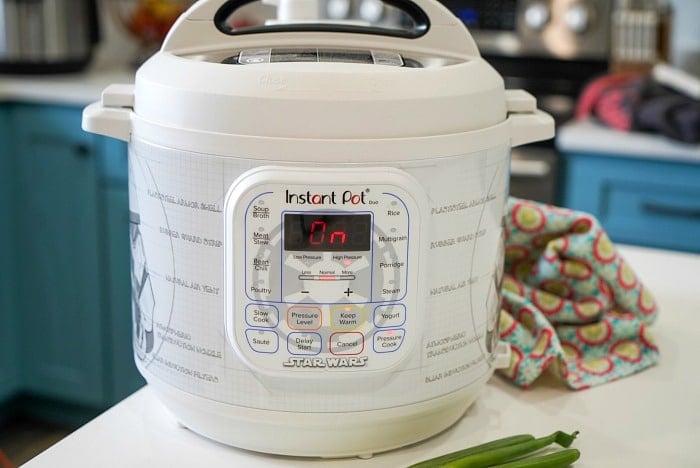 It is super versatile because whether you have boneless skinless breasts you want to use or have leftover chicken, it comes out great either way. Heck, if you had pulled pork you needed to use, that would be great too.
Instant Pot White Bean Chicken Chili
The type of beans are pretty versatile as well, I use what I have on hand. White beans are called for but if you wanted to double up on the kidney then have at it. The difference between the colors is the texture really, and flavor a bit. For a milder version go for Northern beans for sure. You could start from dry but canned beans are way faster.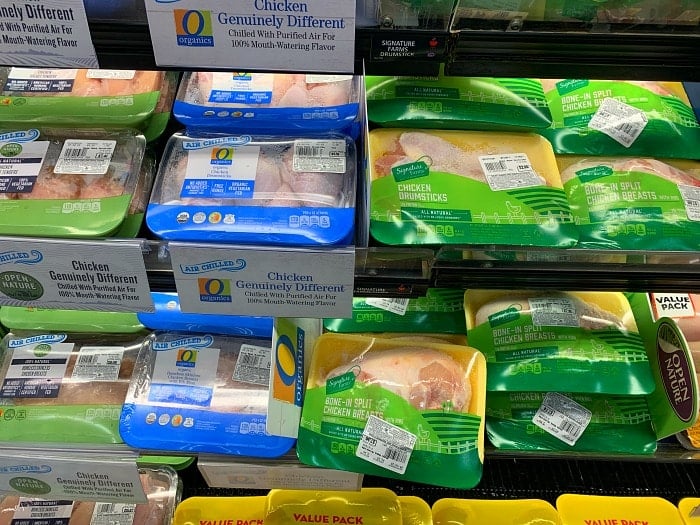 Instant Pot Chicken Chili
As for the meat I always say use what you have on hand. We use leftovers really the most often for this because I hate wasting food. If you do have and want to use fresh you will just need to saute at first for a few minutes with a bit of olive oil. It doesn't need to be cooked thru, just enough for the pink on the outside be be browned.
It will continue cooking thru to the center when all the other ingredients are added. Under high pressure it doesn't need long since it should be diced up into bite size pieces. The rest of the ingredients just need to be warmed up so it's a quick under 30 minutes meal.
Chicken and olive oil (if cooking fresh vs. pre cooked chicken)
Taco seasoning
Chicken stock or broth
Onions are optional but diced fine are a nice add in
Black beans
If making homemade black beans cook on high pressure using this recipe first. Then you can drain them and go for it with these.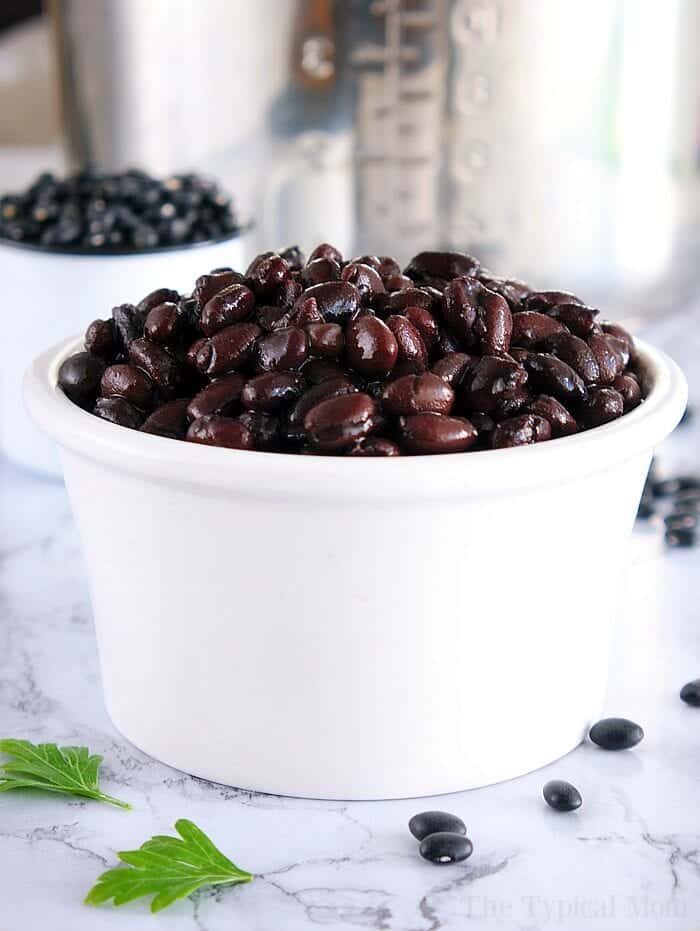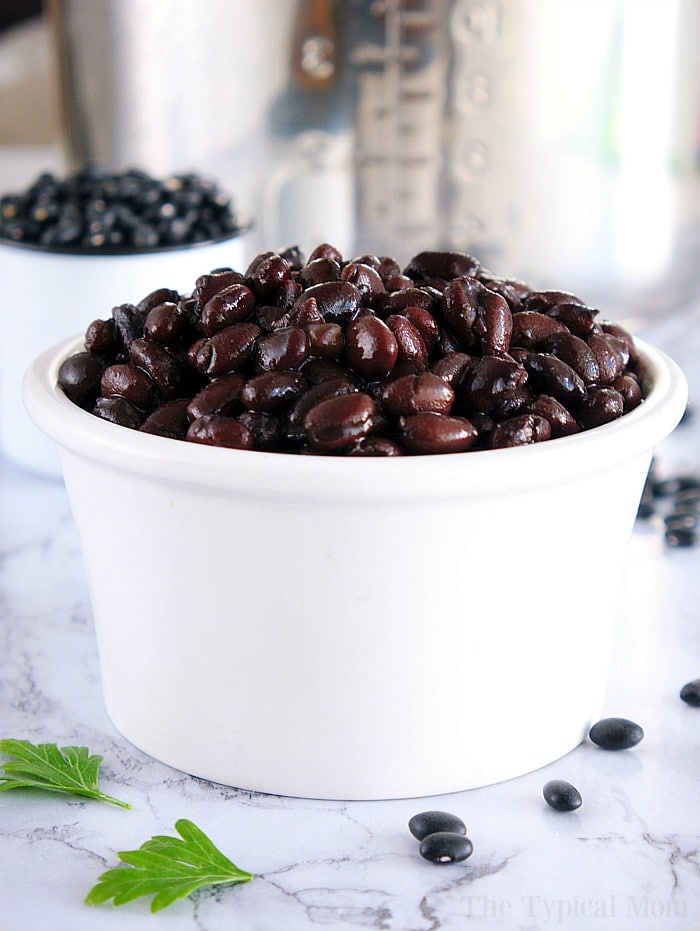 Kidney beans
White beans are also called great northern beans
Can of green chiles
Rotel – we choose mild but there is a hot version too
Tomato sauce
Shredded cheese and sour cream are great on top too
Chili powder can be added for heat
As you can see, other than 2 items, this is a great pantry item recipe! If you're looking for a really cheap Instant Pot recipe to stretch your budget, this is a great one.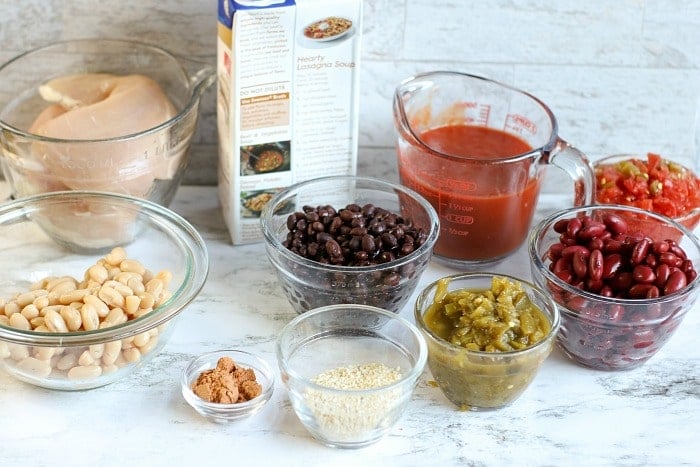 We have made Crockpot white chicken chili too but this way is much faster. Here are a few questions you might be asking yourself before getting started.
What kind of meat is in chili?
That is totally up to you! If you find a recipe you like, just add precooked chicken, ground beef, shredded pork, or even sausage to the mix. Like more than one, then do half and half for a hearty version.
What goes with chicken chili?
I think this is a complete meal in itself for sure. With meat and beans together all you're really missing is a vegetable I guess so you could serve those.
Are kidney beans and chili beans the same thing?
Chili beans that are canned include seasonings where kidney are larger with a tougher skin and plain. You could really use either.
Instant Pot Chicken Chili Dry Beans
If you want chicken chili no beans you can of course do that too. Using dry beans in Instant Pot, no problem! We have instructions for that method too. It takes longer but some prefer super homemade and fresh to canned.
We used a 13 bean mixture for this pressure cooker chili with dry beans recipe here. It offers a lot of variety, texture and flavor with a bunch of different varieties in there. Takes quite a bit more time because you are starting from scratch but so good.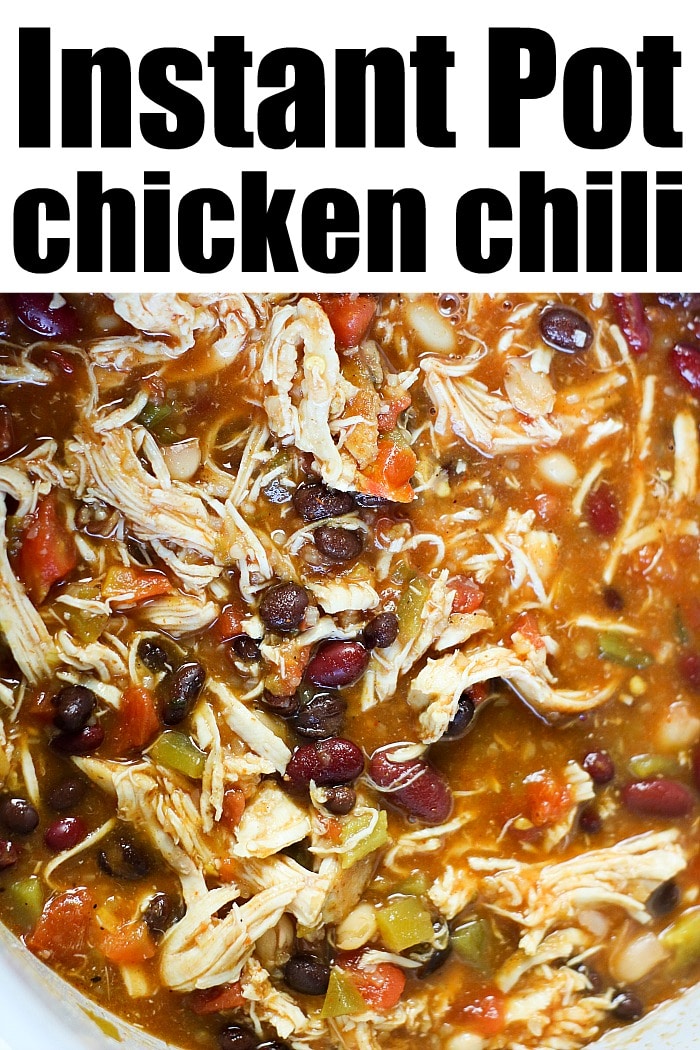 Vegetarian White Bean Chicken Chili
Add what you like and omit what isn't your favorite. You could load it with vegetables too if you wanted or make it completely vegetarian. It is just a great base to make to your liking. We love this recipe for that very reason. With a really quick cooking time your white chicken chili recipe will be done a lot faster than in a slow cooker.
I almost always make this with leftover rotisserie shredded chicken, or our Instant Pot chicken and rice is a close second.
Done cooking in about 15 minutes it's not only fast but healthy and super filling too.
Top with things like avocado slices, green chilies, or we love shredded cheddar cheese!! I mean this is a great one for a buffet table if you have a lot of guests over. Everyone loves a bar of some sort where you can personalize your plate, or bowl. This is a great place to offer dried jalapenos that some people might like to use as a topping.
When submerged and stirred in with everything else they will rehydrate and add a spicy nature to their bowl of YUM.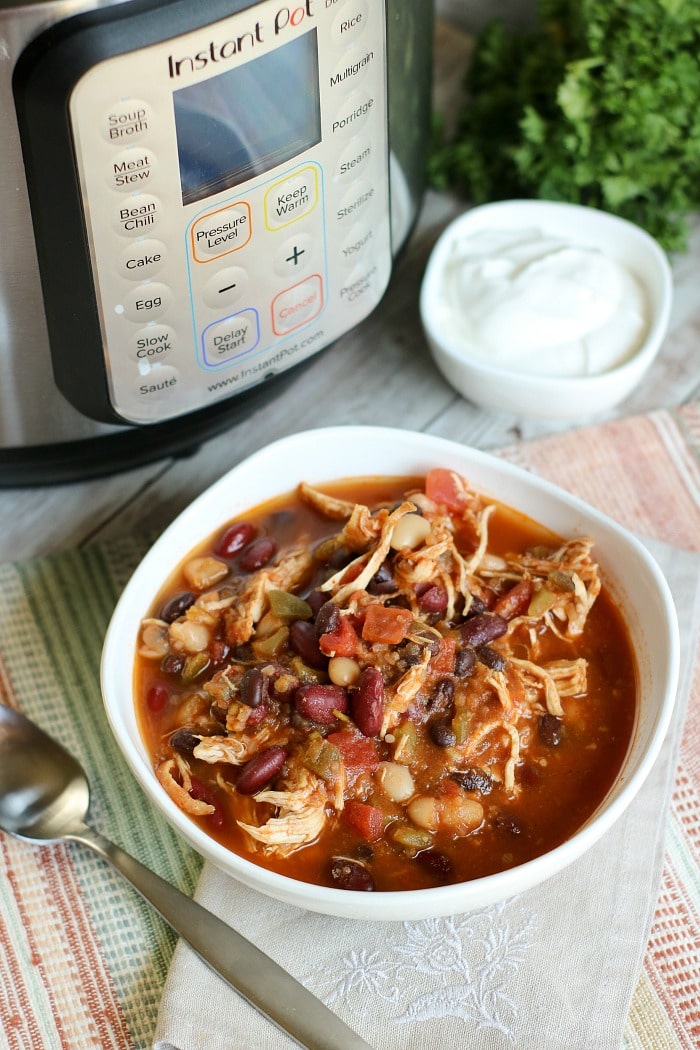 White Chicken Chili Instant Pot no Cream Cheese
If you wanted it to be a bit creamier you could incorporate some sour cream on top or stir some inside too. We have a bunch of easy Instant Pot chicken recipes to choose from here too;
Instant Pot Chicken Chili with Frozen Chicken
If you forgot to defrost your meat, pressure cooking frozen chicken in Instant Pot first. You can dice up into small bite size pieces or shred with two forks on a cutting board. Then proceed with the rest of these directions.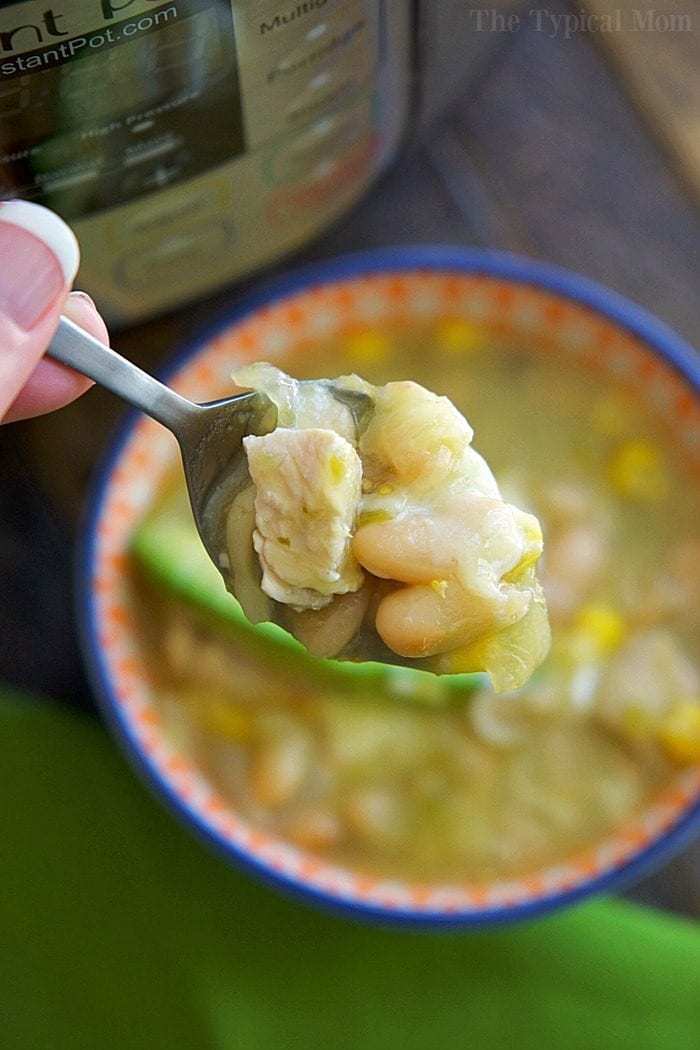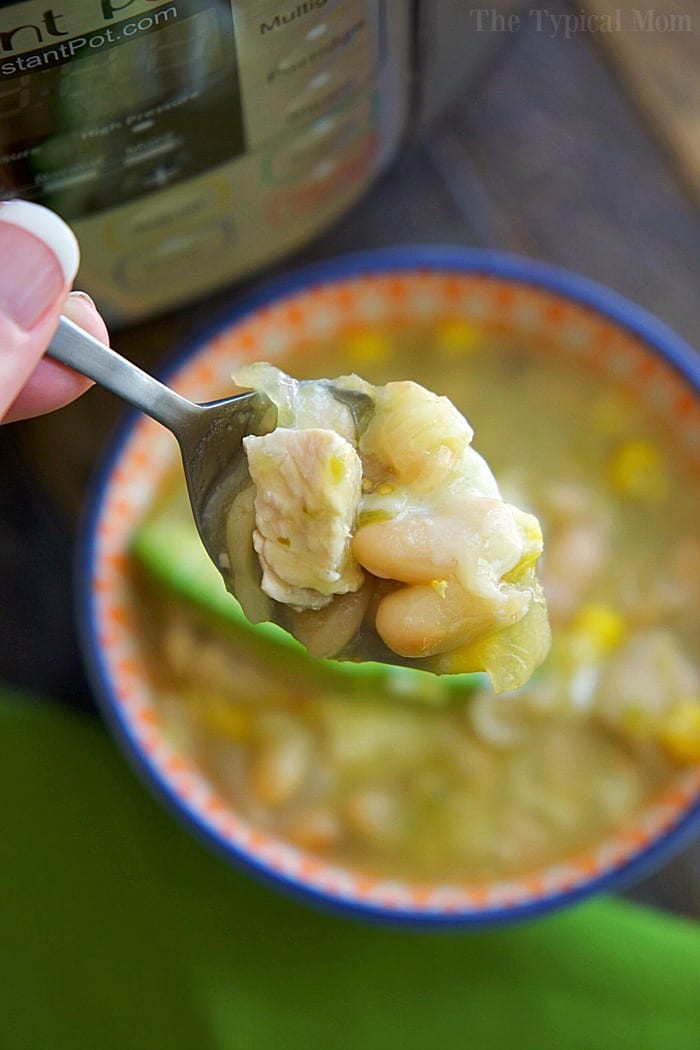 How long can you leave cooked chili out?
It is recommended that once you're done cooking it you store it and put it in your fridge within an hour or so. Wait until it is completely cooled. I like to break it up into individual airtight containers so you can reheat easier the next day.
Does chili freeze well?
It does!! As long as you put it into freezer bags or storage containers free from air it can last as long as 6 months. Allow it to defrost before reheating for best results. Microwave in 30 second increments stirring in between times.
Do you let chili cool before freezing?
Whether you want to put it in the fridge or freezer it should always come to room temperature first. This will prevent bacteria from growing inside as rapidly.
Want to see a few of my favorite things that I am totally obsessed with?? Take a peek and see how many you might already have…twinsies!
Looking for more easy family recipes and tips? LIKE The Typical Mom Facebook page?
Then sign up for my free newsletter, and follow me on Pinterest! 😉
***** If you LOVED this recipe give it 5 Stars below and let everyone know what you thought about it. 😉
White Bean Chicken Chili Instant Pot
This white bean chicken chili Instant Pot recipe is great year round. Using fresh or shredded rotisserie leftover meat, it's a hearty healthy one pot meal.
Instructions
Season chicken on both sides with taco seasoning.

Turn pot to saute and add olive oil. Put in chicken and cook until outsides are browned.

Remove meat, add a bit of your broth and deglaze, scraping stuck on bits off bottom of pot. Turn pot off.

Pour in all other ingredients leaving breasts on bottom of pot, do not stir contents.

Close lid and steam valve and set to high pressure for 10 minutes followed by a quick release.

Open and shred chicken with 2 forks or chop up on a cutting board and put back into the pot.

Serve topped with cheese, sour cream, cilantro etc….
Nutrition Facts
White Bean Chicken Chili Instant Pot
Amount Per Serving (3 oz)
Calories 361
Calories from Fat 81
% Daily Value*
Fat 9g14%
Cholesterol 72mg24%
Sodium 1905mg83%
Potassium 1818mg52%
Carbohydrates 37g12%
Protein 36g72%
Vitamin A 1096IU22%
Vitamin C 35mg42%
Calcium 117mg12%
Iron 6mg33%
* Percent Daily Values are based on a 2000 calorie diet.