This easy white chicken chili Crockpot recipe is healthy and hearty! Use fresh or rotisserie precooked meat and beans for a great meal.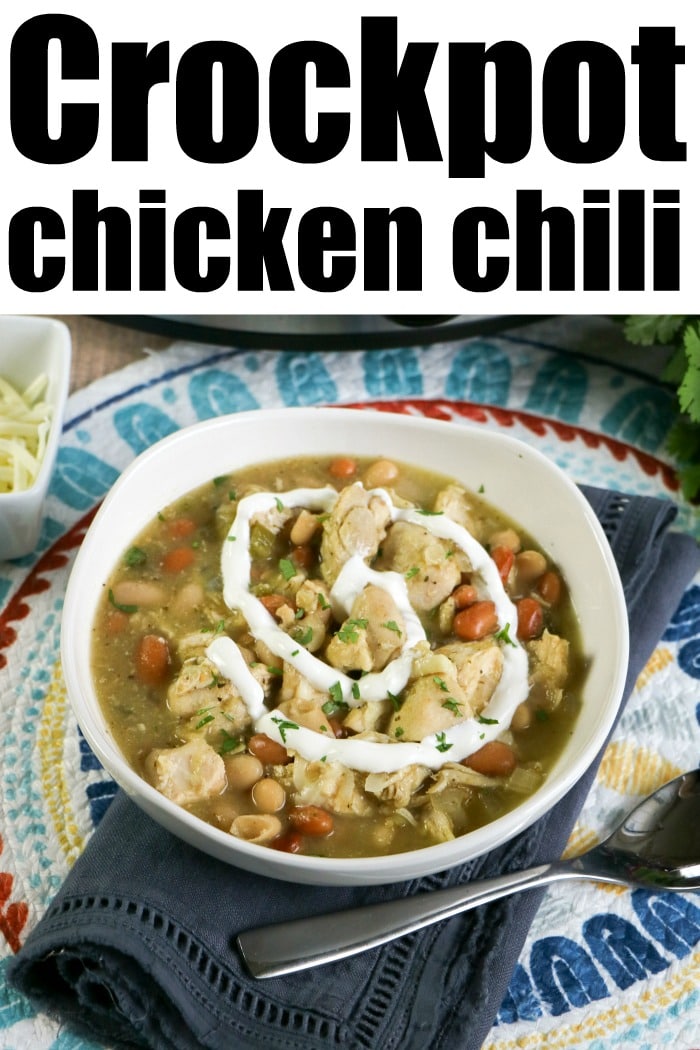 Have you tried our Crockpot white chicken chili recipe yet? It's a dump dinner that is cheap to make and super filling for the hungriest of men. One of our favorite easy Crockpot recipe ever. (affiliate links present, originally published 10/21)
Slow Cooker White Chicken Chili
There is a ton of variation to this as well. Have fresh chicken thighs that needs to be used up, use that! Leftover chicken is great to use too and is already cooked for you. It's very flexible that way, serves up delicious when done and even saves well if you do have any leftovers.
Make as spicy as you'd like or keep it mild as we do. OR if you have a lover of heat in your house but others aren't real keen on it you could just add some chili flakes to their own and stir. It is best to make it perfect for every tastebud in your home.
FIRST – You should sign up for my free newsletter so you get new posts emailed to you twice a week and never miss out on anything! Let's talk a little bit about slow cooking shall we?? First off I have a few different varieties and I love them all. Each one has an occasion to be used like….
This is my favorite 6 quart programmable one with a locking lid so it's great for bringing to a potluck too.
If you just want to serve a few appetizers you should get this one that sit side by side one another.
I prefer not to use liners, but rather just spray olive oil inside before adding my food for easier cleanups.
Let me give you a peek of my pretty thang I bought recently. It goes with my kitchen so I can just leave it out on the countertop all the time. 😉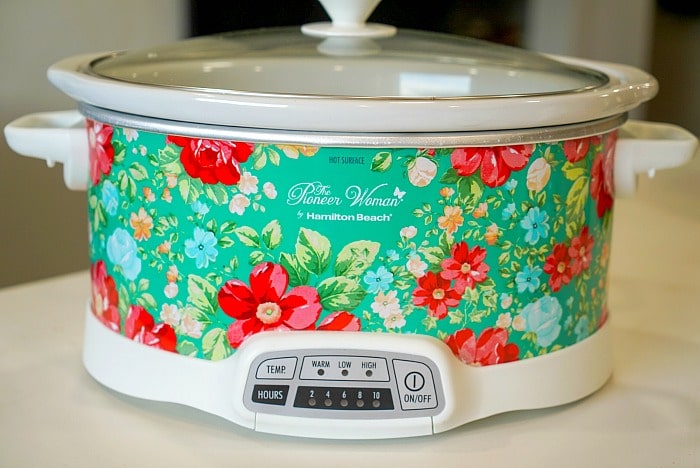 Chicken Chili in Crockpot
This is what was used. Substitutions can obviously be made. If you only have pinto and kidney instead of cannellini beans, then by all means just use those. If you like a lot of spice there are a variety of ways to do that. A diced jalapeno will obviously do the trick. As far as dried spices you can use red pepper flakes, dry Sriracha or Tobasco sauce.
I would definitely recommend broth vs. water, it will lend a lot more flavor to the overall dish for sure. Vegetable or chicken is what I typically have on hand so that is what is used. I suppose you could leave out the meat entirely for a vegetarian option but we pack that stuff into ours.
This is a great rotisserie chicken recipe too. That way it is already cooked with tons of flavor. Buy one specifically for this or use your leftovers from the day before to throw this baby together.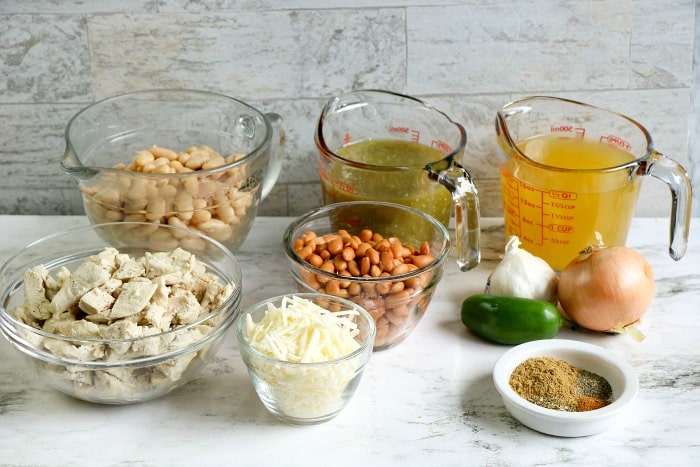 Best white chicken chili recipe winner
If your friends are having a chili cook off like we have many years during Super Bowl this is always a hit. Think about it, most people will bring beef, tomato based types and yours will surely stand out! Serve jalapenos on the side for daring guests. 😉 Here are a few questions you might have before you move forward to making this pot of comfort food.
How do you thicken white chicken chili?
You can serve it more clear like you see below or thicken at the end. Stirring in some sour cream will do the trick.

OR you can whisk 1 tbsp. cornstarch with 3 tbsp of milk. Stir in 30 min. before serving, put lid back on to heat and that will make it thicker too.
What is white chili made of?
There are many variations out there. This one has beans, meat, salsa verde, celery, tons of seasonings and cheese. You can top with chopped fresh cilantro too if you like.
What is the best secret ingredient for chili?
Just like our 5 ingredient Crockpot chili, the seasonings are what differentiates them all from one another. I like this one in particular because you can dump it all in, stir and cook for a few hours. Serve with cheese on top and enjoy! If you are trying to switch from less beef to more poultry this is a nice change from the ordinary.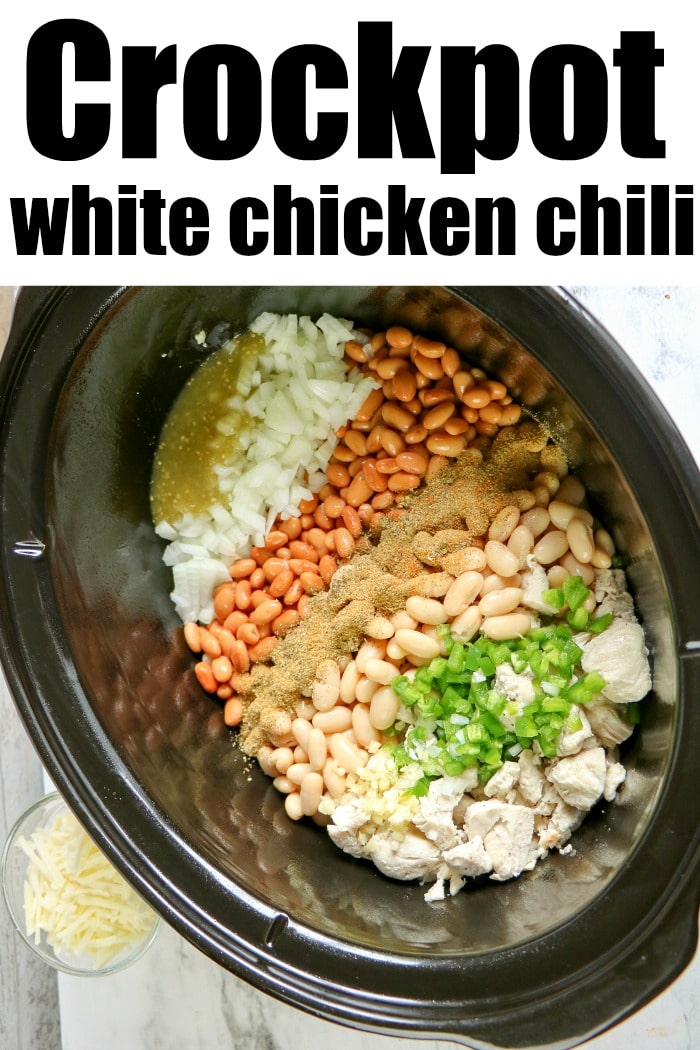 Can you cook chicken on low in the Crockpot?
Certainly. I have made a slow cooker whole chicken time and time again and low is the best way to do it well. This uses precooked meat off a rotisserie bird but you could dice fresh and add that instead. You'd just need to ensure those pieces were cooked thru before serving of course. Cubed small enough 4-5 hours on low should be sufficient.
From scratch grab some boneless skinless thighs or breasts. Dice up into small bite size pieces and saute over medium heat just until the pink is gone. It will continue cooking so it doesn't need to be all the way done. Then proceed with the other instructions from there.
What do you eat with white chili?
It's a pretty complete meal if you ask me but a side of easy dinner rolls is my favorite choice. When you have kids they always seem to need some sort of carb with every meal right? I'm good with it as is but whatever.
You could serve with a few slices of killer garlic bread, or make semi homemade pull apart bread with refrigerated biscuits.
If you have time of course you can bake a loaf of bread to slice and butter at home.
Air fryer cornbread is great too.
To make things easier to serve, many times I'll make cornmeal muffins so everyone can grab one with their bowl and enjoy. I have brought these to parties too with this dish as a little extra and they never last long. Some might think of a boxed mix but homemade is so much better when it comes to those.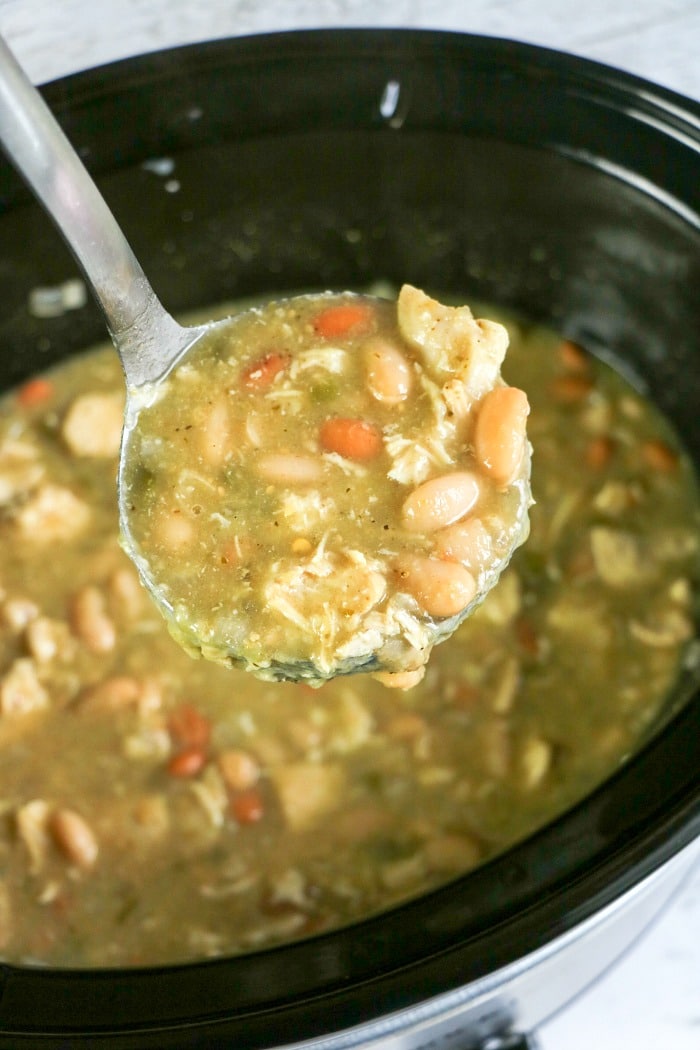 White Bean Chicken Chili Crockpot
As I said there is a lot of tweaking you can do to this. The biggest alteration would be with the heat, or not. I like it kinda' medium spiciness but my husband likes it all the way. Best way to adjust is have things like jalapeno powder on the side to sprinkle and stir in to some bowls. This is what you'll need to get started:
Diced chicken
Chicken broth or chicken stock
Onion and garlic
Canned beans of any kind but white is usually what I grab
Diced celery is great but optional of course
Salt and pepper
Diced green chiles and/or jalapenos are optional
Lots of seasonings and shredded cheese
To make it "white" and creamier you can add sour cream and/or room temperature cream cheese at the end. Stir that in and adjust as needed. It's our favorite recipe when it's chilly outside. Very little meal prep or cooking time when you cook on high.
Slow cooker recipes are great when you have a busy day or just want a throw it together meal you don't need to think about. This uses defrosted or fresh meat. If yours is not you'd need to follow this Crockpot frozen chicken recipe and then add other ingredients when that is done.
White chicken chili crockpot cream cheese
If you wanted a creamier version you can do this with half of a brick of cream cheese. 1 hour before it is done just cut into smaller clumps and stir in. Cover again and let that melt in there. Stir an hour later to incorporate and serve it up then.
Combine all ingredients (except cheese). For added heat add green chilies, diced jalapenos, or red pepper flakes.
Stir, cover and cook on high for 2 hours or low for 4 hours. I prefer low and slow myself.
When done stir in shredded or cream cheese until melted. Serve topped with more cheese and dollop of sour cream.
Want to make this faster? We have an Instant Pot white chicken chili recipe you can try as well. It has similar ingredients but made in a fraction of the time I tell you. If you do have this pot I would try it some night and you can see how they are literally identical but just the timing is drastically different.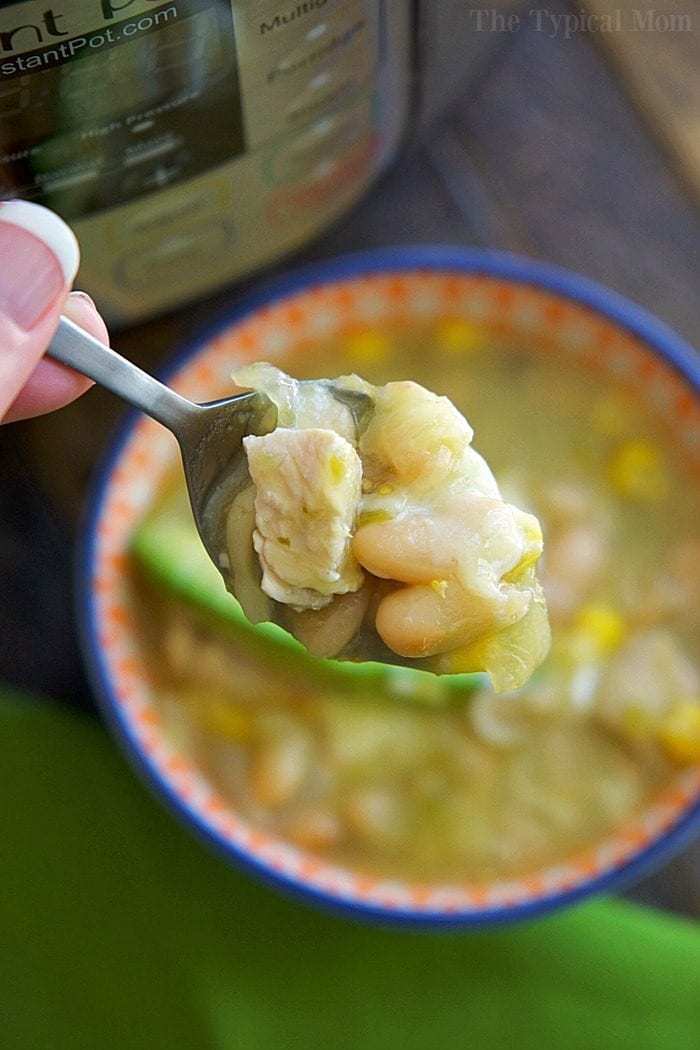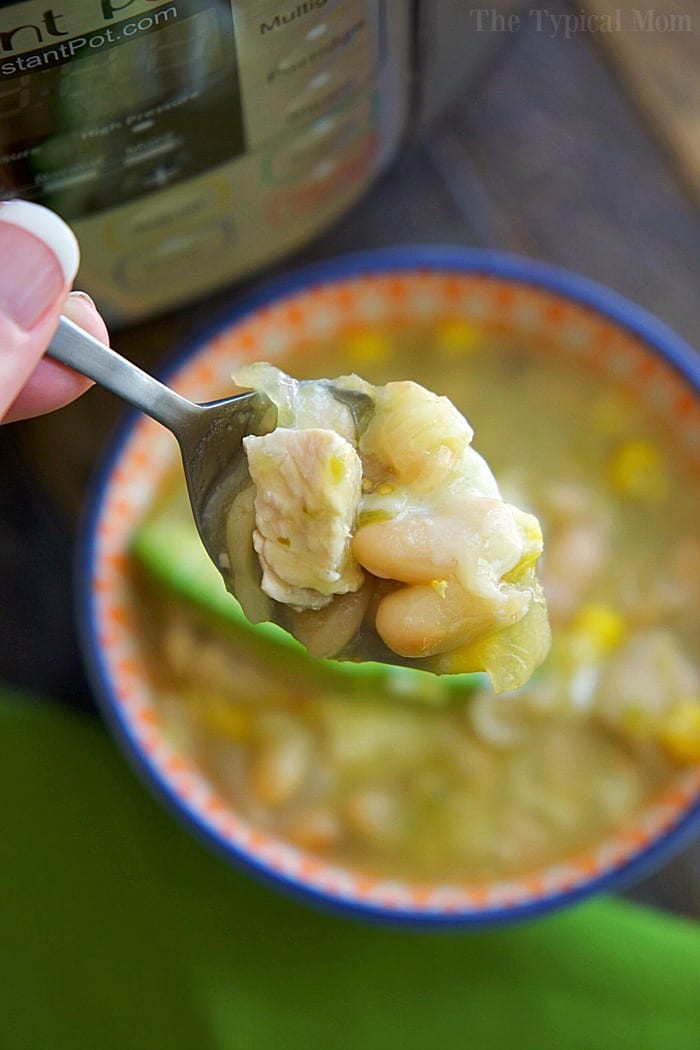 What vegetable goes with chili?
If you feel like you need more than just a stalk of celery in this you could certainly slice carrot dials and add those too. Prefer veggies on the side? I would try our air fryer vegetables for sure. A side salad always works with everything too, or steam some broccoli that only takes a few minute until it's done!
What can I do with leftover white chili?
The easiest is to warm it up for lunch the next day. Just store in an airtight container in the fridge overnight. Reheat in the microwave in 30 second intervals stirring in between times until warm enough for you. I like to add a bit of grated parmesan to the top during the last minute or so in order to get it to melt nicely.
Want to see a few of my favorite things that I am totally obsessed with?? Take a peek and see how many you might already have…twinsies!
Looking for more easy family recipes and tips? LIKE The Typical Mom Facebook page?
Then sign up for my free newsletter, and follow me on Pinterest! 😉
***** If you LOVED this recipe give it 5 Stars below and let everyone know what you thought about it. 😉
Easy White Chicken Chili Crockpot
This easy white chicken chili Crockpot recipe is healthy and hearty! Use fresh or rotisserie precooked meat and beans for a great meal.
Instructions
Combine all ingredients (except cheese).

Stir, close lid and set on high for 2 hours or low for 4 hours.

When done stir in cheese until melted.

Serve topped with more cheese and dollop of sour cream.
Nutrition Facts
Easy White Chicken Chili Crockpot
Amount Per Serving (3 oz)
Calories 169
Calories from Fat 45
% Daily Value*
Fat 5g8%
Cholesterol 12mg4%
Sodium 665mg29%
Potassium 363mg10%
Carbohydrates 22g7%
Protein 10g20%
Vitamin A 437IU9%
Vitamin C 8mg10%
Calcium 141mg14%
Iron 2mg11%
* Percent Daily Values are based on a 2000 calorie diet.