Homemade Crockpot dog food recipe is here. Easy dump and go meal for puppies with chicken and vegetables or beef. Healthy protein packed.
If you've ever wanted to try to make homemade food for dogs, we have an easy Crockpot dog food recipe here. Using fresh meat, peas, carrots, squash and broth it is a healthy addition to their diet that they'll love. One of many easy Crockpot recipes on The Typical Mom blog. (affiliate links present)
Homemade Dog Food
We have a german shepherd, she is adorable. I was never really a puppy lover as an adult and it took a long time before I'd agree to getting one but….. One Christmas eve I gave in and she was and is a great addition to our family. Seriously the cutest thing ever. I am sure you feel the same way about your buddy too.
Feeding your pup a variety of nutritious foods is important, that includes your choice of bagged "stuff". Supplementing their diet with lean meats such as chicken thighs (used here) and other whole ingredients can make them extra happy. They love homemade dog treats too, we will share those later.
FIRST – You should sign up for my free newsletter so you get new posts emailed to you twice a week and never miss out on anything! Let's talk a little bit about slow cooking shall we?? First off I have a few different varieties and I love them all. Each one has an occasion to be used like….
This is my favorite 6 quart programmable one with a locking lid so it's great for bringing to a potluck too.
If you just want to serve a few appetizers you should get this one that sit side by side one another.
I prefer not to use liners, but rather just spray olive oil inside before adding my food for easier cleanups.
Let me give you a peek of my pretty thang I bought recently. It goes with my kitchen so I can just leave it out on the countertop all the time. 😉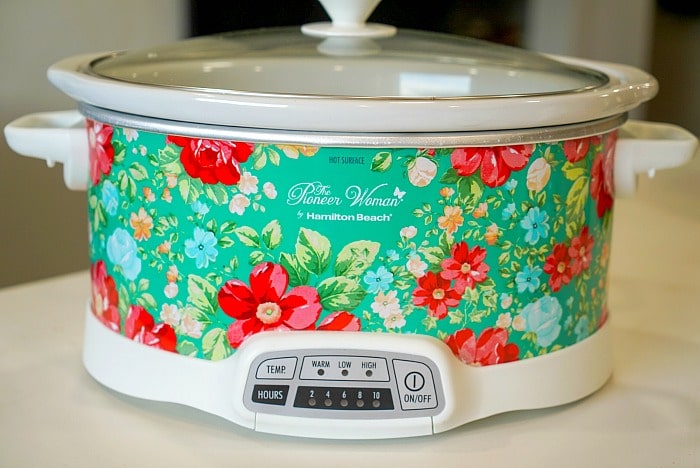 Yes you can use the same slow cooker as you would to make slow cooker boneless skinless chicken thighs for yourselves. I mean you could eat the recipe below if you really wanted to together. It uses fresh ingredients without any "extras" per say. It's just blander than something you'd make for humans.
Is homemade food good for dogs?
It is not necessary to make this for their health. Commercial foods are balanced and contain all the nutrients they need. Offering them something of this sort will definitely lend more flavor and make them probably happier to eat in general but shouldn't necessarily replace their regular feedings.
How much homemade food should I feed my dog per day?
You should only replace a very small amount with a homemade meal like this, and continue feeding their regular diet as well. For instance if you had a dog of 100 lbs. they shouldn't be served more than about 30 ounces of this or other homemade feed.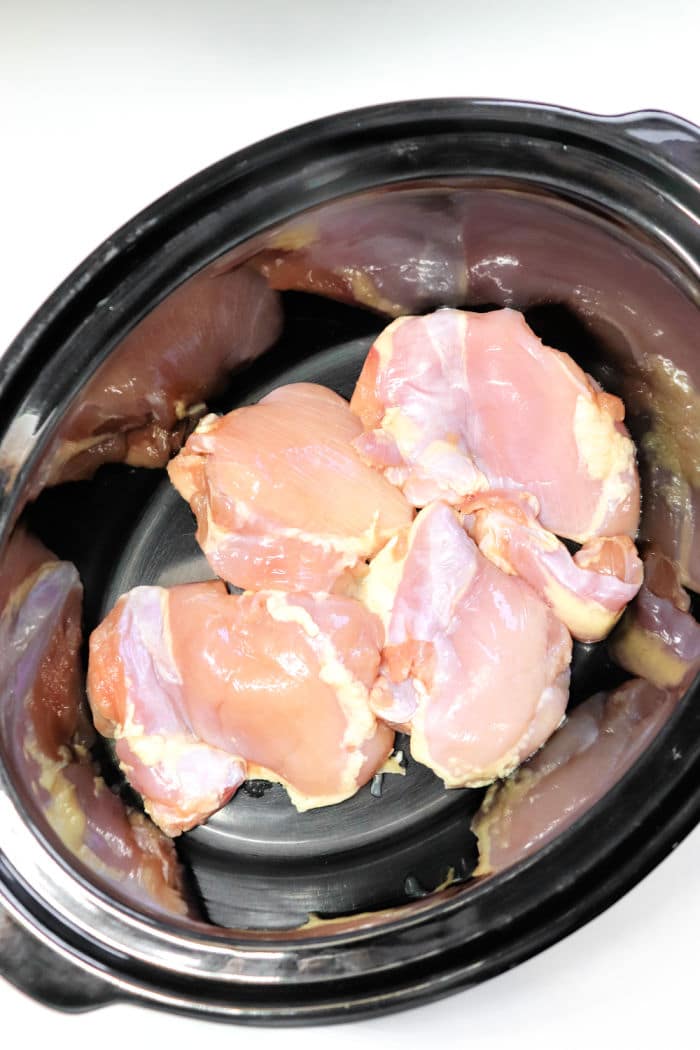 How do you make chicken dog food
If you only wanted to make plain poultry for them to meat without anything else you could just follow our boiled shredded chicken instructions. Or you could just add a cup of water in your slow cooker with the meat and cook on high for about 6-8 hours or until it falls apart. Shred, allow to cool completely and then share with a pup.
This is an easy homemade dog food recipe with some vegetables like squash that they like, great for their coats too. It is grain free, though some like to cook white or brown rice on the side and fold everything together.
Homemade Grain Free Dog Food
What ingredients should be in homemade dog food? Protein is the main item that should be #1. A grain or vegetable is important, some like including both. If you could include an essential fatty acid that is ideal. You want to make sure it does include vitamins and minerals important for pets and seasonings are not necessary.
Remember, this shouldn't be all inclusive, rather a small addition or substitute for some of their bagged food.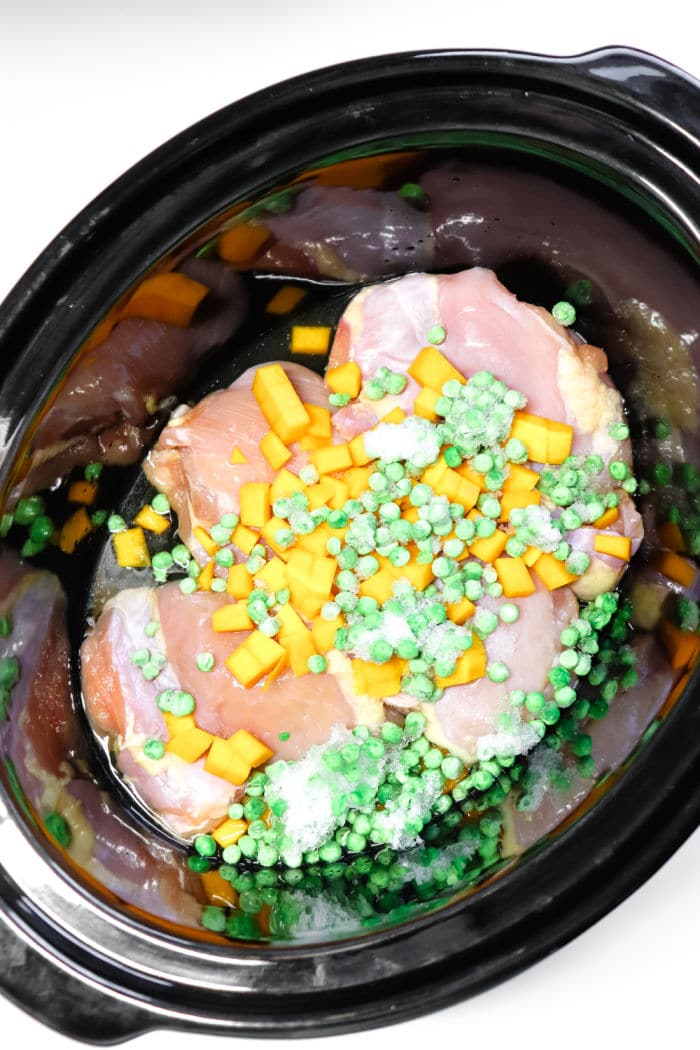 Slow Cooker Dog Food
You could make this in a large pot on your stovetop too. Bring to a slow rolling boil and then cover. Allow to simmer to break down the meat so it is brought to temp and tender. Check after about 20 minutes, once proteins can be shredded with forks it is ready to remove from the heat.
For Instant Pot dog food I would use the same ingredients and cook on high for 12 minutes with a 5 minute natural release.
Put all items into Crock pot except for the cornstarch (this is optional). Cover and cook on high for 6 hours or low for 8 hours until meat falls apart easily.
Remove meat, shred or chop into small pieces. Whisk in some cornstarch with some of liquid from pot in a cup until it's nice and smooth. Pour into the pot and whisk into liquid to thicken. Put chicken back in, stir.
Turn pot off and allow to cool. Serve.
Once cooled you can store in freezer bags in the fridge for up to 3 days, or freeze for up to 3 months. If you love batch cooking for dogs you could definitely do that. Double or triple what's listed here (in a big Crockpot), cool and store in ziplocs measured out for a days feeding.
Store those smaller bags inside a large freezer bag and lay flat in your freezer. Take one out at a time, allow to defrost to room temperature and then they can enjoy that bit of supplement for the day.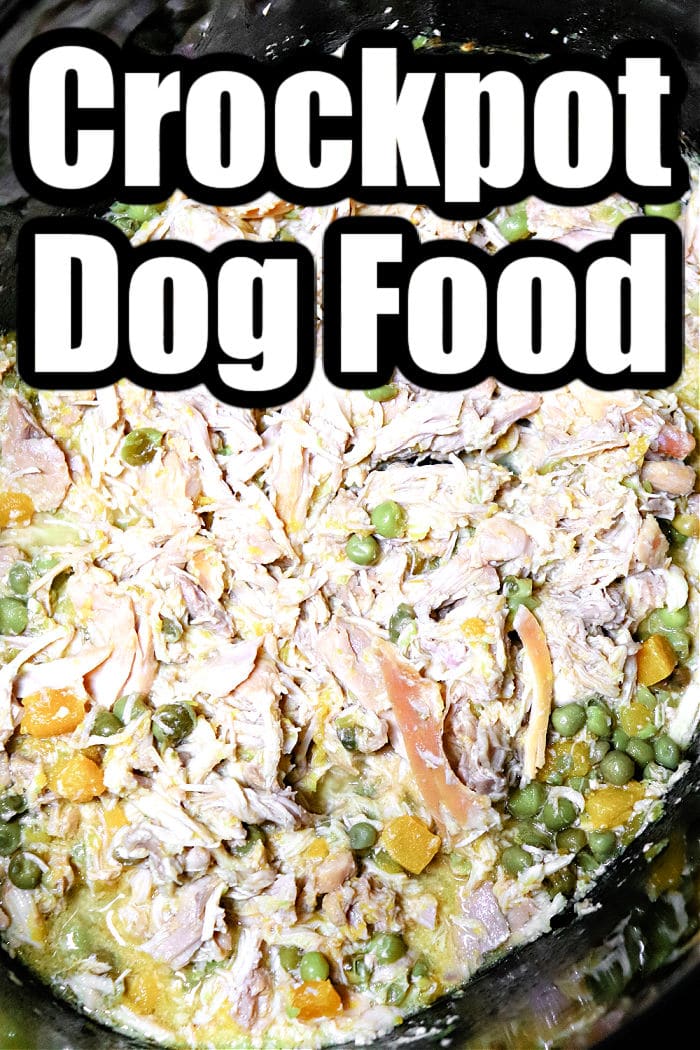 Homemade Dog Food in the Crockpot
Remember that if your fur baby (dogs and cats) has any food allergies it's a good idea to always consult your vet before buying any ingredients for any home cooked dog recipe. Other alternatives to these veggies would be sweet potato and/or green beans. Corn is not a good choice as it is hard to digest.
Instead of chicken you could use ground turkey instead, I would lightly brown that before adding and decrease timing to 4 hours on low for that. Our dogs love 1/2 cup of this every now and then. Have an older pet? Use a food processor to grind up the meat a bit finer for them.
Want to spoil them a bit more? We started cooking / baking homemade dog biscuits in the oven or air fryer dog treats last year. My girls loved mixing these up for our picky eater of a pooch and they were a real hit with a peanut butter flavor to them.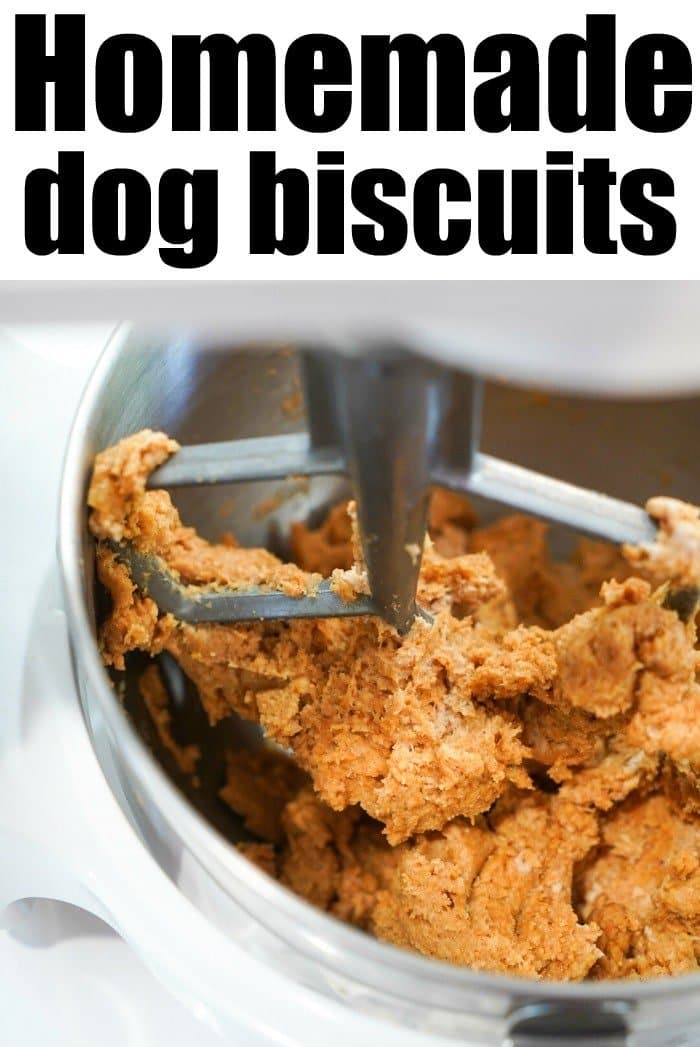 Then we have chicken and beef dehydrated dog treats you can make in your air fryer!
We are working on making other treats that are safe for our Paige and will share them once they have been tested tried and written up. If you have something you'd been cooking or baking up for your pets that they love share with us below, we'd love to try yours too.
Want to see a few of my favorite things that I am totally obsessed with?? Take a peek and see how many you might already have…twinsies!
Looking for more easy family recipes and tips? LIKE The Typical Mom Facebook page?
Then sign up for my free newsletter, and follow me on Pinterest! 😉
***** If you LOVED this recipe give it 5 Stars below and let everyone know what you thought about it. 😉
Crockpot Dog Food
Homemade Crockpot dog food recipe is here. Easy dump and go meal for puppies with chicken and vegetables or beef. Healthy protein packed.
Instructions
Put all items into slow cooker except for cornstarch. Cover and cook on high for 6 hours or low for 8 hours until meat falls apart and shreds easily.

Remove meat, shred or chop into small pieces. Whisk cornstarch and some of liquid from pot in a cup until smooth, pour into pot and whisk into liquid to thicken. Put chicken back in, stir.

Turn pot off and allow to cool. Serve. Can store in refrigerator for up to 3 days or freezer for up to 3 months.
Nutrition Facts
Crockpot Dog Food
Amount Per Serving (1 oz)
Calories 298
Calories from Fat 171
% Daily Value*
Fat 19g29%
Cholesterol 111mg37%
Sodium 198mg9%
Potassium 467mg13%
Carbohydrates 11g4%
Protein 21g42%
Vitamin A 4087IU82%
Vitamin C 24mg29%
Calcium 37mg4%
Iron 2mg11%
* Percent Daily Values are based on a 2000 calorie diet.