How to make liver, sweet potato and/or chicken dehydrated dog treats in a Ninja Foodi or other dehydrating machine at home.
Ever wondered how to make dehydrated dog treats at home? I know, they can be REALLY expensive bought at the store and it's just dried meat. If you thought this was complicated, it's totally not. Use a dehydrator or Ninja Foodi and follow our timing and temperature guidelines, done! (affiliate links present)
Can I use my Ninja Foodi as a dehydrator?
Yes and no. If you have the very first model sold it does not have that function (see mine below). Every other model beyond that, like this one on sale, does have a button for that.
Issue with the oldest model is the temperature will not go below 300 degrees so that particular one won't work. If you bought one then it's time for a new one anyway. 😉
Then you can make ALL THE THINGS that people are raving about, including homemade treats for dogs like these. You can use these instructions for a "regular" dehydrator machine too though. We have one of those babies too and love making snacks for the pooch and us too.
FIRST – You should sign up for my free newsletter so you get new posts emailed to you twice a week and never miss out on anything!
If you too are obsessed with your Ninja Foodi pressure cooker air fryer machine, here are a few resource to start with:
You can

bookmark

our Ninja air fryer recipes page, we add to that weekly.

Here's a printable air fryer cooking times chart here for your fridge.
Be sure to save this link to Instant Pot recipes for beginners too. You can use any of those in your pot too.
Grab a set of wooden utensils to work with. They are great so your pot doesn't get scratched!
Then join our

Ninja Foodi EASY Recipes

– Facebook group where you can share and find more ideas you'll love. Thousands of others share both pressure cooker and air fryer recipe ideas there daily and you can too!
If you need to know how to cook frozen meat in a pressure cooker, we have information on that. NO, you aren't the only forgetful one. 😉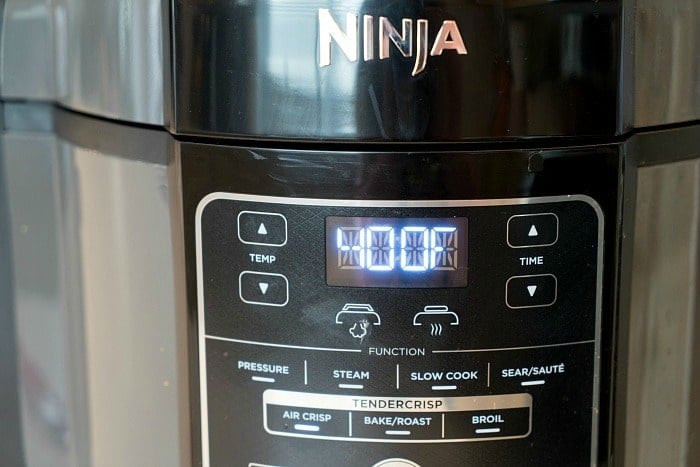 Homemade Dehydrated Dog Treats
Ok so you may have tried making our homemade dog biscuits first. Our pup loves those because anything with a peanut flavor OH MY she's just in heaven. Of course those should be shared sparingly and don't have a ton of nutritional value to them compared to protein like this.
Whether you want to use beef, chicken, liver treats or vegetable chips for them to enjoy the idea is basically the same. 4-6 hours on a very low temperature will dry each one of them out to make them chewy, a texture they love.
Note

: You should always

consult your vet

to ensure your pet doesn't have any sort of allergies before giving them anything outside of their "normal" food. I am not an expert in pet nutrition, just sharing what my pooch loves and how to make each.
Dehydrated Chicken Jerky
Let's start with some poultry first. Thinly slice 2 chicken breasts (or really any raw meat) and lay on these dehydrator trays. Close and dehydrate chicken at 165 degrees F for about 4 hours.
If you want to cook strips of beef do NOT marinate or add any seasonings but use the timing and instructions other than that in our air fryer beef jerky treats post.
How long do you dehydrate liver for dog treats?

That depends on how thick you slice it. For larger pieces you'd need 6-8 hours, if you sliced it thinner like the chicken you might be able to go for 4-6 hrs. instead. The size of your pet will likely determine what your slices look like. Our 80 lb. german shepherd would swallow a tiny bit that a little puppy would need.
Some like to set to 145 degrees for a bit longer duration, others up it a bit like we did below for a little quicker. I think 150 works great. Another tip is to spray each rack with non stick spray for easier cleanup. You can and should throw them into the dishwasher when done though, don't bother trying to scrub them clean, it's frustrating.
Dehydrated Liver
Dogs love these dehydrated treats for sure. Slice liver into thin strips or larger chunks. The thinner they are the faster they will be done, obviously. Lay parchment paper on your racks so they don't stick for this type of meat that is a big softer in texture.
Dehydrate at 150 degrees for about 6 hours. I have not tried this air fried and probably wouldn't in that machine. Most wouldn't go that low in temp and if they did it's an awful long time for that to be running. You really need a machine that is designed to dehydrate meat properly like this one we have.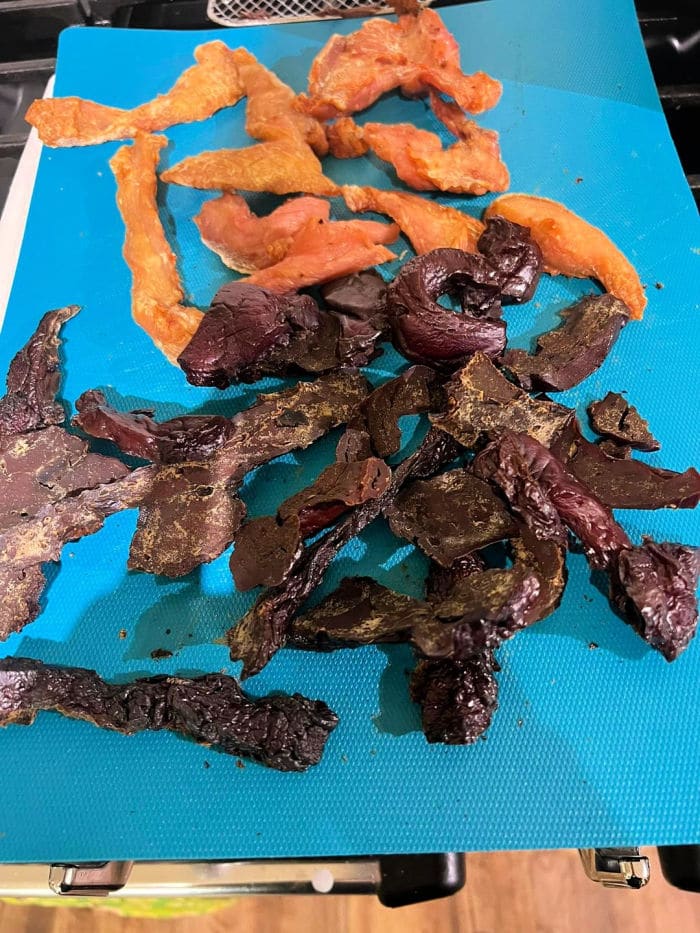 What dehydrated fruits are good for dogs?
Bananas
Blueberries and strawberries (my dog wouldn't eat these)
As for vegetables there are:

green beans
broccoli
carrots
zucchini chips we've made for us but you wouldn't want to add breading for your pooch
Dehydrated Sweet Potatoes
For these you'll want to slice sweet potatoes 1/8″ thin and lay on racks. Set to dehydrate setting at 150 degrees F for about 4 hours. Even my kids like these, they're not just yummy dog treat recipes for sure.
Of course for people food you'd probably enjoy it salted or with some sugar and cinnamon on top. For pets they should be plain.
Ninja Foodi Dog Treats
I mean you don't have to dry meat for your pets, you can cook frozen chicken in Instant Pot or pressure cooker so it comes out tender for them too. Homemade chicken shredded or diced is nutritious for their bellies and coats and easy to make under high pressure.
Ready to get going, to make some Ninja foodi dog treats this week? Look for proteins on sale in the meat section of your grocery store and give it a whirl.
How to store homemade dog treats
Whether you bake some or make our air fryer dog treats you'll do the same: You will want to have a few freezer bags ready for this. The biggest no no is air. SO if you have a large zipper bag, throw them inside when done and COOL. Then push the air out and zip it 90% closed.
With the remaining bit put your mouth up to it and suck as hard as you can to get all of that dreaded air out!
If you have a vacuum sealer machine that is the all time best thing to use. Just remember that every time you take one out you'll need to use the machine again. Want more? Make some Crockpot dog food sometime too.
Want to see a few of my favorite things that I am totally obsessed with?? Take a peek and see how many you might already have…twinsies!
Looking for more easy family recipes and tips? LIKE The Typical Mom Facebook page?
Then sign up for my free newsletter, and follow me on Pinterest! 😉
***** If you LOVED this recipe give it 5 Stars below and let everyone know what you thought about it. 😉
Dehydrated Dog Treats
How to make liver, sweet potato and/or chicken dehydrated dog treats in a Ninja Foodi or other dehydrating machine at home.
Instructions
Preheat machine to 165 degrees F for 5 minutes.

For chicken, thinly slice 2 chicken breasts and lay on racks in one layer, not overlapping. Close and dehydrate chicken at 165 degrees F for about 4 hours.

150 degrees F for 4 hours is the timing to make thinly sliced sweet potato chips for pets.

For thinly sliced liver, dehydrate at 150 degrees for about 6 hours.
Nutrition Facts
Dehydrated Dog Treats
Amount Per Serving (1 oz)
Calories 129
Calories from Fat 27
% Daily Value*
Fat 3g5%
Cholesterol 72mg24%
Sodium 131mg6%
Potassium 418mg12%
Protein 24g48%
Vitamin A 34IU1%
Vitamin C 1mg1%
Calcium 6mg1%
Iron 1mg6%
* Percent Daily Values are based on a 2000 calorie diet.