Best homemade dog biscuits made with peanut butter that your puppy will love! Love your pet? These treats only need 4 ingredients and take less than 30 min. start to finish.
My puppy loved this easy homemade dog biscuits recipe and I bet yours will too! A friend made some with whole wheat flour and I thought I'd give it a whirl with a bit of honey and peanut butter too. Much easier than I thought they'd be to make! (affiliate links present, originally published 4/20)
Homemade Dog Treats
We have used meat to make dehydrated dog treats before but sometimes you really want to give them a TREAT, like something a bit sweeter. I haven't met a pup that doesn't love these.
I did too but never really thought I had the time until lately. Now that I've done it I would definitely make them for her more often. With prep and bake time it took just about half an hour for two dozen. Easy peasy right??!!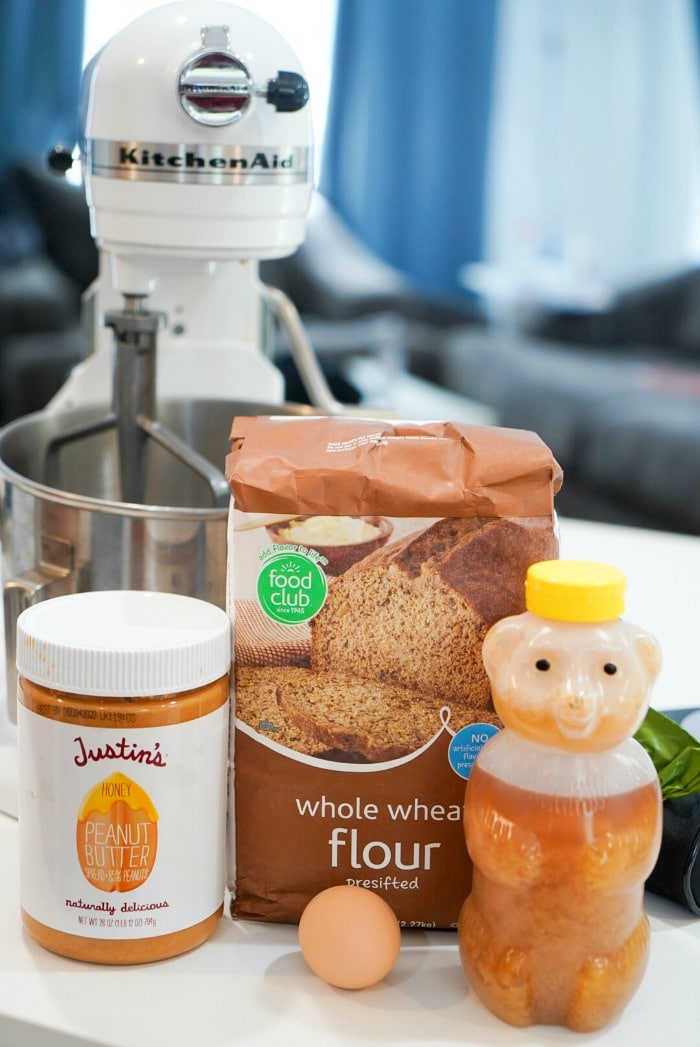 Homemade Dog Biscuits
Now let's talk about easy homemade dog treats ingredients shall we. If you're like me you may be Googling "Can dogs eat ______" pretty often too.
Paige is our first family dog and I haven't had one since I was a kid so I always want to make sure I'm giving her "the right stuff" sortaspeak.
Is it safe for dogs to eat peanut butter?
From what I've read, any peanut butter that doesn't contain xylitol or chocolate should be fine for a dog (unless they're allergic of course). It's a pretty good source of protein for them in moderation.
Just make sure to look at the label, most organic natural peanut butters are the best to buy. DO NOT buy or use: Go Nuts co., Krush Nutrition, Nuts 'n More, P28 Foods, or Protein Plus PB.J
Can dogs have crunchy peanut butter?
Yes, there isn't much of a difference between the two actually, other than the chunks.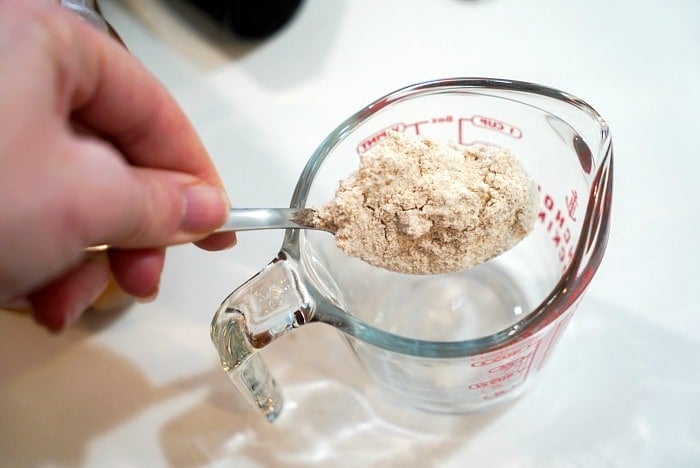 Is whole wheat flour safe for dogs?
YES!! When used in meals, it does have benefits for dogs in various life stages. Unless they are allergic or need a grain free diet it is fine to bake with and give to pups.
So the main two ingredients are good, now is it good to give your dog honey?
This is in fact safe for dogs to eat in small quantities of course. Of course, raw honey should not be fed to young or older dogs with compromised immune systems though so be careful with that.
I had already researched what happens when you give a dog an egg and those are actually quite good for them. So long as it doesn't upset their tummy, then there should be no trouble with giving dogs eggs.
How to make homemade dog treats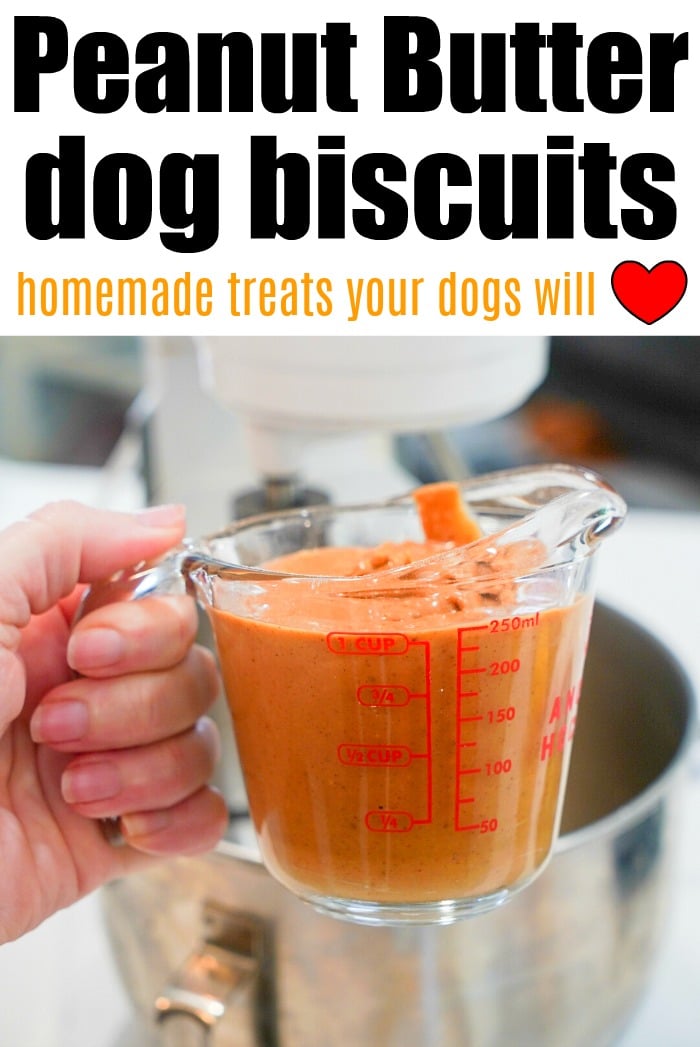 Peanut butter dog biscuits
Whole wheat flour

make sure you measure flour properly

Honey
Peanut butter safe for dogs

without chocolate or xylitol

Baking powder
Egg
Cutting board

non stick is best vs. wood
silicone baking mats are great

Baking sheet

non stick is best
or use parchment paper

Dog bones cookie cutters if you want those
I didn't bother using a rolling pin or cookie cutters either. I am all about easy so literally I used my hands to flatten the dog biscuit dough to about 1/2″ thickness and used a knife to slice into bars. Our dog loved them no matter what they looked like. 😉
Dog treat recipe
This is a great recipe because your kids can help you put it together and your fur baby will give you extra love too. All I know is our girl absolutely loves them.
I used my stand mixer to make things even easier on me
You literally throw in all the ingredients and mix until it's well combined

I used my paddle attachment to do this easy recipe

I rolled out dough on my cutting board just using my hands (you can use a rolling pin too)

The oils in the peanut butter help make it nice and pliable and not stick really either so that's nice.
If you don't have a board, spray a bit of coconut oil on a large piece of parchment paper and roll the dough in between until it's flat.

Preheat your oven to 350 degrees
Cut into shapes once the thickness of the dough is about 1/2″ across
Now bake them for 20 minutes so they harden

Ours came out not rock hard, a bit of tenderness in the center when cold which was the perfect texture I thought

Leave on the sheet until they're completely cooled
Share with your pooch!
I have seen other dog treats made with sweet potatoes and/or rolled oats. I haven't tried these yet because mine seems to prefer the taste of peanut everything. Plus I rarely have sweet potatoes on hand, so there's that.
Next time I am going to substitute 1/2 cup of canned pumpkin for some of the PB though and see how she likes that. Will share my findings when I do that one. For a nutritious supplement try our slow cooker dog food recipe too.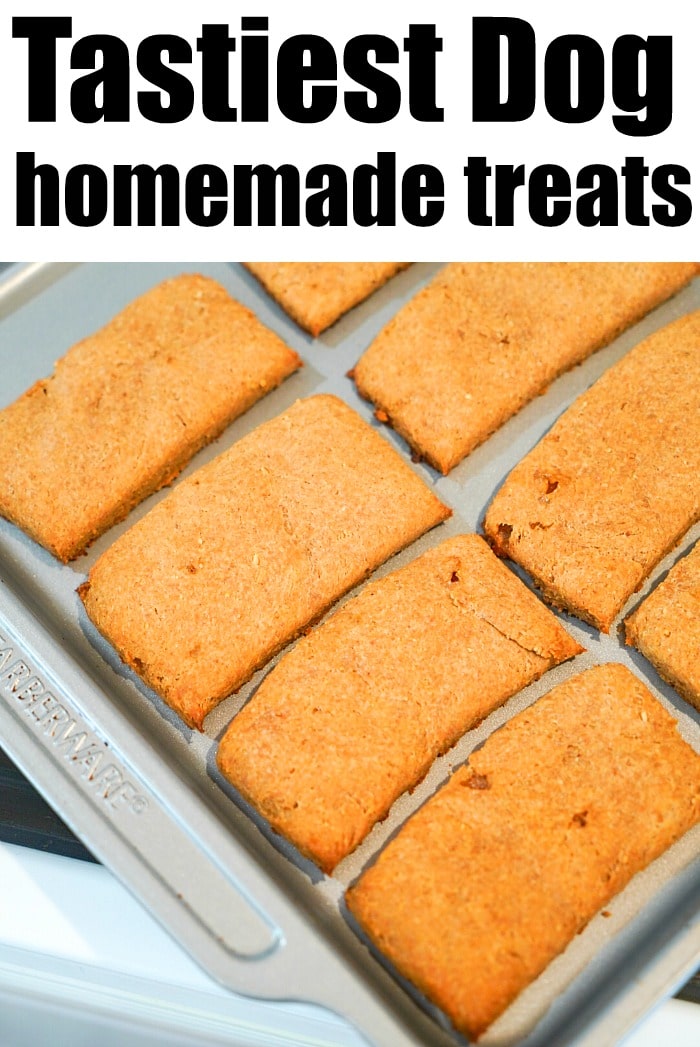 Want to make some peanut butter brownies for the rest of y'all to enjoy?? Why not?!!
Are you a new pet owner?? Congrats and enjoy them! They're a lot of work at first but boy have we enjoyed our "baby" Paige this year. There's a pic. of her below but boy has she grown a lot in just 6 months! Enjoy them when they're puppies, it doesn't last long.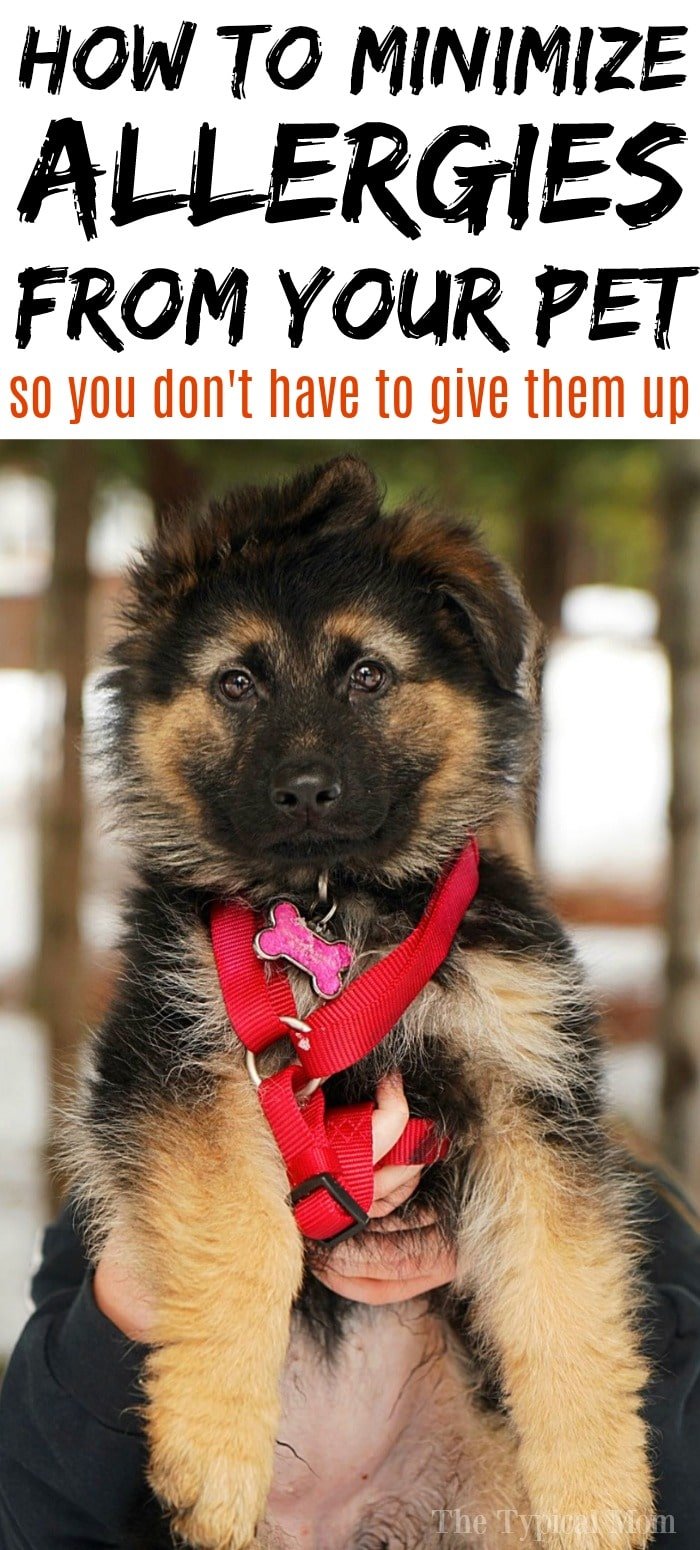 Ready to make our easy dog biscuits recipe now?
If you read The Typical Mom blog regularly you know that all my creations are easy to do and use what's in your pantry. I tend to choose a peanut butter that we enjoy that is also safe for her to eat. That way there is no waste at all.
If you're hesitant to try natural peanut butter because you remember it from "way back when" it separated badly and was rock hard at the bottom, it's come a long way since then.
Sign up for our free newsletter here if you enjoyed this post and want to receive more via. email each week.
Printable recipe is below for you to keep on hand, or come back again because we love "seeing" you often!
Homemade Dog Biscuits
Best homemade dog biscuits made with peanut butter that your puppy will love! Love your pet? These treats only need 5 ingredients and take less than 30 min.
Instructions
Add all ingredients into a mixer with a paddle attachment and mix until it is well combined.

Preheat oven to 350 degrees.

Put dough on a cutting board and flatten to about a 1/2" thickness all the way across. Cut into bars or use cookie cutter.

Place on non stick baking sheet and bake for 20 minutes.

Allow to cool and continue to harden on sheet. Wait until they are completely cooled before giving to your puppy. (of course make sure they are not allergic to any ingredients listed first)
Nutrition Facts
Homemade Dog Biscuits
Amount Per Serving (2 oz)
Calories 49
Calories from Fat 9
% Daily Value*
Fat 1g2%
Cholesterol 7mg2%
Sodium 4mg0%
Potassium 69mg2%
Carbohydrates 10g3%
Protein 2g4%
Vitamin A 10IU0%
Calcium 14mg1%
Iron 1mg6%
* Percent Daily Values are based on a 2000 calorie diet.