How to season frozen chicken breasts, frozen wings, legs, thighs or whole chicken to make it tasty before or after cooking it. Easy kitchen hacks if you want to cook chicken from frozen and still taste amazing.
Seasoning and cooking frozen chicken is possible! We will share the best process to add herbs and spices. This can be before and along the way so your meat has a ton of flavor. Then saute, grill, pressure cook or bake in the oven until melt in your mouth tender. (affiliate links present)
How do I Make Frozen Chicken Tasty
I will share a few ways of seasoning your meat if it is still rock hard. Not the ideal method, but possible. There is more than just herbs and spices though when it comes to adding flavor, here are a few other things to think of;
You can use a variety of spices and herbs to season baked frozen chicken breast in oven so it can help enhance the flavor of the skin.

Common choices include paprika, garlic powder, onion powder, and cumin.
Herbs like thyme, rosemary, and sage can also add a lot of flavor.

Always make sure you bake or cook poultry properly, in a single layer. Whether you're pressure cooking frozen chicken legs or baking on a sheet pan you always want to use an instant read thermometer to make sure the thickest part is fully cooked.

cook time depends on the size of the chicken pieces of course

Internal meat temperature should be at 165 degrees F (74°C) to be safe to consume but still moist and juicy.
Overcooked chicken can be dry and tough, so avoid overcooking it.
And always wait 10 minutes before slicing to keep the juices in

Use different cooking methods where you can add seasonings into the broth that surrounds it like roasting in a deep pan, this is how to boil frozen chicken, or sauté on the stove are all great ones.

These can help to bring out the natural flavors in the meat
When it is close to temp you can then create crispy skin using the broil setting or air fryer.
Seasoning Frozen Chicken
Do I Season Frozen Chicken Before or After Cooking
It is easier after, or when it is 3/4 of the way done cooking. Seasoning frozen meat can be a bit more challenging than seasoning it when it is either defrosted or fresh. The moisture content can prevent the seasoning from sticking, however there are a few methods you can use to season frozen chicken effectively:
You can SLIGHTLY defrost chicken in microwave first: The best way to ensure that the seasoning sticks to the outside is to thaw it first.

You can do this by leaving it in the refrigerator overnight
Or by placing it in a bowl of cold water for a couple of hours, rotating every 30 minutes so it stays cool.

If you sous vide frozen chicken breast you can add the marinade you want or herbs right in the bag, that is very effective.
Season meat before freezing it: Another option is to season your meat before you freeze it. Of course this would only work if you bought it fresh yourself. This will allow the seasoning to penetrate the meat as it thaws.
Another option is to use one of our chicken dry rub recipes on the chicken. Mix your favorites in a bowl, brush on some olive oil and then sprinkle them on while it's still frozen.

The seasoning will stick to the chicken as it thaws better too as long as it is laid flat.
The short answer is; the all time BEST way to get this done whether you make slow cooker frozen whole chicken or use another cooking method. First brush with olive oil, add seasonings rock hard and cook. Just before it is done, when it is at 155 degrees f or so add a bit more oil and re-season again to add another layer of flavor.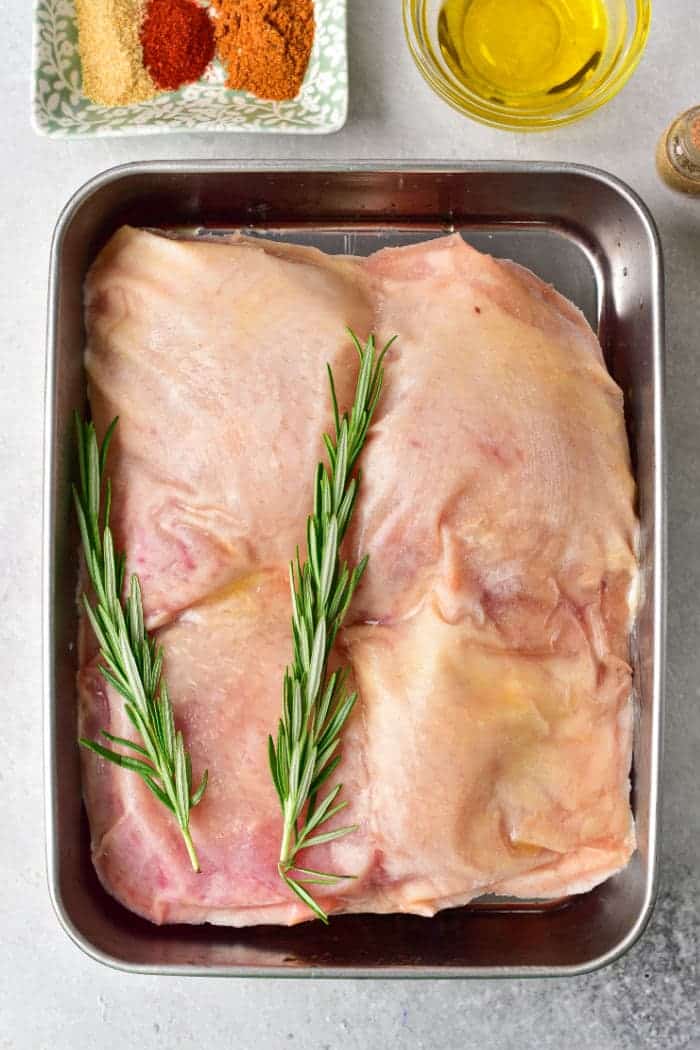 Can I Dry Rub Frozen Chicken
Putting a dry rub on frozen chicken can help infuse the chicken with flavor as it thaws and cooks.
Step one: You have two choices, either thaw the chicken partially before applying the dry rub. Or you can add a bit of olive oil to the top so it will adhere a bit better to the skin.
Step two: Mix your favorite dry rub recipe ingredients in a small bowl. A basic type would jusst consist of salt, pepper, paprika, garlic powder, onion powder, and cayenne pepper. You can buy bottled as well or use one of ours ours. It's listed in the recipe card below and are sweet and savory.
Step three: Thaw a bit or brush olive oil on outside and then sprinkle over the outsides. Make sure to coat all sides evenly. You can use your hands to rub it on and around, making sure to cover it completely.
Step four: Let it sit in the dry rub for at least 30 minutes. This time will allow the flavors to penetrate the meat. You can also cover the chicken and refrigerate it overnight to let the flavors develop even more.
Step five: Cook once the chicken is coated, and always preheat the oven or grill first. We love grilling frozen chicken, baking, or sautéing. Remember to cook the chicken to an internal temperature of 165°F or 74°C to be safe.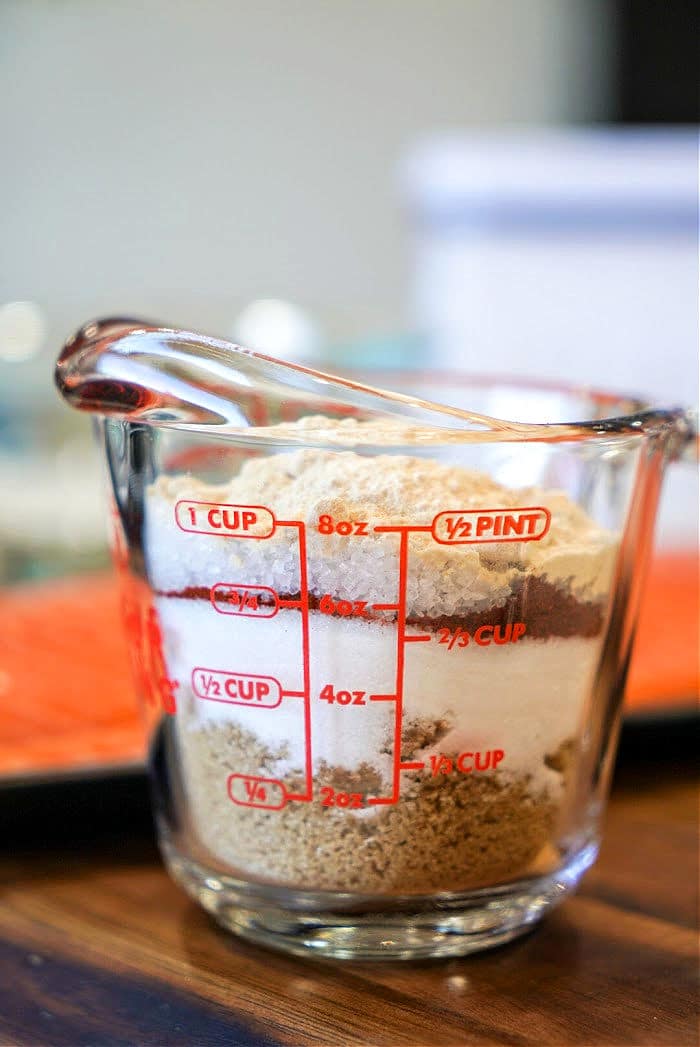 Is it OK to Marinate Frozen Chicken?
Marinating involves soaking in a mixture of ingredients, which helps to tenderize and flavor the meat. It is not recommended to marinate frozen chicken.
When you marinate frozen meat, the marinade won't be able to penetrate anyway, since the surface is still rock hard.
It's best to thaw it even a little bit so the outside is tender before marinating. Thawing in the refrigerator is the safest and most effective method.
Place in a bowl or on a plate and let it thaw overnight in the fridge. Once fully thawed, you can marinate it for a few hours to overnight, depending on the recipe.
A work around to this is if you cook frozen chicken breasts in Instant Pot. You can add your sauce/liquid right in the pot with your pieces. As it defrosts and cooks the protein will soak the flavors up.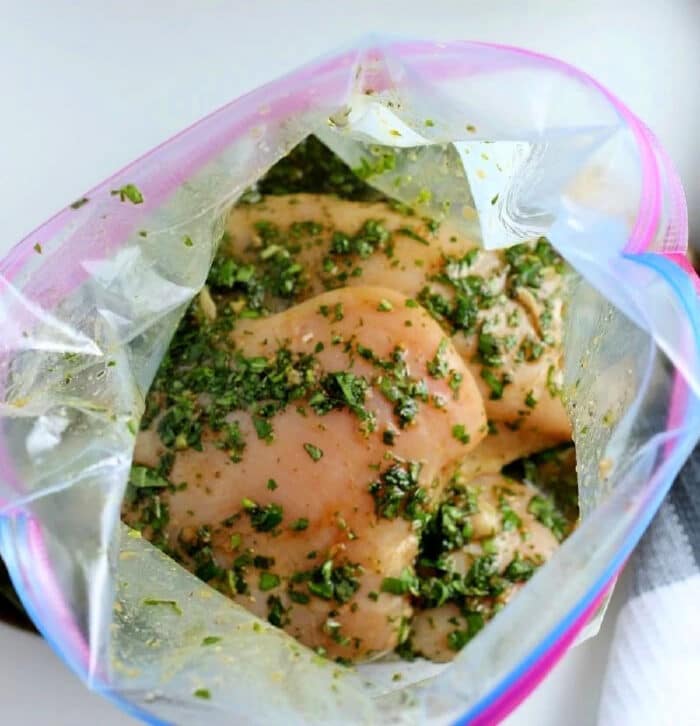 Seasonings for Frozen Chicken
When it comes to seasoning frozen chicken, you can use a variety of herbs and spices. Those will add flavor to the meat. Here are some popular seasoning options for frozen chicken:
Salt and pepper: Simple salt and pepper can enhance the natural flavors of the meat.
Garlic powder and onion powder add a savory and slightly sweet flavor.
Paprika: Paprika adds a subtle smoky flavor and a pop of color which makes it prettier too.
Italian seasoning is just a blend of herbs like basil, oregano, and thyme can add a lot of flavor and comes mixed together in a bottle.
Lemon pepper chicken is one of our favorites with crushed lemon zest and black pepper.
Cajun seasoning is a blend includes paprika, garlic powder, onion powder, cayenne pepper…

+ other spices to add a bit of heat and spicy to the dish.

Curry powder is a blend of spices like turmeric, cumin, and coriander can add a warm, earthy flavor to your meal.
The best way to use these is when making the smallest part of the bird. Follow directions to make frozen air fryer wings. Then 5 minutes before the cook time is set to be up; spray with olive oil and one of these to add extra YUM.
Want to see a few of my favorite things that I am totally obsessed with?? Take a peek and see how many you might already have…twinsies!
Looking for more easy family recipes and tips? LIKE The Typical Mom Facebook page?
Then sign up for my free newsletter, and follow me on Pinterest! 😉
***** If you LOVED this recipe give it 5 Stars below and let everyone know what you thought about it. 😉
How to Season Frozen Chicken
This is how to season frozen chicken before cooking to add flavor, herbs and spices. Then cook by grilling, baking, sauteing or pressure cook until tender.
Instructions
You can get the seasonings to stick well if you thaw it just slightly so the outside is barely tender, or brushing olive oil on top of rock hard poultry pieces or whole bird.

Always preheat oven before adding any meat. If you are baking a whole frozen bird 350 degrees F works well.

Set bird into pot with high sides to catch juices. Brush with olive oil and sprinkle with seasonings of choice. Then cook as desired.

If you are baking a whole frozen bird it will take 3.5-4 hours until tender and thickest part of thigh reaches 165 degrees F.

** However you cook it it is best when it reaches about 155 F to drizzle on a bit more oil on top and add a few pinches of seasonings again just before it is done. This will bake on to the skin when becoming crispy to season the outside really well.
Nutrition Facts
How to Season Frozen Chicken
Amount Per Serving (1 oz)
Calories 48
Calories from Fat 45
% Daily Value*
Fat 5g8%
Cholesterol 0.1mg0%
Sodium 1mg0%
Potassium 14mg0%
Carbohydrates 1g0%
Protein 0.2g0%
Vitamin A 53IU1%
Vitamin C 0.2mg0%
Calcium 20mg2%
Iron 1mg6%
* Percent Daily Values are based on a 2000 calorie diet.