Air fryer breakfast potatoes with bell peppers topped with cheese are great with eggs, or make breakfast for dinner some night! Cheap and full of flavor.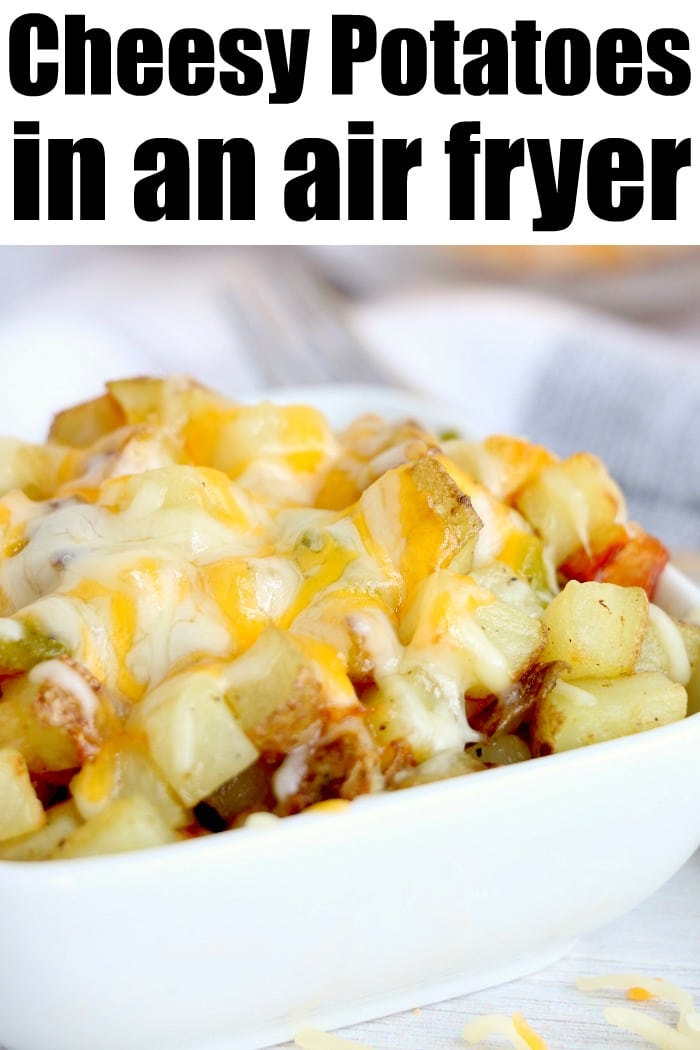 Have you tried making air fryer breakfast potatoes yet?? There's tons of flexibility to these. Smother with cheese or leave plain with just salt and pepper. Either way it's an easy air fryer recipe here at our house. Sponsored by Washington Potatoes. (originally published 4/20, affiliate links present)
Well, make some egg bites, air fryer apple fritters, and throw together some of these diced potatoes.
If you love air fryer recipes too, here are some resources to start with: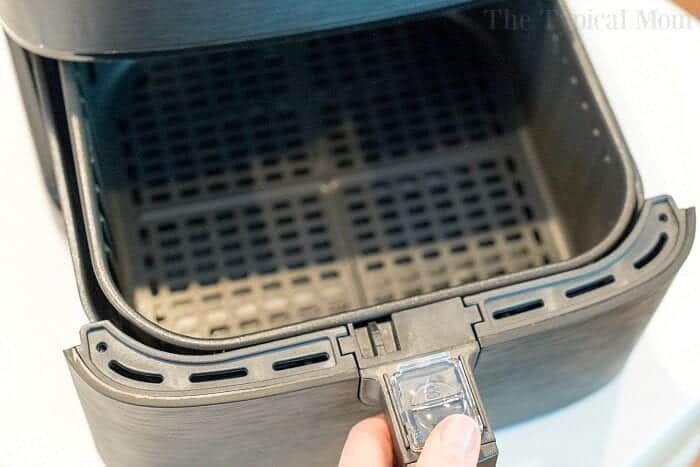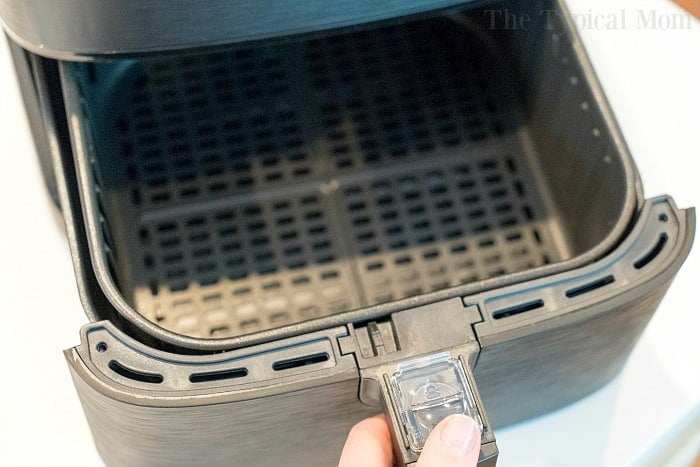 I assure you that everybody at your table will think you're an amazing cook. 😉
One thing you can always find in your local grocery store, no matter what time of year, would be Washington potatoes! OR cook frozen hashbrowns in air fryer if all else fails, this is better though.
From russets to red potatoes, yellow, or the petite variety, they are just SO versatile!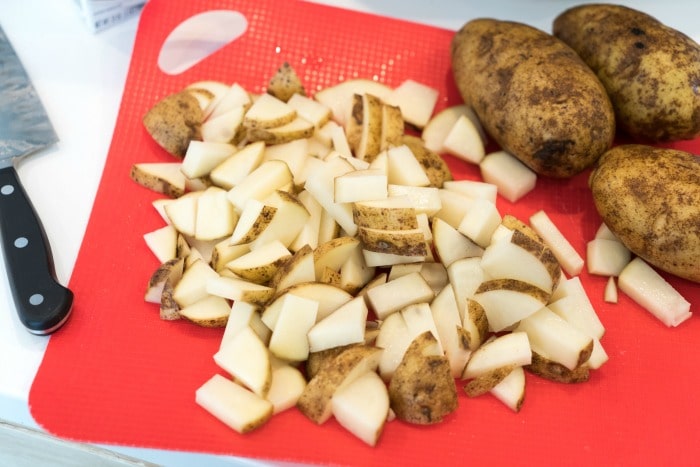 Do NOT remove those potato skins though, you'll lose all those great nutrients!! You also want them to stay firmer than you would if making mashed potatoes, this helps too.
Why should you eat potato skins?
They really help support a healthy gut because of the fiber they contain. Eating them increases feelings of being full and satiated too. If you're looking to get the most nutrition out of your russet, sweet, or red potatoes keep the peel on!!
What nutrients are in potato skins?
Cooked potatoes with skin are a good source of potassium and vitamin c. They also contain moderate amounts of protein and fiber, are naturally gluten free and almost fat free.
Let me show you what I mean by this…..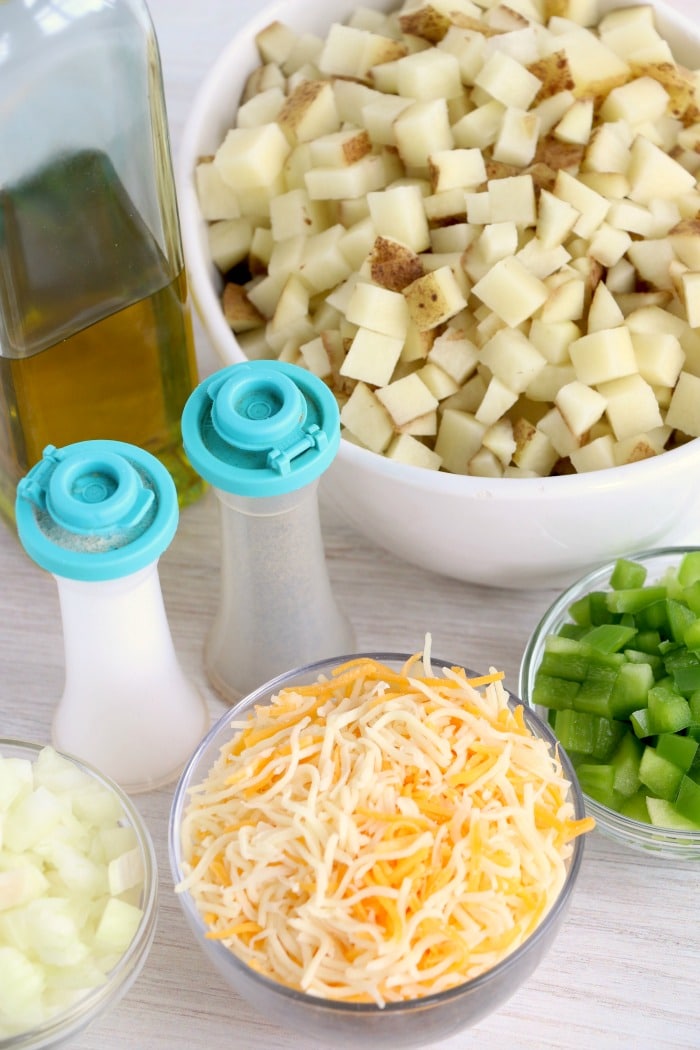 We have tons of different potato recipe ideas here on The Typical Mom blog. Why?
Because you can bake them, put them on your smoker, and make a lot of different recipes in your air fryer too.
Now we are making diced potatoes in an air fryer to start our busy day. You can add ALL THE THINGS to them, like we do, or leave them plain as a side dish.
Yes you could do a bit more prep work and soften your green peppers too. If you choose to do so, this is how to blanch bell peppers. I tend to be in a hurry when using my hot air machine so I don't bother.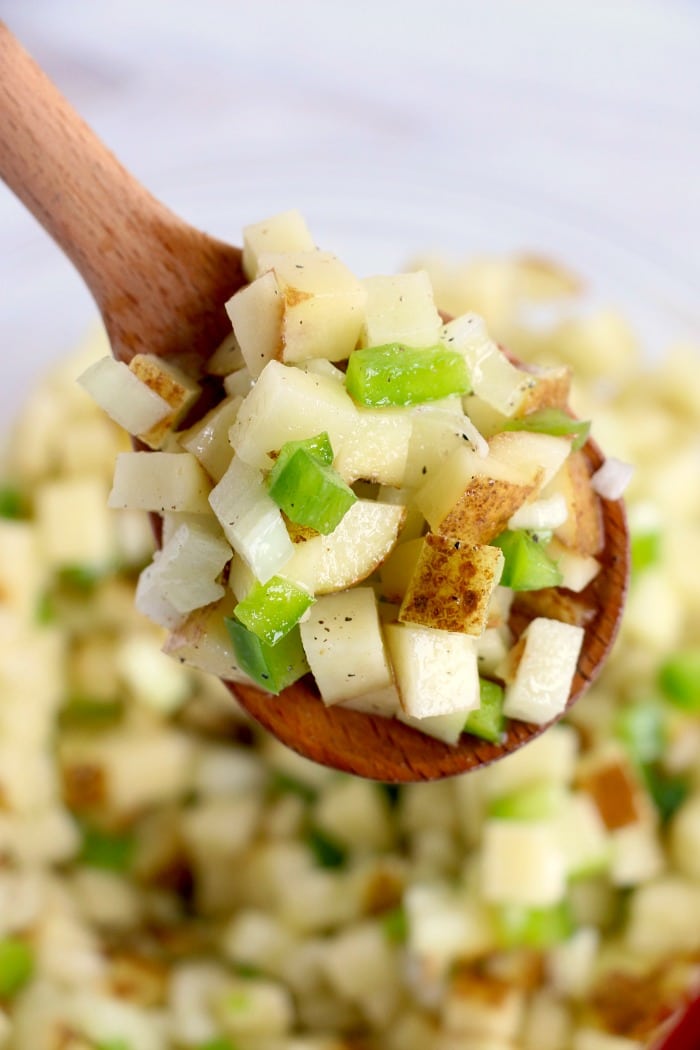 Breakfast potato ingredients
Russet potatoes

leave skins on, dice so they're all the same size

Onion
Green onion
Salt and pepper
Olive oil
Large bowl to mix potatoes, peppers and onions
Cheese and bacon bits are optional of course but one or both are a must if you ask me.
Breakfast potatoes in air fryer
Red onions
Garlic powder
Halved mushrooms
Mix diced potatoes

use some red potatoes too
or yellow
Feel free to add diced chives and/or green onions inside or sprinkle on top with cheese
Ok so once you have all your ingredients mixed together, you're going to want to preheat your air fryer and cook. 400 degrees is the optimal temperature to get nicely fried potatoes in under 30 minutes.
How the cook time is going to vary:
The larger you dice your vegetables and potatoes, the longer it will take.
You can make different types of breakfast potatoes

use red potatoes vs. russets but it will take a bit longer to get tender.
yellow potatoes will be of similar cook times
You're going to want to shake the contents inside your air fryer basket every 5 minutes for optimal results.
If you've air fried everything you know this to be true

It gives food a chance to rotate and get crispy on all sides

Total time to make air fryer potatoes is from 15 minutes to 25 minutes or so.
Remove and enjoy with eggs and/or ketchup once they're as crunchy and tender on the inside as you desire.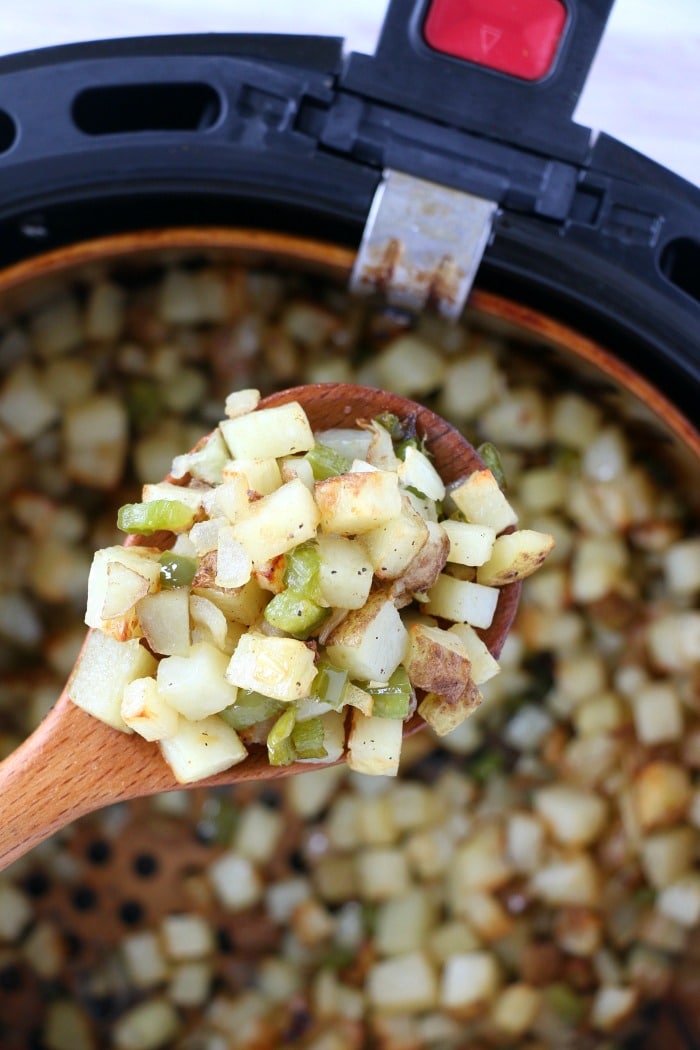 Yes you could make a version similar to this in your pressure cooker. They won't be crispy though, but you should try them both! Our Instant Pot cheesy bacon potatoes are here for you to enjoy and cheese grits casserole is a great duo for brunch.
Can I cook eggs in my air fryer?
Yes!! Try our air fryer breakfast too some morning. It is more of an omelette than anything else and packed with bacon and peppers is a great start to every morning.
Think outside of the box and try all the things in your new hot air machine my friends. If you want to stick with traditional baked potatoes those are fabulous too. Even better than baking them in your oven I tell you.
You know that crunchy, salty outside with tender fluffy insides you get at restaurants? THIS is how you can do the same thing right at home.
Looking for more recipes using potatoes like our low carb air fryer breakfast peppers? There are endless possibilities using a variety of different Washington potatoes!
We've made a similar version like this called Crockpot funeral potatoes that's always a hit too.
Want to see a few of my favorite things that I am totally obsessed with or visit my Etsy shop?? Take a peek and see how many you might already have…twinsies!
Looking for more easy family recipes and tips? LIKE The Typical Mom Facebook page?
Then sign up for my free newsletter, and follow me on Pinterest! 😉
***** If you LOVED this recipe give it 5 Stars below and let everyone know what you thought about it. 😉
Air Fryer Breakfast Potatoes
Air fryer breakfast potatoes with bell peppers topped with cheese are great with eggs, or make breakfast for dinner some night! Cheap and full of flavor.
Ingredients
Instructions
In a mixing bowl add diced potatoes (with skins on), onions, green peppers and seasonings. Drizzle with olive oil and stir so everything is coated.

Preheat air fryer for 5 minutes at 400 degrees.

Pour mixture into air fryer basket and cook for 15-20 minutes shaking every 5 minutes. Take out once potatoes are tender with a fork and browned as much as you'd like.

If you want to add cheese you can sprinkle it on the last 3-5 minutes to melt, or dump potatoes when done in a dish, sprinkle cheese on top and microwave for about 2 minutes until it is melted.
Nutrition Facts
Air Fryer Breakfast Potatoes
Amount Per Serving (3 oz)
Calories 236
Calories from Fat 99
% Daily Value*
Fat 11g17%
Cholesterol 20mg7%
Sodium 912mg40%
Potassium 842mg24%
Carbohydrates 26g9%
Protein 10g20%
Vitamin A 262IU5%
Vitamin C 38mg46%
Calcium 197mg20%
Iron 6mg33%
* Percent Daily Values are based on a 2000 calorie diet.