Crockpot funeral potatoes with potato chips are great for breakfast or brunch. Feeds a crowd and is cheap to make too. Make it cheesy with chips on top for the crunch. If you loved our slow cooker potato soup with frozen hashbrowns these will be a hit too.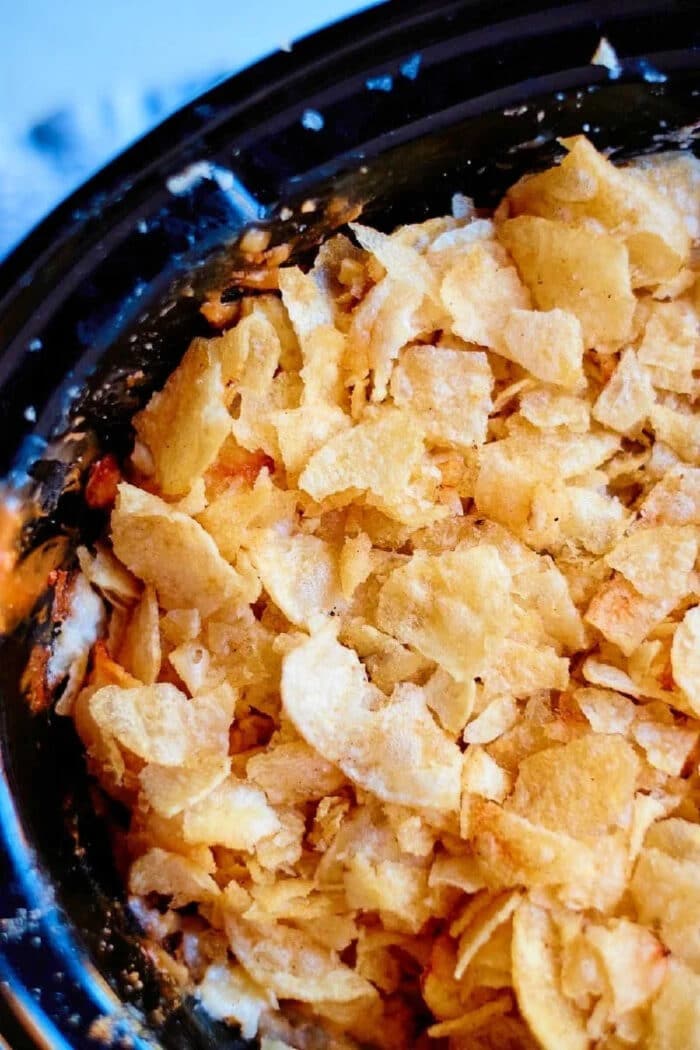 Want a fun brunch item this year? Try Crockpot funeral potatoes with frozen hashbrowns! With crushed potato chips on top of tender cheesy taters, it's always an easy Crockpot recipe our whole family enjoys. (originally published 12/20, affiliate links present)
Crockpot Funeral Potatoes Hash Browns
You know I love EASY dishes, especially when I am cooking "all the things" at the same time. SO….. frozen hashbrowns were used for this one. Talk about making things simple as ever. Yes you could dice up fresh potatoes as well and the timing would be just about the same but why??
If you want to make this ooey gooey and cheesy you can certainly do that by folding in some sharp cheddar. I would melt some on top on the last 30 minutes as well, and then OMG it's kinda' like Cracker Barrel hashbrown casserole.
FIRST – You should sign up for my free newsletter so you get new posts emailed to you twice a week and never miss out on anything! Let's talk a little bit about slow cooking shall we?? First off I have a few different varieties and I love them all. Each one has an occasion to be used like….
This is my favorite 6 quart programmable one with a locking lid so it's great for bringing to a potluck too.
If you just want to serve a few appetizers you should get this one that sit side by side one another.
I prefer not to use liners, but rather just spray olive oil inside before adding my food for easier cleanups.
Let me give you a peek of my pretty thang I bought recently. It goes with my kitchen so I can just leave it out on the countertop all the time. 😉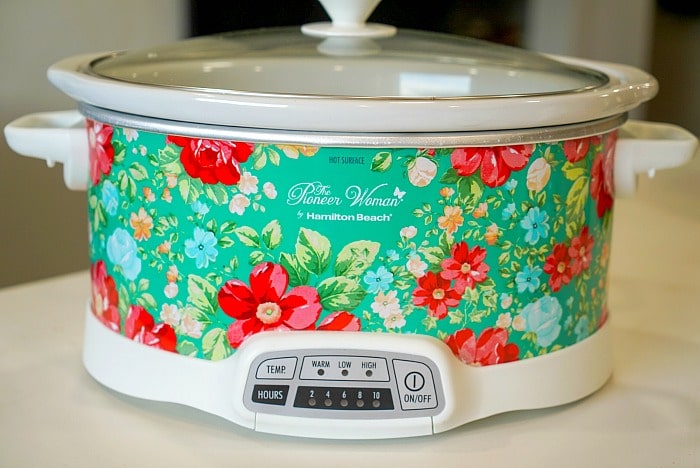 Crockpot Funeral Potatoes with Frozen Hashbrowns
It truly is a cheap easy Crockpot recipe my kids go crazy over. I mean, who wouldn't right??!! If you attend a lot of potlucks for brunch, this one is always a hit. Some swear by corn flakes on the top instead of chips. I think that is kinda' weird and doesn't add the savory aspect enough for me but pick your poison. 😉
So we made this slow cooker cheesy potatoes a while back and there's where the obsession started.
These are similar but with a slight variation, using condensed soup so it's a bit thicker and richer in flavor.
Then we went on to use the pressure cooker and make Instant Pot cheesy potatoes with bacon and ranch. OH MY yes those were heavenly. Not everyone is infatuated with all the small kitchen appliances like I am but if you have an IP I would make it both ways and see which you prefer.
You can find hash browns in the freezer section of almost any grocery store. They come diced or shredded, I prefer a bit bigger myself so they don't get quite as soft. Sometimes there are bits of bell pepper mixed in there which is a great addition for sure.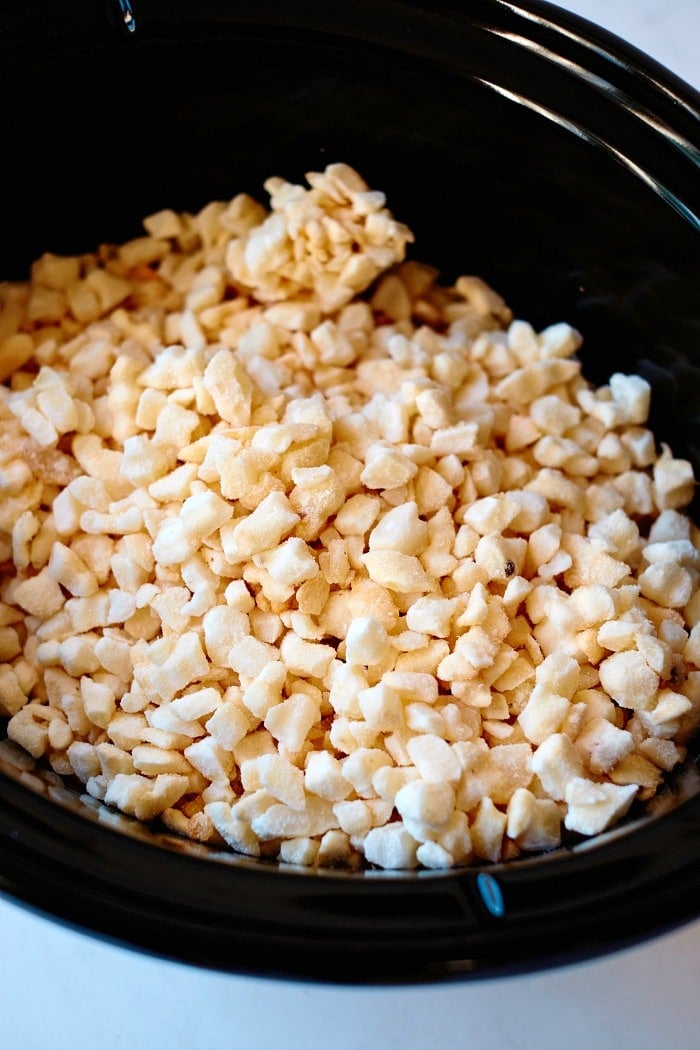 Funeral Potatoes
This is what you're going to need to make this. Of course the seasonings can be added to, just basics were used here but still turned out excellent.
Bagged frozen hash browns

I prefer diced frozen potatoes as opposed to shredded for this potato recipe

Cream of mushroom condensed soup

or make homemade cream of mushroom
cream of chicken soup can be used alternatively if you prefer

Mozzarella cheese

or cheddar cheese if you prefer

Milk
Garlic powder
Potato chips
Salt and pepper should be used at the end and adjusted to your liking before adding chips to the top. Some like to add a large spoonful of sour cream at the end too. Spraying the inside of your pot with non stick cooking spray is helpful for cleanup later.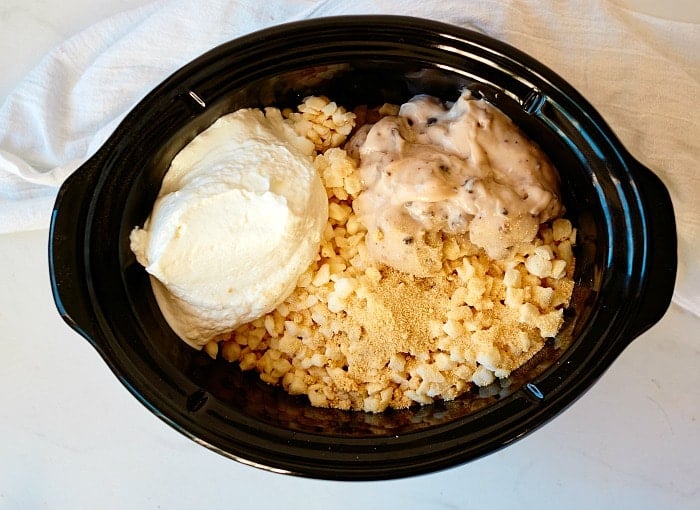 Funeral Potatoes in a Crockpot
This cheesy potato casserole is pure comfort food. What's great is if you want to double the recipe you can, prefer corn flakes instead of chips, go for it! Here are a few questions you might have before you get going:
Why are they called funeral potatoes?
It is said that the term came about from members of the LDS religion. It was a common dish commonly served as a side dish at get togethers after the funeral service. So, the name kinda' stuck.
How long does potatoes take in the slow cooker?
It depends on what you're making. 6 hours is great for these. Using fresh can shorten the cooking time if they are diced quite small.
The larger they are the longer it takes.

Crockpot mashed potatoes take closer to 4 hours, especially if you want them to be a bit lumpy.
Can I substitute fresh shredded potatoes for frozen hash browns?
Yes, but you'd need to cook for a shorter time period so it doesn't become mushy. I use defrosted shredded for our Crockpot breakfast casserole and it works great.
Here's everything thrown together in the pot.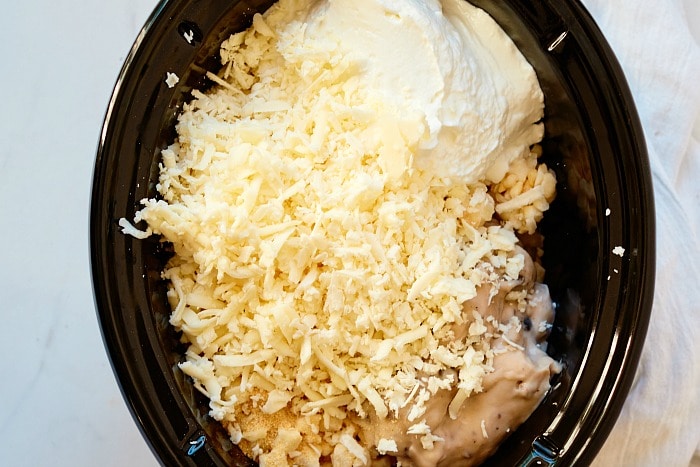 Crockpot Funeral Potatoes Recipe
I have heard some people say they MUST add half a block of room temperature cream cheese after the 6 hours. Well, by all means do that friends. There are lots of variations out there. Tweak it for just y'all. It's a versatile potato dish for sure.
Mix together everything except potato chips inside slow cooker.
Cover and cook on low for 6 hours. Can stir halfway thru but not necessary.
I wouldn't recommend cook on high because the outsides will get really done with the middle not as tender.
30 minutes before serving sprinkle cheese on top and stir. Put lid back on so it melts. When done sprinkle crushed chips on top and serve warm!
Funeral potatoes recipe without corn flakes
Yes, some people like to use cereal on top instead. That is not my first choice, though I haven't tried it, instead plain Lay's potato chips are used. Store brand is just fine too, they literally taste just the same.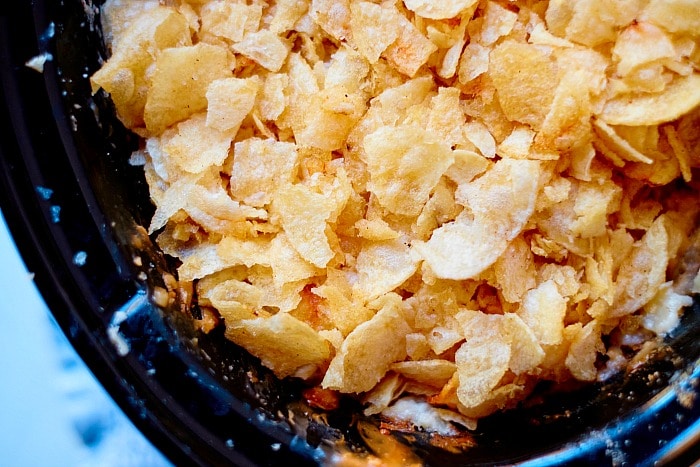 Funeral potatoes with real potatoes
Yes you can surely do this. I would peel all of our potatoes first after scrubbing them in the sink. Dice them into small 1/2″ x 1/2″ pieces. Use these instead of frozen, then follow the same directions below.
Instead of 6 hours on low though I would definitely check after 3 and stir checking the tenderness with a fork. If not soft enough, re-cover and cook for another hour and check again. Timing will depend on how small they are cut.
How do you reheat funeral potatoes?
It will have a different consistency after being refrigerated because of the chips. Still yummy you'll want to put into a microwave safe dish. Heat for 30 seconds, stir, then again for the same time until warm enough for you.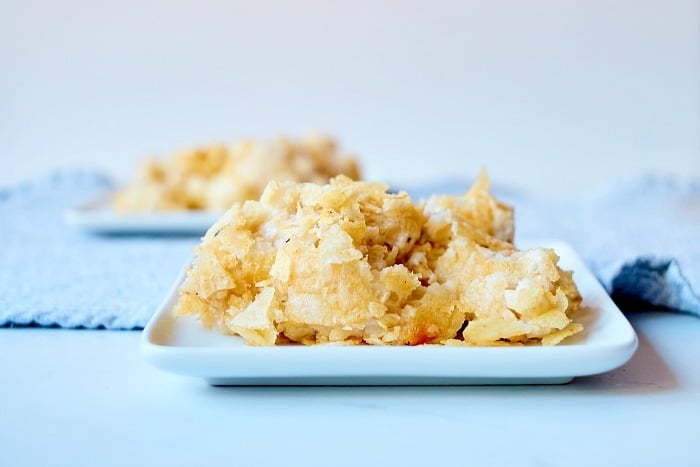 Cheesy Potato Recipe in Slow Cooker
Looking to make a few other easy potato ideas for Christmas brunch? We have a lot to choose from here on The Typical Mom blog but I will just share a few I know you'll love.
If you want a smaller batch of something similar but a bit more simple, try air fryer hashbrowns smothered with cheese some time. Below is a printable version of this recipe for you.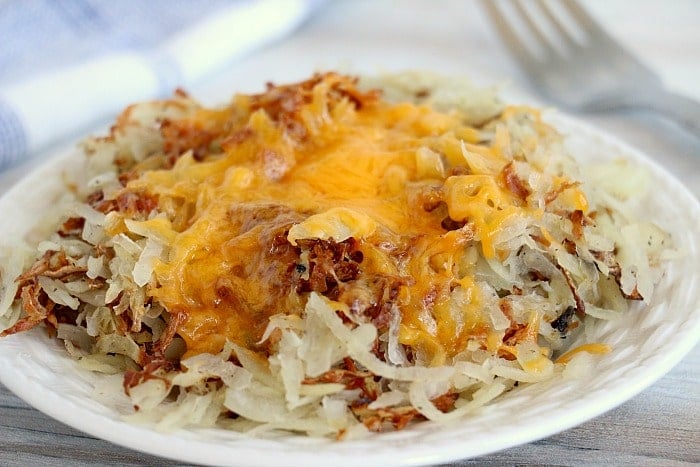 Keep simple like we did, load it up more with things like bacon bits, or a variety of cheeses near the end before serving. Let us know if you add something different we should try next time we make it at our house!
Want to see a few of my favorite things that I am totally obsessed with?? Take a peek and see how many you might already have…twinsies!
Looking for more easy family recipes and tips? LIKE The Typical Mom Facebook page?
Then sign up for my free newsletter, and follow me on Pinterest! 😉
***** If you LOVED this recipe give it 5 Stars below and let everyone know what you thought about it. 😉
Crockpot Funeral Potatoes
Crockpot funeral potatoes are great for breakfast or brunch. Feeds a crowd and is cheap to make too. Bring on the cheese and chips y'all!
Instructions
Mix together everything except potato chips inside slow cooker.

Cover and cook on low for 6 hours. Can stir halfway thru but not necessary.

30 minutes before serving sprinkle cheese on top and stir. Put lid back on so it melts.

When done sprinkle crushed chips on top and serve warm!
Nutrition Facts
Crockpot Funeral Potatoes
Amount Per Serving (2 oz)
Calories 248
Calories from Fat 99
% Daily Value*
Fat 11g17%
Cholesterol 18mg6%
Sodium 397mg17%
Potassium 608mg17%
Carbohydrates 29g10%
Protein 9g18%
Vitamin A 159IU3%
Vitamin C 11mg13%
Calcium 132mg13%
Iron 2mg11%
* Percent Daily Values are based on a 2000 calorie diet.