These are the most amazing Instant Pot chicken legs! If you love easy pressure cooker dinners but looking for something your kids will love too chicken legs are simple to make in just 10 minutes. This fall off the bone tender Instant Pot drumsticks recipe will be your go to meal for sure!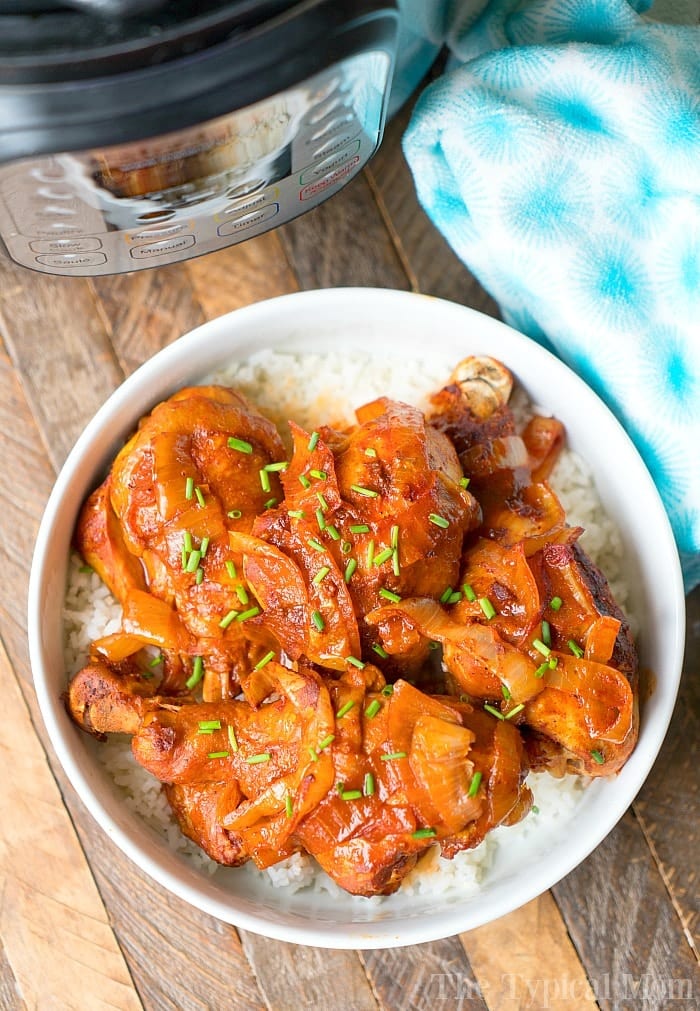 I actually have two easy pressure cooker chicken drumsticks recipes here for you today. This one you see here can be made as spicy as you like, or mild as well (we do mild). With that wonderful enchilada flavor you love, but instead of on a tortilla it is smothered on top your favorite part of the chicken! If you've never made any type of Instant Pot chicken legs they are so easy and a healthy meal too! Three ingredients is all you need, and if you like a little crisp on the outside you just pop them under your broiler for a few minutes and they are perfection I tell you! Definitely one of our favorite easy Instant Pot recipes. (originally published 5/18, affiliate links present)
You can even skip the onion if you'd rather but even if you don't eat them they add a wonderful flavor.
I have two Instant Pot chicken legs sauce options below you can try, we liked both and just rotate between the two.
Method 1 – using enchilada sauce
Recipe 2 – using barbecue sauce (don't choose honey style as that will trigger the burn message)
Both of them have the ability to be as mild or as spicy as you want and I will show you how to crisp up the chicken skin (or outside if there's no skin) once your Instant Pot chicken legs are cooked.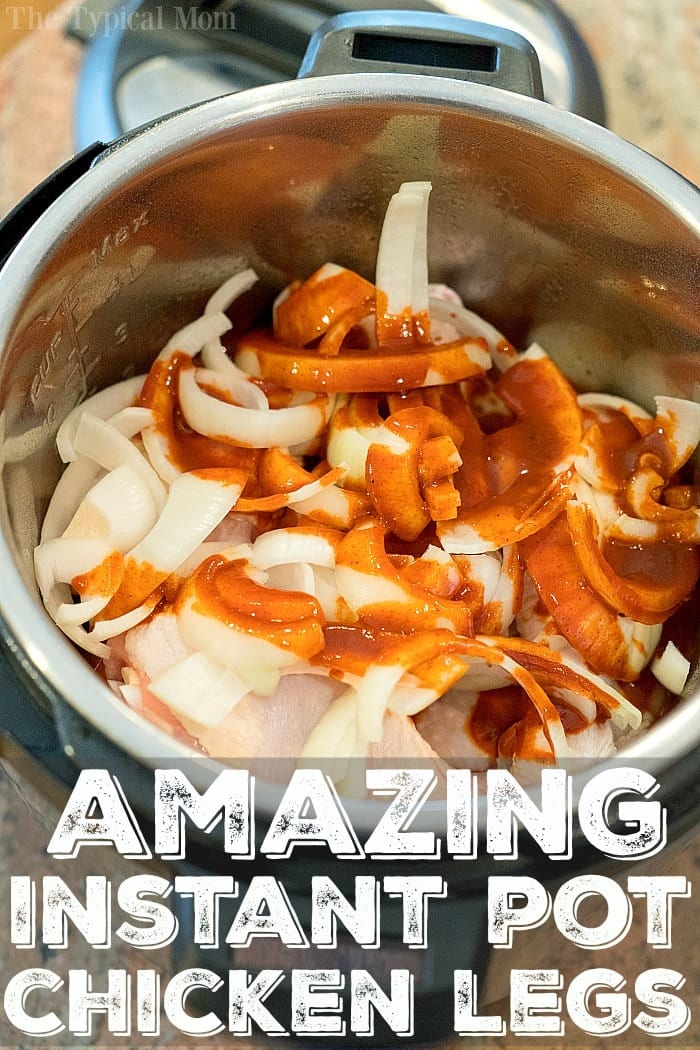 When you have a family it is sometimes hard to make a healthy meal that everyone loves, but drumsticks are a favorite among most kids and many times they are really inexpensive at the store.
I say if I can feed my family of five for under $15 it is a win, and this pressure cooker chicken dinner is one of those…..I share my others in this post with lots of cheap Instant Pot recipes.
Like I said, there are many heat levels for our Instant Pot chicken legs
You can find mild, medium, and spicy enchilada sauce at the store and for us mild is enough heat with tons of flavor!
In the pressure cooker no matter what sauce you add with your meat really permeates inside and creates some amazing flavors. It also makes everything extremely tender and fall off the bone in this case.
We generally don't eat chicken skin but still like a bit of browning on the top. Just 3-4 minutes on the broiler setting of my oven makes them perfect, as you can see here.
Here's what you need to make Instant Pot chicken legs
Pressure cooker

I HIGHLY suggest you get a non stick pot too!

Instant Pot air fryer lid to crisp skins, highly recommended
Chicken legs – 8 medium sized drumsticks fit well in my 6 qt. IP
28 oz. enchilada sauce – any brand and heat level

or alternatively you can use 1 bottle of barbecue sauce + 3/4 c. water

1 onion
If you're looking for another healthy pressure cooker chicken drumsticks recipe I wrote one for Healthline that has a delicious barbecue flavor.
They're fall off the bone delicious with a sweet barbecue flavor that kids love and the perfect meal year round!
Here's a peek of the barbecue Instant Pot drumsticks in my pot.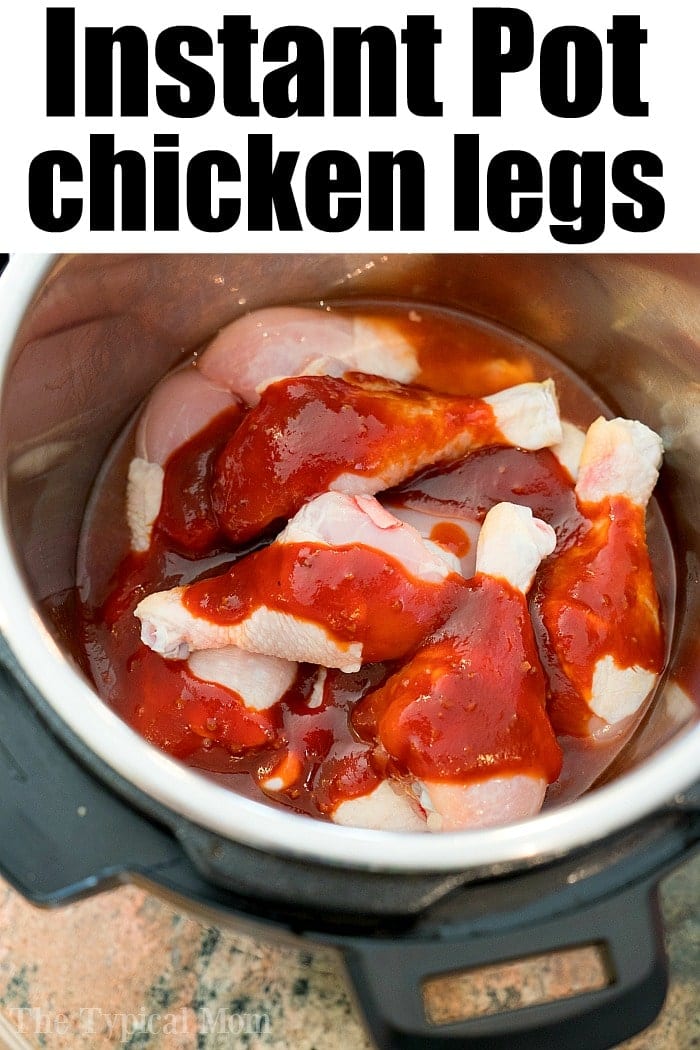 Looking for more Instant Pot chicken recipes we have a bunch!
Here's the recipe for pressure cooker chicken drumsticks with enchilada or barbecue sauce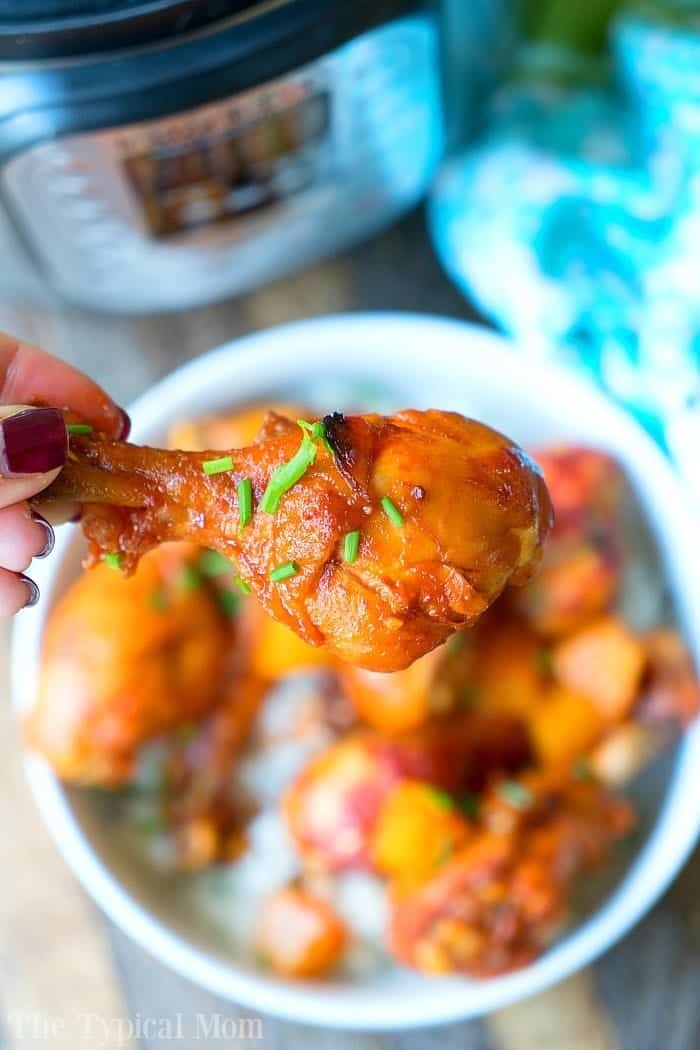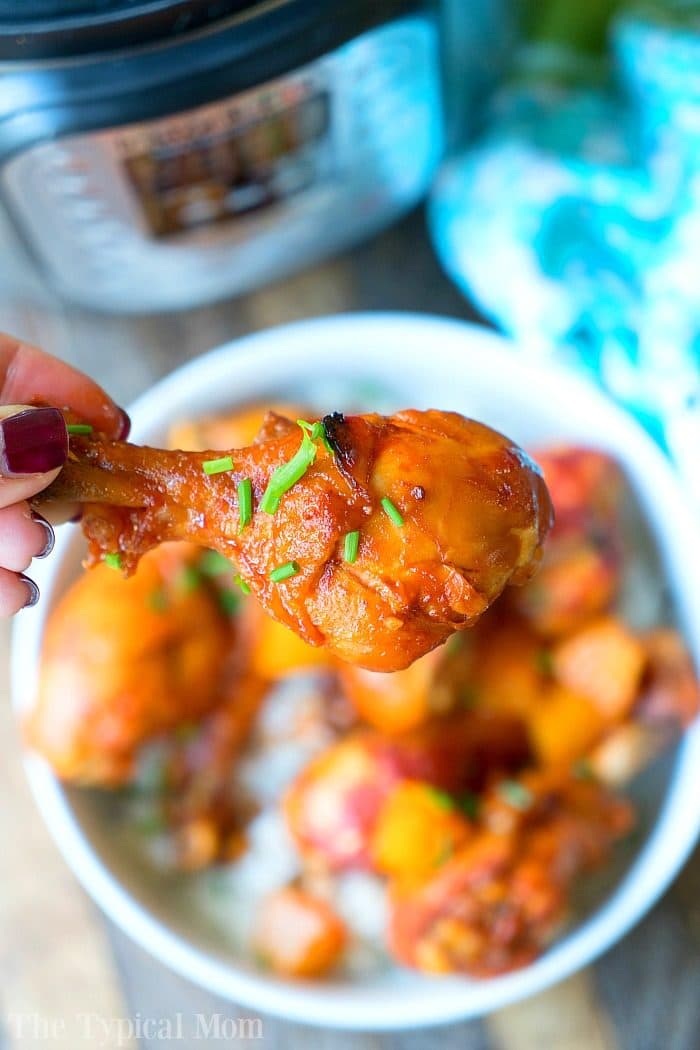 Can you stack chicken in the Instant Pot?
Typically I do not but when making drumsticks I do, yes.
Can you put frozen meat in the Instant Pot?
Yes
I haven't used frozen chicken legs when making these per say but have thawed frozen chicken breasts this way.
The only issue I could see is that they may be in a large clump once frozen.
If you're able to separate them I might cook for 12 minutes instead of 10 and put under the broiler when done.
Instant Pot Chicken Legs
These are the most amazing Instant Pot chicken legs! If you love easy pressure cooker dinners but looking for something your kids will love too chicken legs are simple to make in just 10 minutes. This fall off the bone tender Instant Pot drumstick recipe will be your go to meal for sure!

Ingredients
8

chicken legs

medium size legs

1

can

enchilada sauce

we prefer medium, 28 oz. can, or use bottle of (not honey style) barbecue sauce + 3/4 c water

1/2

onion
Instructions
Spray the inside of your Instant Pot with non stick spray and pour half your can of enchilada sauce inside.

If using barbecue sauce pour in half your bottle of sauce + 1/2 c water.

Put 4 legs down staggering them so they aren't overlapping.

Make a second row of drumsticks trying not to overlap them.

Cut onion into large pieces and put on top of chicken.

Pour remainder of enchilada sauce over everything and put lid on your pressure cooker, close steam valve too.

If using bbq sauce dump the remainder of the bottle of sauce + pour 1/4 c. water into the bottle and shake to get remaining sauce, then pour this on top of your chicken too.

Set to pressure high for 10 minutes.

Allow to naturally release pressure for 10 minutes. Release rest of steam.

Check the middle of one of your legs to ensure they are cooked thru (just because if you use quite large legs they may not quite be done, I suggest using med. size).

Serve....or if you want to crisp the outside a bit put them on a baking sheet and under your broiler on high for 3-4 minutes until they brown on the top, pour some more sauce on top when serving, and then enjoy!
Nutrition Facts
Instant Pot Chicken Legs
Amount Per Serving (4 oz)
Calories 278
Calories from Fat 180
% Daily Value*
Fat 20g31%
Cholesterol 119mg40%
Sodium 109mg5%
Potassium 271mg8%
Protein 21g42%
Vitamin A 120IU2%
Vitamin C 0.7mg1%
Calcium 13mg1%
Iron 0.9mg5%
* Percent Daily Values are based on a 2000 calorie diet.