These are the most amazing Instant Pot chicken legs! If you love easy pressure cooker dinners but looking for something your kids will love too chicken legs are simple to make in just 10 minutes. This fall off the bone tender Instant Pot drumsticks recipe will be your go to meal for sure!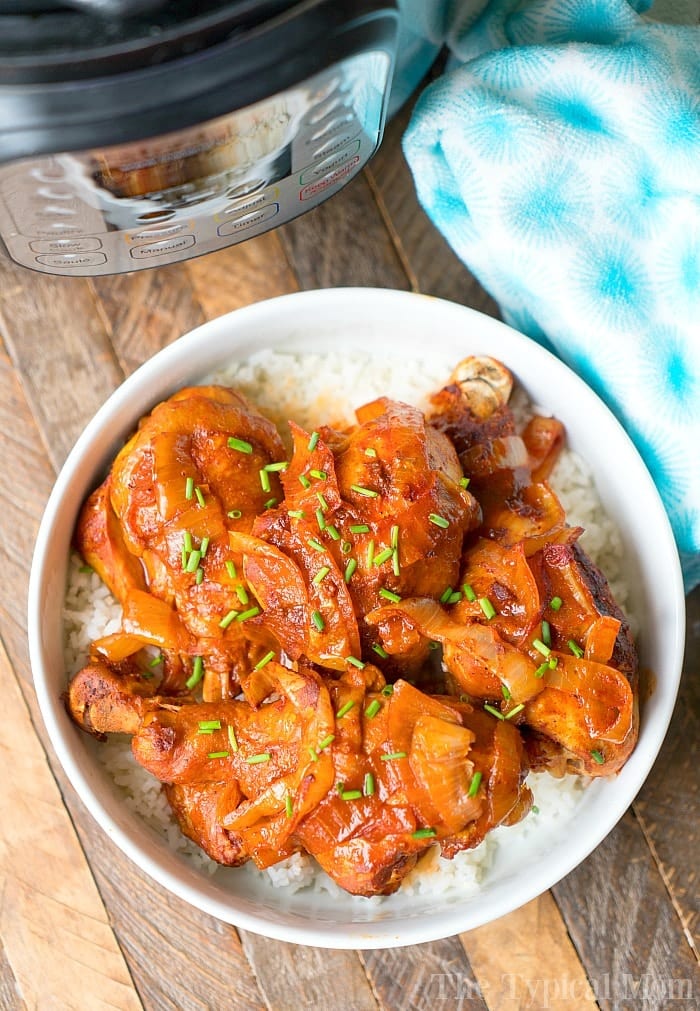 I actually have three easy Instant Pot chicken legs recipes here for you today. This one you see here can be made as spicy as you like, or mild as well (we do mild). With that wonderful enchilada flavor you love, but instead of on a tortilla it is smothered on top your favorite part of the chicken! If you've never made any type of pressure cooker chicken drumsticks they are so easy and a healthy meal too! Definitely one of our favorite easy Instant Pot recipes. (originally published 5/18, affiliate links present)
If you like a little crisp on the outside you just pop them under your broiler for a few minutes and they are perfection I tell you!
You can even skip the onion if you'd rather but even if you don't eat them they add a wonderful flavor.
I have two Instant Pot chicken legs sauce options below you can try, we liked both and just rotate between the two.
Method 1 – using enchilada sauce
Recipe 2 – using barbecue sauce (don't choose honey style as that will trigger the burn message)
3rd recipe is chicken adobo Instant Pot style
Both of them have the ability to be as mild or as spicy as you want and I will show you how to crisp up the chicken skin (or outside if there's no skin) once your Instant Pot chicken legs are cooked.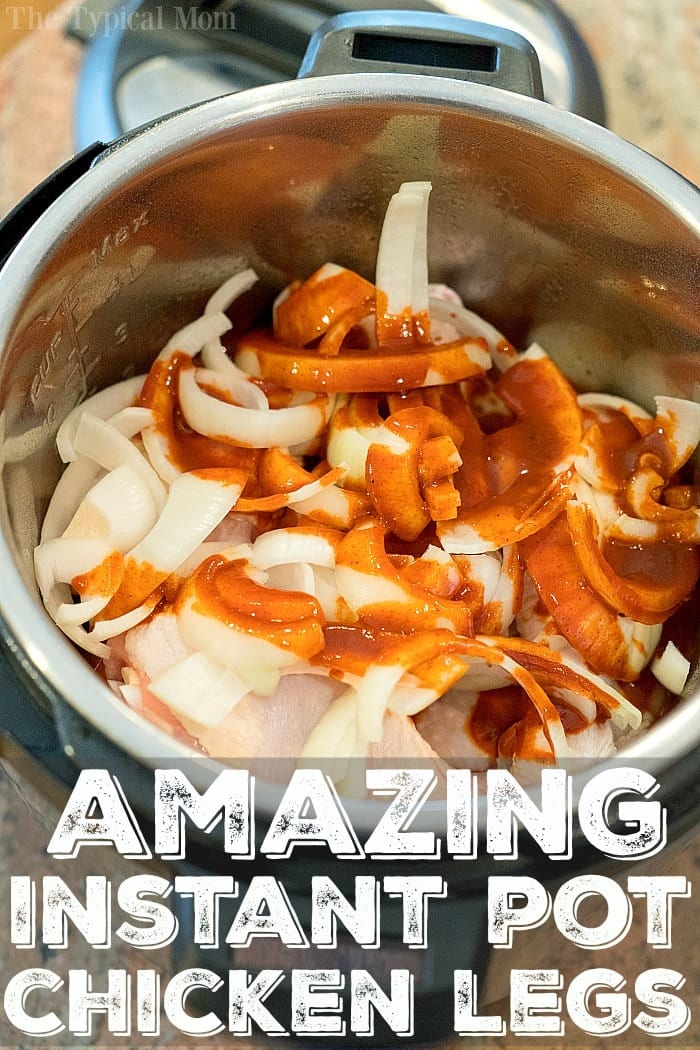 When you have a family it is sometimes hard to make a healthy meal that everyone loves, but drumsticks are a favorite among most kids and many times they are really inexpensive at the store.
I say if I can feed my family of five for under $15 it is a win, and this pressure cooker chicken dinner is one of those…..I share my others in this post with lots of cheap Instant Pot recipes.
Like I said, there are many heat levels for our Instant Pot chicken legs
You can find mild, medium, and spicy enchilada sauce at the store and for us mild is enough heat with tons of flavor!
In the pressure cooker no matter what sauce you add with your meat really permeates inside and creates some amazing flavors. It also makes everything extremely tender and fall off the bone in this case.
We generally don't eat chicken skin but still like a bit of browning on the top. Just 3-4 minutes on the broiler setting of my oven makes them perfect, as you can see here.
Here's the ingredients for the FIRST Instant Pot chicken drumsticks recipe
Pressure cooker

I HIGHLY suggest you get a non stick pot too!

Instant Pot air fryer lid to crisp skins, highly recommended
Chicken legs – 8 medium sized drumsticks fit well in my 6 qt. IP
28 oz. enchilada sauce – any brand and heat level

or alternatively you can use 1 bottle of bbq sauce + 3/4 c. water

1 onion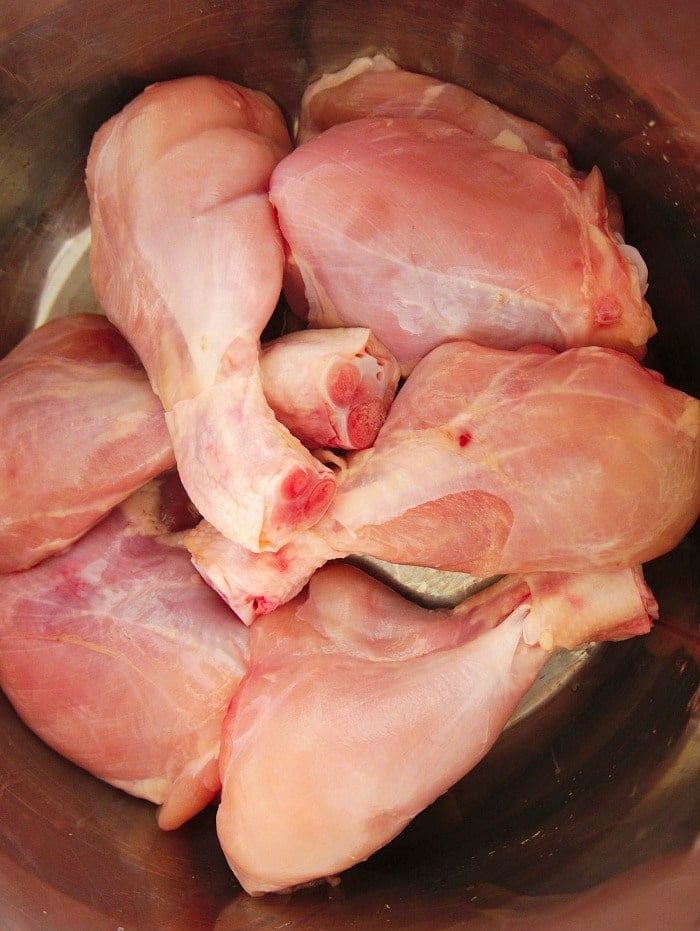 Both are going to use high pressure cooking temperature with short cooking times and a quick release for this one.
It only takes about 15 minutes to get the meat tender and pretty much fall off of the bone.
That makes it a family favorite that is easy and delicious served with a simple side dish like vegetables.
My kids say it's a great recipe because "chicken legs rock", no matter what sauce is used really. 😉
Here is the first chicken legs recipe.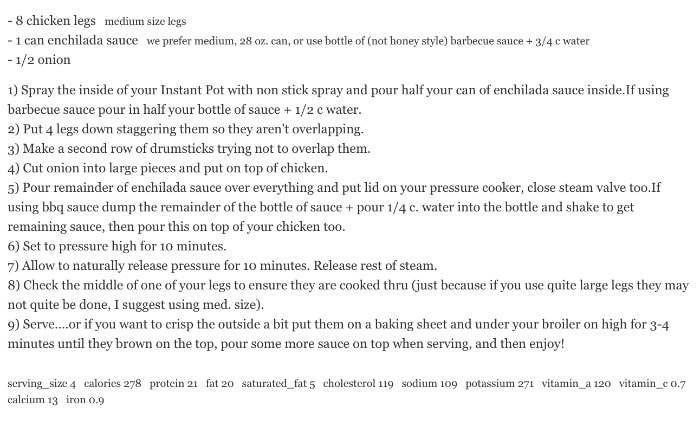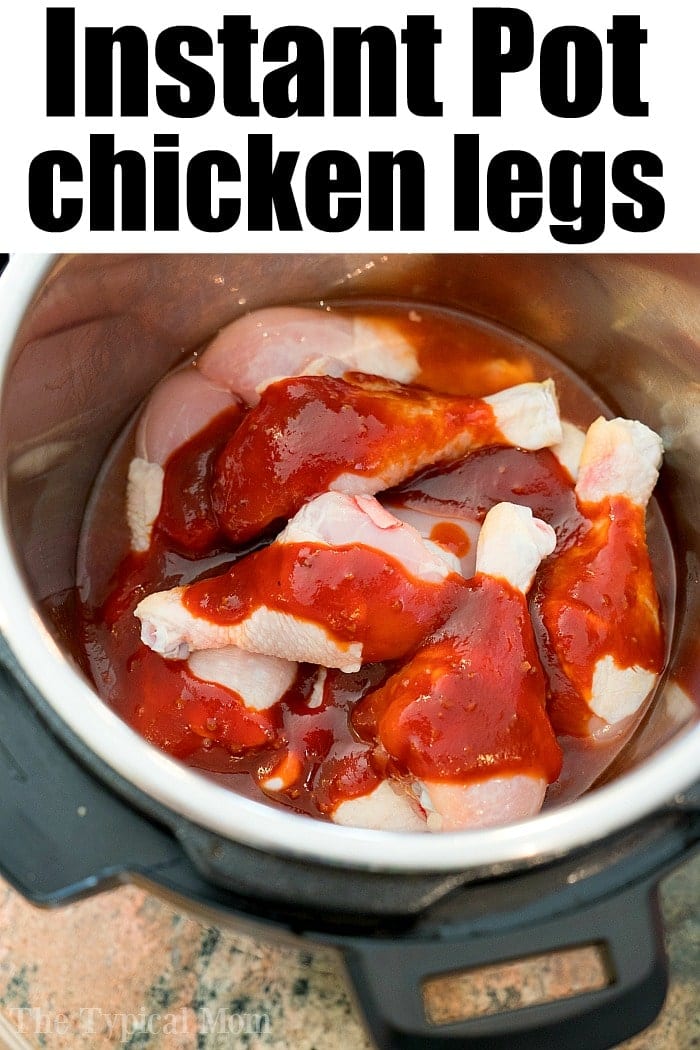 We have another healthy pressure cooker chicken drumsticks recipe here I wrote for Healthline that has a delicious barbecue flavor.
They're fall off the bone delicious with a sweet barbecue flavor that kids love and the perfect meal year round!
The third pressure cooker recipe is in the printable recipe card below!
This one is an Instant Pot chicken adobo version you will love!
Here are the ingredients you'll need for this one:
Drumsticks
Rice vinegar
Brown sugar
Minced garlic
Black peppercorns
Bay leaves
Water or chicken broth
Soy sauce
Here's a peek of the Instant Pot drumsticks in my pot.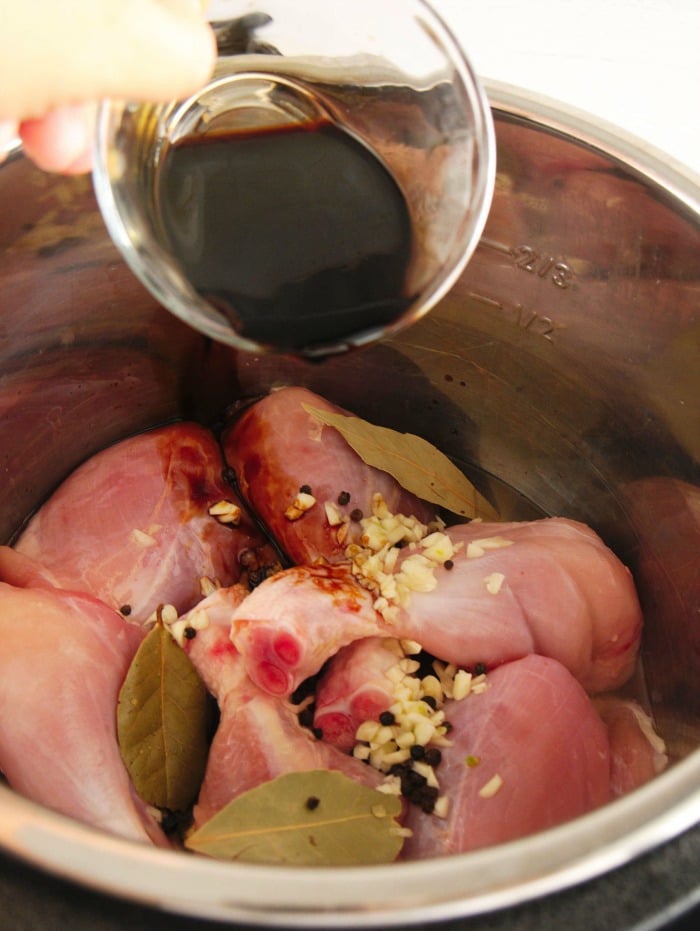 There isn't a huge difference when making these, other than the ingredients and you'll naturally release the pressure for 5 minutes.
Typically when cooking chicken in an Instant Pot you do want to release the steam slowly in order to keep the juices in.
Once 5 minutes is up just flip the toggle to pressure release what is left.
This is a salty sweet chicken recipe everyone is sure to love.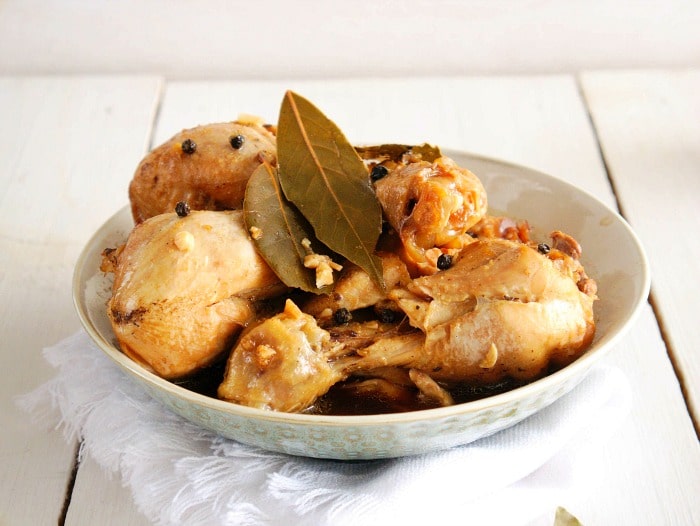 Looking for more Instant Pot chicken recipes we have a bunch!
If you have an air fryer you can make buttermilk chicken legs in that!
Here's the recipe for pressure cooker chicken drumsticks with enchilada or barbecue sauce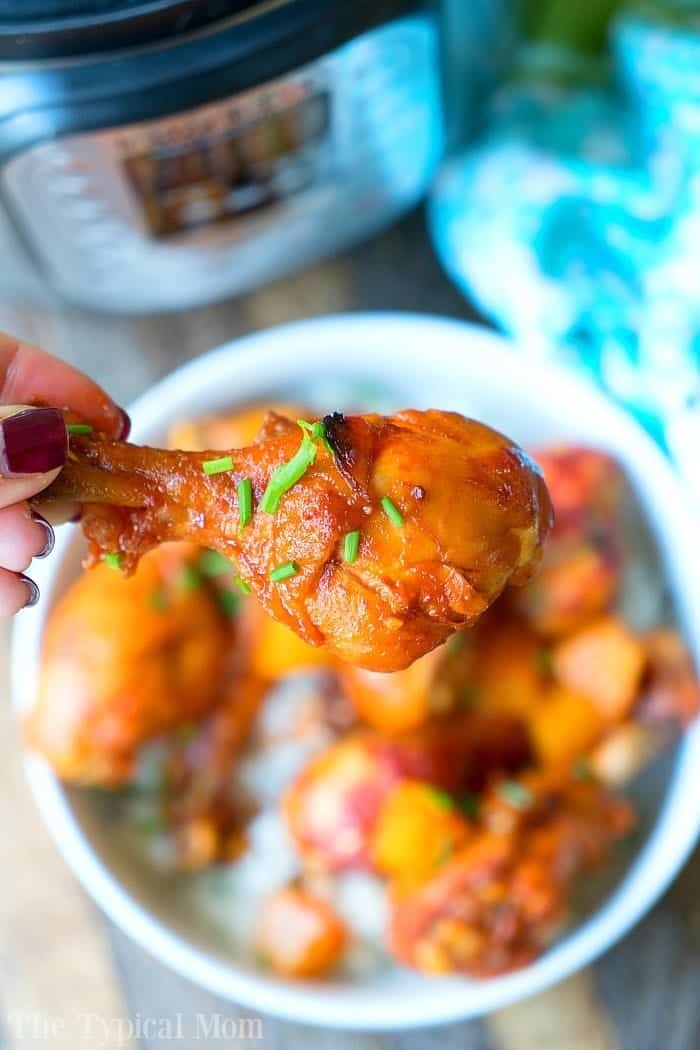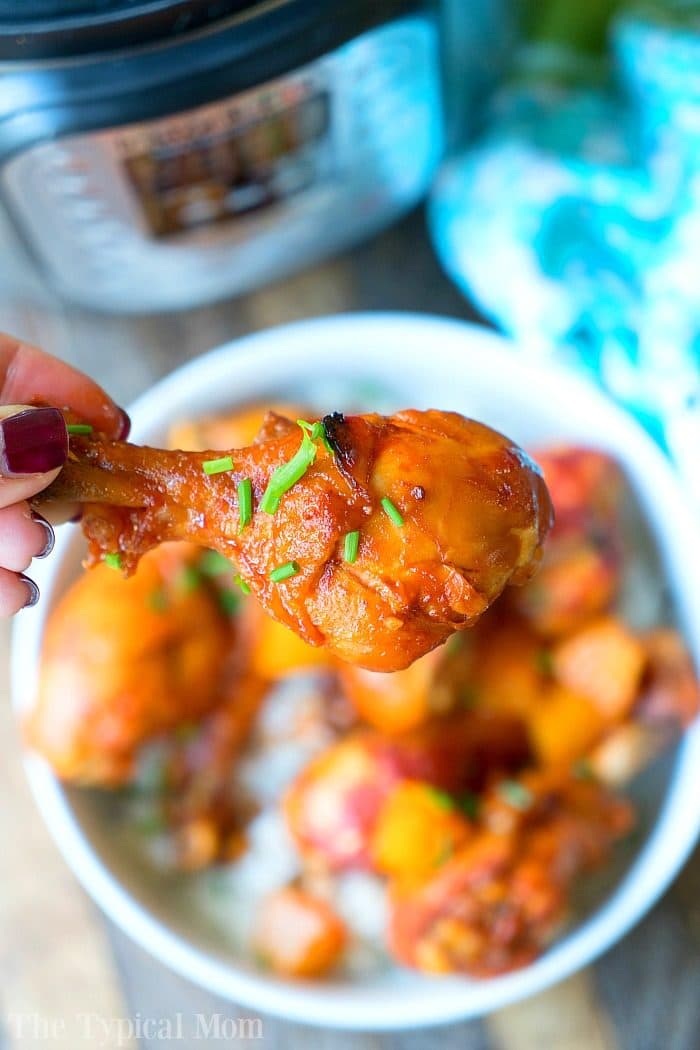 Can you stack chicken in the Instant Pot?
Typically I do not but when making drumsticks I do, yes.
Can you put frozen meat in the Instant Pot?
Yes
I haven't used frozen chicken legs when making these per say but have thawed frozen chicken breasts this way.
The only issue I could see is that they may be in a large clump once frozen.
If you're able to separate them I might cook for 12 minutes instead of 10 and put under the broiler when done.
How do you make chicken skin crispy? On the stovetop, put some oil into a pan or cast iron skillet to the point of smoking and sear the skin. Or put on a pan in an oven at 400 degrees for 5-10 minutes until it's as crispy as you like (like our teriyaki drumsticks)
You could throw them into your air fryer too if you want really crispy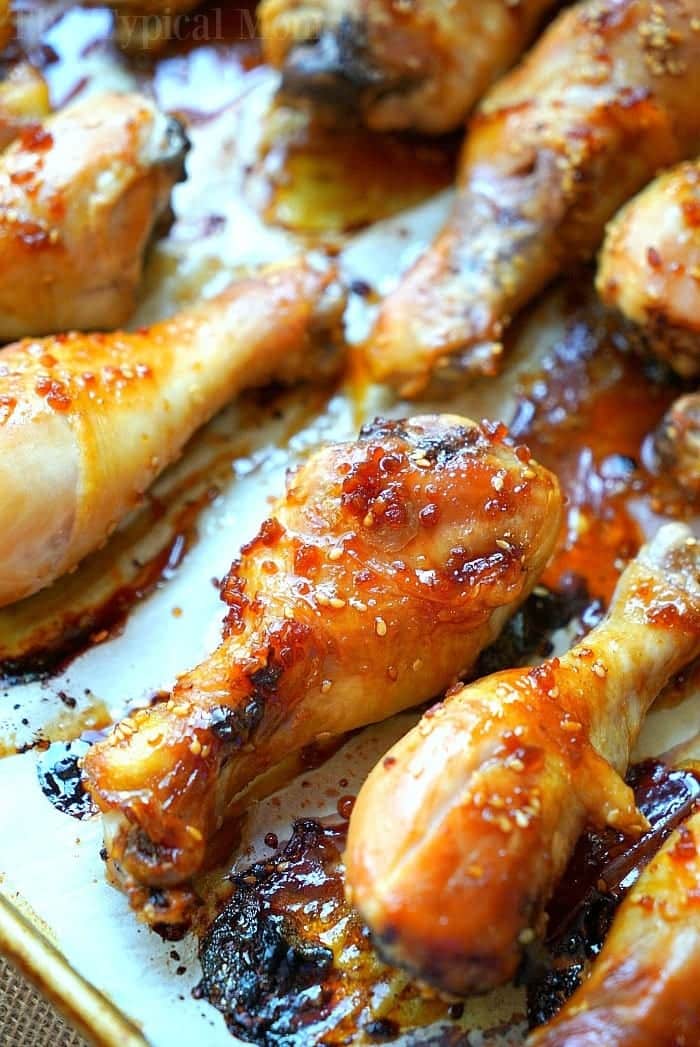 Try either one, or both of these versions and let us know which you like best. Have you made them with another type of sauce you like too? Let us know!!
How do you reheat chicken legs? First start by heating the oven to 400 put pieces in a baking dish rather than a pan to catch juices.
Add about 1 cup of chicken broth into your pan so it is about 1/4 of an inch high. Once preheated, place inside until the liquid is bubbling and meat is warmed all the way to the middle.
Printable recipe card with nutritional information is below.
For more easy recipes delivered right into your email weekly, sign up for our newsletter here too.
Instant Pot Chicken Legs
Amazing Instant Pot chicken legs! If you love easy pressure cooker dinners but looking for something your kids will love too chicken legs are simple to make in just 10 minutes. This fall off the bone tender Instant Pot drumstick recipe will be your go to meal for sure! 
Instructions
Mix the sugar into the vinegar. Place the chicken into the pressure cooker then add in the chopped garlic, peppercorns, and bay leaves. Next pour in the vinegar-sugar mix in, then water, then the soy sauce.

Put the lid on the pressure cooker, seal pressure release valve, and select high pressure for 15 minutes. When done, allow to naturally release for 5 minutes then move valve to Venting to release remaining pressure. Carefully remove the cooked chicken and place on a serving bowl.

To thicken up the remaining sauce, select Saute function and set to 10 minutes. Allow to simmer until the liquid has halved. (if you want quite a bit thicker you can whisk a tbsp cornstarch with water in a bowl and dump that in) Pour over the chicken in the serving bowl.

To serve, plate with steamed white rice, a piece of chicken then drizzle some of the reduced sauce over the chicken. You can remove the bay leaves and discard them. Enjoy!
Nutrition Facts
Instant Pot Chicken Legs
Amount Per Serving (3 oz)
Calories 287
Calories from Fat 189
% Daily Value*
Fat 21g32%
Cholesterol 120mg40%
Sodium 651mg28%
Potassium 292mg8%
Carbohydrates 2g1%
Protein 22g44%
Vitamin A 119IU2%
Vitamin C 1mg1%
Calcium 17mg2%
Iron 1mg6%
* Percent Daily Values are based on a 2000 calorie diet.