BEST Ninja Foodi chicken legs ever are here! Coated with barbecue sauce with tender meat on the inside and crispy chicken skins, you'll go crazy for these.
If you haven't made Ninja Foodi chicken legs yet, you're missing out! BBQ drumsticks are my kids' favorite meal, but these are WAY better than in the oven. Find this and many more easy Ninja Foodi recipes here too! (participant in the Amazon program, affiliate links present)
Ninja Foodi Drumsticks
We have a bunch of easy and healthy Ninja Foodi recipes available to you here on The Typical Mom blog. I mean I'm always trying to eat better but it must still taste good right? Especially when you have a family you don't want food to go to waste, these won't.
This one is probably my girls' favorite one, hands down. This requires defrosted meat. If you forgot to take it out, follow this pressure cooker frozen chicken legs recipe instead. Grab your favorite barbecue sauce and that's all you really need.
FIRST – You should sign up for my free newsletter so you get new posts emailed to you twice a week and never miss out on anything! If you love air fryer recipes too, here are some resources to start with: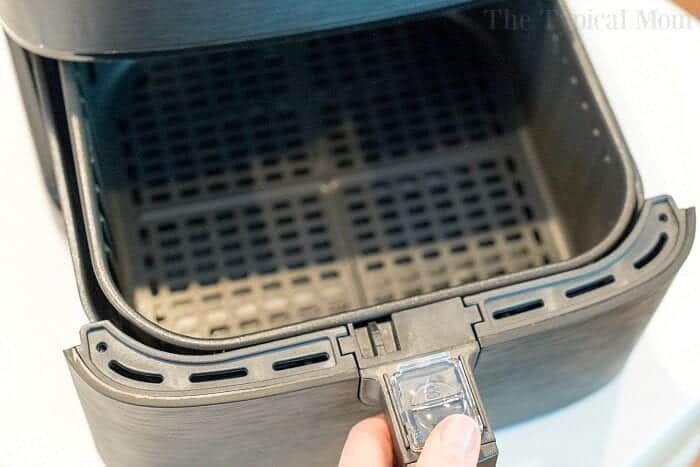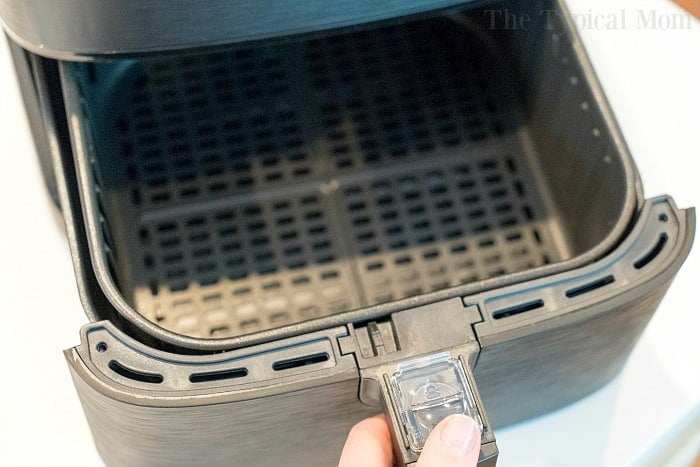 Chicken legs in Ninja Foodi
Now get ready for the most incredible Ninja foodi chicken around. Using both functions of this pot you can make them tender but with crispy chicken skin too. First you're going to pressure cook them so the meat cooks all the way thru and will become fork tender.
Then the lid that is attached becomes an air fryer so you can get crispy chicken skin in just a few minutes. You need that for everyone to want to eat these over and over again.
Yes there are other functions to this pot too, but honestly these 2 are it! Skip the slow cooker button, it doesn't work well. BUT the combination of both of these together makes the best food ever.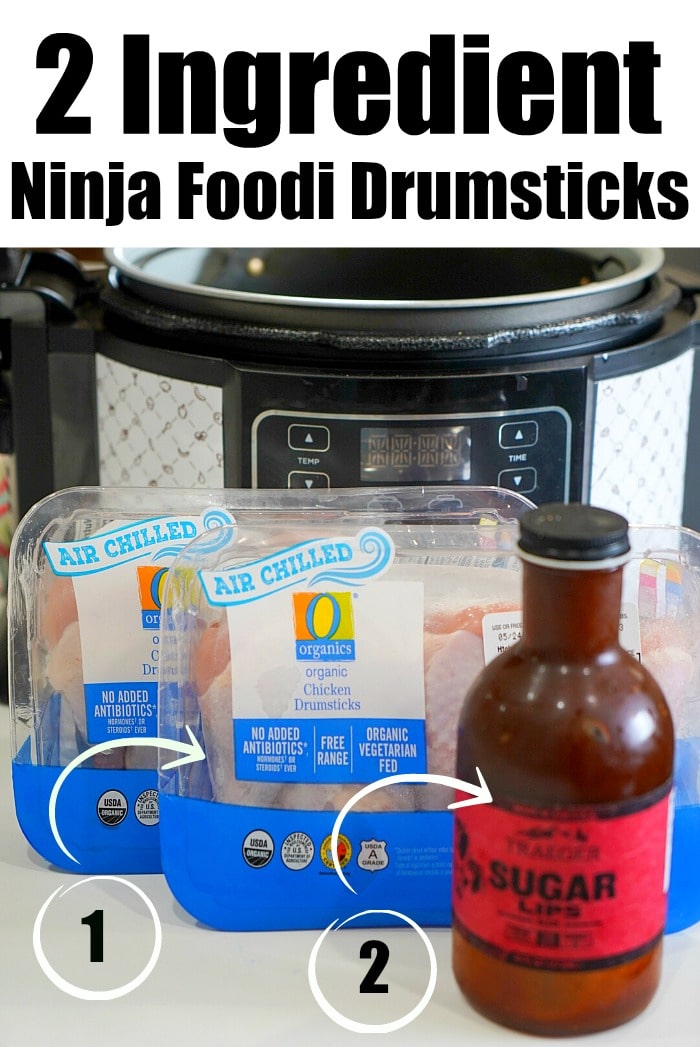 Ninja Air Fryer Fried Chicken Legs
Yep, you only need 2 ingredients for this! How easy and CHEAP dinner recipe is that y'all??!!
Of course you can use your choice of bbq sauce. We tend to choose sweet styles, some with a bit of kick to them.
If you'd rather try a batch of teriyaki chicken legs you could easily do that as well. I would use this marinade for a good 30 minutes and then start with step 2 below.
Another option is using the best dry rub we have created. We've used it on beef and chicken of all kinds and it is a salty sweet mixture of goodness.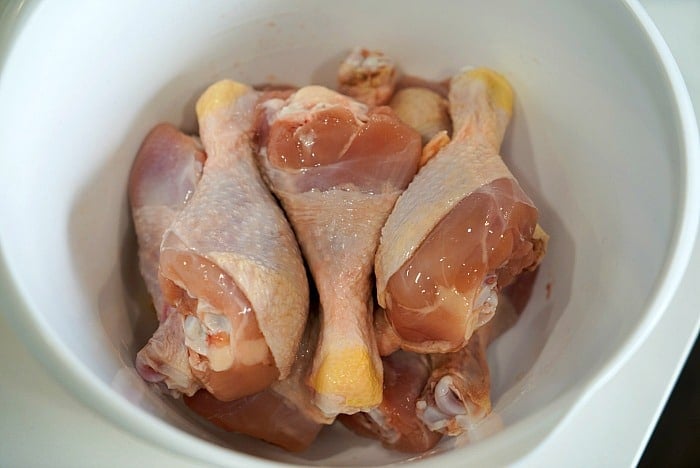 After pressure cooking the drumsticks you would instead pour a bit of this sauce on top of each one.
It will get nice and crispy in the air crisp step and create a wonderfully sweet exterior.
When I do this myself I will add a photo, that is our next dinner idea.
Ninja Air Fryer Chicken Drumsticks
You're going to want to coat your legs with your sauce of choice before cooking, and after they're done too. A third coat could be added after you air fry them too if you want A LOT…we did!
How long does it take for drumsticks to cook in the oven?
Our baked chicken legs took a good 45 minutes to cook thru and get crispy on the outside. This is closer to 22 minutes, so almost half!
Keep in mind that during the pressure cooking process, it does take a bit of time to come to pressure.
We don't really talk about that because if you use yours on a daily basis like I do, you just know that's part of the process.
How do you cook drumsticks in the Ninja Foodi?
Chicken Drumsticks in Ninja Foodi
There are 2 ways actually. We will explain this one in depth here and in the printable recipe card below. If you want to just make air fryer fried chicken without using the pressure cooker you can too.
I like both, but they are different. The one above will come out really crispy on the outside, with a breading.
This one needs no breading at all and the meat is more tender overall. It's probably our favorite Ninja Foodi chicken recipe.
2 things you'll want to remember when cooking chicken in a pressure cooker and air fryer.
During the initial pressure cook step you can overlap them a bit.
When you air fry chicken legs you want them in ONE layer so they can get crispy!
You can definitely stop at the first step, essentially being Instant Pot chicken legs. Of course you should always check the internal temperature before consuming, but they should be done. Getting crispy skin isn't a must.
We think it is a necessity to continue cooking to take these babies over the top delicious, but it is up to you.
It does increase the cook time for sure. If you love the taste of deep frying, this is a close second.
Ninja Foodi chicken drumsticks
You will need the following:
Medium size chicken legs are the best choice
Non stick cooking spray
Air fryer basket
Having a meat thermometer is really handy so you can check it really quick and not have to cut thru it.
What are good side dishes for chicken?
We love an easy side dish like a garden salad or corn recipe for sure.
If you love fried chicken recipes, you'll love these too: Air fryer stuffed chicken breast has a creamy inside with bacon wrapped on the outside.
We have even made Ninja foodi turkey legs that turned out amazingly well with a tasty dry rub.
Want to see a few of my favorite things that I am totally obsessed with?? Take a peek and see how many you might already have…twinsies!
Looking for more easy family recipes and tips? LIKE The Typical Mom Facebook page?
Then sign up for my free newsletter, and follow me on Pinterest! 😉
***** If you LOVED this recipe give it 5 Stars below and let everyone know what you thought about it. 😉
Ninja Foodi Chicken Legs
BEST Ninja Foodi chicken legs ever are here! Coated with barbecue sauce with tender meat on the inside and crispy chicken skins, you'll go crazy for these.
Instructions
Put chicken legs in a bowl with 1/4 cup bbq sauce and mix so they're coated, using hands works well for this.

Pour cup of water into your Foodi and lower down air fryer basket that came with your pot with holes in bottom and handles on the sides.

Put coated chicken legs into basket. They can overlap slightly for this step. I wouldn't add more than 12 medium size legs.

Close pressure cooker lid (one not attached), and steam valve. Press pressure cook button, will automatically set to high, and set for 12 minutes.

When done do a quick release for the steam inside the pot.

Use tongs to carefully remove the legs on to a plate (careful because they'll be tender and want to fall off the bone).

You can drain the water out now if you wish, or not, doesn't matter either way. I left mine in.

Spray the inside of your basket with non stick cooking spray.

Lay one layer of legs back into the basket, do not overlap them at this time. Use a brush to add the remaining 1/4 cup of bbq sauce on to the drumsticks now.

Close air crisp lid and set to 400 degrees for about 10 minutes. Check, if you want them crispier, set for a few more minutes. Remove this batch, put in the next and enjoy when they're all done.

Note: the second and subsequent batches will get done a bit quicker because the machine will have preheated already to 400 so 8 minutes is usually best for these batches.
Nutrition Facts
Ninja Foodi Chicken Legs
Amount Per Serving (3 oz)
Calories 451
Calories from Fat 468
% Daily Value*
Fat 52g80%
Cholesterol 300mg100%
Sodium 641mg28%
Potassium 737mg21%
Carbohydrates 15g5%
Protein 53g106%
Vitamin A 376IU8%
Vitamin C 1mg1%
Calcium 41mg4%
Iron 2mg11%
* Percent Daily Values are based on a 2000 calorie diet.