How to make slow cooker chicken legs. Tender and tasty you just throw them in with some seasonings and enjoy right out of your Crockpot for dinner. It is one of our best chicken leg recipes ever.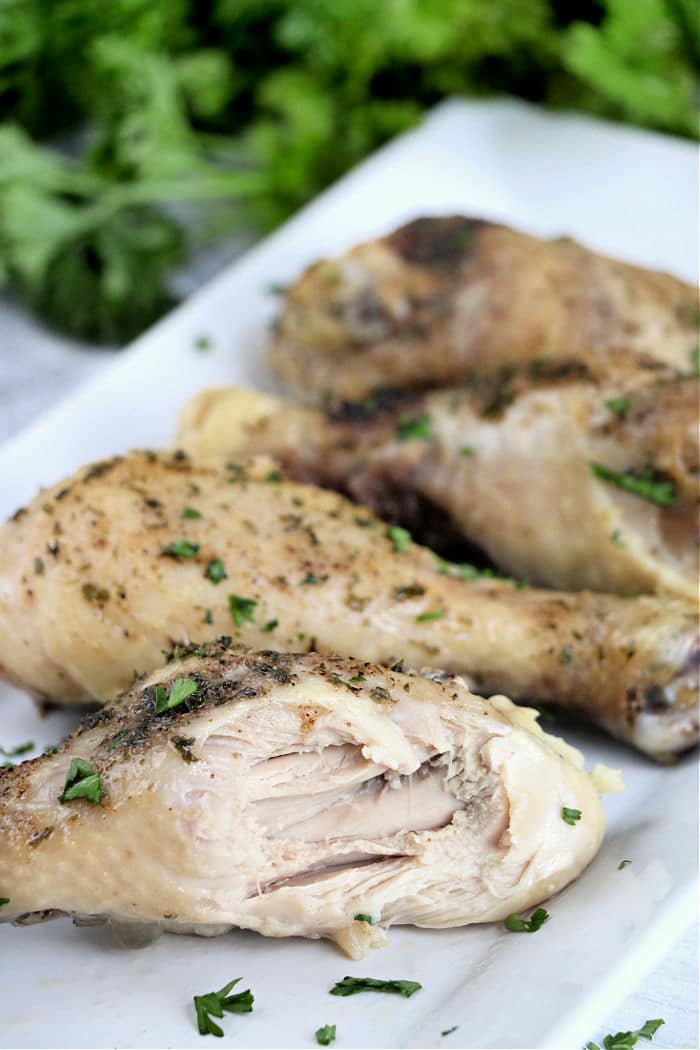 Slow cooker chicken legs actually come out so good. If you haven't tried this easy Crock pot recipe I encourage you to do so. You might call them drumsticks but either way they fall off the bone and get so tender even your kids will love them. (affiliate links present, originally published 12/20)
Slow Cooker Chicken Drumsticks
We make a lot of simple chicken recipes in our house. Legs and thighs are quite inexpensive, packed with protein, and my kids love it too. It can be kinda' boring to cook each one the same time over and over again, so I love trying something new. This is our latest creation.
You may only think of these baked or grilled, I did at first. They are kinda' a summertime piece of meat for us I guess but as I got older I gained more of an appreciation for this cut and make them year round. Slow cooking drumsticks is not only SO tender but literally so easy to just set it and forget it this way.
FIRST – You should sign up for my free newsletter so you get new posts emailed to you twice a week and never miss out on anything! Let's talk a little bit about slow cooking shall we?? First off I have a few different varieties and I love them all. Each one has an occasion to be used like….
This is my favorite 6 quart programmable one with a locking lid so it's great for bringing to a potluck too.
If you just want to serve a few appetizers you should get this one that sit side by side one another.
I prefer not to use liners, but rather just spray olive oil inside before adding my food for easier cleanups.
Let me give you a peek of my pretty thang I bought recently. It goes with my kitchen so I can just leave it out on the countertop all the time. 😉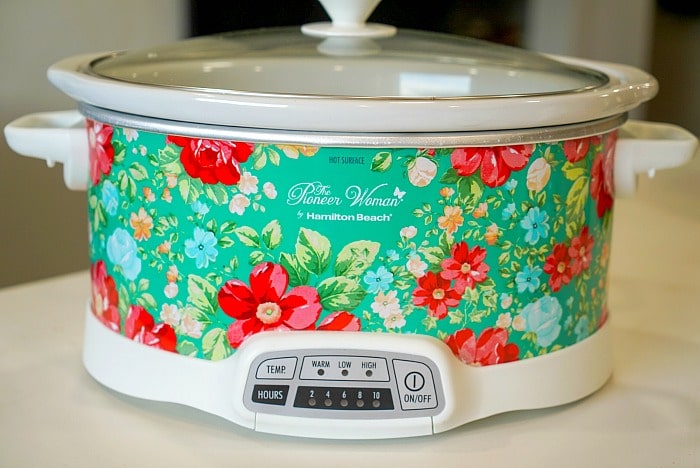 Crockpot Chicken Legs
I have made air fryer fried chicken with a light breading. These are simple with some some seasoning. You could easily crisp the skins in your Ninja Foodi when they're done if you wanted too. If you don't care about that part then don't bother with either of these and just enjoy them right out of the pot.
Here are the ingredients you'll need for these. Keep in mind the seasonings are really up to you but suggestions of what was used are here.
Drumsticks, you can literally buy an entire tray for under ten bucks
Olive oil
Salt and pepper
Garlic powder
Onion powder
Paprika
And any other seasonings you like and would normally add to your poultry.
You could easily rub some roasted garlic cloves diced on the outside too. I mean to us you can't get enough garlic, period.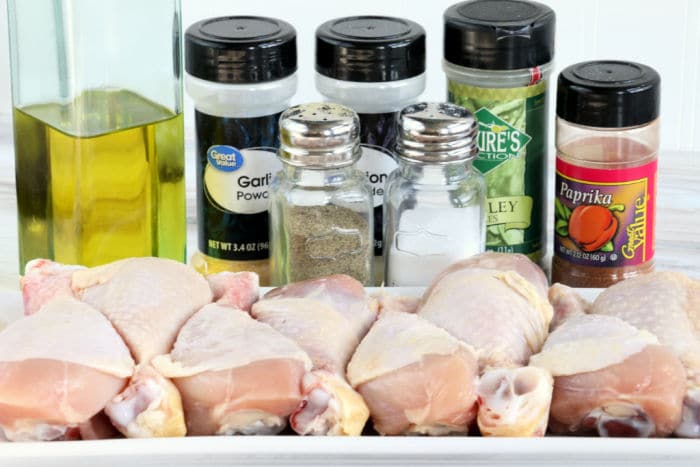 Crockpot BBQ Chicken Legs
If you wanted to brush your favorite homemade teriyaki sauce with soy sauce, or bbq sauce on the skin you could too. OR wait until they're done, add some to the outsides and throw into your Cosori air fryer to really get a nice crisp.
Can you cook raw chicken in a Crockpot on low?
Absolutely. You can even cook Crockpot frozen chicken if you're forgetful, like me. These drumsticks only take about 4 hours and come out fork tender.
Why do chicken legs take so long to cook?
Bone in meat does take quite a while longer than if it were boneless. You need to ensure that the thickest part of the leg meat reaches 165 degrees F before consuming to be safe.
8 were cooked at a time as you can see. Ideally you don't want them to overlap too much but if you were to double I'd suggest rotating them halfway thru. More would need more tim to reach proper internal temperature for chicken.
Slow Cooker Drumsticks
You can print recipe below in the recipe card but here is a quick step by step to give you an idea of how to make this slow cooker recipe.
You're going to want to first spray non stick spray on the inside of your crock.
Then brush all sides of your legs with olive oil. Mix spices together in a bowl and sprinkle all over the outsides to coat.
Put into slow cooker trying to overlap the least amount possible.
Set pot to low for 3 1/2 to 4 hours or until internal temperature of thickest part of drumsticks reaches 160 degrees F.
You could remove from pot and preheat your air fryer to 380 degrees F.
Spray basket with cooking spray and lay them inside. Brush with barbecue sauce if desired and close drawer.
Crisp for 3-5 minutes until it's as crunchy as you'd like.
This chicken drumstick recipe is the best kid friendly dinner recipe. I wouldn't suggest cooking on high ever because it will dry out your meat and the texture just isn't ideal. I have tried it both ways and to me there is too much of a difference so I don't even include timing for that.
Crock Pot Chicken Legs and Thighs
If you wanted both of them together follow our crockpot chicken leg quarters recipe which is very similar.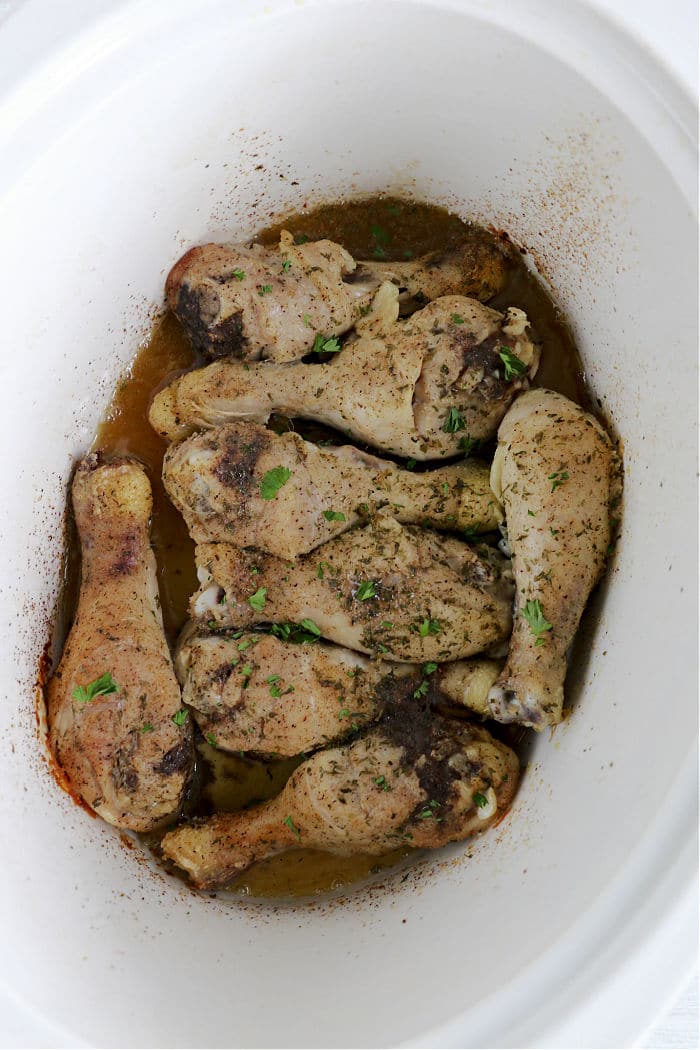 Crock Pot Chicken Drumsticks
You can use a broiler too if you don't have a hot air machine. A few minutes will do it. I would use some sort of sauce on top though to amp up the flavors. With the heat it kinda' caramelizes too and bakes on to create this warm ooey gooey coating which is out of this world. I love using the brown sugar hoisin sauce in our Instant Pot spicy teriyaki chicken recipe on the top.
If you need directions for frozen drumsticks in Instant Pot or air fryer frozen drumsticks we have that too. I have had many forgetful moments before and like to share how to save dinner with y'all in case you do too.
What should I serve with chicken legs?
There are tons of side dishes to choose from really. A few favorites are:
Homemade or bakery rolls are always a hit
Vegetables are healthy and delish
Or if you have more than one pot, make slow cooker baked potatoes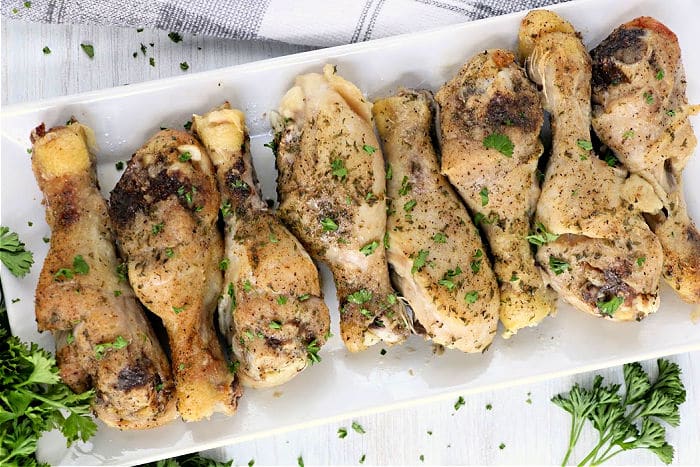 Chicken Leg and Thigh Recipes
We have a bunch that we make on a regular basis. Depending on what small kitchen appliances you have at home, try a few and see which you love best like:
Our newest creation has the two combined. You can find these super cheap at the store. Often overlooked, you've gotta' try these air fryer chicken leg quarters and let us know what you think. I don't know why these cost next to nothing, but I guess most people want a whole chicken or breasts cut into pieces for them.
You really get the best of both worlds though this way. Give both of these a whirl for sure.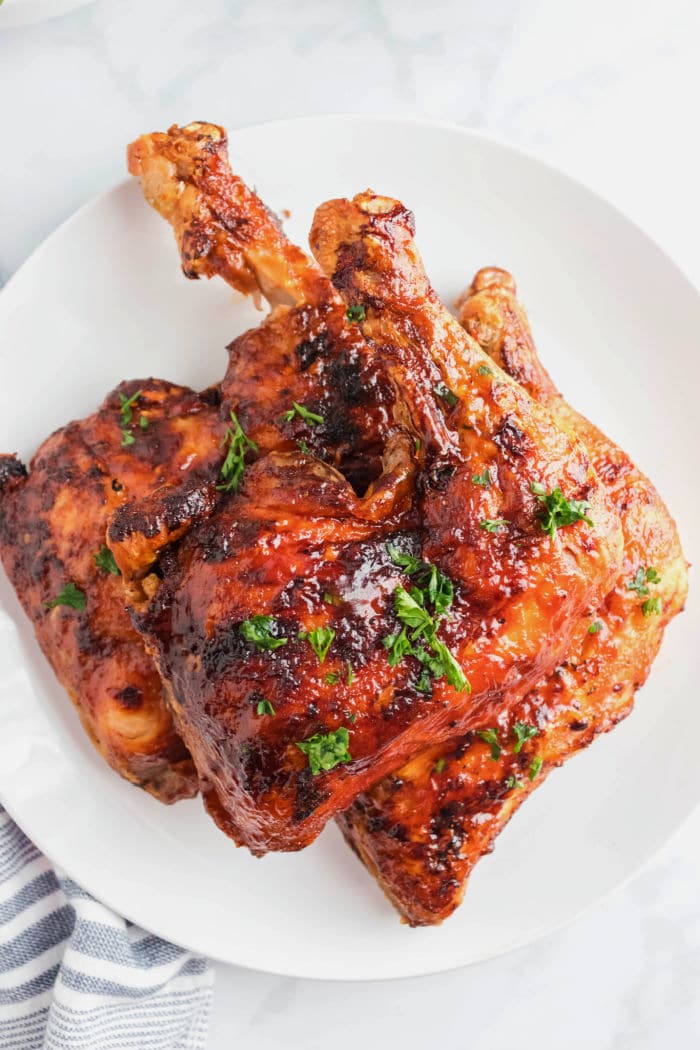 How do you store leftover chicken drumsticks
You know how I hate leftovers so I want to share how to store these properly if you have some left. To avoid bacteria growth you always want your food to cool down completely before storing, period. I like using freezer bags better than a container because you can suck all the air out.
Air is the enemy and will dry your food out. Store in the fridge for up to 4 days. Then you can use any or all of our leftover chicken recipes here.
Want to see a few of my favorite things that I am totally obsessed with?? Take a peek and see how many you might already have…twinsies!
Looking for more easy family recipes and tips? LIKE The Typical Mom Facebook page?
Then sign up for my free newsletter, and follow me on Pinterest! 😉
***** If you LOVED this recipe give it 5 Stars below and let everyone know what you thought about it. 😉
Slow Cooker Chicken Legs
How to make slow cooker chicken legs. Tender and tasty you just throw them in with some seasonings and enjoy for dinner.
Instructions
Spray non stick spray inside Crock.

Brush all sides of legs with olive oil and minced garlic if desired. Then mix spices together in a bowl and sprinkle all over well.

Put into slow cooker trying to overlap the least amount possible.

Cook on low for 3.5-4 hours or until internal temperature of thickest part of drumsticks reaches 160 degrees F.

Enjoy right out of the pot or crisp on baking sheet under boiler or air fryer. Brush legs with olive oil for either. Broil for a few minutes until crisped, or add into preheated air fryer at 400 for 2 min on each side.
Nutrition Facts
Slow Cooker Chicken Legs
Amount Per Serving (3 oz)
Calories 310
Calories from Fat 216
% Daily Value*
Fat 24g37%
Cholesterol 120mg40%
Sodium 690mg30%
Potassium 266mg8%
Carbohydrates 1g0%
Protein 21g42%
Vitamin A 189IU4%
Vitamin C 1mg1%
Calcium 12mg1%
Iron 1mg6%
* Percent Daily Values are based on a 2000 calorie diet.