Instant Pot Korean chicken is what we're calling this! Served over rice it is sweet with a bit of spicy flavors you'll love. Killer pressure cooker recipe.
I used our spicy Instant Pot teriyaki chicken thighs as a base for our easy Korean chicken recipe here. I'd recommend making that sometime as well if you need directions for bone-in thighs.
To make things even more simple to eat I prefer to use boneless, skinless thighs and cut them into bite size pieces. No there wouldn't be an issue using chicken breasts either, I just think thighs are much more tender.
Is Korean fried chicken healthy?
Traditional frying technique renders out the fat in the skin and makes it into a crackly crust…so this one wouldn't be.

If you skip that step like we did here, it's quite high in protein. If you're watching your sodium intake you may want to use low sodium broth and soy sauce though.
Korean chicken Instant Pot recipe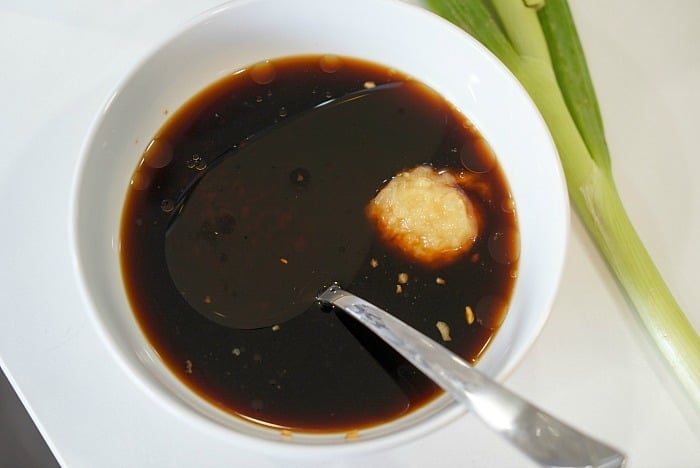 The steps for this Instant Pot chicken recipe are simple because there is NO precooking required. I've used the same technique for many other dinners because cutting the meat into small pieces cuts down on cook time.
Just dice into pieces about 1″ by 1″ or so like our Instant Pot Hawaiian chicken dish. Then add the sauce and stir the contents together so it's all nicely coated.
Close the lid for 5 minutes high pressure cook = the perfect time to cook the chicken all the way thru. This will still keep it nice and tender though.
Release the pressure quickly once it is done (quick release), then decide whether you want to thicken the Korean sauce once it's done.
I will say this last step isn't necessary but for consistency purposes I think it makes it better. You'll need the saute function for this part.
You know that thick sauce you get when you go to places like Panda Express or PF Chang's? A bit of cornstarch will do the trick.
Once you have whisked together some cold water or hot liquid from your pot, wait until your contents are bubbling. You'll need to put it on the saute mode to do this.
When you have a smooth cornstarch slurry, pour it in and stir slowly for about a minute.
That is all the time it needs.
Turn the pot off and let it sit for a good 5 minutes to thicken even more.
Sprinkle with diced green onions and/or sesame seeds and serve your chicken pieces over rice or with veggies.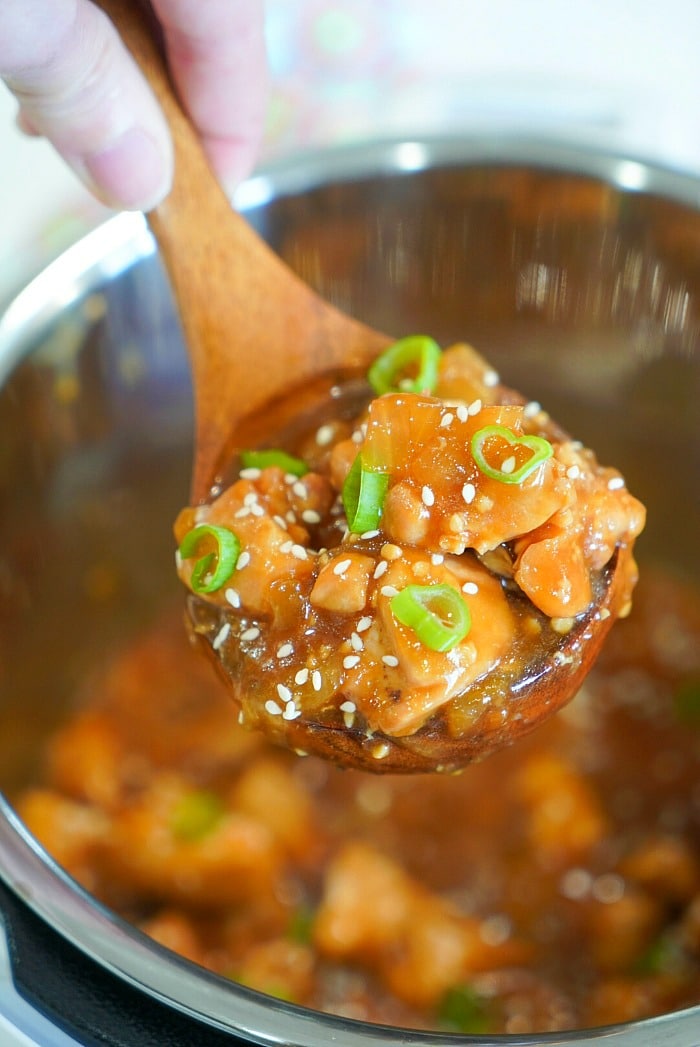 What does Korean fried chicken taste like?
For the fried version is is super crispy on the outside. We're skipping that part but both are coated with a sticky, spicy, and sweet sauce you'll be obsessed with.
Our quick and easy method will make it so that you can enjoy this a lot more often. No deep frying or stove top required. Just a one pot meal your kids will adore too.