Slow cooker pork chops and gravy recipe that turns out moist and tender in your Crockpot for dinner. With a creamy sauce and tender protein, this is by far the best way to make comfort food on a plate. For poultry Crockpot chicken and gravy is delicious too.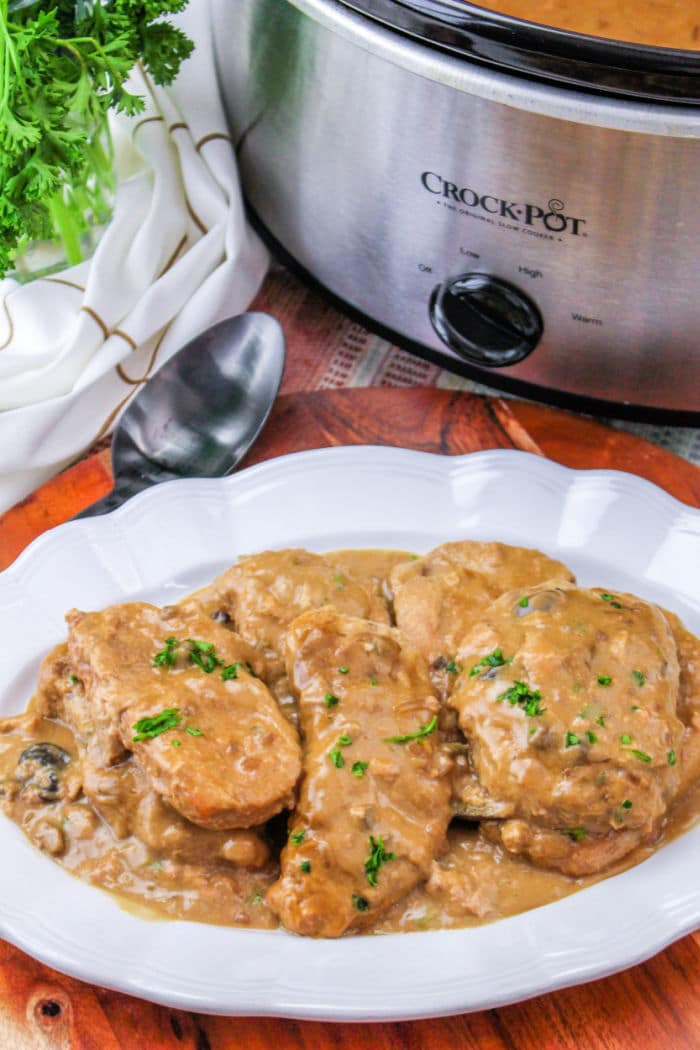 This slow cooker pork chops and gravy recipe is to die for. Fork tender boneless or bone in meat in a creamy thick mushroom gravy with onion soup mix. Easy Crockpot recipes are so my style on busy days we have often. (affiliate links present)
Pork Chops With Mushroom Gravy
We have made all sorts of different sauces to cook an assortment of meals. Crockpot Roast beef and gravy is killer too and a must try after this one. This version is thicker with some extra fresh mushrooms mixed in. A packet of Lipton onion soup mix gives it enough seasonings where you don't really need anything else.
You will want your protein to be fresh or defrosted. If you are here but you forgot to defrost them I would refer to our frozen pork chops in Instant Pot recipe instead. I get it, I am forgetful nelly from time to time and always need tips on those days when everyone is hungry and time is limited.
FIRST – You should sign up for my free newsletter so you get new posts emailed to you twice a week and never miss out on anything! Let's talk a little bit about slow cooking shall we?? First off I have a few different varieties and I love them all. Each one has an occasion to be used like….
This is my favorite 6 quart programmable one with a locking lid so it's great for bringing to a potluck too.
If you just want to serve a few appetizers you should get this one that sit side by side one another.
I prefer not to use liners, but rather just spray olive oil inside before adding my food for easier cleanups.
Let me give you a peek of my pretty thang I bought recently. It goes with my kitchen so I can just leave it out on the countertop all the time. 😉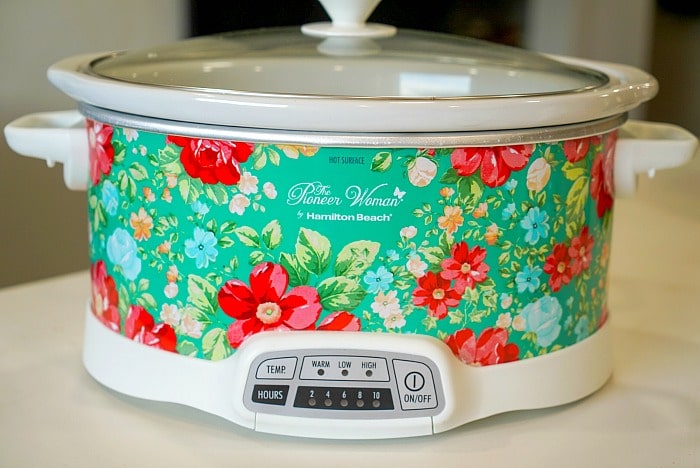 Crockpot Pork Chops and Gravy
If you have a homemade onion gravy of yours that you swear by and don't like using condensed soup then by all means use that. You just want enough where the meat is submerged in it so it stays nice and moist. I have even used my brown gravy for meatloaf if that is what I had on hand.
This time boneless pork chops were used. They are easier to eat and more tender at the end of the day. I think they fit better in the pot too. If you must use bone in that is fine, it just may need a bit more time. Either way you always want to ensure it reaches a safe 145 degrees internally before consuming.
Chops
Cream of mushroom soup
Dry French onion soup
Dry package of brown gravy mix
More mushrooms too if you want
As it cooks the meat will release some juices to thin it out a bit too so don't worry about that. You can thin it out a bit at the end too if you want with a little broth, water or olive oil. No worries, just get going.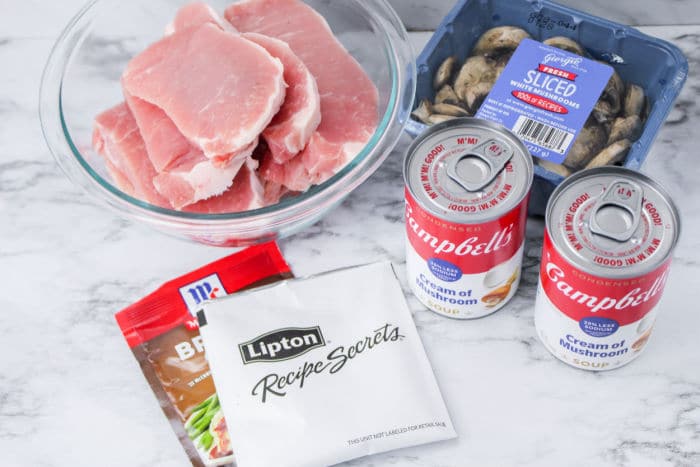 Crockpot Pork Chops with Onion Soup Mix
In fact this is probably one of my favorite ways of cooking all types of meat, especially if it is really large piece like a frozen roast. Otherwise is takes a LONG time to bake in the oven and even at that it doesn't get as tender as it does sealed in this pot. Low and slow is the way to go when it comes to protein.
The ONLY exception to this rule that has been MASSIVELY popular baked pork chops dry rub recipe. Seriously you have to try this too.
Can you put raw pork in slow cooker?
Most definitely. We do this all the time with this amazing pork tenderloin slow cooker recipe and have made pork chops and apples in Crockpot too. Some prefer to sear the outside on medium high heat until golden brown for a bit of texture and to keep the moisture really locked in there. You can but this step isn't absolutely necessary either.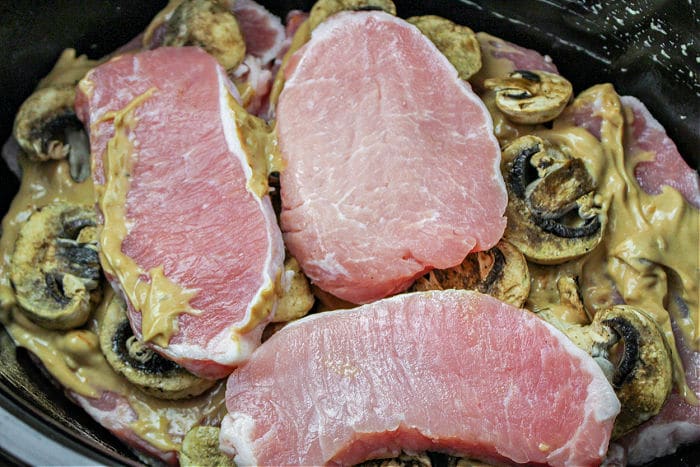 You can use other dry mixes too to add a bunch more flavor too like our slow cooker ranch pork chops variation.
Pork Chops and Gravy
Now for how this is done, super easy y'all. You just kinda' layer them with the sauce so everything is nicely coated and the flavors seep in. You could easily fit 8 or as few as 4. Leftovers really do save quite well though so I would suggest sticking in a few more and having them to warm again the next day for lunch.
Spray the inside of the slow cooker with non stick cooking spray.

In a bowl, mix together the brown gravy mix, onion soup mix, and cream of mushroom soup. NO need to thicken the gravy, the cream of chicken soup or mushroom versions are enough.
Spoon half of this on the bottom.

Place half of the chops in the slow cooker on top of that. Top with the sliced mushrooms.

Put the final layer of meat on top of that. Pour the remaining soup mixture over the top.

Cover and cook smothered pork chops on low for 5 to 6 hours (timing depends on how thick yours are).
About 30 minutes before this is done, make a batch of mashed potatoes and serve this dinner recipe with the sauce over the top. If you want to thin that out whisk in some beef or chicken broth. Season with salt and pepper if desired and enjoy.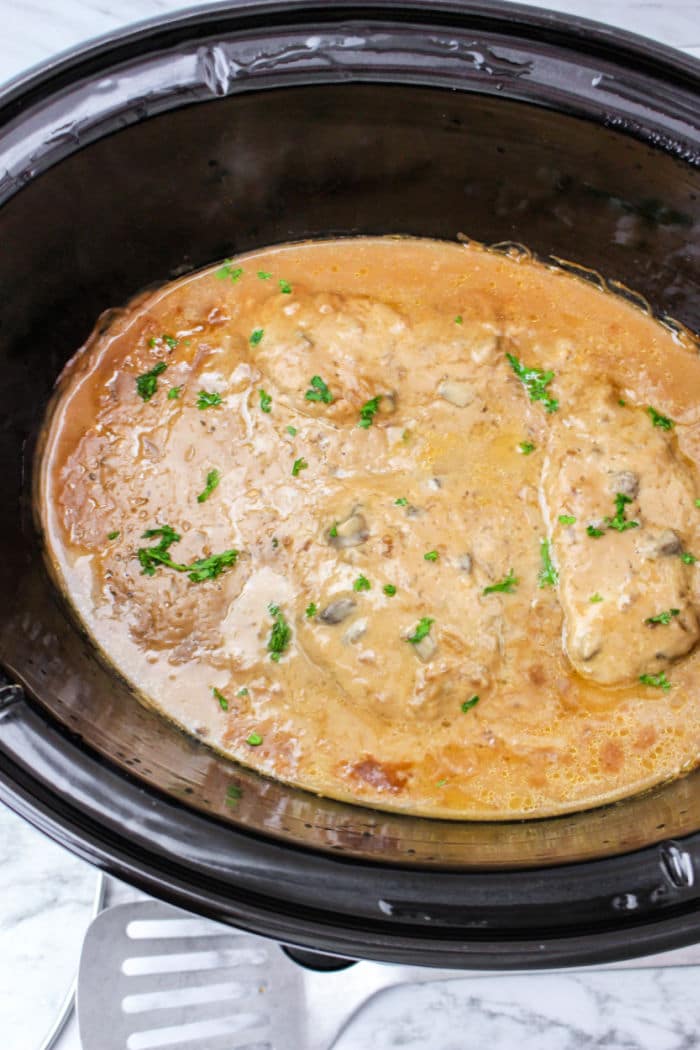 Fall Apart Slow Cooker Pork Chops
Nutritional information listed below in printable card. Of course saturated fat, calories etc will vary slightly depending on the fat content of your meat. Best way to save pork when you are done: First off don't get rid of that delicious sauce!! That is golden and must be used when you save it for later on.
You always want your dish to cool off and not be warm when you transfer it out of the pot into your container. When they are room temperature transfer into a freezer bag or plastic container with an airtight lid. In the fridge it goes and will save well for up to 3 days. I like to just eat it again for lunch the next day.
If I have some taters left I will put those on the bottom with this on top even to keep those moist as well. Spoon as much gravy over it all as you have so it doesn't dry out. Then transfer to a microwave safe dish when you are ready. Reheat for about 1 minute, stir and then 1 more minute or until it is as warm as you want it to be.
I can almost say that it is even better the next day. I think the flavors get even more enhanced with a bit of time to sit and soak it all up even longer.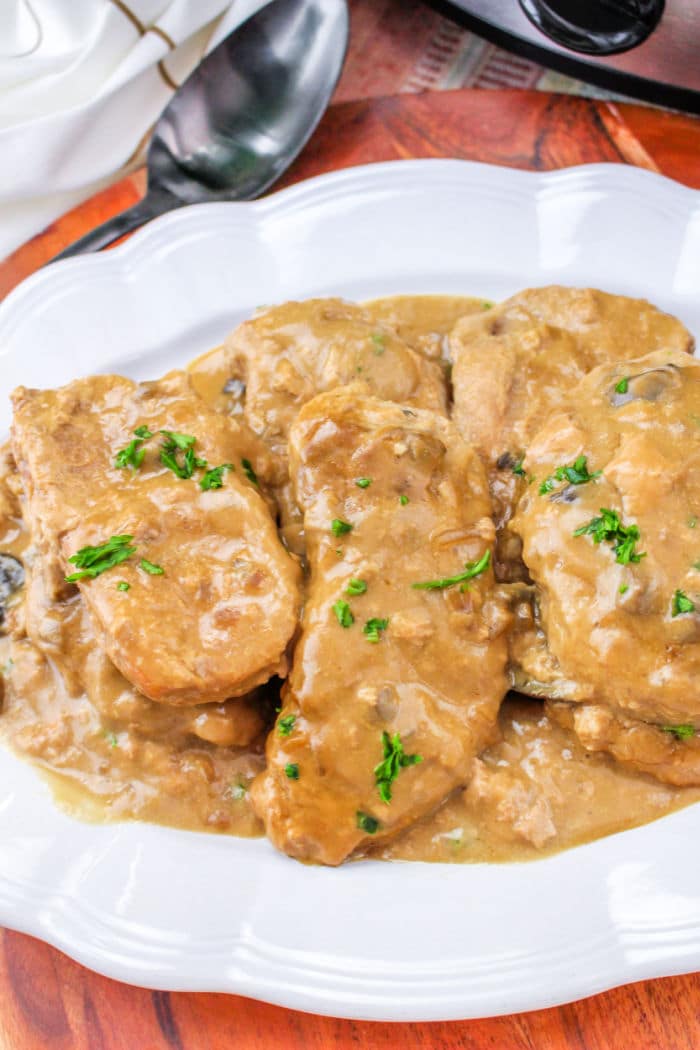 Smothered Pork Chops Slow Cooker
Typically you think of comfort food that is breaded but there is NO need for that here. You won't miss it at all, the flavor is out of this world without it and you don't miss the added calories either. If you can find these babies on sale at the store buy a bunch. Use a few for this and then cook them in a bunch of other ways too.
I mean air fryer pork chops are incredible and more on the healthier side without a sauce needed at all. You can even wrap them in bacon and cook 'til crispy this way too! Or use a different meat with this same sauce for Crockpot meatballs and gravy.
What is your favorite side dish to serve with cooked pork for your family? I mean the possibilities are endless including vegetables or a fresh loaf of bread toasted with garlic.
Want to see a few of my favorite things that I am totally obsessed with?? Take a peek and see how many you might already have…twinsies!
Looking for more easy family recipes and tips? LIKE The Typical Mom Facebook page?
Then sign up for my free newsletter, and follow me on Pinterest! 😉
***** If you LOVED this recipe give it 5 Stars below and let everyone know what you thought about it. 😉
Slow Cooker Pork Chops and Gravy
Slow cooker pork chops and gravy recipe that turns out moist and tender in your Crockpot for dinner. Best way to cook pork chops.
Instructions
Prepare the slow cooker liner with non stick cooking spray. In a medium bowl, mix together the brown gravy mix, onion soup mix, and cream of mushroom soup. Spoon half of this on the bottom.

Place half of the pork loin chops on top of that. Top with the sliced mushrooms. Put the final layer of pork loin chops on top of that. Pour the remaining soup mixture over the top.

Cover the slow cooker and cook on low for 5 to 6 hours (timing depends on how thick yours are). Serve the pork loin chops with the gravy over mashed potatoes, stuffing, or rice.
Nutrition Facts
Slow Cooker Pork Chops and Gravy
Amount Per Serving (2 oz)
Calories 355
Calories from Fat 117
% Daily Value*
Fat 13g20%
Cholesterol 97mg32%
Sodium 2293mg100%
Potassium 975mg28%
Carbohydrates 19g6%
Protein 39g78%
Vitamin A 7IU0%
Vitamin C 2mg2%
Calcium 38mg4%
Iron 2mg11%
* Percent Daily Values are based on a 2000 calorie diet.