This healthy Crockpot soup recipe is packed with vegetables with a pasta option too. A low fat slow cooker soup packed with flavor. This is yet another option beyond our popular slow cooker chicken noodle soup that kids love with oyster crackers on top.
Looking to eat healthier this year? Us too. Give our easy and healthy Crockpot soup recipe a whirl this week. Add noodles or not, either way it's a favorite one pot meal everyone loves. Just one of many easy Crockpot recipes we've shared on The Typical Mom blog. (affiliate links present)
Soup Slow Cooker Vegetarian
We made Crockpot vegetable beef soup years ago and shared that. Of course that had ground beef in it with some different fresh and canned ingredients. Typically I like to use what is in season at the time. This may be different depending on where you live so I suggest you swap out what isn't available and substitute something else.
Soup with potatoes will always make it heartier, and can always be found year round. If you choose to add, cut into 6ths. Onions and carrots are a given too. The two that are questionable would be leeks and parsnips. If you can't find them or like ehhhh about the idea then just omit or use something like halved green beans instead.
FIRST – You should sign up for my free newsletter so you get new posts emailed to you twice a week and never miss out on anything! Let's talk a little bit about slow cooking shall we?? First off I have a few different varieties and I love them all. Each one has an occasion to be used like….
This is my favorite 6 quart programmable one with a locking lid so it's great for bringing to a potluck too.
If you just want to serve a few appetizers you should get this one that sit side by side one another.
I prefer not to use liners, but rather just spray olive oil inside before adding my food for easier cleanups.
Let me give you a peek of my pretty thang I bought recently. It goes with my kitchen so I can just leave it out on the countertop all the time. 😉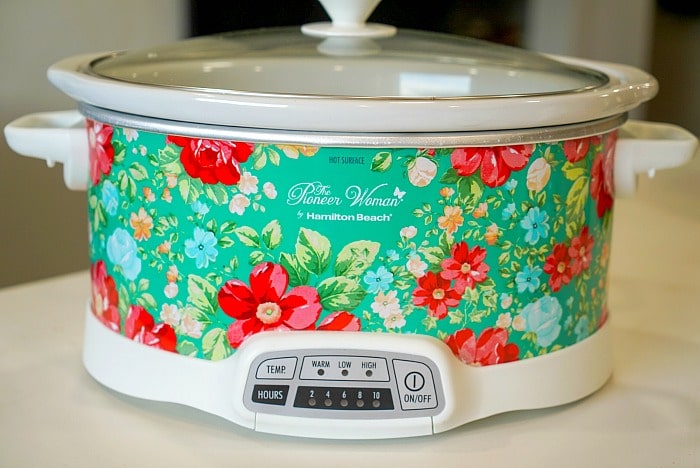 Slow Cooker Vegetable Soup Recipe
When it comes to adding noodles in a Crockpot there is a method to the madness. You cannot add those at the beginning with everything else or they'll become mush. If you want a more low carb keto friendly dish you could leave those out but especially with my kids they are a must.
Don't use egg noodles, they are pretty delicate and feel like small or medium shells work the best for this one. All of the ingredients are listed below;
Diced carrots
Red onion
Celery
Parsnip
Leeks
Diced tomatoes

you could add a drained and rinsed can of kidney beans too if you wanted to.

Broth of your choice
Garlic and bay leaf
And then your noodles if you choose to add them. This option is a must for us but not for everyone.
Slow Cooker Leek Soup
Let's talk about going out of your comfort zone a bit. You've gotta' start thinking outside of the box when it comes to eating vegetables once you become an adult y'all. I mean of course you should taste it beforehand. If it is totally not okay with your tastebuds then don't add it. Keep in mind it will taste a bit different when cooked too though.
Leeks and parsnips are overlooked a lot, but shouldn't be. Parsnips kinda' look like carrots with the same firm texture to them. That means they are great in soups because they can stand to be cooked for long periods of time without completely breaking down. They aren't sweet, but rather have more of a butternut squash taste to them.
Leeks look more like a huge green onion. They are in the same family so the flavor is quite similar to those and a cheap way to add a lot of flavor and a bit of texture too. You'll find them all together in your produce section. If you aren't sure which one it is just look at the labels, it might be only in the organic section of your store.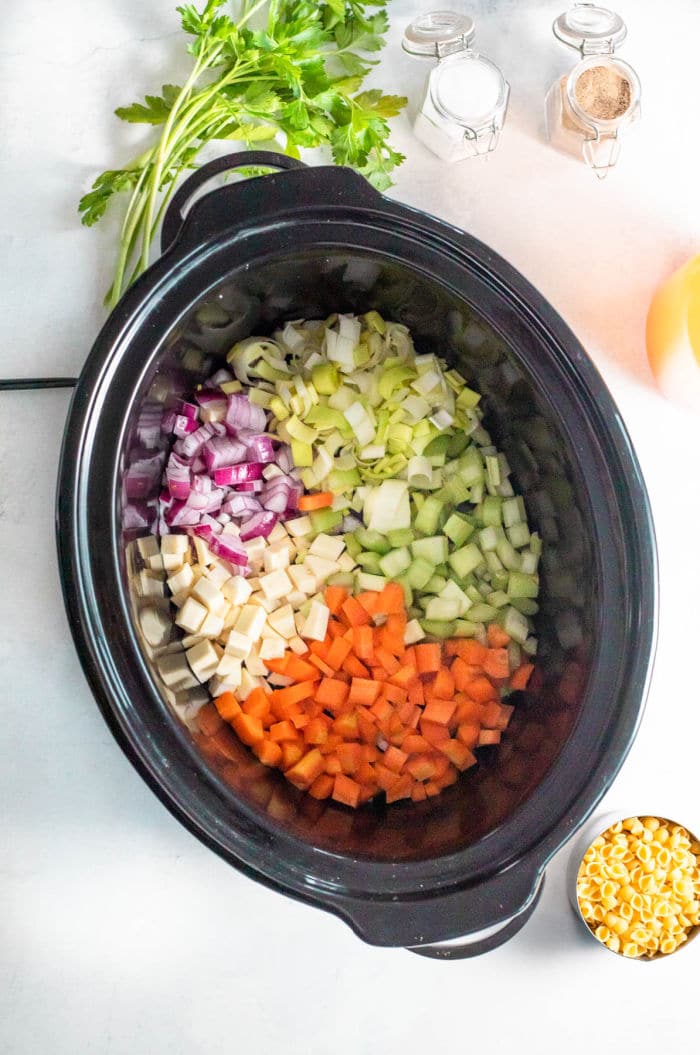 My goal when cooking with veggies is to choose a variety so that you don't really need a lot of seasonings beyond a pinch of salt and pepper. Using just one would give you a single note that would be overpowering and not that great. Best way is to blend a few at a time that compliment each other.
Is soup better in a slow cooker?
I think so. Cooking low and slow so everything gets nice and tender works just great. The only other that can compete would be one of our Ninja Foodi soups. If you are in a hurry I would use this method instead. Things like our dairy free butternut squash soup can be made in about an hour and kept warm in this.
If you wanted to make a similar dish to this in the same pot it would cut the cooking down down by a ton too, and turn out just as great. You can follow our Instant Pot minestrone recipe for that. I'm not a stand by the stovetop checking for hours kinda' gal, just not my thing.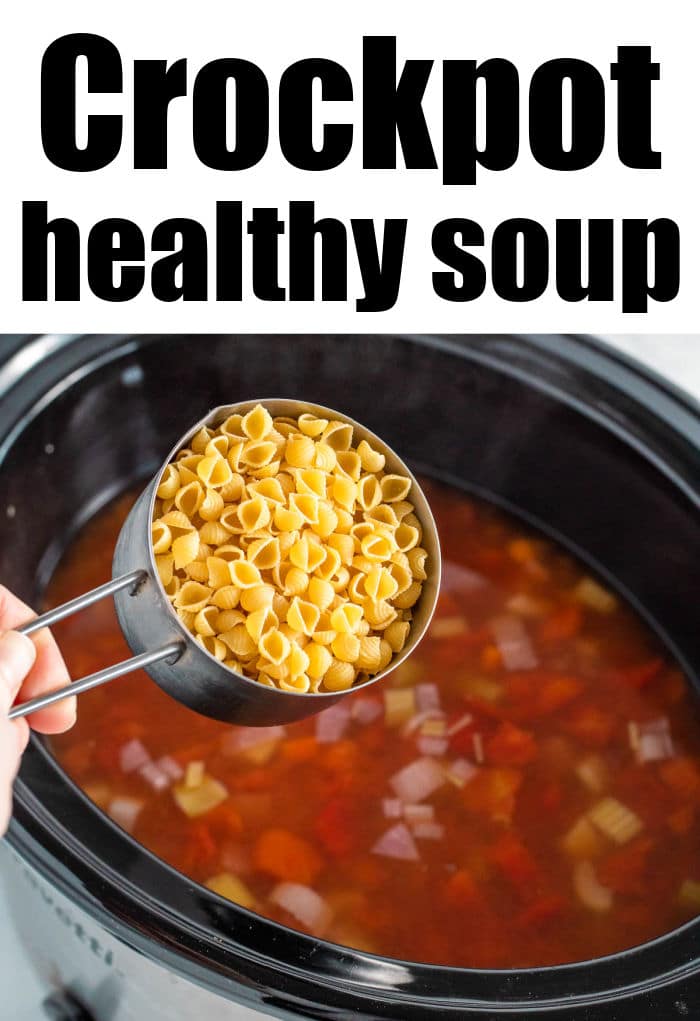 Healthy Slow Cooker Soup
Whether or not you choose to add small shells into the mix, the timing remains the same for this. Do not try to speed things up and cook on high heat, it's called SLOW cooker for a reason. Print recipe at the bottom of this post but here is a quick step by step first:
First chop and prepare all ingredients and add into your Crock pot (except uncooked pasta) .
Fill pot with broth and seasonings of choice.

A pinch of salt and pepper is the minimum.

Cover and cook for 3 hours on low heat.

Lift lid, pour in uncooked small pasta shells and stir those into the liquid.

Cover again and cook this healthy soup for another 1 hour. When done remove the bay leaf and serve.
You could use gluten free pasta instead too but keep in mind that cooks faster in soups and stews. A bowl full of this with some fluffy Bisquick biscuits or a slice of 3 ingredient beer bread means comfort food at it's finest.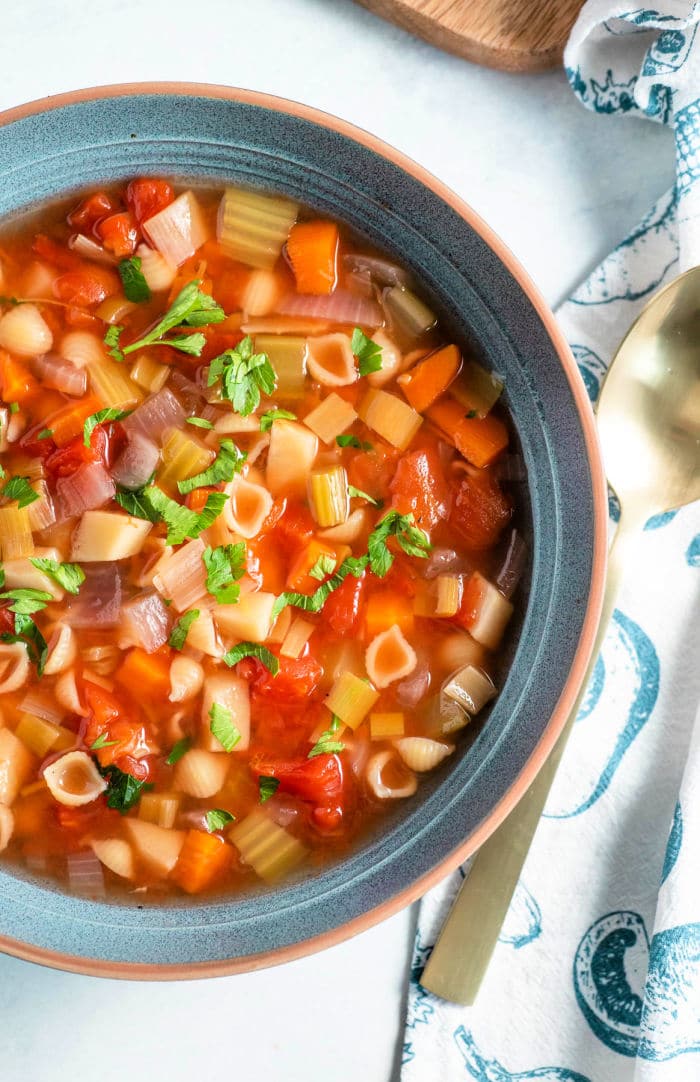 Looking for other slow cooker soup recipes? We have a ton but let me narrow it down to just a few others that are on the healthier side for you (and one you can treat yourself to once and a while).
Crockpot Soups
If you want to use your other appliances, we have made an Instant Pot black bean soup that's kinda' to die for too. I try to add all methods for every recipe I make since everyone and every household is different. On the stove you'd just boil on medium until everything is tender, that is an easy change. Pressure cookers are a bit more difficult.
You can find all of our Instant Pot soup recipes here though if you want to meal plan way ahead of time and choose different ones.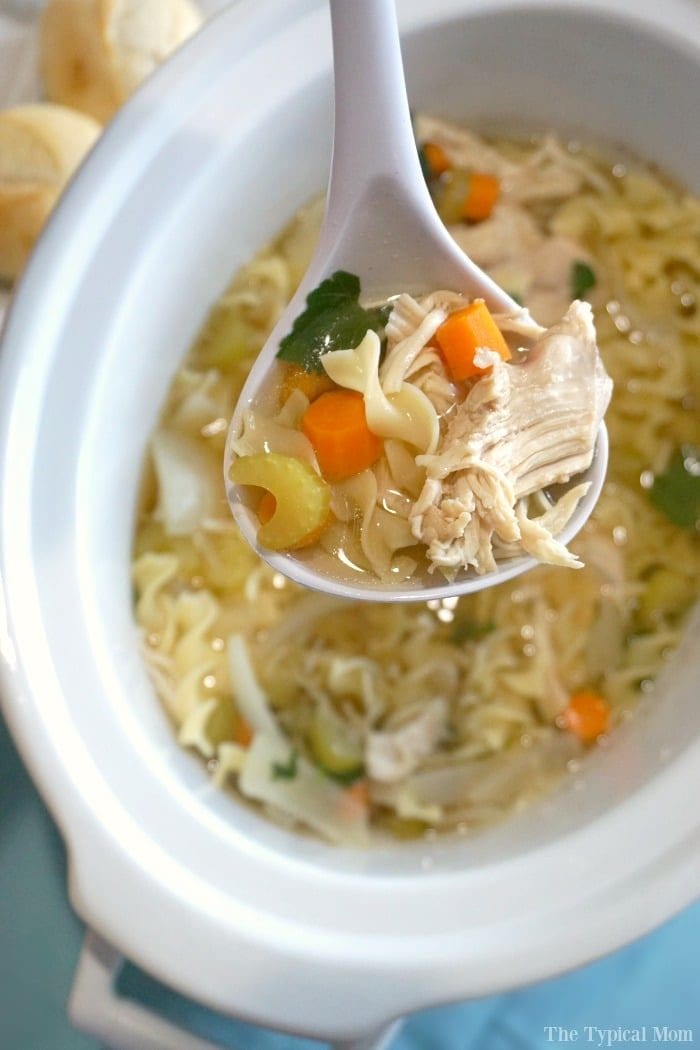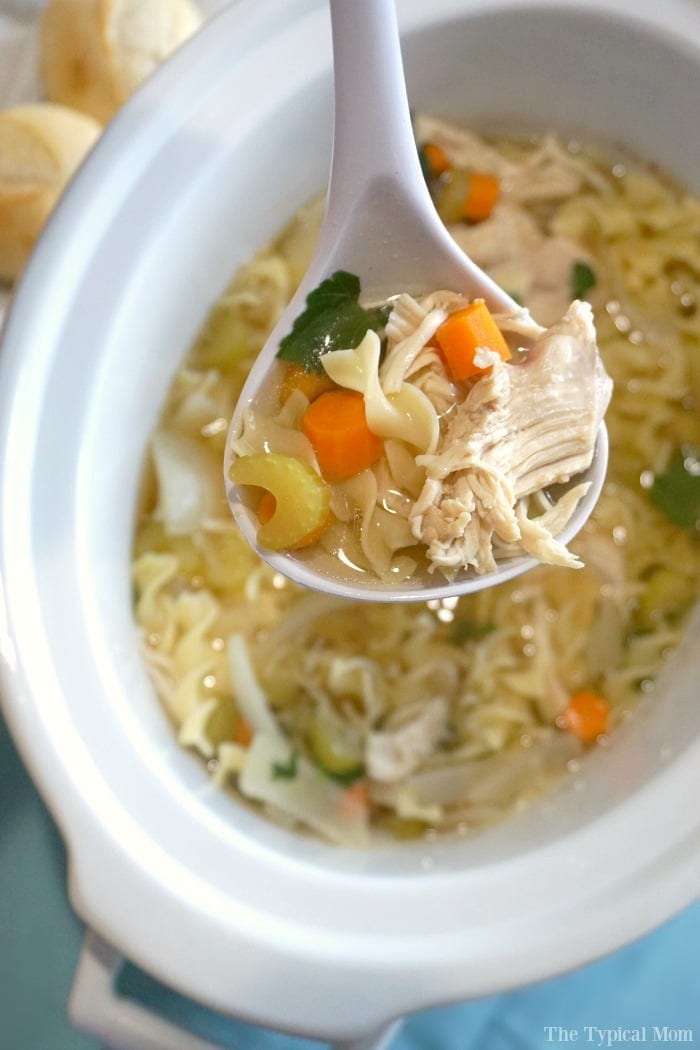 Best way to save leftover soup
When you're done eating this slow cooker recipe, turn your machine off and remove the lid. Let it cool down completely which will take a good hour or more so kinda' think ahead and just turn it off when you're serving it up. When it is at room temperature then transfer it to some sealed containers.
I like to just put enough for one serving in each container so it's easier to reheat later. Refrigerate, or this is how to freeze leftover soup. Then transfer it to a microwave safe bowl and heat for 45 seconds, then stir, 45 seconds again and then feel the center to see if it's warm enough. If not keep heating like this.
At the end I like to add some shredded parmesan cheese to melt in the last heating. That will add even more flavor to the dish and kids love it. If you had leftover homemade garlic bread you made do not refrigerate that. Instead wrap in some foil and leave on the countertop so it doesn't dry out. That will only stay great for one day really so use it up.
Want to see a few of my favorite things that I am totally obsessed with?? Take a peek and see how many you might already have…twinsies!
Looking for more easy family recipes and tips? LIKE The Typical Mom Facebook page?
Then sign up for my free newsletter, and follow me on Pinterest! 😉
***** If you LOVED this recipe give it 5 Stars below and let everyone know what you thought about it. 😉
Healthy Crockpot Soup
This healthy Crockpot soup recipe is packed with vegetables with a pasta option too. A low fat slow cooker soup packed with flavor.
Instructions
Prepare all (except uncooked pasta) ingredients and add into your Crock pot. Fill with broth and seasonings of choice. A pinch of salt and pepper is the minimum.

Cover and cook for 3 hours on low heat. Then lift lid, pour in uncooked small pasta shells and stir those into the liquid.

Cover again and cook for another 1 hour. When done remove the bay leaf and serve.
Nutrition Facts
Healthy Crockpot Soup
Amount Per Serving (2 oz)
Calories 94
Calories from Fat 9
% Daily Value*
Fat 1g2%
Sodium 752mg33%
Potassium 448mg13%
Carbohydrates 21g7%
Protein 3g6%
Vitamin A 4857IU97%
Vitamin C 18mg22%
Calcium 66mg7%
Iron 2mg11%
* Percent Daily Values are based on a 2000 calorie diet.