Slow cooker lentil stew recipe with sausage kielbasa, carrots and celery makes a hearty and healthy meal for dinner you'll love. One of our favorite Crockpot recipes of all time.
Dried Lentil stew has become one of our new favorite meals. I can throw it all in in the morning and when we are home from our busy activities, enjoy a bowl of this one pot meal together. One of the simple Crockpot sausage recipes we have on our site and wanted to share. (post may contain affiliate links present)
Crockpot Lentil Stew
We have made Lentil Soup with Ham before after the holidays but I don't always have that type of meat on hand. A great substitute for us has been kielbasa sliced into bite size pieces. Not only does it add protein to this meal but has so much flavor in it that very few seasonings are required beyond that.
If you have never cooked this type of legume yourself we are here to help with How to Cook Lentils a number of different ways. Low and slow will get them super tender but there is a texture preference for sure when it comes to these. An hour too long may "ruin" it for you so keep an eye on it the first go around.
FIRST – You should sign up for my free newsletter so you get new posts emailed to you twice a week and never miss out on anything! Let's talk a little bit about slow cooking shall we?? First off I have a few different varieties and I love them all. Each one has an occasion to be used like….
This is my favorite 6 quart programmable one with a locking lid so it's great for bringing to a potluck too.
If you just want to serve a few appetizers you should get this one that sit side by side one another.
I prefer not to use liners, but rather just spray olive oil inside before adding my food for easier cleanups.
Let me give you a peek of my pretty thang I bought recently. It goes with my kitchen so I can just leave it out on the countertop all the time. 😉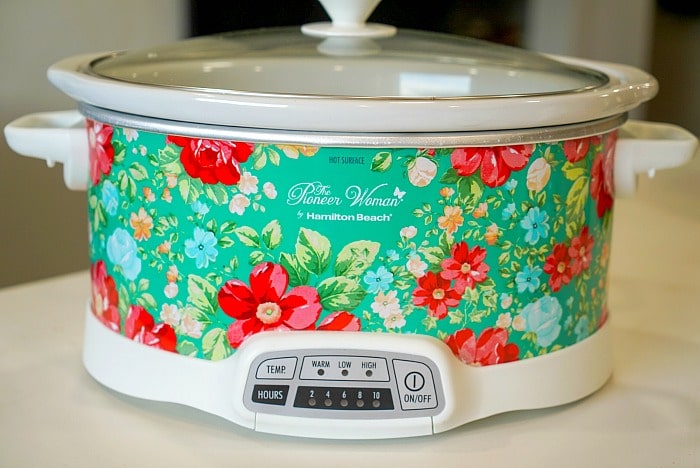 Slow Cooker Lentil Stew
Now yellow, green or brown lentils still have the hulls in tact so they stay firmer for longer than Red Lentils. Those are hulled with skins removed therefore become softer with more of a mushy texture. Choose the style and color you'd like.
1 onion diced
2 stalks celery dicced
Carrots peeled and diced
Minced garlic
Lentils rinsed and drained
4 sausage links cut into dials
Diced tomatoes
1/2 tsp thyme
Chicken or vegetable broth
Add salt and pepper to taste when done
The cook time for lentils in a slow cooker can vary depending on the type you're using and the specific recipe you're following. Same thing goes for How Long to Cook Lentils on Stove. Here's a general guideline for cooking common types in a Crockpot;
Brown Lentils are the most common type and hold their shape well. When cooking brown lentils in a slow cooker, you can generally follow these guidelines:

High Cook for 3 to 4 hours.
Low Cook for 6 to 8 hours.

Green Lentils are known for their firm texture and earthy flavor. They take a bit longer to cook than brown lentils but still work well in a slow cooker:

Cook for 4 to 5 hours high
Low setting cook for 7 to 9 hours.

Red Lentils cook more quickly and tend to break down, creating a creamy texture. When using red lentils in a slow cooker:
French Green Lentils are similar to regular green lentils but may require slightly less time:

3 to 4 hours on high
6 to 8 hours on low

Black Lentils are small and hold their shape well. They cook relatively quickly in a slow cooker:

Cook for 3 to 4 hours on high
6 to 8 hours on low
Remember that these are general guidelines, and the actual cooking time may vary based on factors such as the cooker's temperature accuracy and the specific recipe you're using. Always check for tenderness and adjust as needed. Additionally, the liquid to legume ratio is important, so ensure you have enough liquid to cover them by about an inch or so.
They are quite forgiving though, so even if you slightly overcook or undercook them they can still be tasty and versatile for a variety of dishes like Instant Pot Lentil Soup with Ham and stews like this one.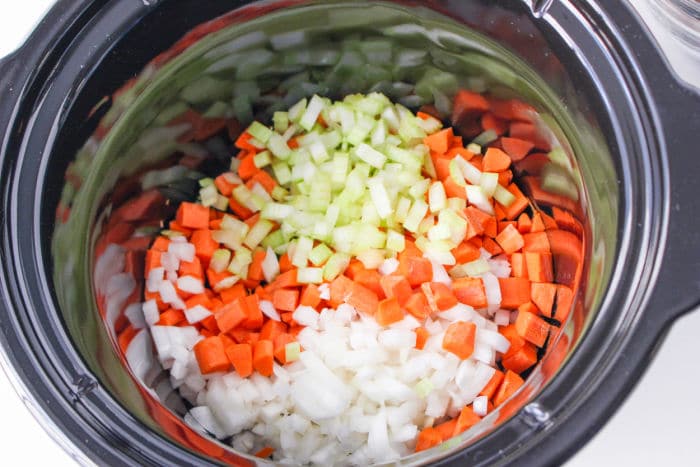 Sausage Stew Slow Cooker
If you want a plant based vegan lentil stew then use vegetable broth and leave out the meat entirely. If you aren't a huge fan of kielbasa let's say then you could cook ground or Italian sausage in a bit of olive oil, slice and throw that in there. Easier with this for meal prep since it is already cooked and you just slice.
Place all ingredients into the slow cooker and stir to combine.
Cover the slow cooker and cook on low for 7 to 8 hours or until the lentils and vegetables are tender.
If you want to keep more of the texture then start testing every 30 minutes after 6.5 hours or so. Soups and stews made with these are really subjective as to the desired texture. Depends on whom you ask whether they prefer them more like split pea soup consistency or needing to chew it a bit more.
Love serving this with garlic crusty bread on the side to dunk it and scoop some up for dinnertime. Do this with almost all my favorite Curry Lentil Recipes too.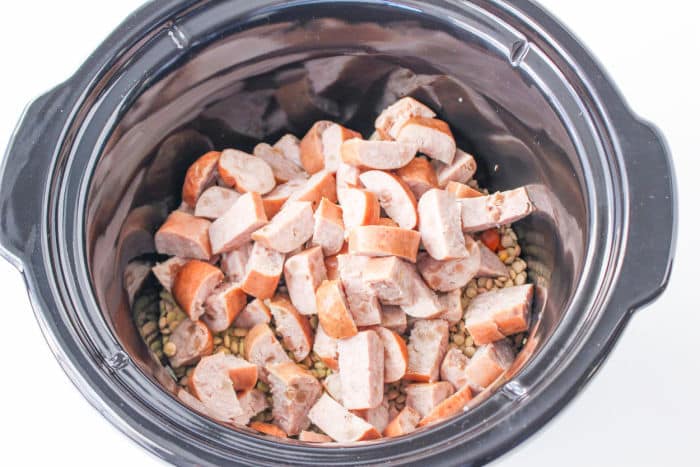 Chicken Sausage Stew
Now if I do have leftover chicken that works well in there too. Diced and bite sized will keep it's texture a bit more than shredded but either one works. Before you jump to recipe let me answer a few frequent questions we have had thus far. If you have others leave them in the comments and we will do our best to answer them too.
What are stewed lentils?
Stewed lentils refer to lentils that have been cooked in a liquid, typically with added seasonings, vegetables, and sometimes meats or meat alternatives, until they become tender and flavorful. The process of stewing involves simmering ingredients in a liquid over low heat for an extended period, allowing the flavors to meld and develop.
Do you have to soak lentils before cooking them?
Unlike some other legumes like dried beans, lentils do not require soaking before cooking. Lentils are small and cook relatively quickly, making them one of the most convenient and versatile to prepare.
I have made Lentils and Rice together in my Instant Pot but don't really recommend cooking that grain in your Crockpot. The consistency is just off.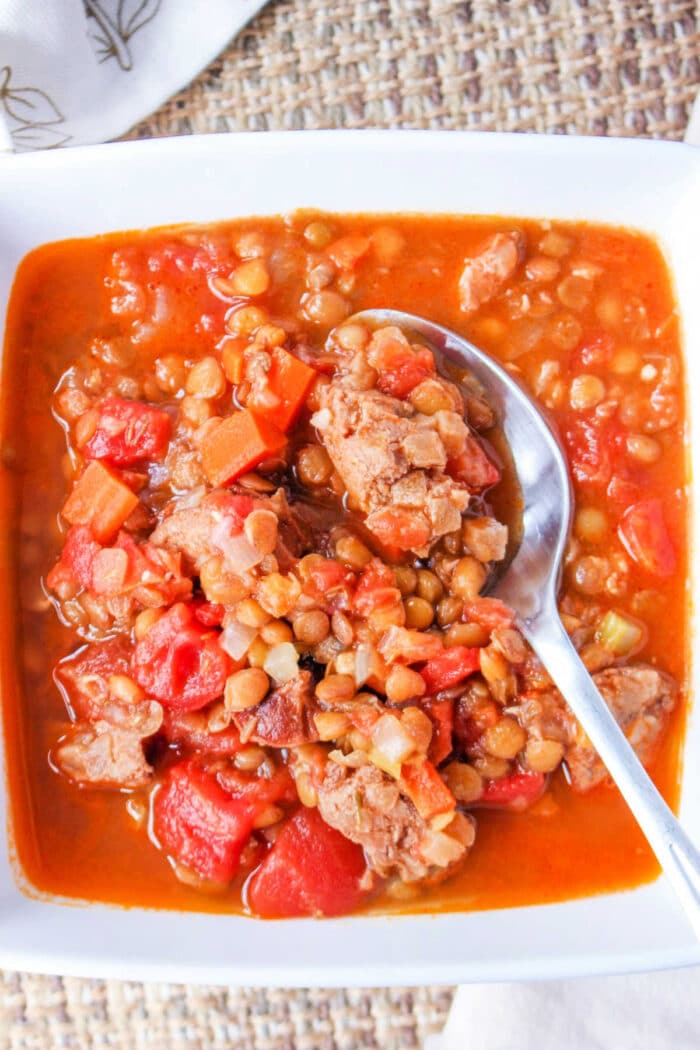 Want to see a few of my favorite things that I am totally obsessed with?? Take a peek and see how many you might already have…twinsies!
Looking for more easy family recipes and tips? LIKE The Typical Mom Facebook page?
Then sign up for my free newsletter, and follow me on Pinterest! 😉
***** If you LOVED this recipe give it 5 Stars below and let everyone know what you thought about it. 😉
Lentil Stew Recipe
Slow cooker lentil stew recipe with sausage kielbasa, carrots and celery makes a hearty and healthy meal for dinner you'll love.
Instructions
Place all ingredients into the slow cooker and stir to combine.

Cover the slow cooker and cook on low for 7 to 8 hours or until the lentils and vegetables are tender.
Nutrition Facts
Lentil Stew Recipe
Amount Per Serving (2 oz)
Calories 152
Calories from Fat 27
% Daily Value*
Fat 3g5%
Cholesterol 9mg3%
Sodium 515mg22%
Potassium 557mg16%
Carbohydrates 22g7%
Protein 10g20%
Vitamin A 2734IU55%
Vitamin C 13mg16%
Calcium 62mg6%
Iron 3mg17%
* Percent Daily Values are based on a 2000 calorie diet.