If you are looking for a bunch of easy Crockpot sausage recipes to make this week you have come to the right place! From kielbasa to Italian, bratwurst, chorizo to spicy ground sausage we have options for them all. We're talking all about pork in these Crockpot recipes here.
In the world of home cooking, few things can compare to the hearty easy Crock pot meals. Cooked low and slow all day long is key. These magical devices have the power to turn simple ingredients into mouthwatering feasts, we're focusing on slow cooker sausage recipes this time. (affiliate links present)
Slow Cooker Sausage Recipes
What better ingredient to star in these slow-cooked pairings than sausage links or using it ground!? With its rich flavors and versatile nature, pork of all kinds can really elevate your family friendly meals to new heights. In this article, we'll delve into the art of using sausage in crockpot recipes, exploring techniques, tips, and a handful of delectable recipes that will have you yearning for more.
Before you dive into our Goulash in the Crock-pot, let's talk about all types of sausages. The market offers a plethora of options from sweet Italian sausage, to chorizo, bratwurst, ground, breakfast and kielbasa. Each with its unique flavor profile.
Opt forone that complement the overall theme of your dish. For instance, Italian sausage works wonders in tomato-based sauces, while smoky and spicy sausages like chorizo can add depth to bean-based stews. The outsides can be air fried or seared first to give them a snap too.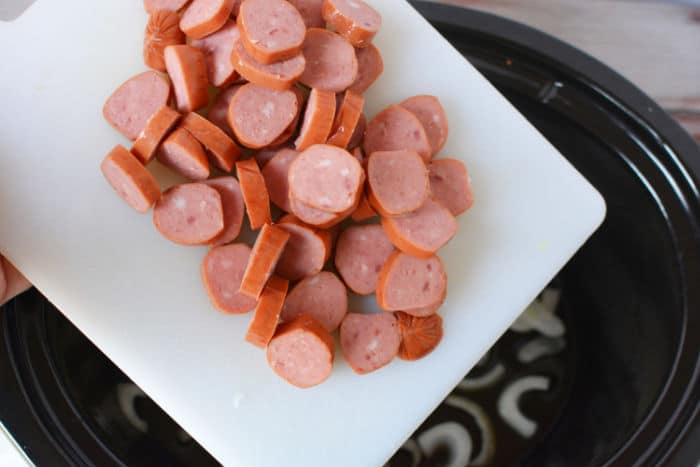 To unlock the full potential of sausage flavors in your crockpot creation, consider searing them before slow cooking. Searing not only adds a delightful caramelized exterior but also intensifies the overall taste. Heat a skillet over medium-high heat, add a touch of oil, and brown the sausages on all sides.
This step not only enhances the visual appeal of your dish but also sets the stage for a multitude of flavors to unfold as the meat mingles with the other ingredients over time.
Smoked Sausage Crockpot Recipes
Crockpot recipes are all about layering flavors. As you assemble your ingredients in the pot, keep in mind what mixture you wish to achieve. Being a strong flavor component, this meat can influence the entire dish. If you're aiming for a sausage-forward dish, consider using milder vegetables like potatoes, carrots, and bell peppers, which can absorb the flavors nicely.
Alternatively, if you're looking for a more balanced flavor profile, use ground sausage with yellow onions, garlic, and add noodles into a casserole! Yes, you can make a one pot meal in this thing, just cover and cook an additional 30 minutes at the end with small shell pasta noodles to make Lazy Crockpot Lasagna or something similar.
This type of cooking relies on slow and steady simmering to break down tough cuts of meat and meld flavors. To ensure your sausage retains its moisture and tenderness, incorporate ample liquids or broths into your recipe. This step prevents your sausage from drying out during the lengthy cooking process. For something like our Haluski recipe I like beef broth vs. water.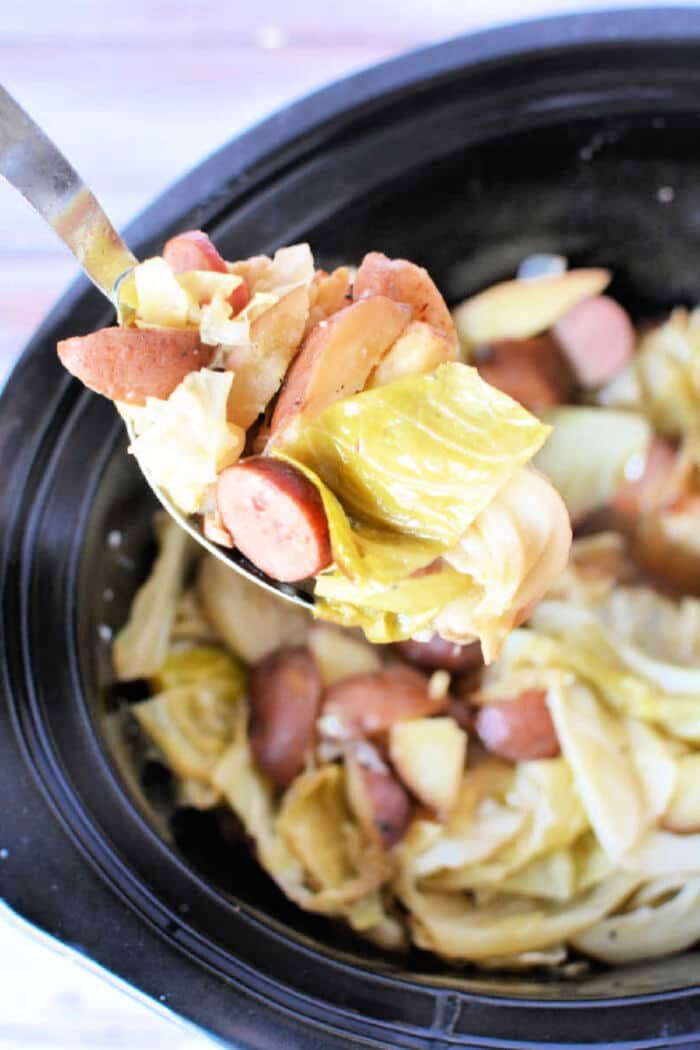 Whether you're opting for a tomato-based sauce, a wine-infused broth, or a rich stock like our Crockpot Cabbage and Sausage, make sure there's enough liquid to submerge at least half of the meat. As they simmer gently, the sausage will soak up the liquid, resulting in a juicy, flavorful bite that's nothing short of extraordinary.
Don't hesitate to elevate the complexity of your dish without a few other chosen blend of spices and herbs. Fragrant herbs like rosemary, thyme, and oregano can complement the rich flavors of the links, while spices such as paprika, cumin, and red pepper flakes can add depth and heat. In the case of bratwurst in slow cooker you may just opt for beer, that is it.
Ground Sausage in Crockpot
Remember that spices can intensify over long cooking times, so use them sparingly at the beginning of the cooking process and adjust to taste towards the end. This goes for links and Jimmy dean ground versions. If I want some heat I will brown 1/2 lb. of spicy and 1/2 lb. of regular to make our Crockpot Hamburger Helper for a hearty meal. Turkey sausage works for lower fat but less flavor too. 🙁
Crockpots are known for their low and slow cooking style, which allows flavors to meld and ingredients to tenderize gradually. It's essential to pay attention to cooking times and temperatures though as it can overcook and dry out if there isn't enough liquid or sauce. In the case of Slow Cooker Velveeta Sausage Dip you won't have that issue, but should be left on warm vs. low once melted so it doesn't overcook.
Most crockpot recipes that include sausage recommend cooking on the low setting. Depending on the recipe and the type used, cooking times can vary from 4 to 8 hours. Keep in mind that links contain a mix of meat and fat, and overcooking can result in a dry and less flavorful outcome. To avoid this, aim for an internal temperature of 160°F (71°C) for pork based and 165°F (74°C) for poultry based links.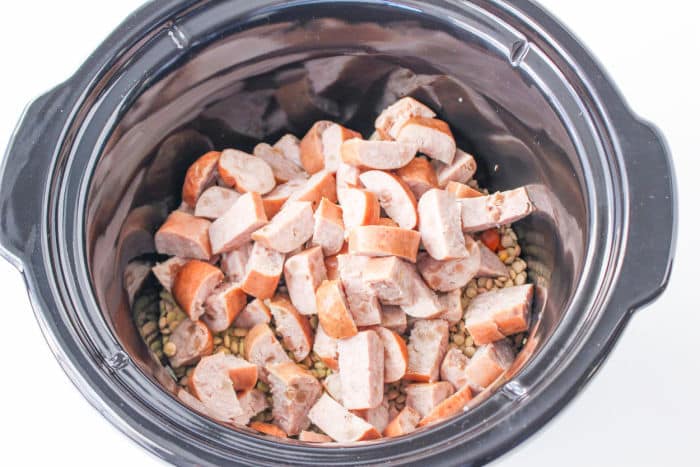 Sausage in Crockpot Recipes
Pairing pork and crockpot cooking is a match made in culinary heaven. The slow-cooking process allows the meat to infuse its rich flavors into the entire dish, resulting in comfort food that's both hearty and delectable.
Our 5 ingredient Crockpot chili is great

Brown ground sausage on the stovetop and layer this with sauteed onions in the pot with canned kidney beans, and seasonings of your choice or a chili seasoning packet.
Pour in a mixture of beef broth and diced tomatoes, ensuring everything is nicely submerged.
Cook on low for 6-8 hours until everything is tender and the flavors have melded into a comforting stew. 30 minutes before serving you could add 1.5 cups of macaroni noodles, submerge and cover until tender to make chili mac in slow cooker.

You can make our Sausage and Potato Casserole low and slow too

Sear your preferred sausage variety and cut them into bite-sized pieces.
Layer the sausage pieces in the crockpot with sliced potatoes, onions, bell peppers, and grated cheddar cheese.
Whisk together a mixture of chicken broth, Dijon mustard, and herbs, then pour it over the ingredients.
Cook on low for 4-6 hours until the potatoes are tender and the cheese is melted. Do not cook on high!

Spicy Crock pot Sausage and vegetables

Sear spicy sausages and slice them into rounds.
Layer the sausage rounds in the crockpot with sautéed bell peppers, onions, garlic, and crushed tomatoes.
Season with a blend of paprika, cayenne pepper, and dried oregano. Then pour in a mixture of red wine and beef broth.
Cook on low for 6-8 hours until the flavors have melded into a fiery and satisfying ragout.
Choose links or ground sausage, sear for optimal flavor, layer, and slow cook your way to a delicious meal.
Slow Cooker Sausage and Peppers Recipe
Roll up your sleeves, gather your ingredients, and embark on a sausage slow cooker recipe adventure. All of ours on this site are family friendly yum, so make a few. Jump to recipe below to get started and then try the others listed in this post. Let us know which you love the best!!
Want to see a few of my favorite things that I am totally obsessed with?? Take a peek and see how many you might already have…twinsies!
Looking for more easy family recipes and tips? LIKE The Typical Mom Facebook page?
Then sign up for my free newsletter, and follow me on Pinterest! 😉
***** If you LOVED this recipe give it 5 Stars below and let everyone know what you thought about it. 😉
Crockpot Sausage Recipes
Instructions
Pour half your sauce into your slow cooker. Slice your onions and bell peppers, set aside.

Use a sharp knife to slice the skin of the large sausage links, and peel off. Set inside the pot on top of the sauce.

Sprinkle onions and peppers on top, sprinkle with salt and pepper, then with the remaining spaghetti sauce over the top of everything.

Cover and cook on low for 5-6 hours or until the middle of your sausages reach a safe internal temperature of 160 degrees F.

Serve together with noodles or rice for dinner, season with salt and pepper.
Nutrition Facts
Crockpot Sausage Recipes
Amount Per Serving (1 oz)
Calories 368
Calories from Fat 270
% Daily Value*
Fat 30g46%
Cholesterol 71mg24%
Sodium 1222mg53%
Potassium 683mg20%
Carbohydrates 11g4%
Protein 15g30%
Vitamin A 1733IU35%
Vitamin C 62mg75%
Calcium 40mg4%
Iron 2mg11%
* Percent Daily Values are based on a 2000 calorie diet.