I'm all about my slow cooker!! Especially when school starts we are busy busy busy and I need a little help when it comes to dinner time. Our newest love is this crockpot hamburger helper recipe that's super easy to make and hearty! You may call it goulash as well which let's just admit is just darn delicious and reminds you of your childhood if you're anywhere near my age. Here's how you make one of our favorite crockpot recipes.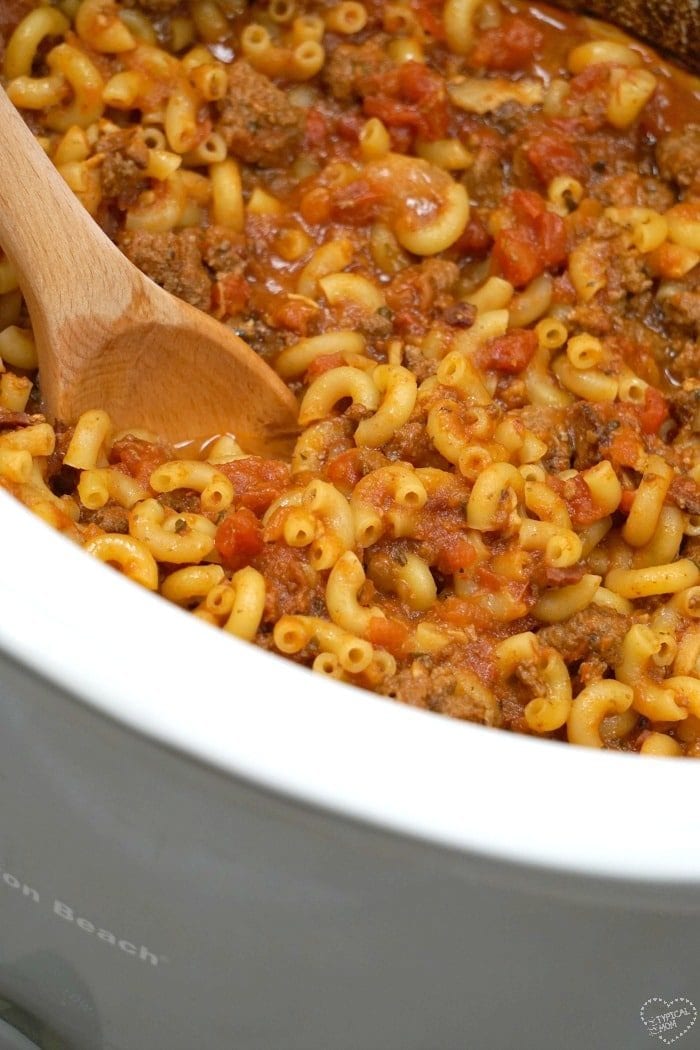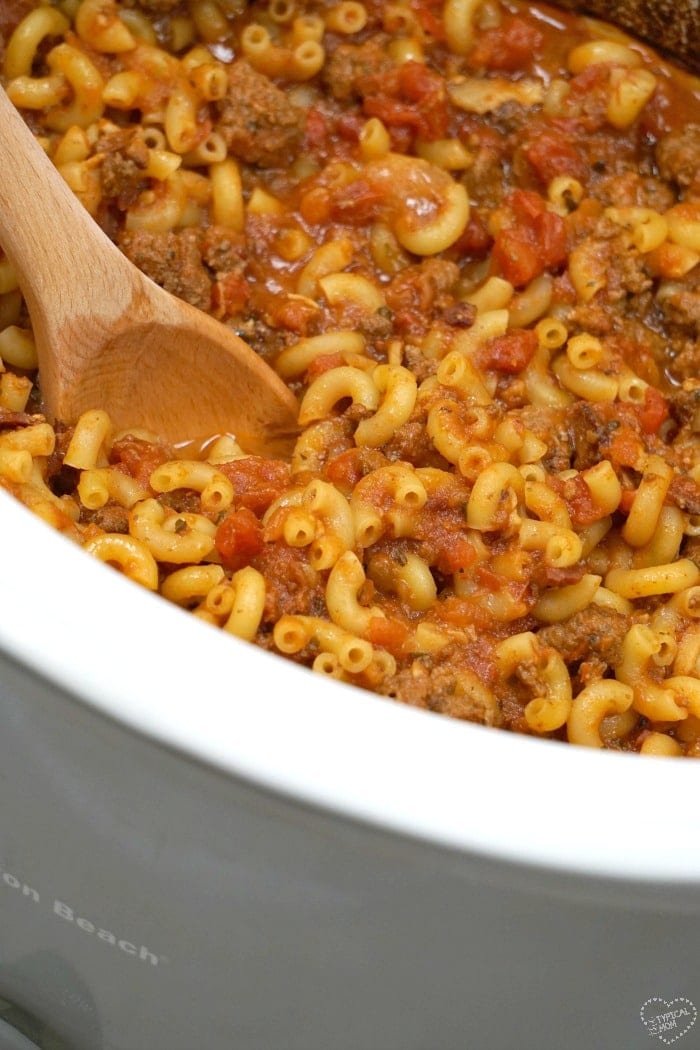 This really is amazing! There's something about a meal in the crockpot that just makes you feel good…..whether it's winter or summertime! We use our crockpot at least once a week on days that are going to be really busy and we won't get home until dinnertime. That way I can throw it all in before we leave and know it will be ready when we are "starving" after swimming or whatever activity we have that day.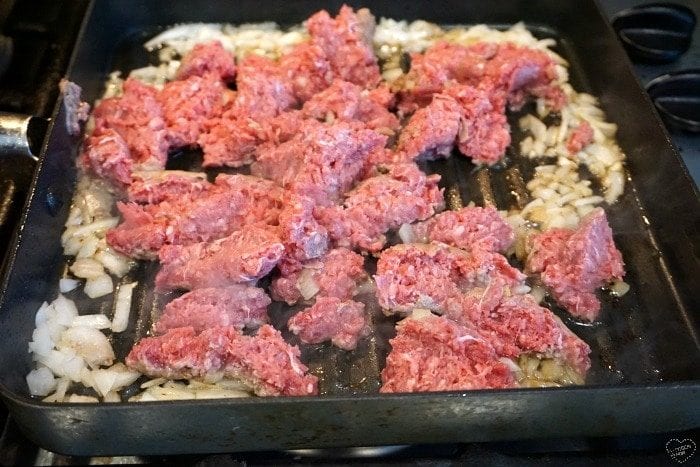 The only thing you need to precook is the ground beef, bacon, and onions. I cook the bacon first, leave the juices, then throw in the ground beef and  diced onion together so all the flavors meld together. Throw that into the crockpot with all of the other ingredients and it's ready to cook all day.
Crockpot hamburger helper recipe
Crockpot hamburger helper recipe
Ingredients
1 lb. ground beef
1 jar spaghetti sauce
1/2 onion, diced
1 tsp. minced garlic * optional
1 can diced tomatoes
1 1/2 c. water
5-6 pcs. bacon
1 box macaroni noodles (12-16 oz)
1 c. grated cheddar cheese * optional
Instructions
Precook ground beef with onions. Cook bacon and dice pieces. Throw these in as well as all other ingredients into your crockpot except the macaroni noodles. Cook on low for 6-8 hrs. Uncover and stir in entire box of uncooked macaroni noodles, stir, recover and cook on high for 30 minutes or until noodles are tender. Serve topped with cheese if desired.
6.6.15
https://temeculablogs.com/crockpot-hamburger-helper-recipe/
You can use any kind of noodles you like but if they have it I grab a box of macaroni or rotini pronto noodles that cook a bit faster. It's not a big deal to throw them in for the last half hour because it takes that much time to put everything away when we get home, grate the cheese, and set the table anyway. Here's how easy it is to make:
It's a warm feel good meal that my kids ask me to make often and even my husband and I like it (I eat it the next day for lunch too and it's amazing). If you don't have a larger crockpot this one is seriously my favorite!
If you love this crockpot hamburger helper recipe you will LOVE our crockpot lasagna recipe too!!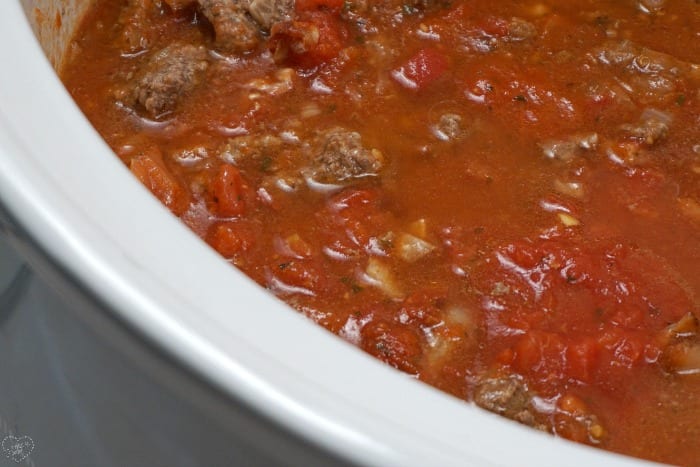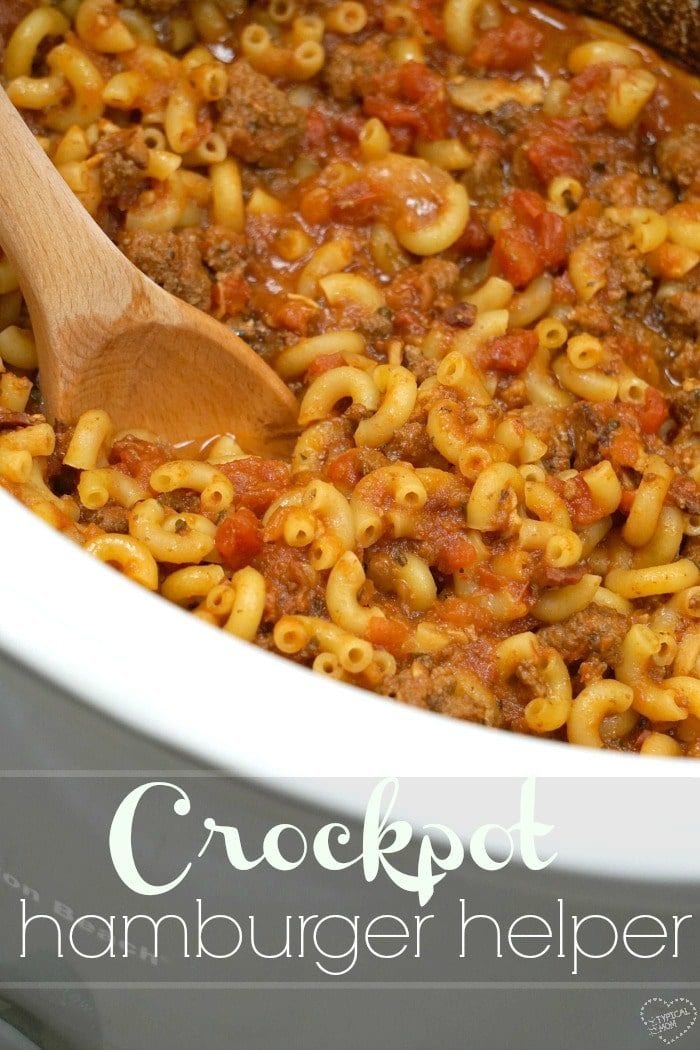 For more easy recipes, tips and crafts please LIKE The Typical Mom on Facebook and follow me on Pinterest! You can also sign up for my free weekly newsletter which is packed with goodies I know you'll love. 😉