Here is a really easy crockpot hamburger helper recipe you've got to try!! Super simple to make with uncooked elbow macaroni noodles. One of the best slow cooker goulash style dinners according to my kids. Add cheese and make it cheeseburger hamburger helper if you like!
This homemade Crockpot hamburger helper recipe is really amazingly easy! There's something about a casserole in the crock pot that just makes you feel good…..whether it's winter or summertime! It's definitely one of our favorite easy crockpot recipes on the blog. (originally published 8/16, affiliate links present)
Hamburger Helper Crockpot
We use our slow cooker at least once a week on days that are going to be really busy and we won't get home until dinnertime. That way I can throw it all in before we leave and know it will be ready when we are "starving" after swimming or whatever activity we have that day.
I cook the bacon first, leave the juices, then throw in the ground beef and diced onion together.
That way all the flavors meld together. That's all you need to precook.
Throw that into the pot with all of the other ingredients and it's ready to cook all day. As far as proteins go you can use your favorite. I have found that half ground beef and half spicy sausage might be our favorite for this and our slow cooker lasagna casserole. Brings in a bit of spicy flavor to the dish without a lot of added ingredients.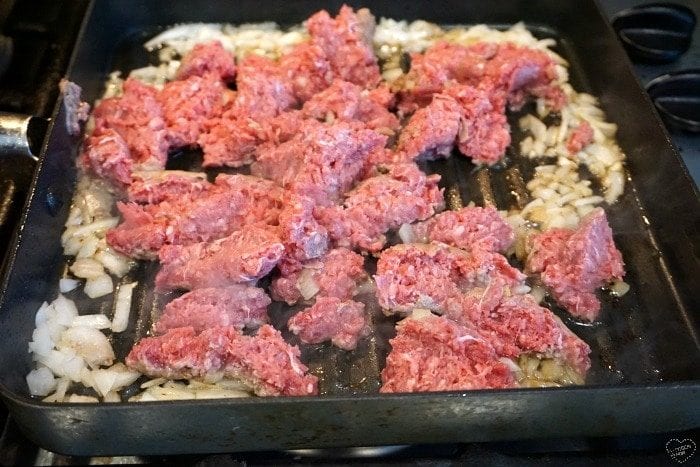 Crockpot Cheeseburger Macaroni
If you wanted to add cheese to this you could quite easily, or leave it out for dairy free. I like to fold in some near the end to melt and then more on top. That is my style of dinner time meals. Very little prep needs to be done for this homemade version our family loves with a side salad or green beans.
Ground beef
Spaghetti sauce

store bought or this is our favorite one

Onion
Diced tomatoes
Beef broth or water could be used
Elbow macaroni noodles – put it in uncooked
Sharp cheddar cheese is optional to add to your homemade hamburger helper, or make a cheeseburger macaroni version
There's a video in this post showing you how we make this easy crockpot recipe. For a cheesier flavor you could add a few cut up pieces of Velveeta or sliced cheese at the same time as the pasta. Total and complete comfort food in a bowl.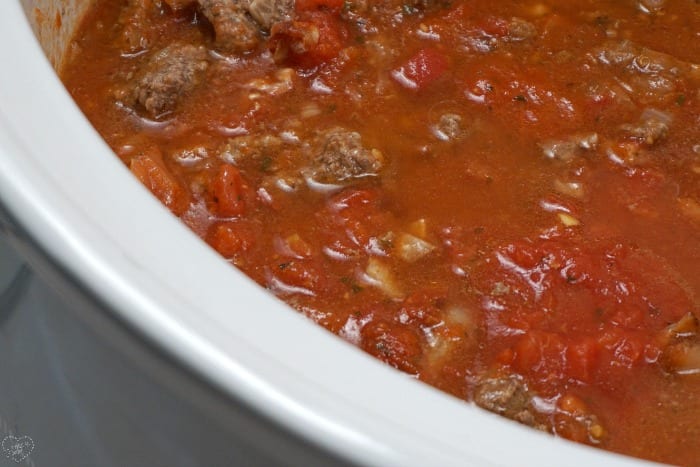 Crockpot Hamburger Helper Lasagna
Use squiggly pasta like mini lasagna noodles if you'd like. Add a dollop of ricotta too if you want. There is a lot of leway with this one for sure. I usually just grab a box of macaroni or whatever is on sale that day for this one. They all basically taste the same. Gluten free wouldn't take as long so you'd need to keep a closer eye on those.
It's not a big deal to throw them in for the last 30 minutes because it takes that much time to put everything away when we get home, grate the cheese, and set the table anyway.
Cover and cook for the last bit so they're tender, allow to sit and thicken in pot with lid off for 15 minutes, top with seasoning salt and more cheese, then serve!
If you've jumped on the pressure cooker train we also made a version of this called Instant Pot chili mac that you should try next that takes just 5 minutes as well as: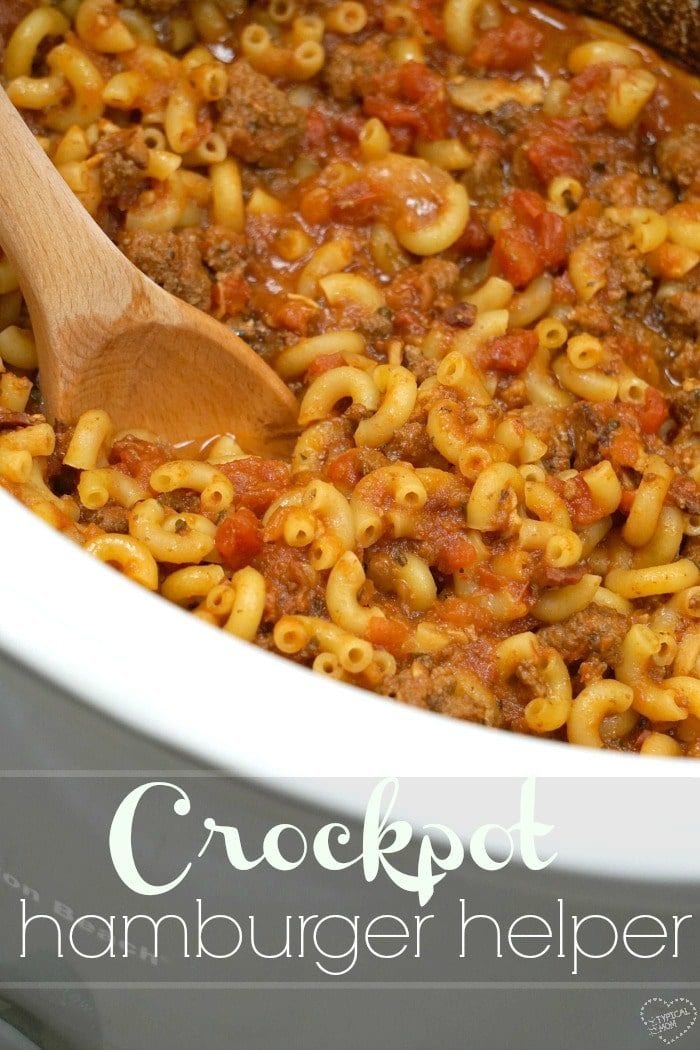 Is Leftover Hamburger Helper Good
Yes! It might actually be better than fresh…just being honest. Once it has cooled you can spoon it into a container with a lid or covered with foil tightly. Store in the fridge for up to 3 days and then reheat in a microwave safe dish for about 1 minute or so. I like to add some cheese shreds to the top when I do this to add ooey gooeyness.
Over time the pasta will soak up the sauce so it will be a bit less saucy. If you have extra spaghetti sauce you can add a tbsp or so to the top to loosen it up a bit too. OR use it a bit like sloppy joe mixture and after warmed add it in between two buns for a fun lunch time for the kiddos. I mean out of the box means fun and fun means more yummy right. 😉
For more easy recipes, tips and crafts please LIKE The Typical Mom on Facebook and follow me on Pinterest! You can also sign up for my free weekly newsletter which is packed with goodies I know you'll love. 😉
It's a warm feel good meal that my kids ask me to make often and even my husband and I like it (I eat it the next day for lunch too and it's amazing).
Crockpot Hamburger Helper Recipe
Here is a really easy crockpot hamburger helper recipe you've got to try!! Super simple to make with uncooked macaroni noodles and one of the best crockpot goulash style dinners according to my kids. Add cheese and make it cheeseburger hamburger helper if you like!

Instructions
Precook ground beef with onions. Pour into the pot.

Add diced bacon into that same pan and cook until it is not crispy, but cooked.

Throw these in as well as all other ingredients into your crockpot except the macaroni noodles.

Uncover and stir in entire box of uncooked macaroni noodles, stir, recover and cook on high for 30 minutes or until noodles are tender. Serve topped with cheese if desired.
Nutrition Facts
Crockpot Hamburger Helper Recipe
Amount Per Serving (3 oz)
Calories 449
Calories from Fat 162
% Daily Value*
Fat 18g28%
Cholesterol 55mg18%
Sodium 714mg31%
Potassium 676mg19%
Carbohydrates 50g17%
Protein 22g44%
Vitamin A 570IU11%
Vitamin C 11mg13%
Calcium 155mg16%
Iron 3mg17%
* Percent Daily Values are based on a 2000 calorie diet.