Crockpot chocolate candy bites are a great Christmas treat to make with pecans, nut clusters and pretzels. Add bits of other things if you like to coat, harden, and create bite size desserts that are family friendly. Like our Crockpot nut clusters but with more goodies inside.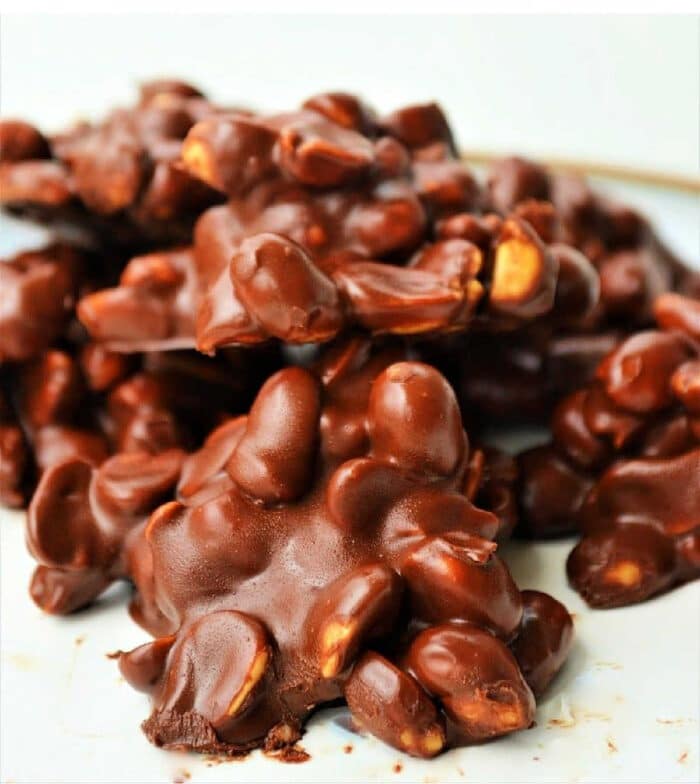 Crockpot Chocolate Candy clusters are one of my favorite holiday treats. It's one of those great Crockpot recipes that combine white chocolate chips and white almond bark to create the perfect Christmas dessert. Once you put the pecans in the recipe, there's no stopping everyone from gobbling it up as fast as possible. (affiliate links present, originally published 12/21)
There's just something about crock pot candy that no one can deny. Maybe it's that you can grab and eat it as you walk and mingle, or maybe it's just because the candy coating is the perfect treat for your tastebuds!
Slow Cooker Chocolate Candy
Melting chocolate in the slow cooker is a holiday tradition. In fact, it's a holiday MUST. Once the weather turns colder and we get into the last two months of the year, our minds are on all things sweets and treats.
FIRST – You should sign up for my free newsletter so you get new posts emailed to you twice a week and never miss out on anything! Let's talk a little bit about slow cooking shall we?? First off I have a few different varieties and I love them all. Each one has an occasion to be used like….
This is my favorite 6 quart programmable one with a locking lid so it's great for bringing to a potluck too.
If you just want to serve a few appetizers you should get this one that sit side by side one another.
I prefer not to use liners, but rather just spray olive oil inside before adding my food for easier cleanups.
Let me give you a peek of my pretty thang I bought recently. It goes with my kitchen so I can just leave it out on the countertop all the time. 😉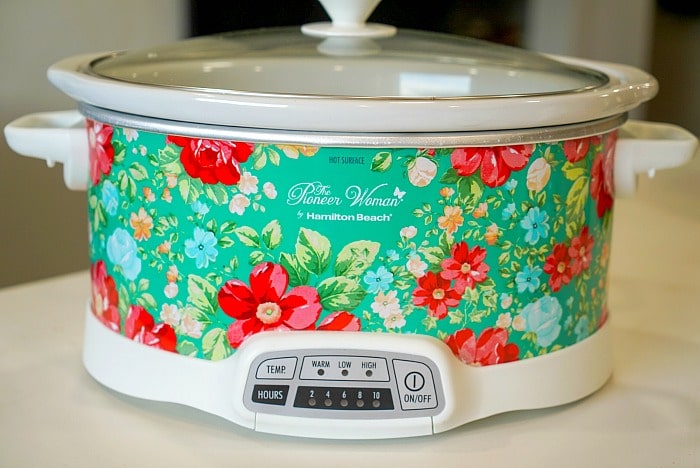 Since it's a good assumption to make that the oven will be quite busy over the next few months, having a crock pot (or two) handy is key. I use my crock pot for everything, from sauce making to German chocolate desserts, to more.
As you can tell from the easy-to-print recipe below. You only need six ingredients to whip up this treat. This means that in no time at all, and with little planning needed, you'll have a classic holiday dessert that everyone will love.
Recipe For Crockpot Chocolate Candy
As you can tell from my recipe, it's a pretty simple and straightforward process. While I'm a huge fan of how it's written, don't forget that there is always a bit of wiggle room to change things up.
We started with making Crockpot peanut clusters, and those were amazing. Then we added more stuff to these babies.
Crockpot Chocolate Nuts
Some people prefer to replace the pecans with peanuts because there's no denying that chocolate peanut combination. I'm all for hearing what you like and prefer best, too! Just know that when you put the peanuts into the crockpot, you're going to find the peanuts on the bottom quickly because they're going to sink.
This isn't really a problem per se, just something to be aware of. I just stir with a wooden spoon until smooth because once you dump all the ingredients out onto the baking sheets, it all tends to level out just fine.
Crockpot Chocolate Candy With Nuts
The biggest tip that I have when making this chocolate candy is that you need to line the baking sheets with either wax paper or parchment paper. If not, you may be scraping the pan and just chipping off the pieces to enjoy!
If that happens – don't fret. I can assure you that the flavor and taste will still be there 100%.
Crockpot Candy with Pecans
Since I've been making this holiday slow cooker candy recipe for years, I've learned that I'm not very patient when it comes to waiting for this great recipe to harden.
It might be because of my sweet tooth, or it might be because 30 minutes of time or longer seems like an eternity when I want to try desserts. But trust me on this one – you need to let it cool down and get to room temperature before cutting or eating.
It has to firm up and cool down, or it's going to be messy. For it to be ready to eat, I'd give yourself about 2 hours to be certain. Just pop in a holiday movie and the time will pass before you know it.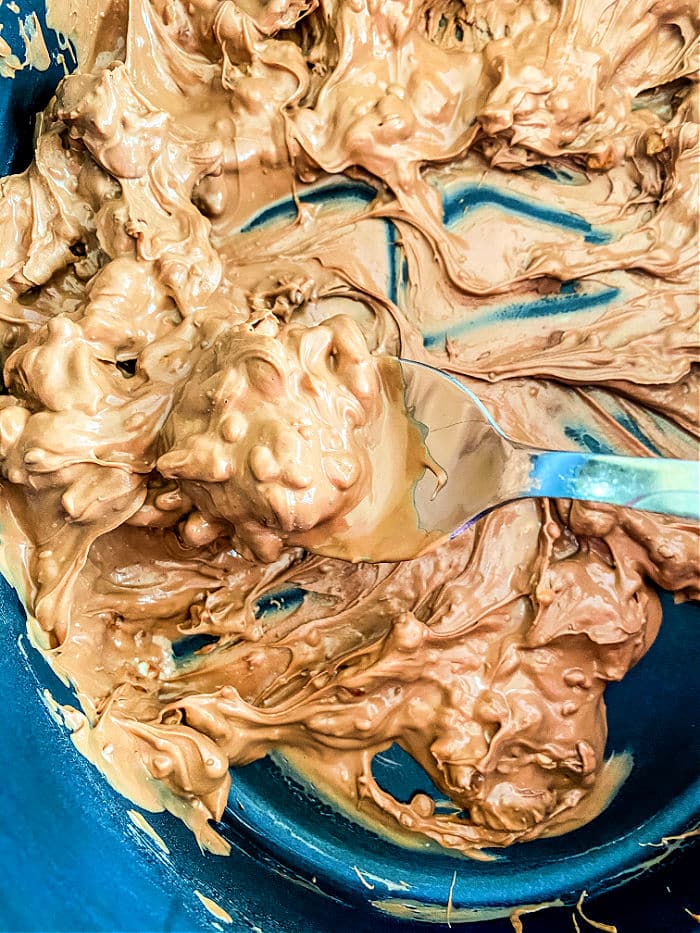 Crockpot White Chocolate Candy
This chocolate recipe is really great for creating family fun baking memories. It's a fast and easy recipe that is the perfect balance between sweetness and crunch.
I really do enjoy using the pecans because they're a softer nut than some of the other nut choices. I do appreciate the times that I've tried this recipe with peanuts and walnuts, though because it is quite a flavor difference.
More than likely, you'll have some of this holiday candy recipe leftover. That's good news! It means that you'll get to enjoy it a few more times before it's gone. You can even put a few in a hiding spot in the fridge that only you're aware of. Mom tip, right there!
This does need to be stored in the fridge in a cool and dry space. I recommend storing it in a container with an airtight lid. If your container is small, put waxed paper between the layers so that the pieces of candy don't stick to each other in the process.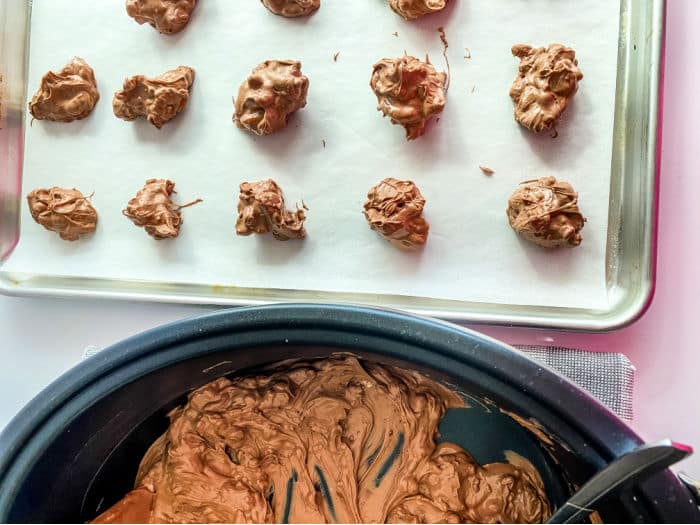 Crockpot Candy White Chocolate
You can even make this with white bark. Make a few batches and save for longer. Just pop into the freezer and enjoy it a few months down the road, too! All you need is a freezer-safe container or bag and you're all set.
Let me know what you think about this chocolate crock pot candy recipe. I think it's a super delicious and fun way to enjoy creating quick easy dessert recipes during the holiday season. This is one recipe that is family-friendly and an easy way to get everyone excited about cooking together in the kitchen.
If you like other "old fashioned" choices during December, Grandma's fruitcake is always a hit.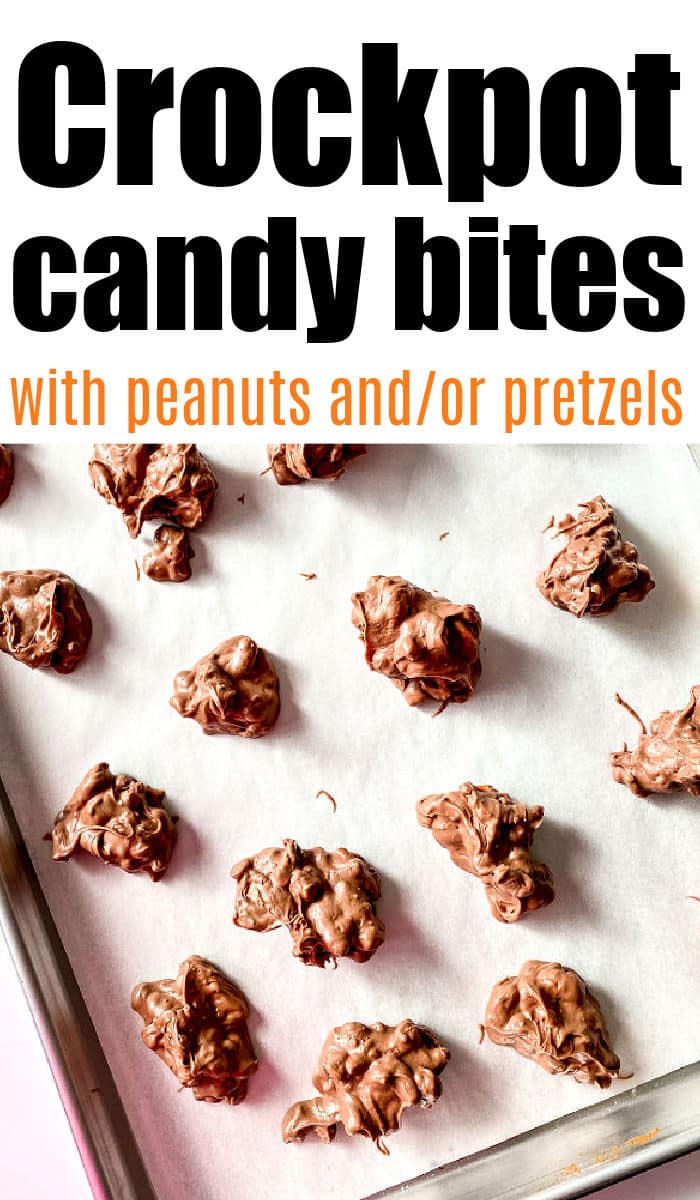 Crockpot Dessert Recipe
We have made other goodies in this same pot too. With peaches we love Crockpot cobbler with frozen fruit. Let us share a few of our favorites too like:
You can print recipe below and enjoy!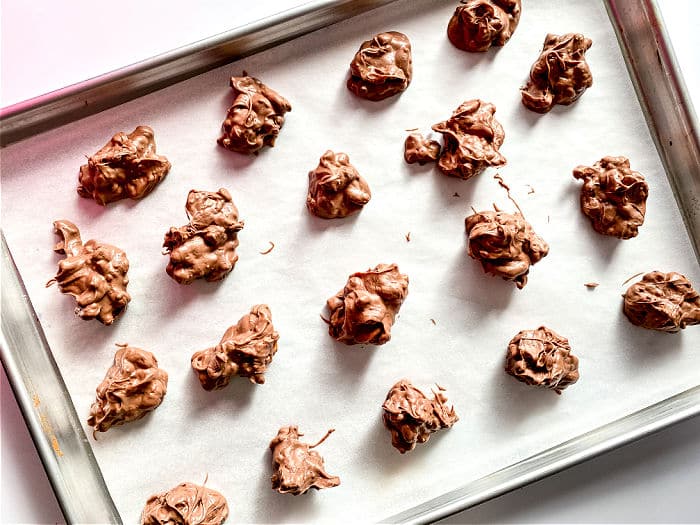 Want to see a few of my favorite things that I am totally obsessed with?? Take a peek and see how many you might already have…twinsies!
Looking for more easy family recipes and tips? LIKE The Typical Mom Facebook page?
Then sign up for my free newsletter, and follow me on Pinterest! 😉
***** If you LOVED this recipe give it 5 Stars below and let everyone know what you thought about it. 😉
Crockpot Chocolate Candy
Crockpot chocolate candy bites are a great Christmas treat to make with pecans and pretzels. Add peanuts too for delicious dessert bites.
Instructions
Spray inside of slow cooker with non stick spray. Add broken apart almond bark, pecans, pretzels, coconut oil and all of your chocolate chips.

Put lid on and cook on high for 1 hour. Lift lid and stir. If it is quite thick add 1 more tbsp coconut oil to thin it out a bit. Continue to cook for additional 30 minutes or until chocolate is smooth all the way through.

Line baking sheet with parchment paper and use a tbsp to create large dollops on top with space in between them. Can add colored sprinkles to top if desired now.

Allow to sit at room temperature until set, will take about 2 hours. Store in fridge inside a container with parchment or wax paper in between layers so they don't stick.
Nutrition Facts
Crockpot Chocolate Candy
Amount Per Serving (1 oz)
Calories 234
Calories from Fat 135
% Daily Value*
Fat 15g23%
Cholesterol 3mg1%
Sodium 58mg3%
Potassium 60mg2%
Carbohydrates 24g8%
Protein 2g4%
Vitamin A 24IU0%
Vitamin C 1mg1%
Calcium 30mg3%
Iron 1mg6%
* Percent Daily Values are based on a 2000 calorie diet.