Crockpot tortellini soup is a creamy bowl of comfort food that everyone will love. Quick and easy to throw together with frozen tortellini noodles stuffed with cheese or meat! Just $15 serves a family of 5 for dinner. You can even add meat like kielbasa sausage or any leftover chicken from the night before.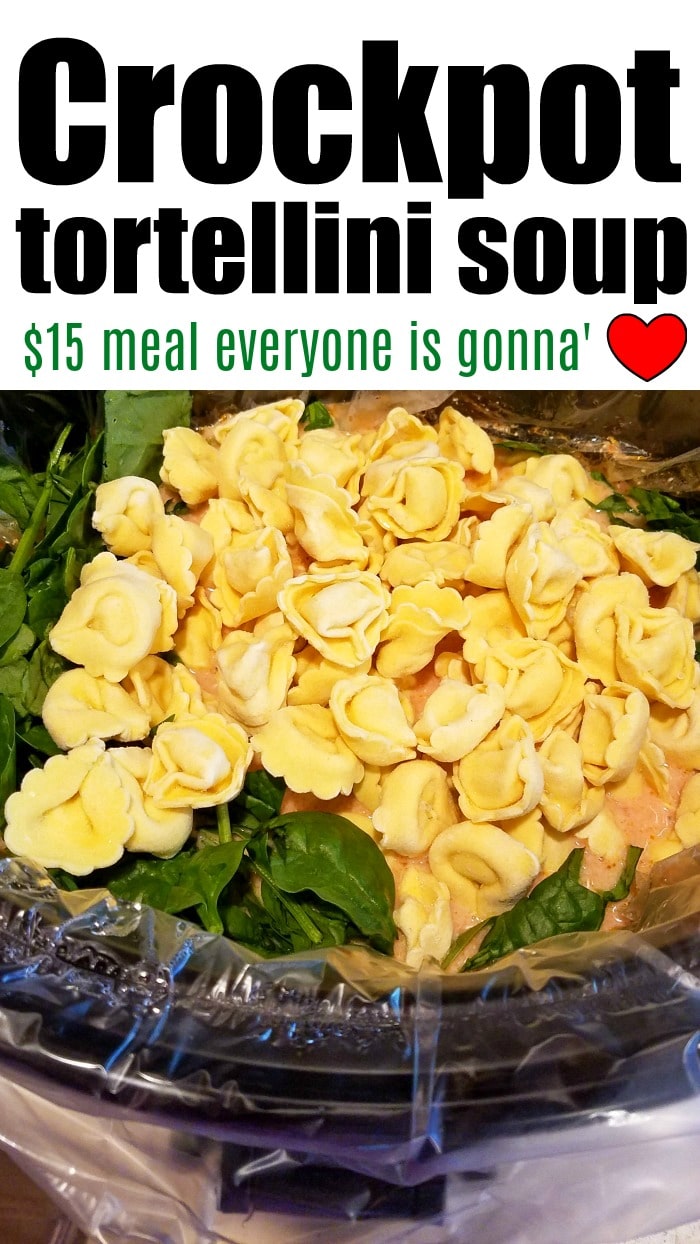 If you've never made Crockpot tortellini soup, you're missing out. For under twenty bucks you too can make a pot of this easy slow cooker recipe to serve to everyone tonight. It's truly a throw together and enjoy when you're home kind of meal. (affiliate links present, originally published 4/20)
Crockpot Creamy Tortellini Soup
You only need 6 ingredients for this Crockpot recipe with frozen tortellini and a ladle, then you're done. Pair it with some bread and BAM…dinner is done! There are many different filled noodles you can choose from at the store. Find them frozen at the grocery store in cheese or beef typically.
You can see the ingredients here. Swap out meat for cheese filled pasta, or use ground beef if you prefer that over sausage. You could even shred rotisserie for Crockpot chicken tortellini soup! Either way this slow cooker soup recipe is incredible.
FIRST – You should sign up for my free newsletter so you get new posts emailed to you twice a week and never miss out on anything! Let's talk a little bit about slow cooking shall we?? First off I have a few different varieties and I love them all. Each one has an occasion to be used like….
This is my favorite 6 quart programmable one with a locking lid so it's great for bringing to a potluck too.
If you just want to serve a few appetizers you should get this one that sit side by side one another.
I prefer not to use liners, but rather just spray olive oil inside before adding my food for easier cleanups.
Let me give you a peek of my pretty thang I bought recently. It goes with my kitchen so I can just leave it out on the countertop all the time. 😉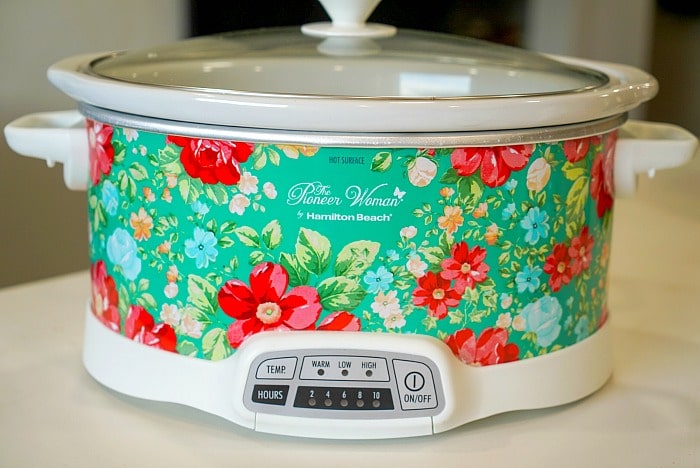 Crockpot Frozen Tortellini Soup
Under $20 to feed a family of 6??!! Totally. Of course if you buy brand names it may be a bit more, organic meat is pricier too. As you can see, 3 out of the 6 are Great Value (Walmart) brand which saves bunches. You don't have to defrost, cook or thaw what is in the bag first either, just throw it right in!
Any brand works really. If you are on a budget buy whatever is cheapest, if you are choosier about what was inside the bigger brands may have more choices. You can choose vegetarian style, beef, cheese, etc…
Crockpot Tortellini Soup with Kielbasa
If you're really opposed to vegetables you could leave the spinach out, but really it offers a nice texture and flavor to the dish. Only have vegetable broth on hand? NO worries, use that! As for meat, sliced kielbasa sausage is best. Plumps up in the pot and is precooked so you don't have to test the internal temp.
Bag of frozen tortellini noodles

stuffed with meat or cheese tortellini, your choice

Ground sausage

or ground beef, ground turkey, chicken sausage or half and half of any of them would be fine

precooked on the stovetop, could add 1/2 diced onion in the mix too

Chicken broth

or make homemade chicken broth

Cream cheese

don't use low fat, come on now we want it creamy and we aren't counting calories today

Fresh spinach leaves
Large can of diced tomatoes

could use 1/2 or 1/3 Rotel and the rest diced if you wanted to add a bit of heat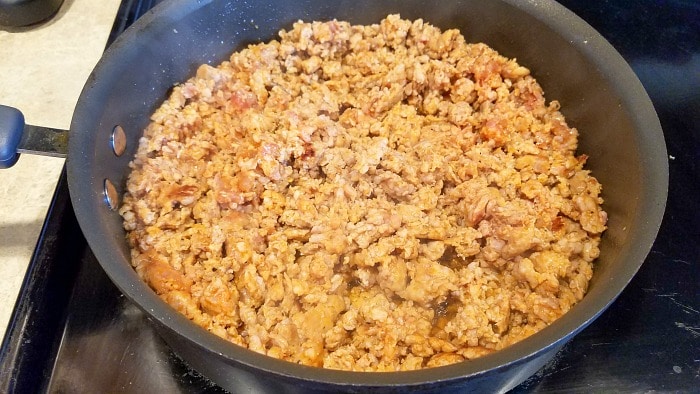 This is a bit like our Instant Pot sausage soup! If you have a pressure cooker and want to make this in a fraction of the time you could follow those directions. There aren't noodles in that one but you could add them at the end and cook on high 1 min. too.
What's Inside Tortellini?
They can either have a based filling, or they're filled with ricotta or spinach. Traditionally cooked in water or broth until tender, tortelloni can also be added to soups and become tender that way (as in this case). To start you're going to want to saute your ground meat on the stove top over medium heat. When the pink is gone, turn the pot off, drain grease and pour this into your Crock.
If you want a really low fat version you can even add your proteins into a strainer and have hot water run over the top. When we are eating really clean and healthy I will do this and it helps rinse off a lot of fat. I will say that fat = flavor when it comes to meats. SOoooooo most of the time I will just dump everything in, with the grease.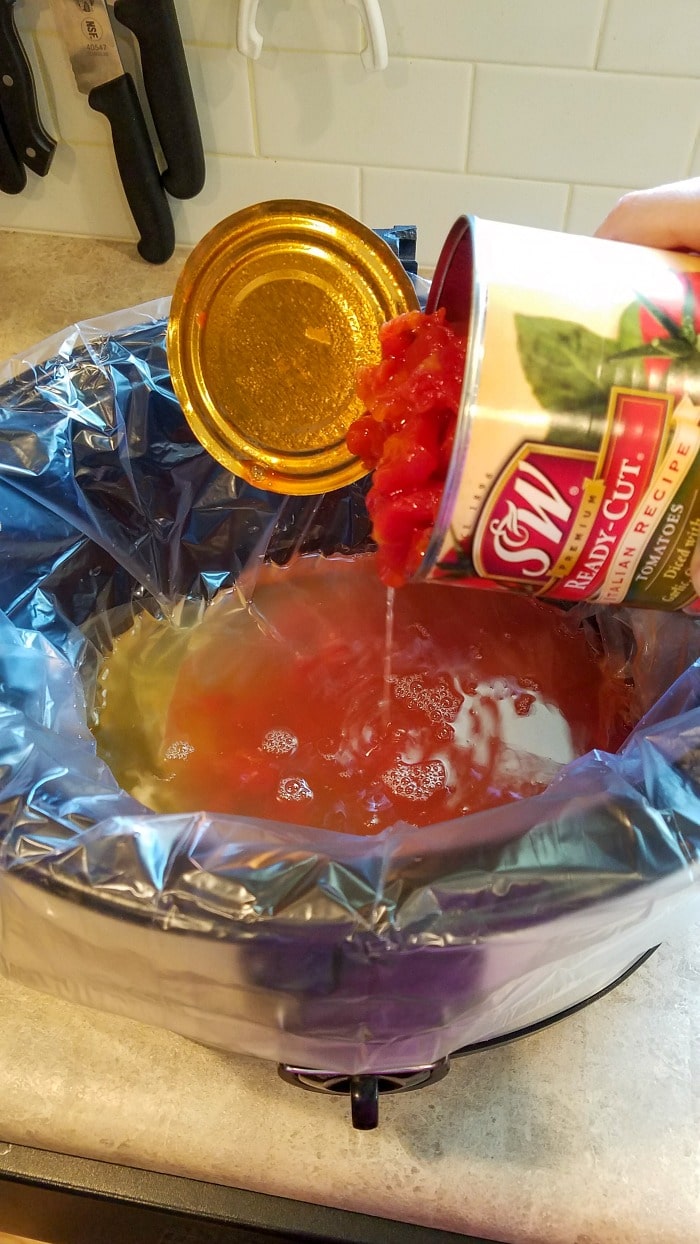 Tortellini Soup Recipe
Then you're going to add the diced tomatoes, I like the petite version with diced chiles in it to add just a touch of heat. Pour in the broth and cut block of cream cheese into smaller pieces and on to the top of everything. In order to get a very smooth consistency and not have that separate it is best if you allow the block to come to room temperature first.
Another tip is to cut it into small blocks or cubes before adding it into your Crock pot. This way it melts easily, and when you stir it it dissolves easily.
Like I said, if you'd like it to be a bit spicy you could substitute some tomatoes for Rotel.
Alternatively a bit of red pepper flakes could be stirred in.
Cover and cook on low for 5 hours. Ideally you'd be able to stir it twice in this cooking time but if you are unable it is not a deal breaker. Personally I do not like to cook less hours on high because I feel it turns out best low and slow.
Once this time is up, stir and add the tortellini and spinach leaves. Cover and allow to cook again for an additional 30 minutes so they can get nice and tender.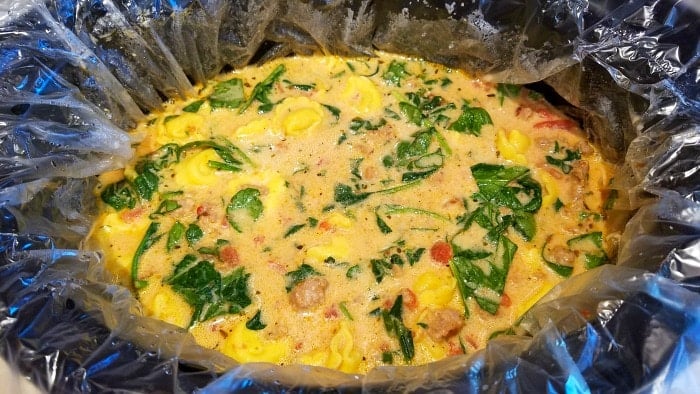 What is the difference between ravioli and tortellini?
Ravioli is two layers of pasta in traditionally a square shape whereas tortellini is one piece of pasta folded into dumpling like shapes. I suppose you could use either or but the latter I feel holds up a bit better since the noodle is a bit thicker.
Want to try another version of this, but cooked a lot quicker with a tomato flair? Try our Instant Pot tomato basil soup with the same pasta.
Serve in bowls with a side of the best garlic bread on the side! It's a great recipe guest post you can make on busy nights and/or when you're on a budget.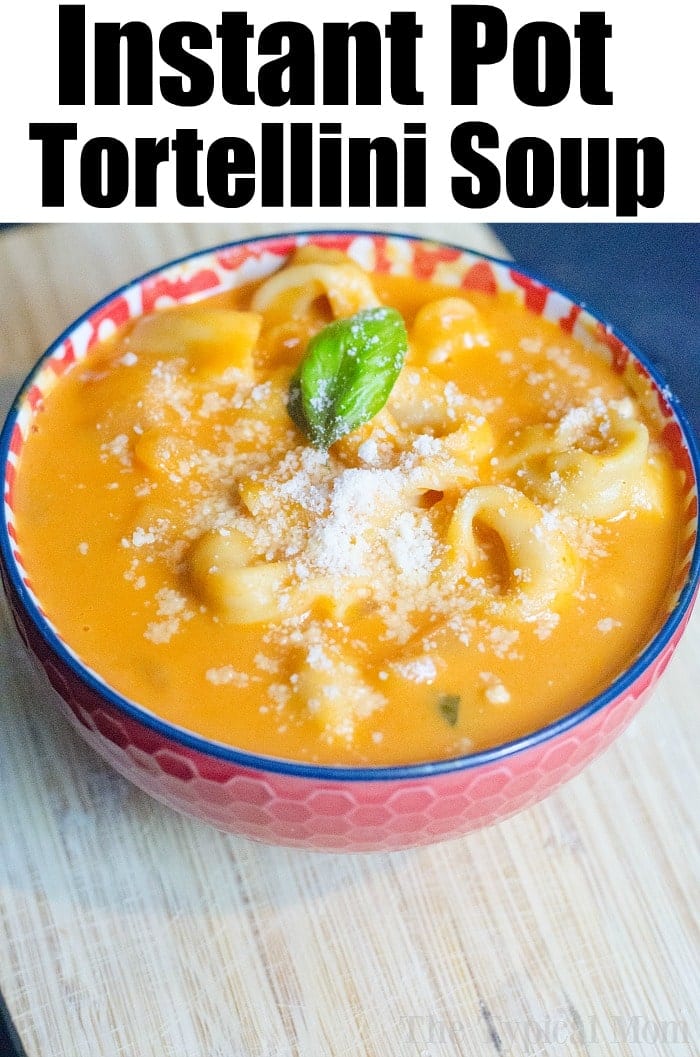 How long does tortellini soup last?
Well that is IF you have any leftovers, what do you do with them? Allow it to cool completely before transferring to an airtight container or freezer storage bag. Keep in fridge for up to 5 days. Reheat in microwave in 30 sec. intervals.
Looking for more easy crockpot recipes like this one?
Sign up for our free newsletter so you get more via. email weekly.
Want to see a few of my favorite things that I am totally obsessed with?? Take a peek and see how many you might already have…twinsies!
Looking for more easy family recipes and tips? LIKE The Typical Mom Facebook page?
Then sign up for my free newsletter, and follow me on Pinterest! 😉
***** If you LOVED this recipe give it 5 Stars below and let everyone know what you thought about it. 😉
Crockpot Tortellini Soup
Crockpot tortellini soup is a creamy bowl of comfort food that everyone will love. Quick and easy to throw together with frozen pasta stuffed with cheese!
Instructions
On the stovetop, brown your ground sausage or ground beef. (you could alternatively shred some rotisserie chicken and add that instead). Drain grease from pan and add into your Crockpot.

Pour in your can of tomatoes, broth, and cubes of cream cheese. Stir to combine.

Cook on low for 5 hours. For best results stir twice during this time.

After this time, add the frozen tortellini and fresh spinach leaves. Cook an additional 15-30 minutes until noodles are warmed into the center and tender.
Nutrition Facts
Crockpot Tortellini Soup
Amount Per Serving (3 oz)
Calories 554
Calories from Fat 261
% Daily Value*
Fat 29g45%
Cholesterol 90mg30%
Sodium 1508mg66%
Potassium 706mg20%
Carbohydrates 46g15%
Protein 28g56%
Vitamin A 4575IU92%
Vitamin C 31mg38%
Calcium 218mg22%
Iron 6mg33%
* Percent Daily Values are based on a 2000 calorie diet.