Easy Crockpot dinner ideas are here!! Need to plan meals for this week, we have you covered. Pasta, ground beef, chicken or pork in your slow cooker.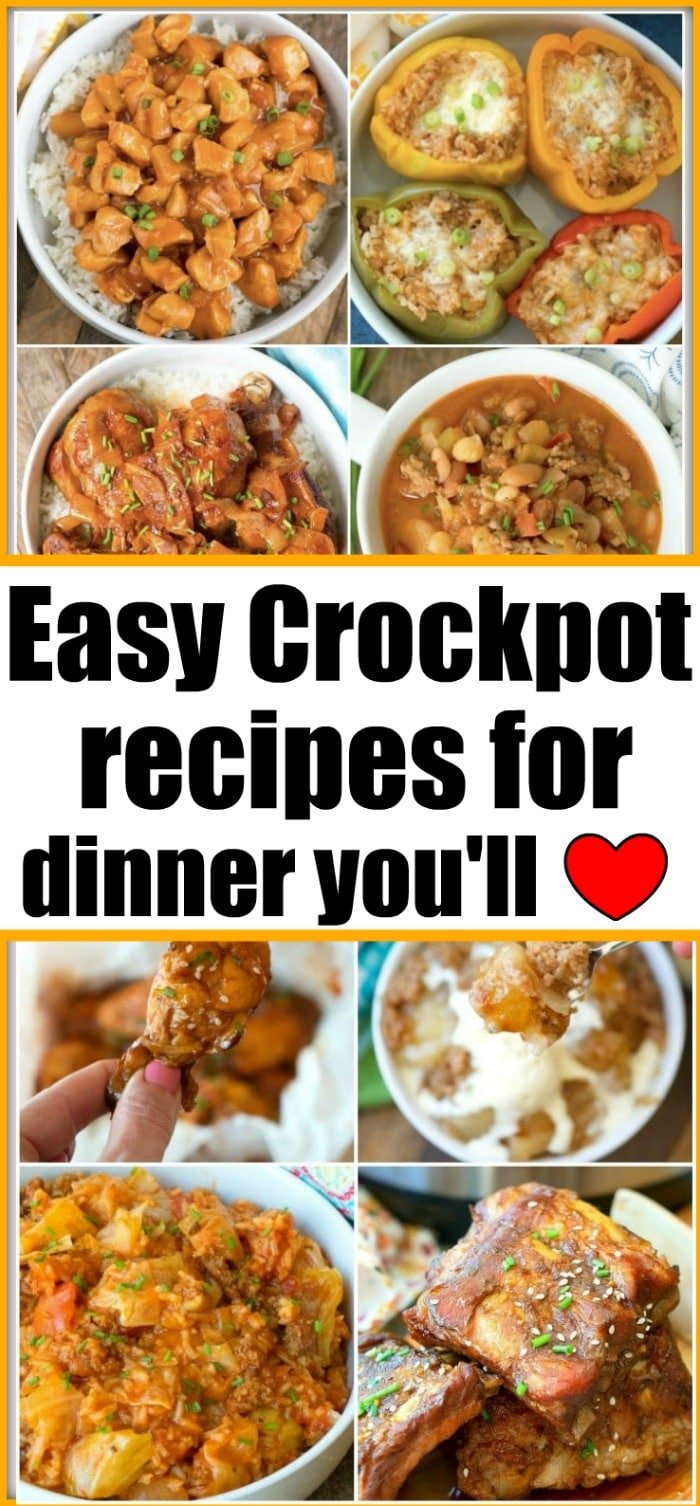 Ready for some easy Crockpot dinner ideas that allow you to set it and forget it? You're going to love these Crockpot recipes for sure. Not only are these super simple, but the meats in these recipes turn out tender and perfect every single time. (affiliate links present, originally published 5/20)
Easy Weeknight Crockpot Meals
If you're needing a bit of a break from the kitchen, it's time to let your crockpot whip up some serious comfort food. You can just sit back and sip on some red wine and enjoy your slow cooker recipes with little prep work from you.
I have a 6 and 8 quart size depending on what I am making. Recently I got a smaller 4 quart size in case I want to half one of these and just feed 2-3 people.
FIRST – You should sign up for my free newsletter so you get new posts emailed to you twice a week and never miss out on anything! Let's talk a little bit about slow cooking shall we?? First off I have a few different varieties and I love them all. Each one has an occasion to be used like….
This is my favorite 6 quart programmable one with a locking lid so it's great for bringing to a potluck too.
If you just want to serve a few appetizers you should get this one that sit side by side one another.
I prefer not to use liners, but rather just spray olive oil inside before adding my food for easier cleanups.
Let me give you a peek of my pretty thang I bought recently. It goes with my kitchen so I can just leave it out on the countertop all the time. 😉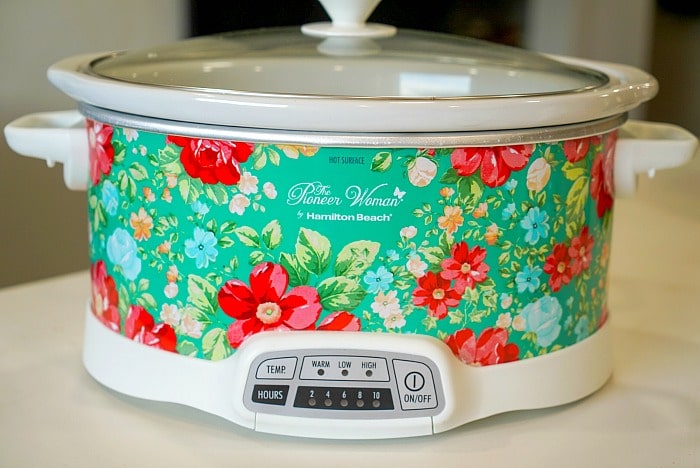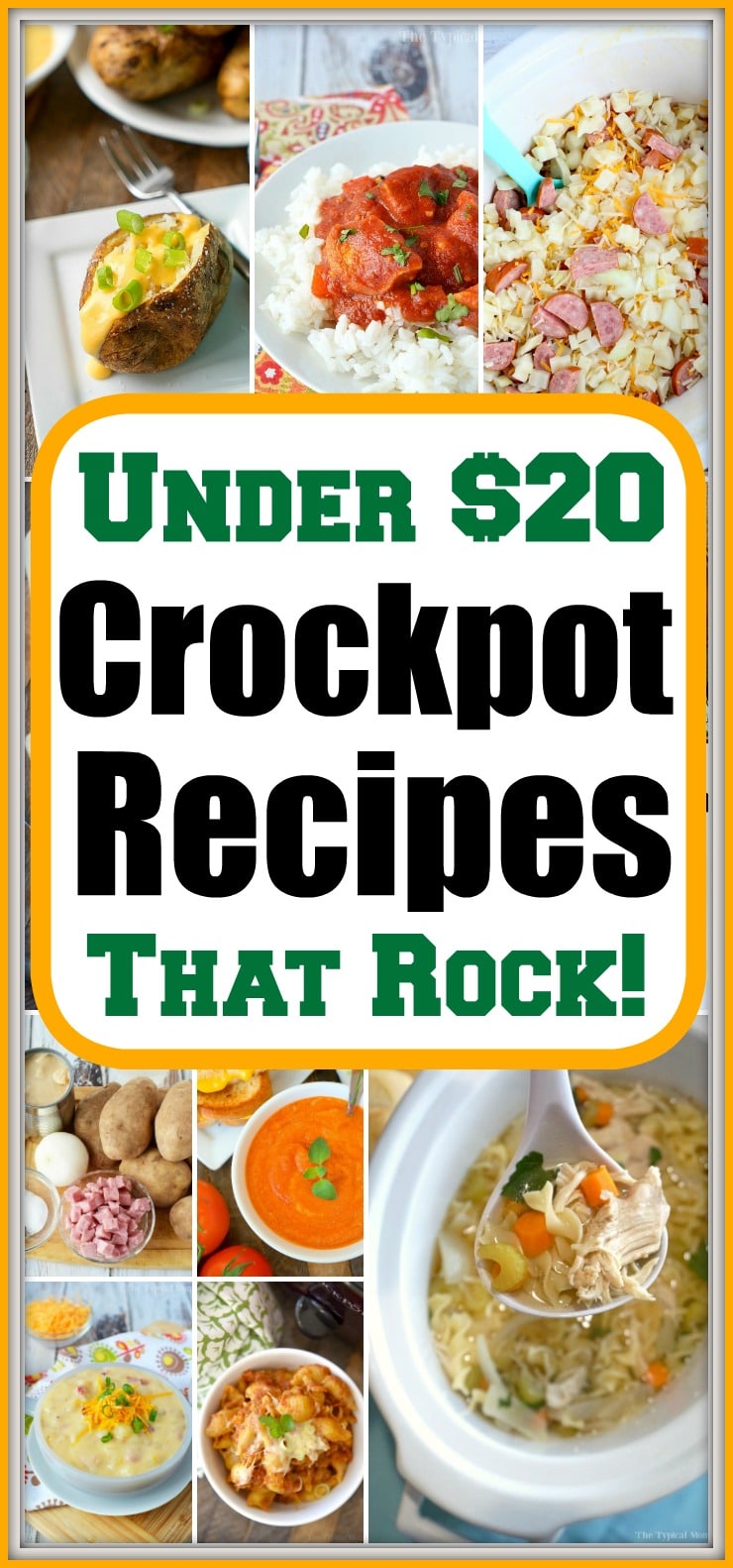 All of these few ingredient recipes make for an incredibly easy meal you can easily make for your family. Besides the Instant Pot, this is my go-to kitchen appliance.
Crockpot Dinner Ideas
Below you'll find over twenty great recipes that you can easily make in your crockpot. Then you can try our other long list of easy cheap Crockpot meals too!
Yes, you read that right. This slow cooker soup literally only needs 5 ingredients to make an awesome flavor. It's perfect for a simple and hearty meal or a great way to warm your belly without having to run to the store for a zillion ingredients.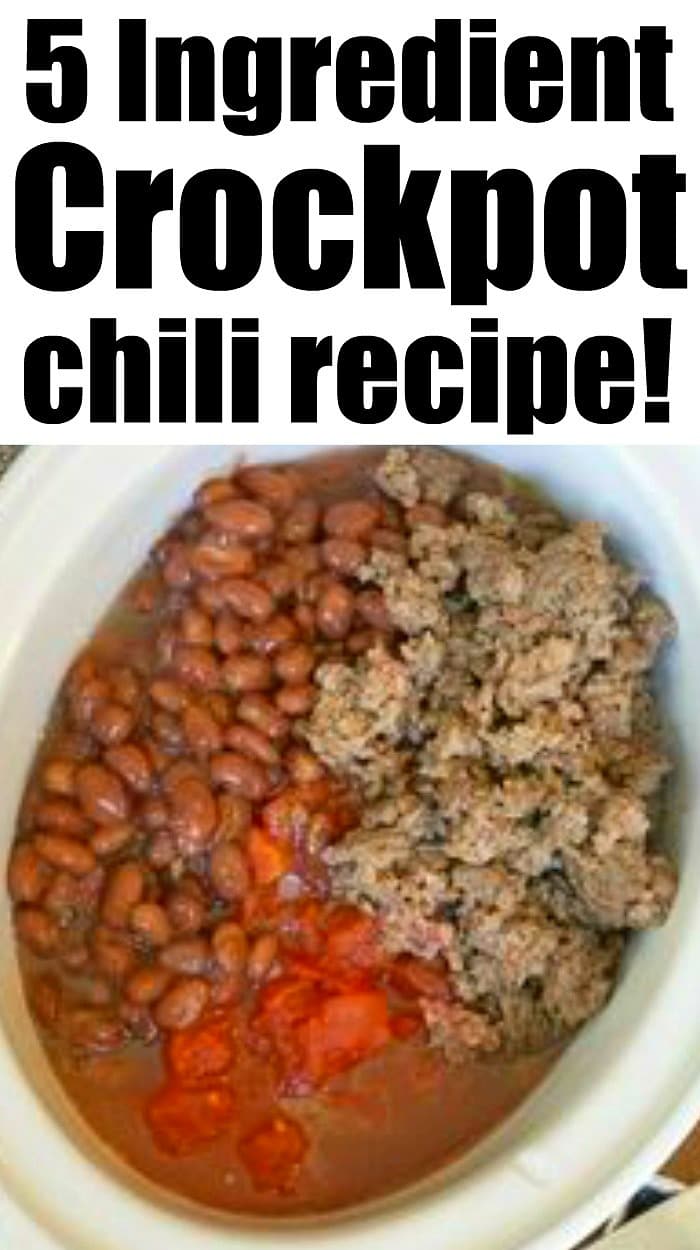 Easy Crockpot Meals
Sometimes, I bump it up to 6 ingredients and add in some black beans, or add noodles to make Crockpot chili mac. Now if you throw a big brunch during the holidays it is great to have something going and ready when you get up, our Crockpot Breakfast Casserole is that!
Can we all just stop a moment and thank the inventor of crock pots? With this handy kitchen appliance, this delicious breakfast for dinner casserole would have never been created.
It's simple to make and a great way to start off the day.
Is there anything better than loads of cheese combined with potatoes? I think not. This is one of the best side dishes that are a great accompaniment with short ribs or any other type of meat dish.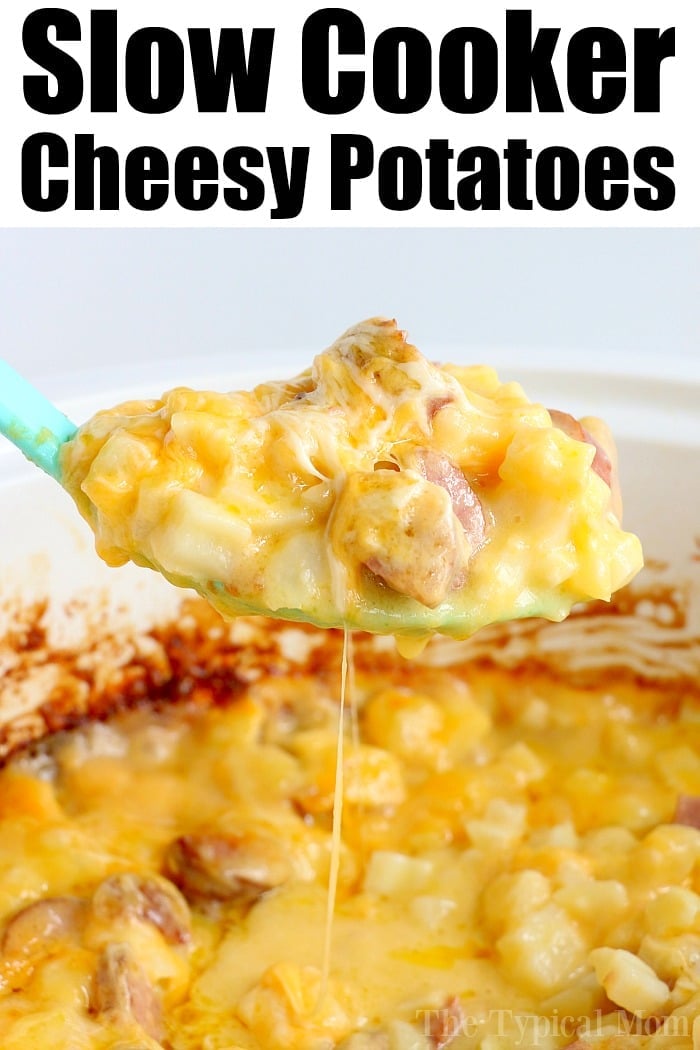 Easy Family Slow Cooker Meals
If you want to remove the sausage and just use this as a side, you can make slow cooker scalloped potatoes too.
The kids are going to love this recipe! It's such a great one to have cooking up when everyone is just ready to relax at the end of the day.
Have some leftover ham just hanging around the house? This is what this recipe is for! And while you're at it, you might want to whip up some homemade cornbread to go along with it as well.
Some people save this for once a year during St. Patrick's Day, but not in our house. It's such a great recipe that tastes good all year long. Pair it up with some cabbage and you've got quite the feast.
Then try this Crockpot tortellini soup that's $15 to feed 6 people!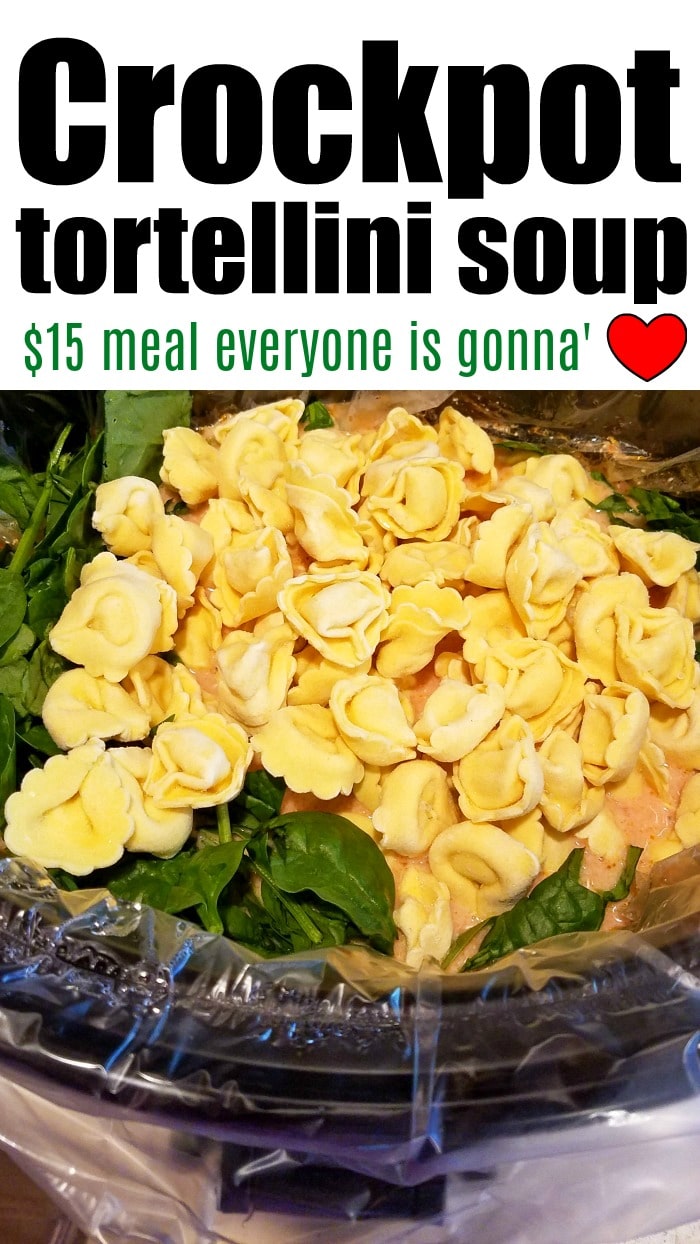 Best Slow Cooker Recipes
This Crockpot BBQ Chicken Recipe only needs 3 ingredients to be made, talk about simple!! Cheap and easy, this chicken recipe never disappoints. It cooks the chicken perfectly and gives so many great options for using up the chicken meat.
If you're looking for a great recipe for soups and stews, this is the one for you! The delicious flavor of this soup will have you standing in line to fill your bowl over and over again.
Craving a good recipe for shredded beef? This one is so simple! It's a great way to meal plan ahead and have your beef cooked and ready to use for a wide variety of meals. (I also love making pulled pork using leftover pork as well because it's so simple and easy to do!)
Crockpot Recipes for Two
If you only have a few people at home at the time you can easily cut recipe in half. Typically you will still need the same cooking time but won't have as many leftovers.
Best Crockpot Baked Beans A side dish of baked beans is always a good thing. (and if you like them sweeter, toss in a little bit of brown sugar to really take that flavor over the top!) Perfect for picnics or a great addition to the best baked pork chops or pot roasts.
Talk about a fun and delicious meal! Imagine how many fewer dishes that you'll have to clean up when you can do most of the cooking in just one pot?! Our Crockpot lasagna casserole is great too.
This potato soup recipe is one of the best, ever. Packed full of taste and flavor, it's so much fun to eat. You can even try to vary it up a bit and try adding in some sweet potato chunks as well.
Easy Crockpot Ribs are great. Who says that you have to fire up the grill to get ribs for dinner? Throw them in the crockpot instead!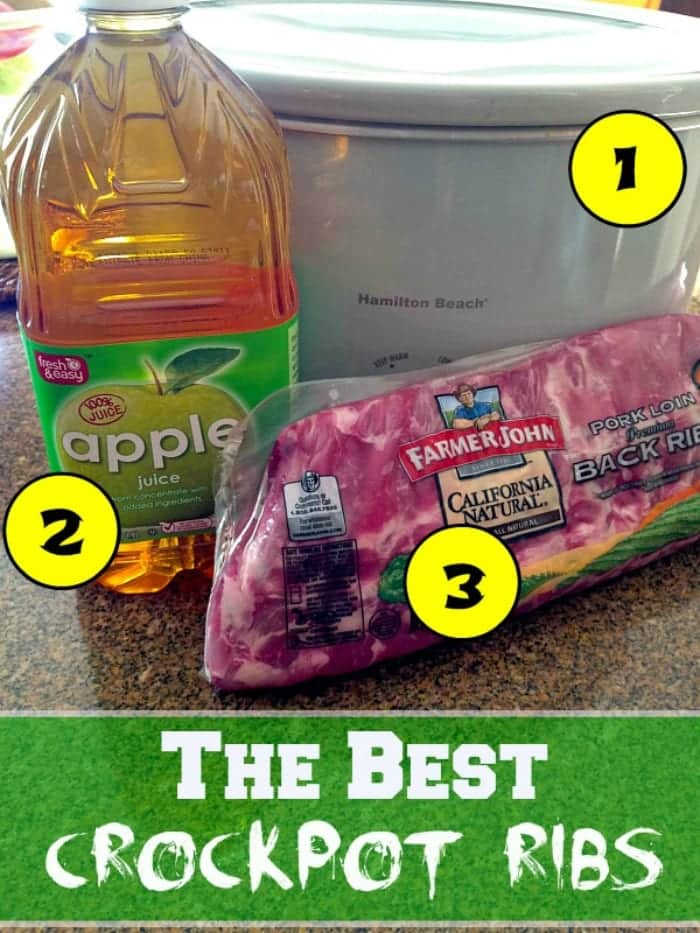 Easy Crockpot Recipes with Chicken
Crockpot Orange Chicken Recipe is a sweet dish you can throw together with marmelade. Just wait until you taste this delicious chicken recipe. It's packed full of flavor that you're going to love. You might not ever have another need for takeout again.
Making chicken fajitas in the crockpot is so much fun. Not only is it a unique way to make it but it's super affordable and a great way to feed the family.
Slow cooker pork is one of my favorite dishes to make. Pair it up with some apples and it's quite a magical meal.
Don't miss out on this simple family meal. With tender beef pieces and a rich creamy sauce using sour cream and egg noodles, it will sure to be a winner.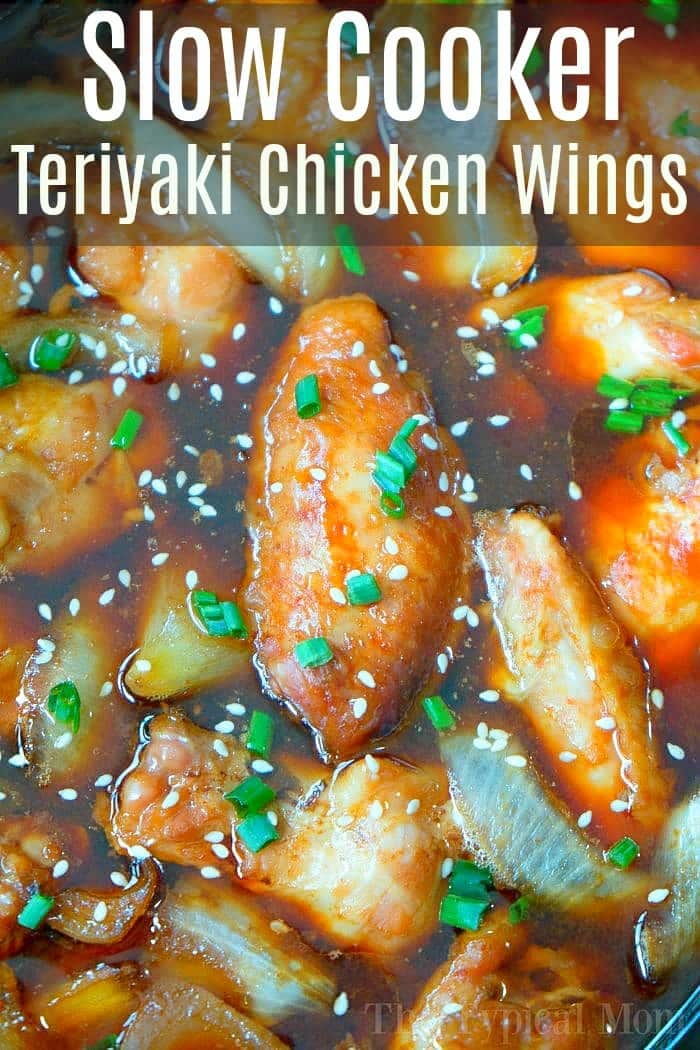 Healthy Crockpot Meals
Crockpot Teriyaki Chicken with medium size chicken breasts are killer. We serve these diced up over a bed of rice but as is with veggies is lower carb too. SO so tender with a bold sauce, you can add heat with some red pepper flakes too.
Make with breasts, use the recipe above, or slow cooker teriyaki chicken wings both are so good! Our slow cooker Hawaiian chicken gets thumbs up with rice too.There's really nothing more that you have to say to describe these delicious recipes!
The flavors of this dish are crazy good. This is one dish that you've probably had but never cooked this way! Give it a whirl tonight!
This is another one your kids will love! Deconstructed lasagna is way easier to cook and eat with kids than dealing with big floppy noodles.
You can even make slow cooker bread! Did you know that? It's a great side dish for all of these family friendly meals, OR try our slow cooker no yeast rolls.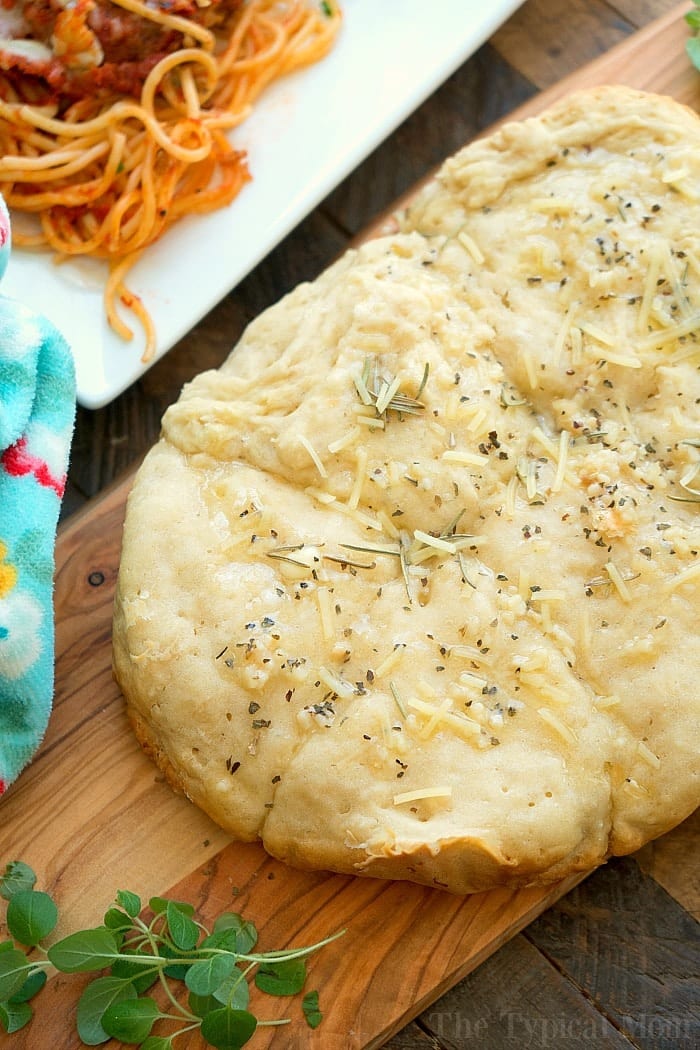 Crockpot Dinners
And just because I have to add in a couple more recipes, check out this awesome crockpot drink recipe, too! Crockpot Hot Apple Cider is a delicious drink to warm your tummy is so much fun. This is one of our favorite drinks during the winter months and it never disappoints.
No dinner is complete without a little bit of dessert to go around. This is one of the easiest crockpot dessert recipes, ever.
It can even make dessert! Just dump in the ingredients and wait for that amazing smell to start making it's way through the house. Top it with a little bit of ice cream and you're going to be in heaven.
Slow cooking is a way to eat dinner together more often. See how many fun things you can cook up in your crockpot? The time is now to get started and work through them all one by one!
Crockpot Dinner ideas for families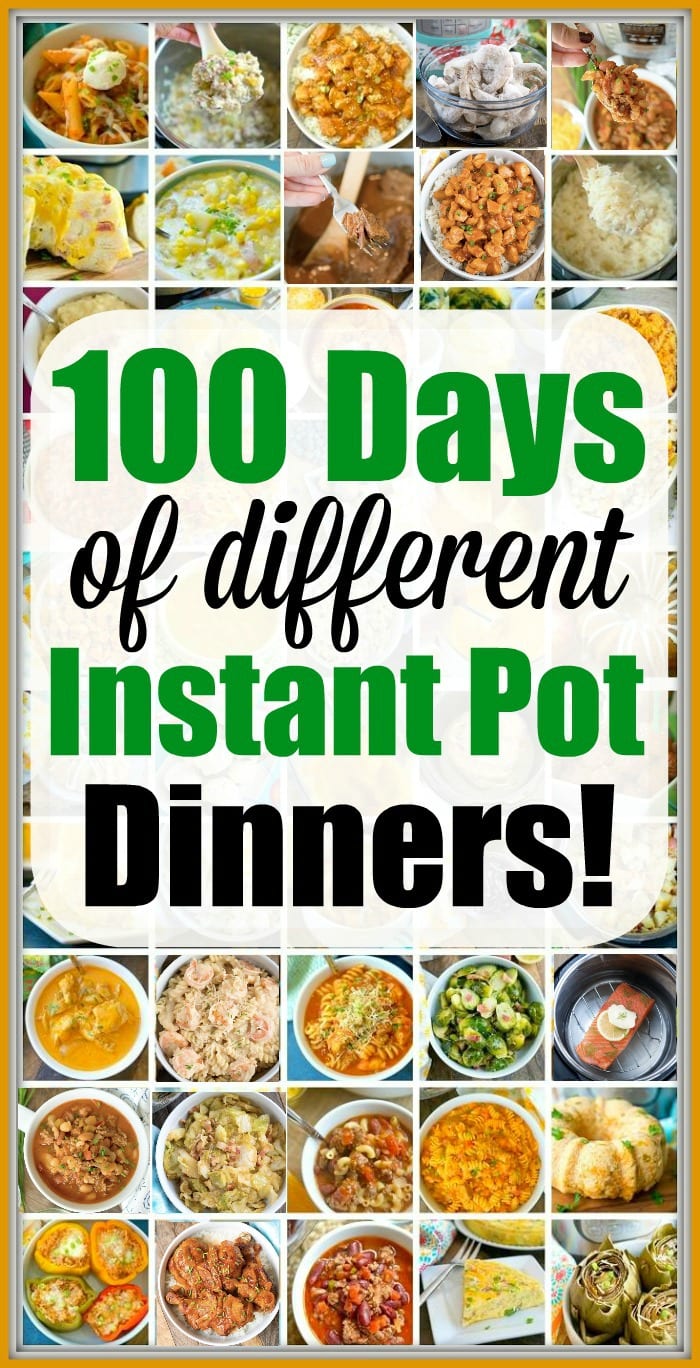 Want to see a few of my favorite things that I am totally obsessed with?? Take a peek and see how many you might already have…twinsies!
Looking for more easy family recipes and tips? LIKE The Typical Mom Facebook page?
Then sign up for my free newsletter, and follow me on Pinterest! 😉
***** If you LOVED this recipe give it 5 Stars below and let everyone know what you thought about it. 😉
Crockpot Dinner Ideas
Easy Crockpot dinner ideas that are family friendly are here. With chicken, pork, beef, or pasta in a casserole you will find something kid friendly here.
Instructions
Cook ground beef on and diced onions stove until meat is no longer pink, then drain and put into slow cooker with condensed soup, salt and diced potatoes. Stir together.

Cook on high for 3 hours. Stir and pour in broth, then stir again. Pour in uncooked noodles and submerge into liquid. Cover crockpot again and cook an additional 30 minutes on high.

Lift lid, stir. Add 2 c cheese and sour cream. Mix together well, you could sprinkle an additional 1/2 c cheese on very top. Cover and cook for the last 20 minutes. Lift lid and serve!
Nutrition Facts
Crockpot Dinner Ideas
Amount Per Serving (2 oz)
Calories 406
Calories from Fat 243
% Daily Value*
Fat 27g42%
Cholesterol 86mg29%
Sodium 1421mg62%
Potassium 410mg12%
Carbohydrates 17g6%
Protein 23g46%
Vitamin A 308IU6%
Vitamin C 2mg2%
Calcium 181mg18%
Iron 2mg11%
* Percent Daily Values are based on a 2000 calorie diet.