Crockpot Italian wedding soup recipe your whole family will love. Just costs about $10 to make in a slow cooker. Add carrots, celery and escarole into your pot and it cooks all day by itself! You can use homemade pork or beef frozen meatballs too.
You know I'm all about easy recipes, especially those that cook all by themselves and are inexpensive to make! If you're up for an amazing dinner idea you've got to try this easy Italian Wedding Soup recipe. It costs less than $10 & is definitely one of our very favorite crockpot recipes! This is a sponsored post by Barilla and Johnsonville. (originally published 10/16, affiliate links present)
Slow Cooker Italian Wedding Soup
If you don't have all day you can make our Instant Pot Italian wedding soup too. Either way you make it is delicious!! With just a few ingredients, little bitty noodles and packed with as many vegetables as you want. Great when you aren't feeling good but can be enjoyed year round.
This is a healthy option for dinnertime, just pair it with some dinner rolls and you're ready to serve it up. I made this first when it was snowy outside it was such a feel good comfort food that my kids asked for it again in June! Now it's on our regular meal rotations.
FIRST – You should sign up for my free newsletter so you get new posts emailed to you twice a week and never miss out on anything! Let's talk a little bit about slow cooking shall we?? First off I have a few different varieties and I love them all. Each one has an occasion to be used like….
This is my favorite 6 quart programmable one with a locking lid so it's great for bringing to a potluck too.
If you just want to serve a few appetizers you should get this one that sit side by side one another.
I prefer not to use liners, but rather just spray olive oil inside before adding my food for easier cleanups.
Let me give you a peek of my pretty thang I bought recently. It goes with my kitchen so I can just leave it out on the countertop all the time. 😉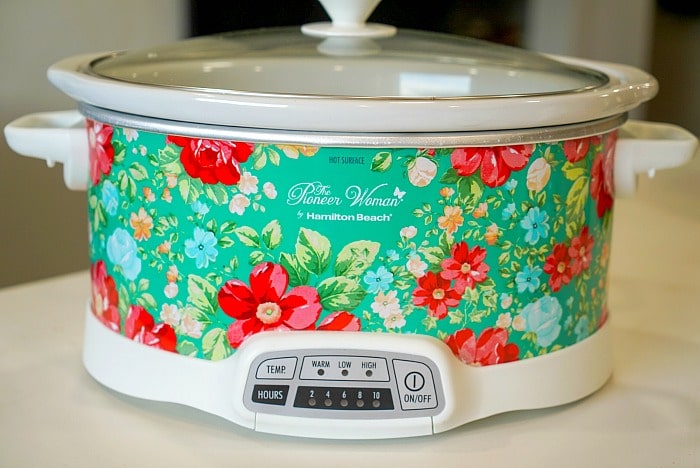 Crockpot Italian Wedding Soup
Especially when the weather cools down I love crockpot soup recipes to eat dinner. I also call it a real win because everyone in my family gobbles it up AND it only costs about $10 for the entire recipe! That is right, especially when I can find these pastina noodles on sale I load up!
Fresh produce used here like carrots and celery are usually the cheapest of them all and available year round too. They get nice and tender, so much that even a toddler could enjoy a few when it is meal time.
Let me show you how easy this crockpot Italian Wedding Soup is to make.
Easy Italian Wedding Soup Recipe with Frozen Meatballs
I am famous for cooking pressure cooker frozen meatballs and putting them in all the things. Smothered in sauce as an appetizer, they are great to add into this dish too. I have directions for homemade meatballs below but if you're in a hurry those work great too. NO defrosting necessary, they will get tender just by throwing them in as is.
These are a few of the basic ingredients you will need, plus some chicken stock and you're set…easy, right??!! I have used a few different types of Barilla pasta including mini Penne pasta and this fun star-shaped Pastina, either one works fantastic, it just depends on my mood that day. 😉
You'll need an onion and carrots from the produce aisle of Kroger, and if you want to add some greenery pick up a small bunch of escarole (looks like lettuce) to add at the end as well.
Italian Sausage is incredible for this soup because it's packed with flavor which amplifies the yumminess of this soup.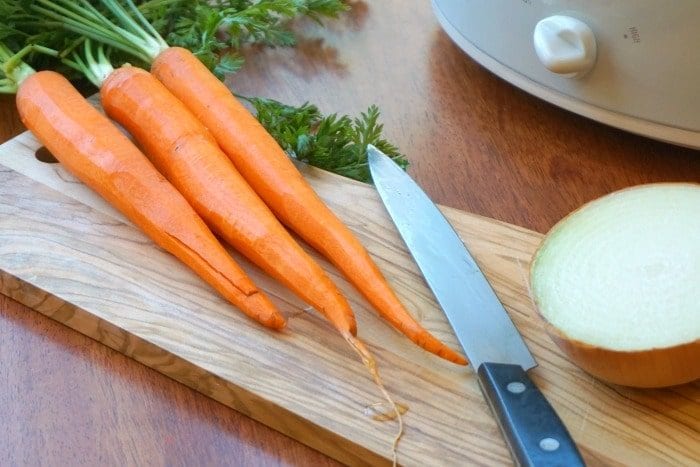 Easy Italian Wedding Soup
Like I said, I used raw sausage links for this one. I just sliced the skin off and used the meat inside. You could alternatively buy a roll of Jimmy dean regular or spicy sausage instead. With the other added ingredients they come out great.
Sausage
Carrots
Escarole
Pastina or orzo pasta
Egg
Onion
Bread crumbs
Parmesan
Salt and pepper
Parmesan cheese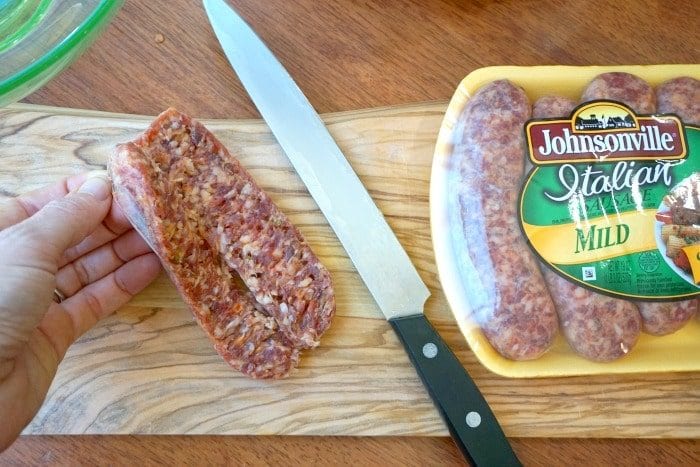 Vegetarian Italian wedding soup slow cooker
You could leave the meat out entirely and use vegetable broth for this version. First we're going to prep everything that will then go into our slow cooker. Cut your carrots, dice your onion, and take the casing off of all 6 of your Johnsonville sausages.
I then make meatballs just like I would make my meatloaf. Except I shape them into small spoon-sized bites. Cook them either on a baking sheet or on the stovetop.
It's a great flavor "swap" from using ground beef because it adds an incredible flavor that permeates throughout this easy Italian wedding soup recipe.
Once all that is done you're going to add it all (excluding your Barilla pasta and escarole) into your slow cooker with your chicken broth.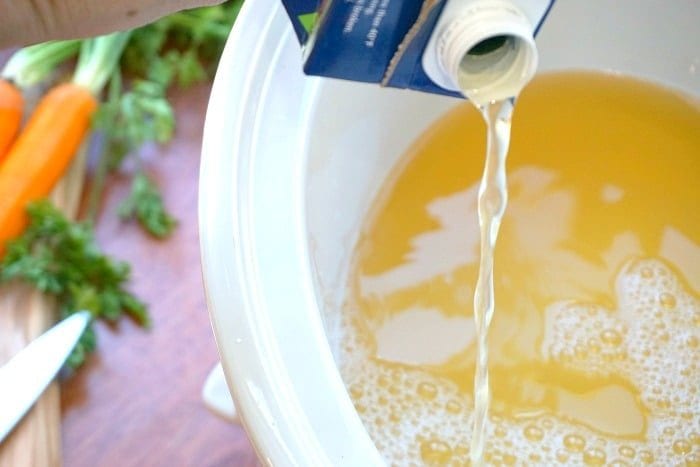 Grandmas Italian wedding soup recipe
Then about 20 minutes before you're ready to serve your Italian Wedding Soup add your choice of noodles, Pastina or acini de pepe is great. If you choose to add escarole add it now too.
You want to add it right before it's being served to maintain the great al dente taste Barilla offers…it makes this totally incredible.
You can even ask my kids, it's their favorite! After all, it's Italy's #1 choice of pasta so it's perfect for this Italian soup. 😉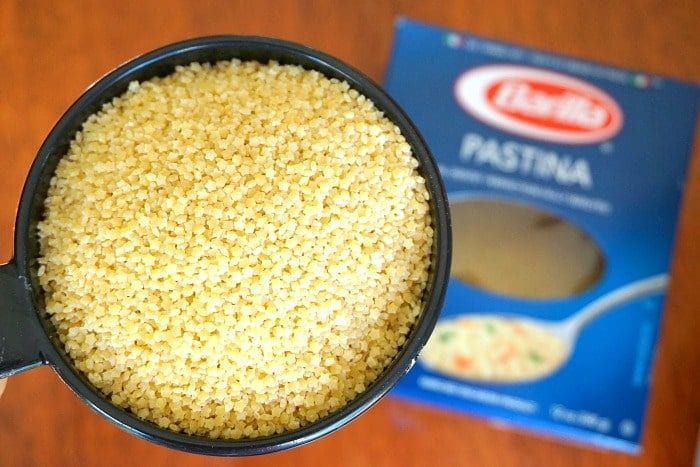 Easy Crockpot Italian wedding soup
First take the casing off your sausages, or use half and half beef and pork ground sausage instead. If you are using frozen meatballs you would skip the homemade steps here and below.
In a large bowl combine this, your egg, bread crumbs, parmesan, onion powder and any other seasonings you'd like.
Add the meatballs to a baking sheet at 350 degrees for about 15 minutes.

You can also cook them on the stovetop over medium high heat with a bit of olive oil.

Once meatballs are cooked, add them to your slow cooker.
Add all other ingredients other than escarole and cook on low for 6-8 hours.
15 minutes before serving, submerge greens into liquid so they soften.
Serve this with our garlic pull apart bread and enjoy.
I am sure you could cook this on the stovetop too in a large pot too. Start with browning and cooking meatballs, then add ingredients. Reduce heat to low and simmer until noodles and veggies are softened.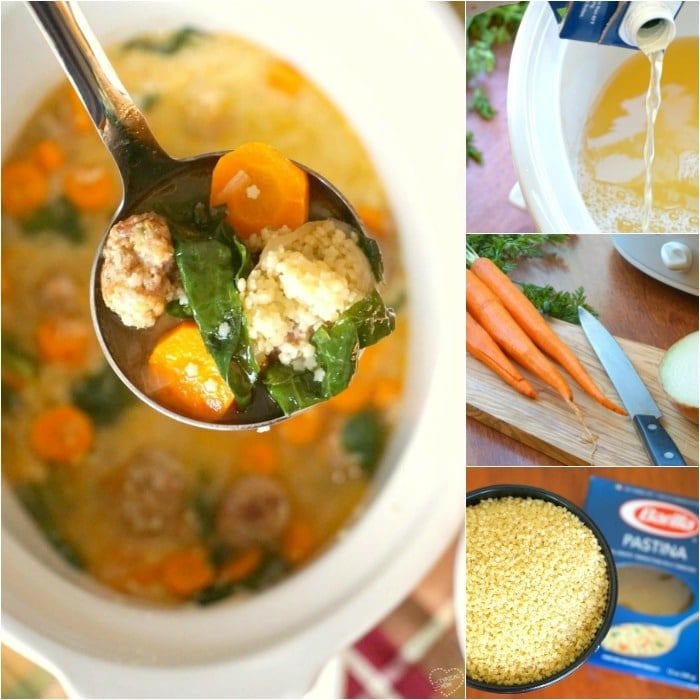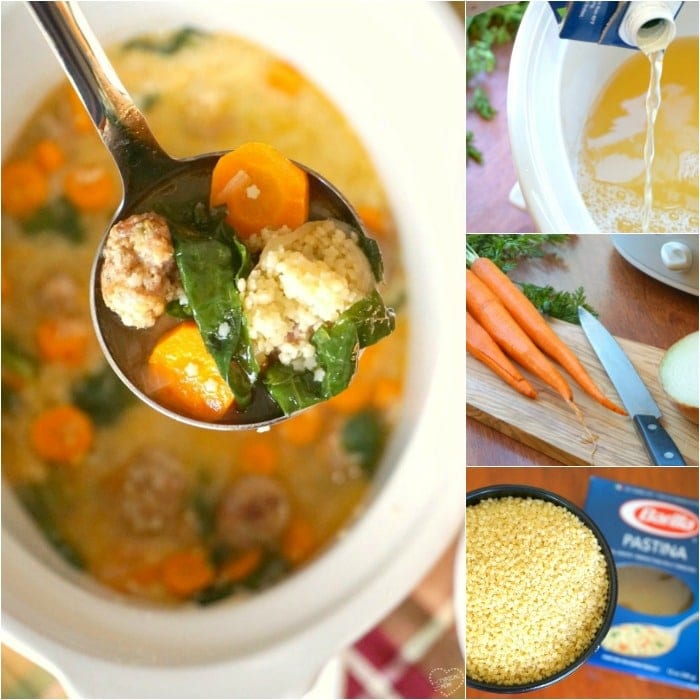 Want to go with this theme and make Italian cookies too? They're yummy and fun to decorate with your kids.
Here's the printable recipe and a video showing you how to make Crockpot Italian wedding soup. I included the nutritional information below too including calories and saturated fat content. It is a healthy soup we all enjoy.
Want to see a few of my favorite things that I am totally obsessed with?? Take a peek and see how many you might already have…twinsies!
Looking for more easy family recipes and tips? LIKE The Typical Mom Facebook page?
Then sign up for my free newsletter, and follow me on Pinterest! 😉
***** If you LOVED this recipe give it 5 Stars below and let everyone know what you thought about it. 😉
Crockpot Italian Wedding Soup
Easy Crockpot Italian wedding soup recipe your whole family will love and just costs about $10 to make. Throw it all into your crockpot and it cooks all day!
Instructions
First add chicken broth to your slow cooker.

Chop your carrots into similarly sized pieces and dice onion, add to crockpot.

Remove casing from sausages. Add sausage meat, egg, garlic, parmesan (optional), and bread crumbs into a bowl and mix well.

Create small meatballs that are about teaspoon sized and cook the outsides until browned. Can do this in a pan, on a cookie sheet or put 1 meatball into each hole of your mini muffin pan (I do it this way) in the oven for about 15 minutes at 350 degrees.

Once cooked add to crockpot and cook for approx 6-8 hrs. on low.

About 15-20 min. before serving add pasta and chop about 10 pieces of escarole (I just use dark ends) into strips and add that too. Serve!
Video
Nutrition Facts
Crockpot Italian Wedding Soup
Amount Per Serving (8 oz)
Calories 127
Calories from Fat 18
% Daily Value*
Fat 2g3%
Cholesterol 21mg7%
Sodium 918mg40%
Potassium 292mg8%
Carbohydrates 21g7%
Protein 5g10%
Vitamin A 2590IU52%
Vitamin C 16.7mg20%
Calcium 52mg5%
Iron 1.2mg7%
* Percent Daily Values are based on a 2000 calorie diet.