How to cook frozen spinach is here! 3 easy ways including air fryer frozen spinach that is super fast and simple. An easy and healthy side dish we all love.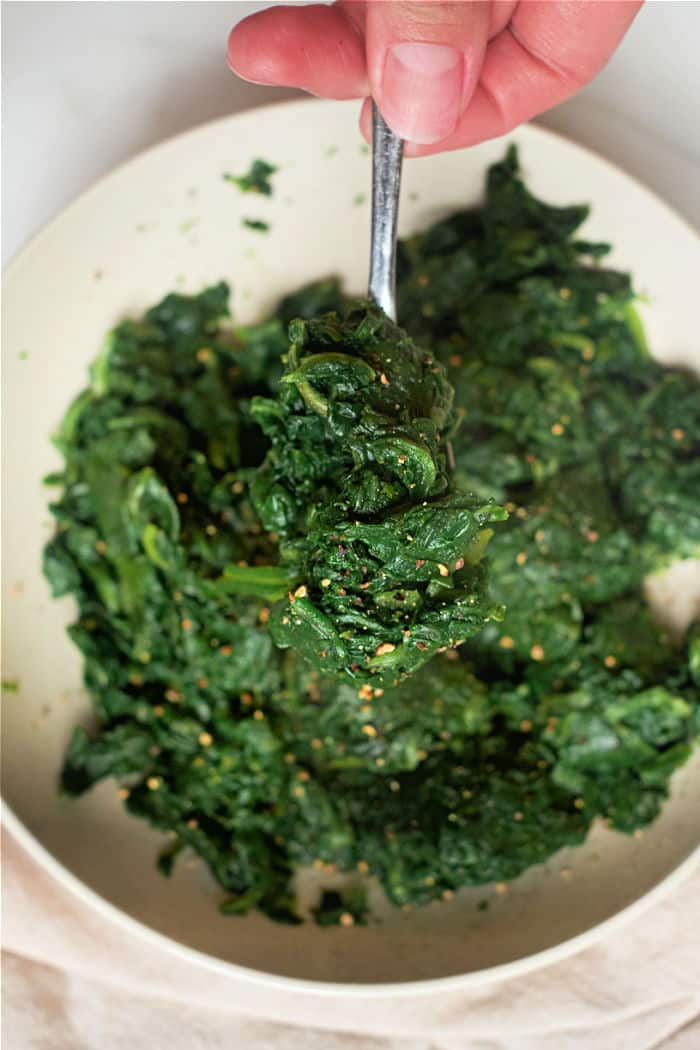 Wondering how to cook frozen spinach so it's tender and delicious? We have the answer right here. Use the stovetop, pressure cooker, air fryer or frozen creamed spinach to make this easy side dish tonight. (affiliate links present)
Frozen Chopped Spinach
If you live in a small town like we do you rely on frozen vegetables year round. You should see our produce department sometimes throughout the year, it is just sad sad.
I've learned how to doctor up things like bagged frozen spinach so it tastes pretty close to fresh, I'm here to share my tips.
This is what you'll likely see when you dump the contents out of the bag. I am not talking about that brick you can buy where the leaves area already cooked and then frozen, that isn't nearly as good. Instead, buy the leaves in a bag in your local grocery store freezer section and here's how to cook it well.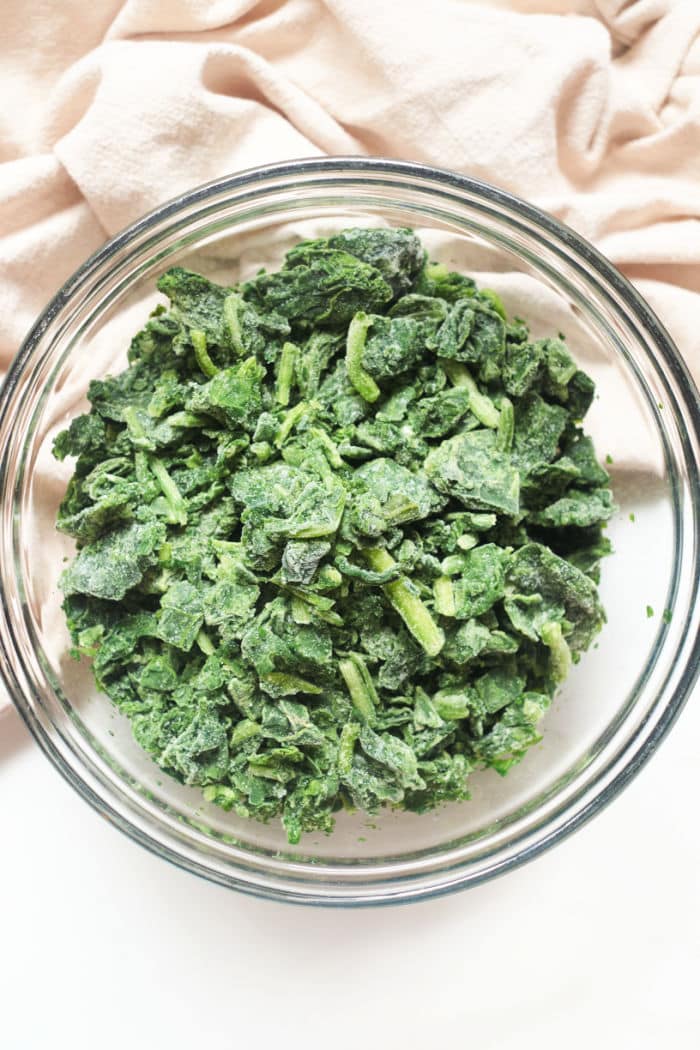 Air Fryer Frozen Spinach
At the bottom we have an exclusive recipe for spinach in air fryer. When we could find fresh leaves that looked great I did make air fryer spinach chips and those were amazing. This one is to make the tender side dish type that is wilted and looks more like collard greens.
If you have this machine you may only think of it for making foods crispy, that isn't necessarily so. You can cook all the things in it and then some, so try the printable recipe below for that method. There are others listed below as well so you can decide for yourself which you think is best.
How Long to Cook Frozen Spinach in Instant Pot
We made Instant Pot spinach years ago, and it is always a great one. You can use fresh leaves or frozen and either way it won't change the cook time. Really quick way to steam frozen spinach to tender and buttery, just the way your nana served it back in the day. 😉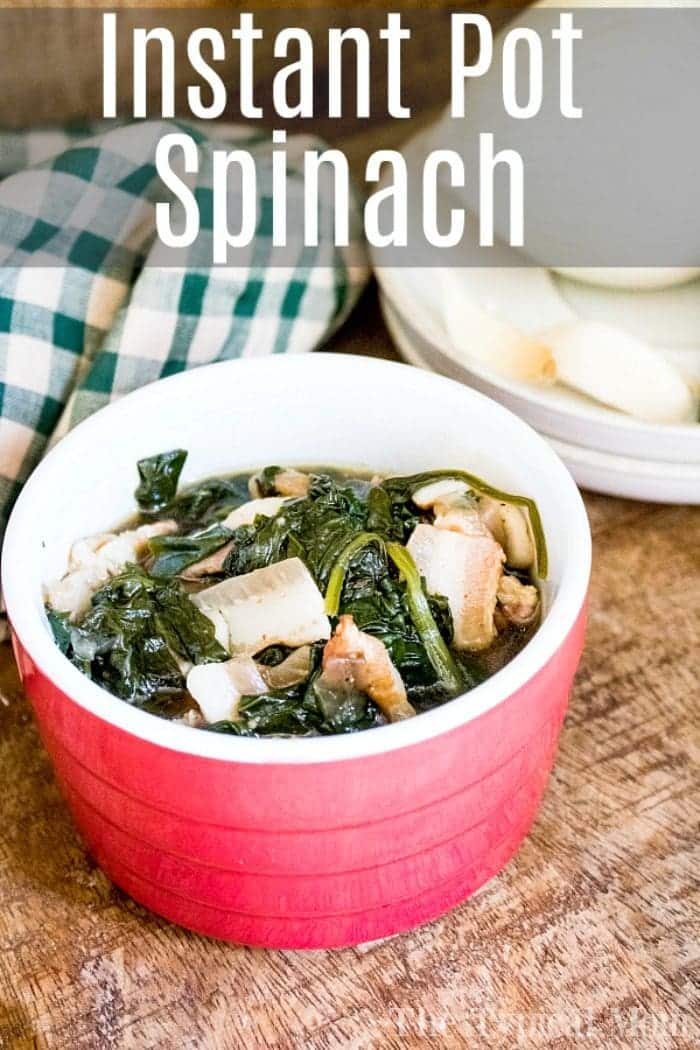 How do You Cook Frozen Spinach in Microwave
Ok so this is a game changer and wonderful if you live in a small space without even a kitchenette. Traveling in an rv? Another great option if you don't want to heat it up and need a fast option.
Pour contents into a glass or microwave safe bowl, add salt and pepper + 1 tbsp olive oil and cover with a plate
Set to 50% power
Heat for a total of 6 minutes to warm
Stir, test, increase timing by 1 minute and test again until warmed to your liking
Enjoy as is, gluten free, or with some parmesan cheese on the top. You can use this as your base for spinach dip with artichoke hearts as well.
Creamed Spinach Frozen
But what if you want to make our easy spinach quiche recipe for dinner huh? I know, it's totally killer right? Well you're going to need to prep it with some cream so it's nice and thick to begin with. Then add your cheese and we add sliced mushrooms too for the final meal.
A simple way to do this is to follow our easy creamed spinach instructions. Like the one above it doesn't matter whether you have fresh spinach leaves or crispy right out of the freezer. It may add a minute or so more cook time but no big deal.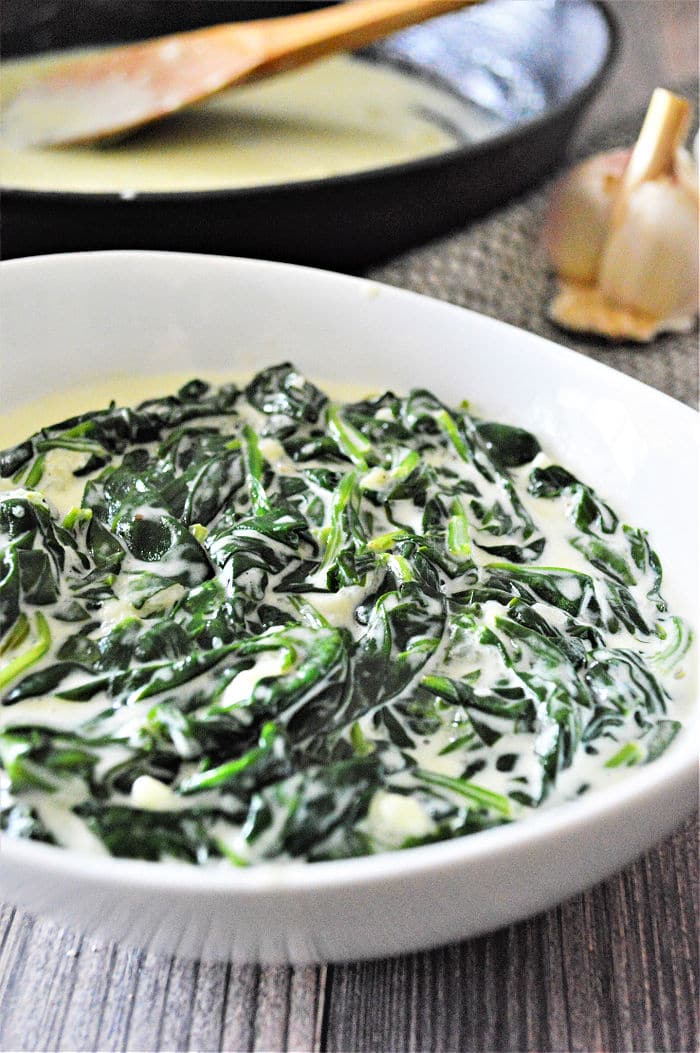 Frozen Spinach Recipe
Once it is softened to a creamy spinach texture you can add it into all sorts of dishes. Think outside of the box because it can be added into just about anything. Inside our no noodle lasagna is a great add in to make as a sort of spinach lasagna of sorts.
Include a few tablespoons inside our slow cooker tortellini soup some night so the veggies are right in the mix of things.
You can see here how we started off in the air fryer, you could make it as Ninja Foodi spinach this way too. Typically I never suggest you put anything into the basket itself but for this it helps quite a bit. You don't want it to get crispy anyway, we are thawing and heating this time.
How long does it take to cook frozen spinach?
That depends on what method you choose. If you use a pressure cooker it is the same as your air fryer in cook time if you take into consideration the time to pressurize. Those would be quickest. On the stovetop would be next followed by in the oven.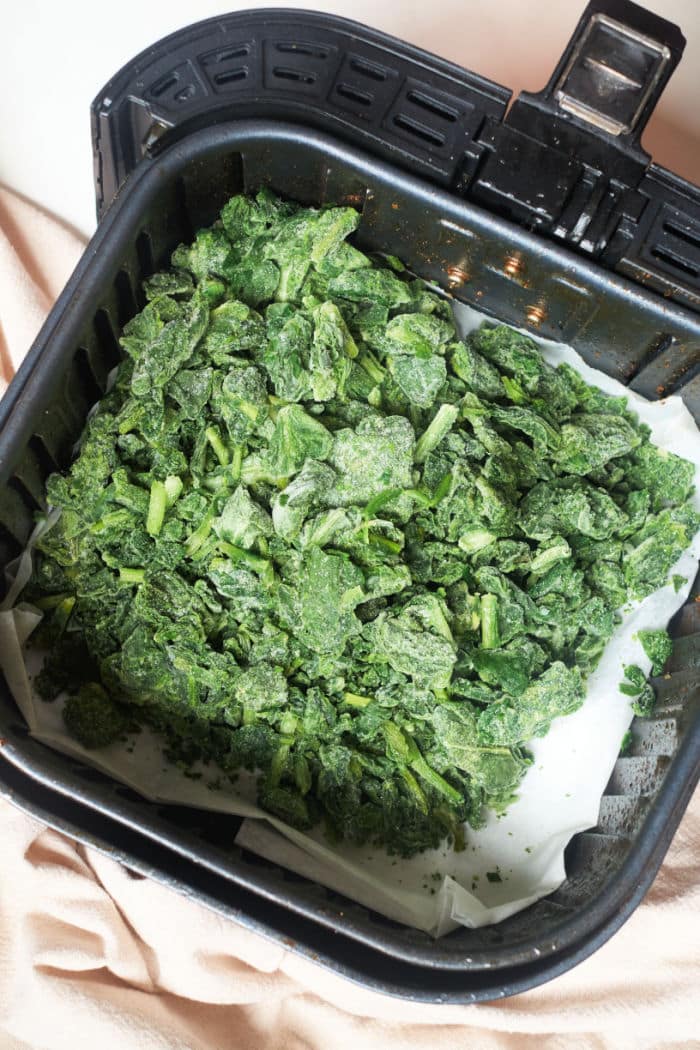 Cooking Frozen Spinach on Stove
Want the "old fashioned" method in a pan on your stovetop? No problem, that works quite well too. I prefer a cast iron skillet that is nicely seasoned for this, but a pan will work. All you need to do is;
Heat a skillet on the stove over low/medium heat
Add frozen greens and break up with a wooden spoon
Drizzle 1-2 tbsp of olive oil or butter over the top allow to wilt and defrost
Stir and continue breaking up larger chunks
Season and toss, serve when it is as warm as you'd like it to be
If you wanted to know how to cook frozen spinach with eggs I would use this method above. When mostly warmed pour in your whisked egg mixture. Use a spatula to move around until your proteins are cooked and mixed together with your veggie. Then serve with a dash of salt and pepper together.
This makes for a great brunch menu item during the holidays for sure. Our Trader Joe's spanakopita is always a hit.
Frozen Spinach in Air Fryer
This is probably our method of choice. It is really fast and believe it or not these greens defrost nicely and stay moist. You can just toss with a bit of olive oil or melted butter mid way thru the cook time. Add salt and pepper + any other must have seasonings and you've got it made.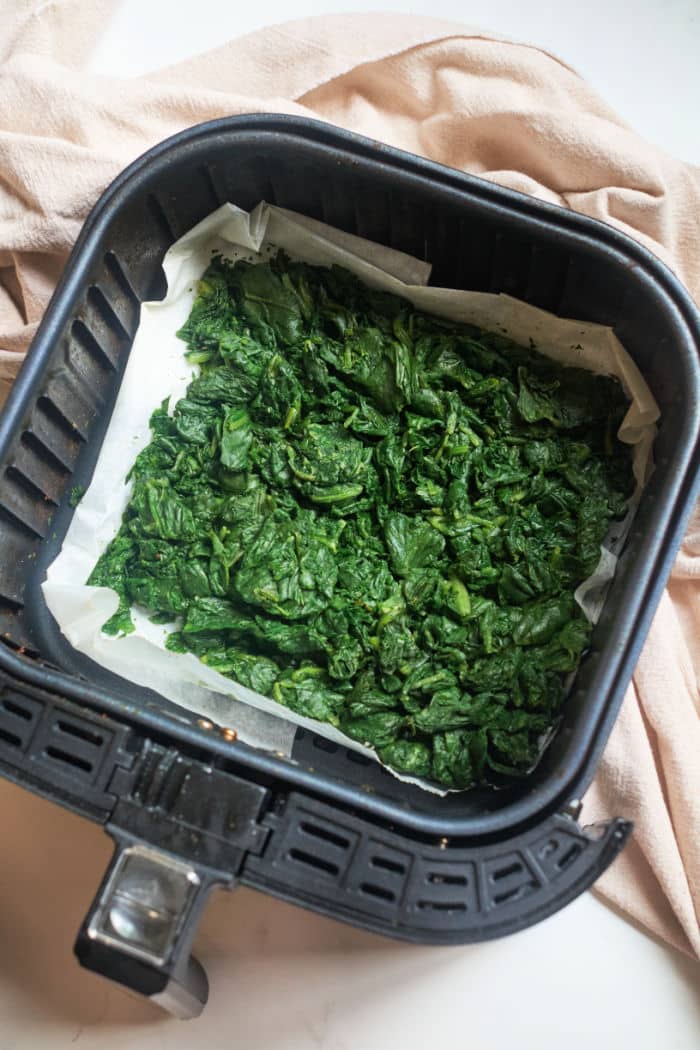 You always want to break up the larger chunks no matter what cooking method you use (for the Instant Pot do this as much as possible at the beginning). If using the method below you will likely want two pieces of parchment paper that fits inside your basket.
When you dump it out halfway thru and toss to season the original piece might be soggy and wet. Just discard if necessary and add a fresh piece in there and continue warming until it's hot to your liking. You can use this same process if you were just reheating.
How to Reheat Cooked Spinach
I would use the stovetop or air fryer method for this. If you have leftovers in the fridge they usually reheat quite nicely the next day. Just add another tbsp of butter on your leaves and heat just as you would if they were frozen (except for less time). Just takes a few minutes and you can enjoy your leftovers again!
Looking for other goodies like this one? Check out how to cook frozen brussel sprouts too!! Did we miss another method you were looking for? If so let me know below and we will try it out too. If it is a hit I'll add it.
Want to see a few of my favorite things that I am totally obsessed with?? Take a peek and see how many you might already have…twinsies!
Looking for more easy family recipes and tips? LIKE The Typical Mom Facebook page?
Then sign up for my free newsletter, and follow me on Pinterest! 😉
***** If you LOVED this recipe give it 5 Stars below and let everyone know what you thought about it. 😉
How to Cook Frozen Spinach
How to cook frozen spinach is here! 4 ways including microwave and air fryer frozen spinach, fast and simple. Healthy side dish we love.
Instructions
Preheat air fryer to 350 degrees F. Lay a piece of parchment paper on the bottom of the basket and pour in frozen spinach.

Air fry for 5 minutes, then pour into a bowl and toss with olive oil and seasonings you'd like to add.

Return parchment paper and pour spinach on top, spread out again. Air fry another 3 minutes or so until warmed to your liking.
Nutrition Facts
How to Cook Frozen Spinach
Amount Per Serving (1 oz)
Calories 49
Calories from Fat 36
% Daily Value*
Fat 4g6%
Sodium 47mg2%
Potassium 221mg6%
Carbohydrates 3g1%
Protein 2g4%
Vitamin A 7480IU150%
Vitamin C 4mg5%
Calcium 82mg8%
Iron 1mg6%
* Percent Daily Values are based on a 2000 calorie diet.