Here is an easy creamed spinach recipe. Use as a vegetable side dish or inside a quiche, either way it is simple to make and delicious. Using fresh or this is how to cook frozen spinach many ways too.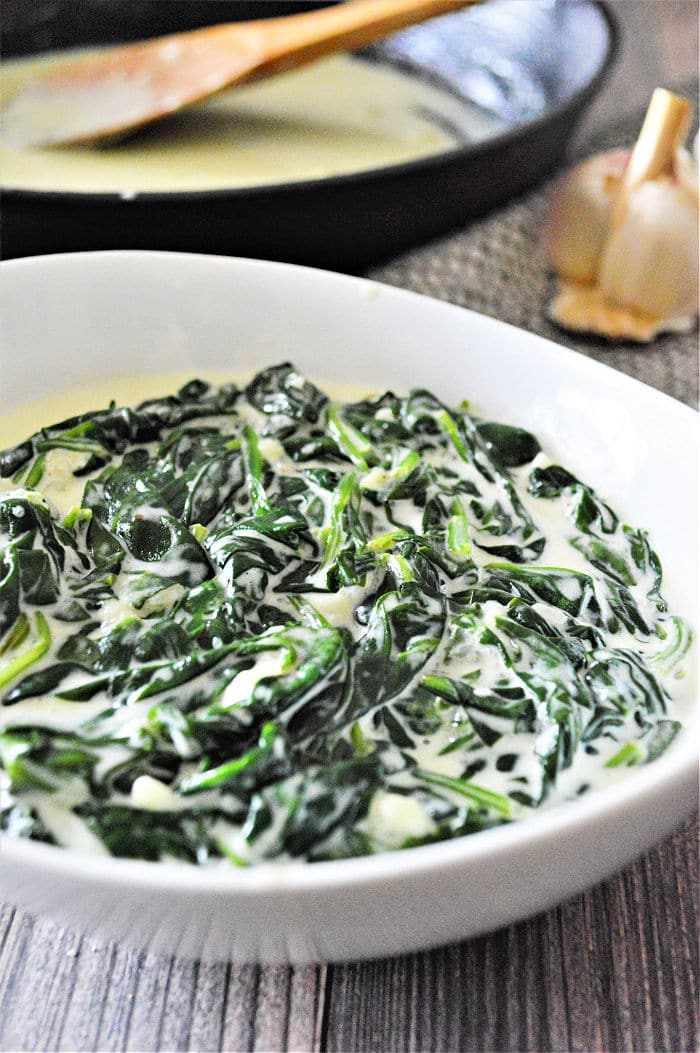 I was making one of my favorite quiche recipes but couldn't find my normal frozen spinach. Decided it was finally time to make easy creamed spinach so I wouldn't ever have that issue again.
Easy Creamed Spinach Recipe
You can make this green leafy vegetable a number of ways. Our most popular is Instant Pot spinach. That is more plain without any sauce to it really.
In order to make thicker dishes like a spinach dip or crustless quiche as we, you really need something denser like this. First let's talk about the star of this dish though shall we?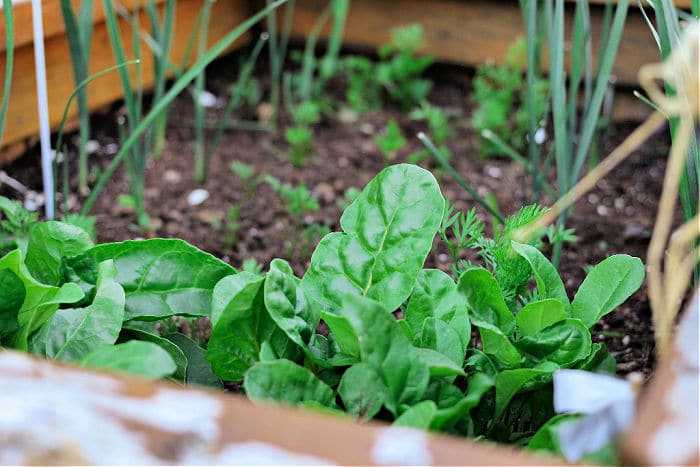 If you have a vegetable garden at home you may have some growing as we speak. You can find this in the produce section of stores though year round so no worries if it isn't in your back yard.
Why is spinach a superfood?
Most dark leafy veggies like this are considered to be in this category. That means they are loaded with nutrients, protein, iron, vitamins and minerals. These are important in hair, skin and bone health and are low in calories to boot!
How to Make Creamed Spinach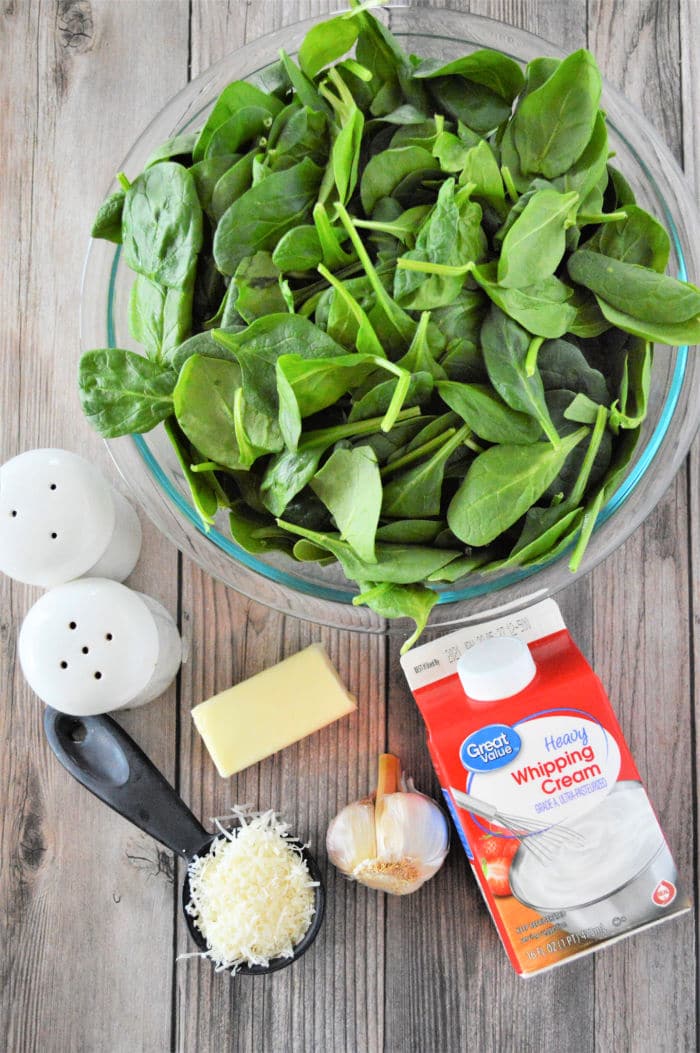 What is creamed spinach made of?
You only really need a few ingredients. The amount of heavy whipping cream used will vary depending on how much "sauce" you want to have. Garlic and parmesan cheese gives it some great flavors. Diced onion is optional.
If you want it quite dense to make air fryer quiche then you'd add less cream. Serving as an easy side dish? You can add more at the end until it's the texture you want.
Is creamed spinach unhealthy?
Well I mean everything in moderation right? The heavy cream isn't great for you vs. if you just steamed it by itself but I think that is obvious. You can make these leaves amazingly crispy with our air fryer spinach recipe as well.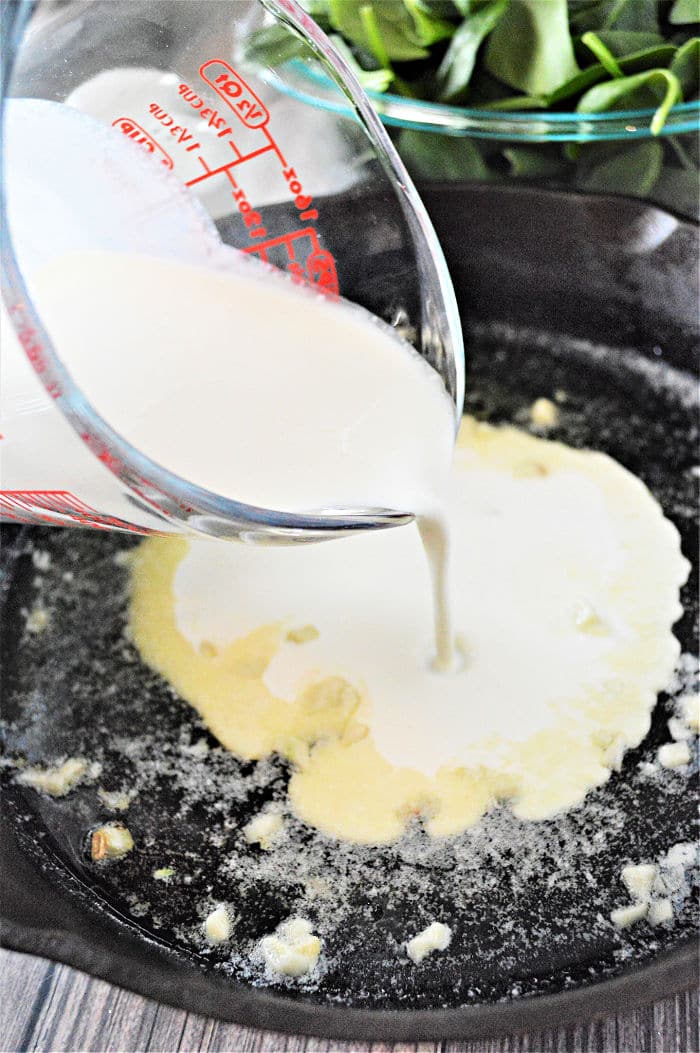 How do you make creamed spinach from scratch?
Here are some quick instructions. There are exact ingredients and a printable recipe with nutritional information below though too so keep scrolling down for that.
Time needed: 20 minutes
Easy Creamed Spinach
Saute

In a large skillet over medium heat melt butter in a skillet. Then add your minced onion and garlic and cook together. Then cook stirring in your heavy cream slowly.

Put the spinach leaves in and stir to coat leaves. Then cover pot with a lid. Cook spinach leaves until they are wilted and softened. Lift lid and add parmesan cheese.

If you want more liquid to the dish add 1/4 c more of heavy cream.
Allow to bubble, melt cheese, and let sauce thicken. The longer it is on the stove the more it will cook down and get thicker.

Cook

Turn off and allow to cool or use inside a quiche or other recipe of your choice.
Of course if you can't have cheese you could leave that out. It does add a bit of thickness, and flavor of course, so it will alter the results.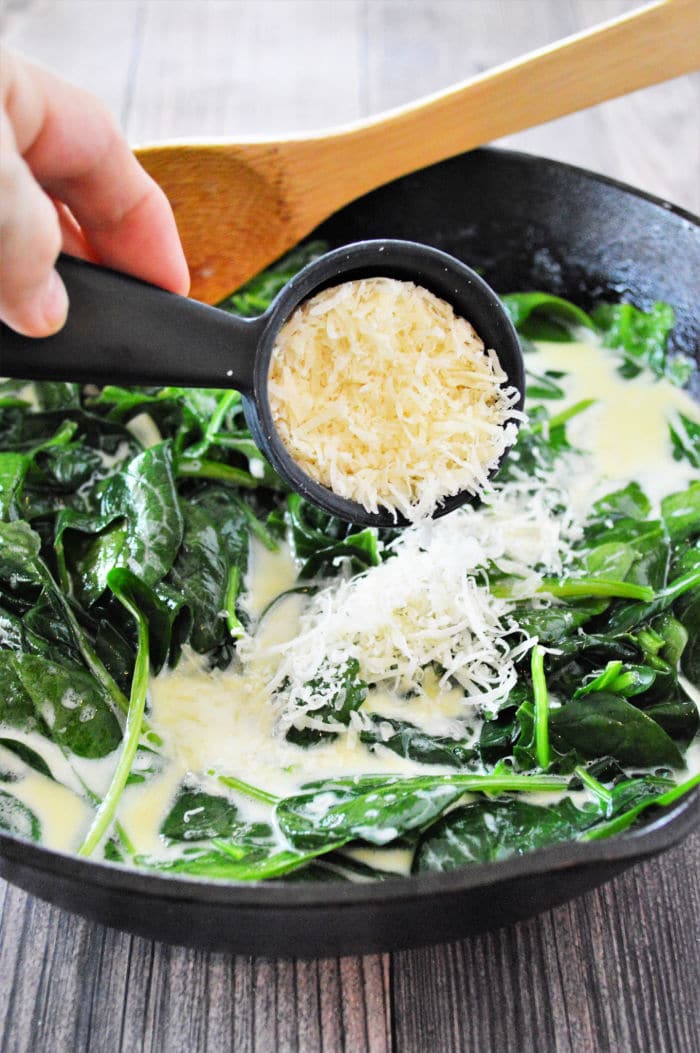 Fast and Easy Creamed Spinach
There are many different ingredients you could add to this including cream cheese instead of parmesan. This will really make a thick cream sauce.
I suggest using fresh spinach to make this. If you use frozen you will need to defrost it first and remove the excess water. Without doing this it will come out runny. Add the spinach when it says to do in the recipe card below.
If you love creamed spinach this may become your go to recipe for brunch or dinners throughout the week.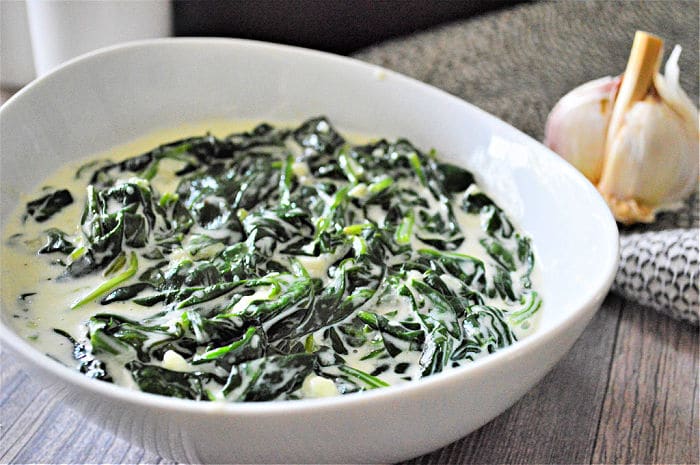 What goes well with creamed spinach?
Speaking about what you can serve with it I would recommend mashed potatoes as another side with prime rib or our air fryer roast. My go to is always a whole chicken which is easy to throw together too.
How long does creamed spinach last in the fridge?
If you do have leftovers allow it to come to room temperature first. Then spoon it into a freezer bag or airtight container. Enjoy it again within 3 days for best results. Reheat spinach in a microwave safe bowls for about a minute stirring after 30 seconds.
You could also put it back into a pan and heat on medium heat. Stir until it is warm and then enjoy some again the next day.
Our favorite easy creamed spinach recipe is to use it in our spinach quiche! That is why I created this in the first place.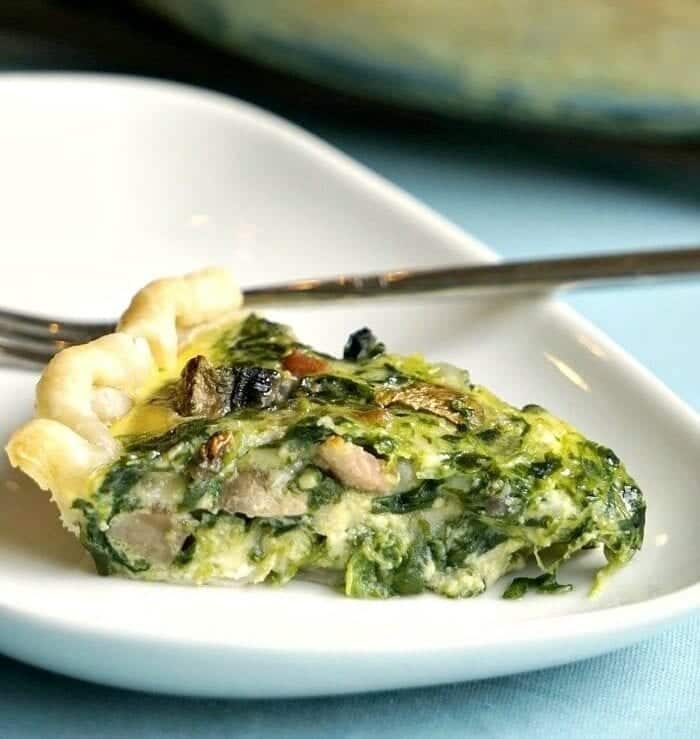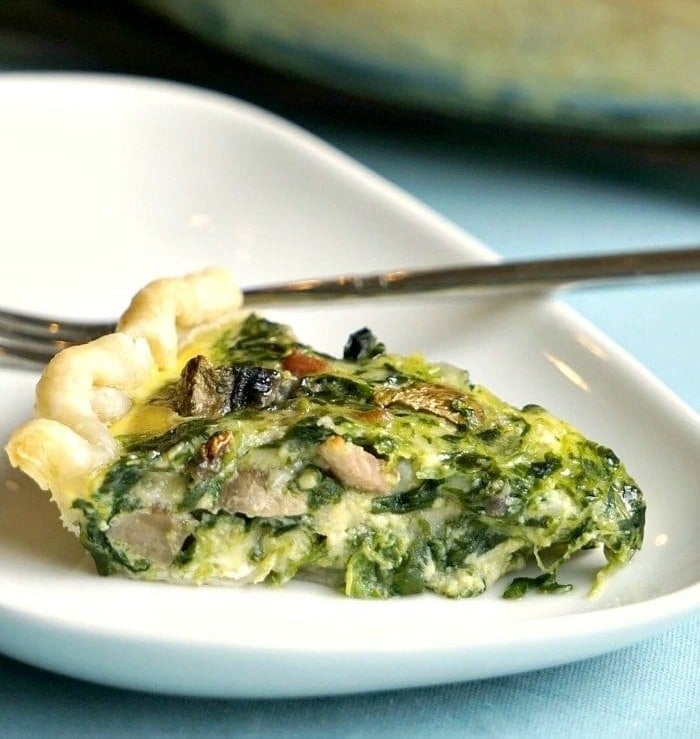 If you want a great twist on the "old fashioned" you should try our tater tot crust quiche recipe too!! Even my kids love it this way. I mean who doesn't love tater tots period right??
Want to see a few of my favorite things that I am totally obsessed with?? Take a peek and see how many you might already have…twinsies!
Looking for more easy family recipes and tips? LIKE The Typical Mom Facebook page?
Then sign up for my free newsletter, and follow me on Pinterest! 😉
***** If you LOVED this recipe give it 5 Stars below and let everyone know what you thought about it. 😉
Easy Creamed Spinach
Here is an easy creamed spinach recipe. Use as a vegetable side dish or inside a quiche, either way it is simple to make and delicious.
Instructions
Melt butter in a skillet and add garlic. Saute. Then stir in heavy cream.

Add spinach leaves, stir to coat and cover with a lid. Once leaves are wilted, lift lid and add parmesan cheese. If you want more liquid to the dish add 1/4 c more of heavy cream.

Allow to bubble, melt cheese, and the sauce to thicken. Turn off and allow to cool or use inside a quiche.
Nutrition Facts
Easy Creamed Spinach
Amount Per Serving (2 oz)
Calories 166
Calories from Fat 153
% Daily Value*
Fat 17g26%
Cholesterol 52mg17%
Sodium 187mg8%
Potassium 269mg8%
Carbohydrates 2g1%
Protein 3g6%
Vitamin A 4558IU91%
Vitamin C 12mg15%
Calcium 87mg9%
Iron 1mg6%
* Percent Daily Values are based on a 2000 calorie diet.