Slow cooker chili recipes are here to enjoy! 11 of the very best that only need a few ingredients to make. Starting with our most popular 5 ingredient crockpot chili and on to using venison or vegetarian, they're be ready in no time flat!
I am all about easy, crockpot recipes. We make chili in the slow cooker almost every month because it's so easy and everyone loves it. We have several versions we love so I decided to compile a list of the best slow cooker chili recipes we've created, and a few from other bloggers as well. Enjoy and happy slow cooking! (originally published 1/16)
Crockpot Chili Recipes
So the first two you see here are fantastic and super simple to make. The top one is an easy 4 ingredient slow cooker venison chili recipe we throw together on a regular basis, and the bottom is actually a creamy cheesy chili dip that can be made and thrown in a crockpot when you're having a party.
You can make each of these as spicy as you would like them to be, or keep it nice and mild. Add onions, bell peppers, or keep very basic. Very versatile each one is if you get my drift.
FIRST – You should sign up for my free newsletter so you get new posts emailed to you twice a week and never miss out on anything! Let's talk a little bit about slow cooking shall we?? First off I have a few different varieties and I love them all. Each one has an occasion to be used like….
This is my favorite 6 quart programmable one with a locking lid so it's great for bringing to a potluck too.
If you just want to serve a few appetizers you should get this one that sit side by side one another.
I prefer not to use liners, but rather just spray olive oil inside before adding my food for easier cleanups.
Let me give you a peek of my pretty thang I bought recently. It goes with my kitchen so I can just leave it out on the countertop all the time. 😉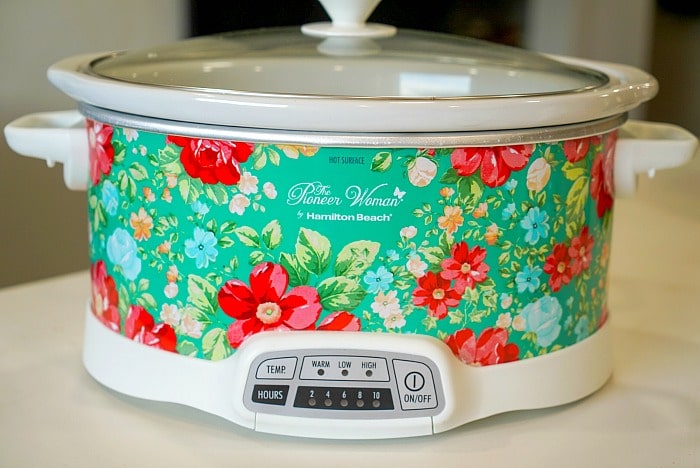 How to Make Chili in Slow Cooker
Let's start with one of the more "unusual" ones, but one you should definitely make. If you're a hunter maybe you've already made venison chili, if not you can find some ground in your local grocery store. It offers a ton of flavor and isn't that much more money than beef.
It can be kept warm in your slow cooker for hours and people love it. Serve cornmeal muffins on the side and it's a hearty meal that women and men rave over.
If you're looking for a traditional stovetop chili recipe we have that too….slow cooker versions are below.
Here are our favorites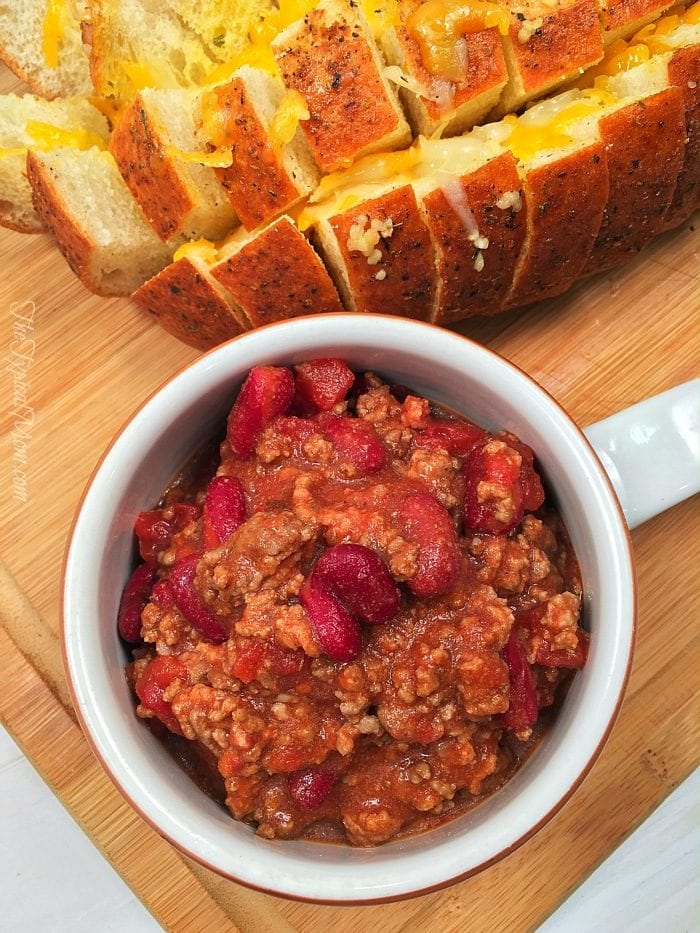 Recipes in Slow Cooker with Beans
Cheesy chili dip recipe you see here can be served with sliced bruschetta or chips. Poured on top of our air fryer tater tots = a fun dinner idea too.
If you have a pressure cooker you should try our Instant Pot chili and/or this Ninja Foodi chili mac recipes too.