Crockpot cabbage soup is a healthy dinner idea using green or red cabbage and other vegetables in a warm broth. Easy slow cooker meal or side dish. It's a little like our slow cooker stuffed cabbage soup but healthier.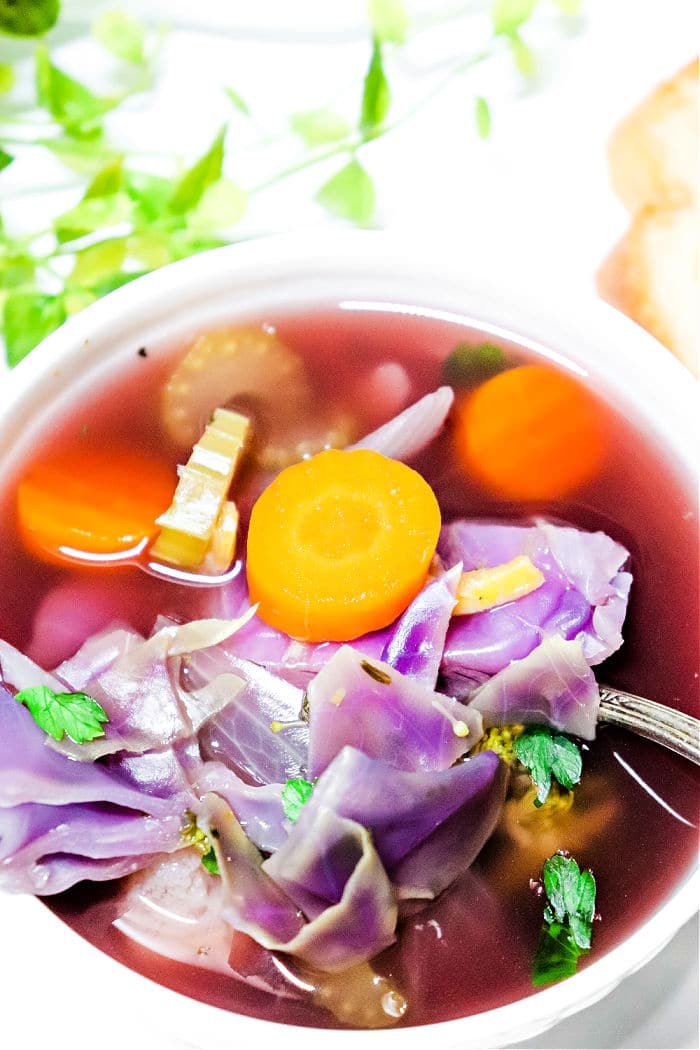 Looking for a healthy or vegetarian slow cooker soup? You can get both in one here with this Crockpot cabbage soup. Want to make it heartier? Add some shredded rotisserie chicken or ground beef, either way it's delicious. One of many easy Crockpot recipes we have on our blog. (affiliate links present)
Slow Cooker Cabbage Soup Vegetarian
There is a lot of leeway when it comes to making this. If you want no meat at all then opt for vegetable broth instead of chicken. Load it with all the produce you love like we did and cook until everything is as tender as you'd like it to be.
Crockpot soup with frozen vegetables works great. There is plenty of time for it to defrost and then cook to tender. This means you can make this year round or if you live in an area where produce doesn't always look great (like here).
FIRST – You should sign up for my free newsletter so you get new posts emailed to you twice a week and never miss out on anything! Let's talk a little bit about slow cooking shall we?? First off I have a few different varieties and I love them all. Each one has an occasion to be used like….
This is my favorite 6 quart programmable one with a locking lid so it's great for bringing to a potluck too.
If you just want to serve a few appetizers you should get this one that sit side by side one another.
I prefer not to use liners, but rather just spray olive oil inside before adding my food for easier cleanups.
Let me give you a peek of my pretty thang I bought recently. It goes with my kitchen so I can just leave it out on the countertop all the time. 😉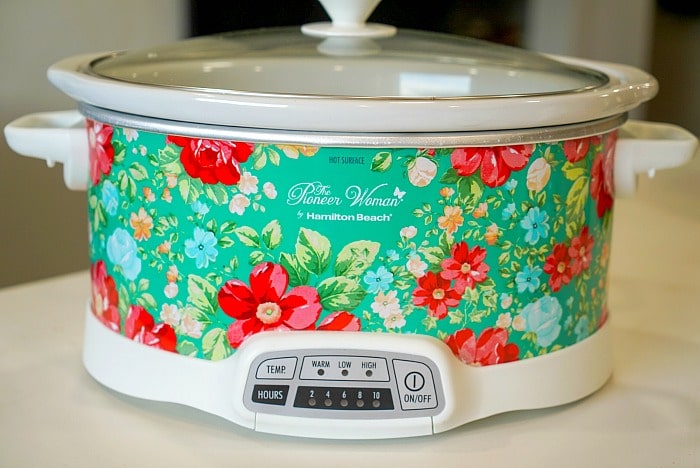 When we had a vegetable garden this was really easy. One year we grew everything you see here right in our backyard. The kids really got a kick out of that. Getting them involved means they are way more likely to try it and actually like it because "they did it themselves".
Red Cabbage Soup
If you have only made green cabbage recipes you should try this other variety too. OR use half and half for different textures and flavors throughout. To make a heartier and thicker broth you can add a cup of tomato or spaghetti sauce like our stuffed cabbage casserole.
This one is lighter though with just the broth and seasonings. Since it is so simple, low calorie and filling some use it as a weight loss soup. I'm not into that so I cannot attest to how it works but just something I've heard. This is what you'll need:
Bag of frozen vegetables, larger pieces is better than diced
Chicken broth
Head of cabbage, you will use half of it so try our air fryer cabbage with the other half (you're welcome)
Slices of onion
Chopped celery is great
Frozen green beans would work well too for this vegetable soup
Throw in some diced roasted garlic for flavor
And then add all sorts of seasonings into your Crockpot cabbage recipe. Want to add a bit of heat? Chili powder, dry or liquid Sriracha or cayenne will do the trick.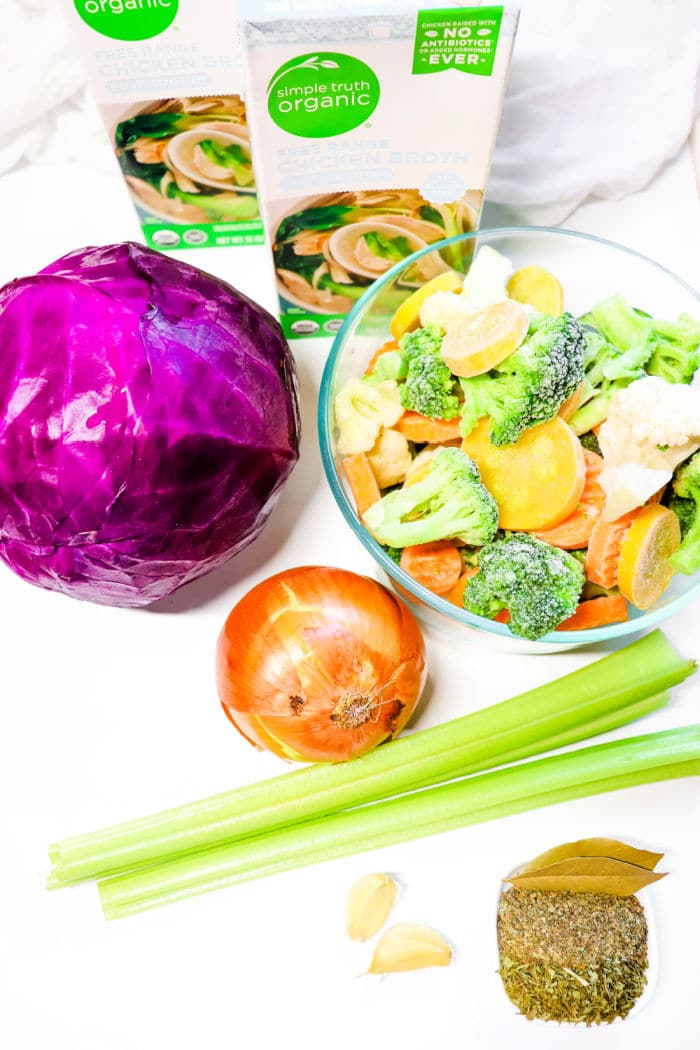 Spicy Weight Loss Cabbage Soup
If this is a Crockpot cabbage soup diet idea, make it in your slow cooker or on stovetop. Typically a can of drained black beans are also included for fiber purposes and enough heat to get your body to burn extra calories but be able to stand it. Start adding some slowly, taste, and continue if you think it isn't spicy enough yet.
Be cautious, you want to taste it.
There is another good reason to use frozen veggies vs. fresh, it will take longer for them to cook. Since everything is submerged in liquid and cooked for a fairly long time you don't want to come back to a pot of mush.
When cooking Crockpot cabbage there is also a big variance in timing. If you like a bit of a "bite" to it you'd account for a shorter time frame than if you like it really soft. Obviously. For that just salt and pepper works, with this you want ALL the seasons.
Crock pot Cabbage Soup Recipe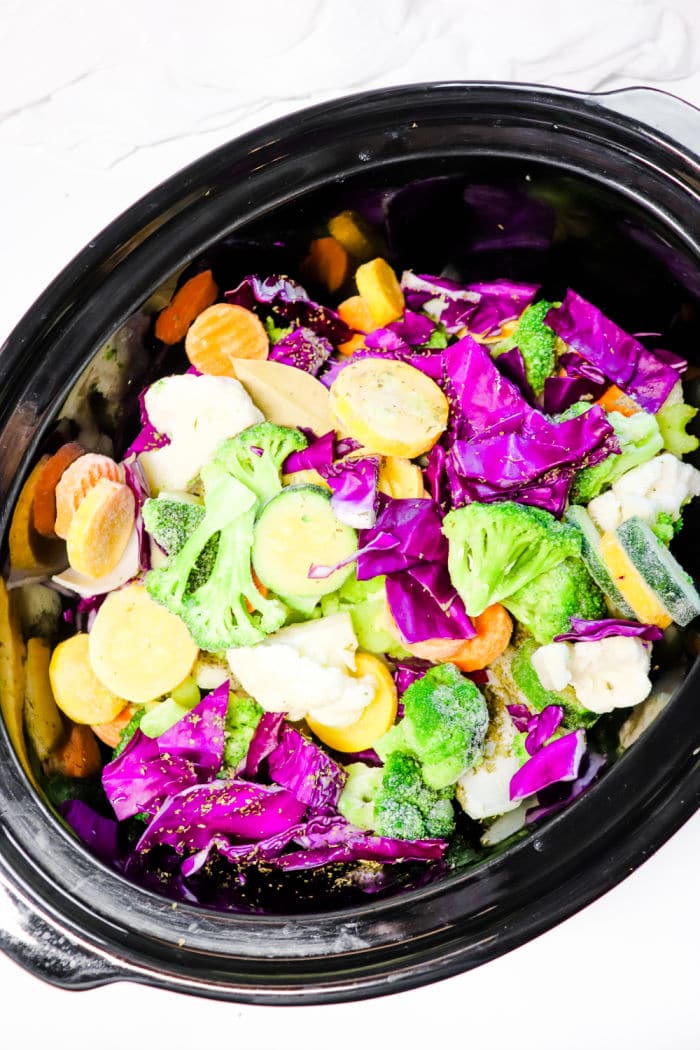 Cabbage Soup without Tomatoes
If you are allergic to all tomato products this would be a great alternative to the typical cabbage roll soup varieties. Not only does this eliminate any diced tomatoes and/or sauce but it is naturally gluten free too so everyone can enjoy a bowl.
Our Crockpot cabbage and sausage with potatoes would fall into this category too.
Slice your onions and celery, chop the 1/2 head of cabbage into strips or squares (smaller will be very tender, I suggest 1.5″x1.5″ pieces. Add into the slow cooker with frozen mixed vegetables.
Pour in broth and water. Cover and cook for 7-8 hours on low or until vegetables are tender as you'd like them to be.
Add salt and pepper, Italian seasoning, garlic salt etc…. to taste and serve with a sprinkle of parmesan cheese on top if desired.
Purple Cabbage Soup Recipe
I hardly ever recommend to cover and cook on high unless it is a large thick piece of frozen meat. That is the only time high should be used, because it would be necessary to get it done before dinnertime. Otherwise everything needs low and slow to really meld all of those great flavors together nicely.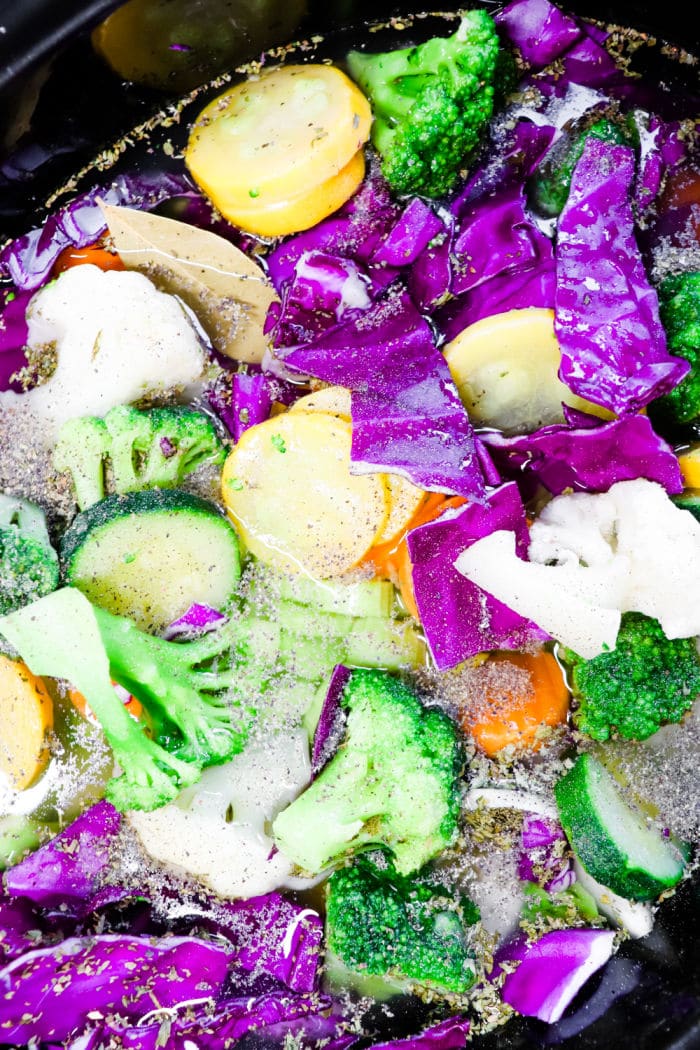 Easy Cabbage Soup Recipe
Looking for other healthy dinner ideas? We have a bunch of those beyond our Crockpot cabbage soup listed in our slow cooker soup recipes post and the list goes on from there. I will point out a few that would fall into this category for us but you can find them all by referencing the tabs at the top of my site.
First off I would say that our Crockpot French onion soup is always a winner. Don't just make it in the pot but if you take the extra steps to lay a piece of bread on top with cheese and brown it, it's out of this world. Of course you can go the extra mile and make stuffed cabbage too but that is much more time consuming.
How to save leftover soup
You always want foods to come to room temperature before transferring it into another container. When you do seal it tight and store in the fridge for up to 3 days. When you reheat it transfer it to a microwave safe bowl and heat for about 1 minute. OR warm it in a pot on your stovetop instead.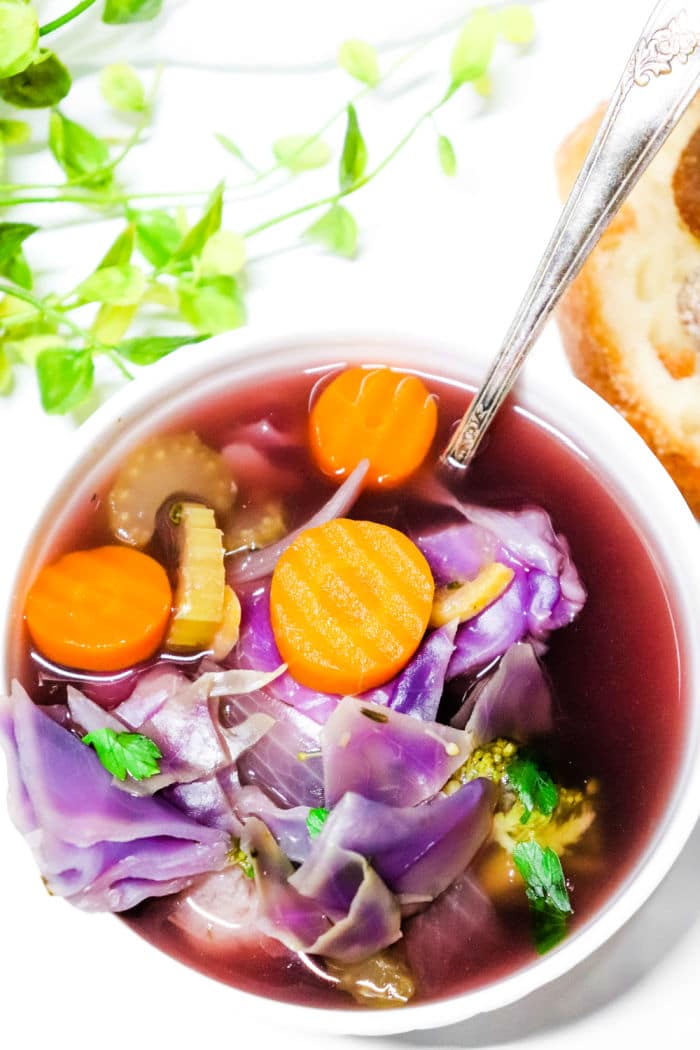 Can You Freeze Cabbage Soup
Yes. I would use silicone molds once it is cooled. Spoon in, set into freezer until solid and then pop out and transfer into freezer bags.
If you want to make a version of this in a pressure cooker much faster you can! Follow timing of our old fashioned cabbage soup for that. Meat is always optional but cook time and instructions will remain the same.
Want to see a few of my favorite things that I am totally obsessed with?? Take a peek and see how many you might already have…twinsies!
Looking for more easy family recipes and tips? LIKE The Typical Mom Facebook page?
Then sign up for my free newsletter, and follow me on Pinterest! 😉
***** If you LOVED this recipe give it 5 Stars below and let everyone know what you thought about it. 😉
Crockpot Cabbage Soup
Crockpot cabbage soup is a healthy dinner idea using green or red cabbage and other vegetables in a warm broth. Easy slow cooker meal.
Instructions
Slice onions and celery, chop cabbage into the size of pieces you want (smaller will be very tender, I suggest 1.5"x1.5" pieces. Add into the slow cooker with frozen mixed vegetables.

Pour in chicken broth and water. Cover and cook for 7-8 hours on low or until ingredients are as tender as you'd like them to be.

Add salt and pepper to taste and serve with a sprinkle of parmesan cheese on top if desired.
Nutrition Facts
Crockpot Cabbage Soup
Amount Per Serving (2 oz)
Calories 61
Calories from Fat 9
% Daily Value*
Fat 1g2%
Sodium 881mg38%
Potassium 431mg12%
Carbohydrates 12g4%
Protein 3g6%
Vitamin A 2344IU47%
Vitamin C 43mg52%
Calcium 59mg6%
Iron 1mg6%
* Percent Daily Values are based on a 2000 calorie diet.