How to make Crockpot boiled peanuts is here! Fun snack can be mild or spicy with cajun seasoning. Favorite salted treat during the holidays. If you haven't tried them soaked and salted this way you are in for a treat.
Boiled peanuts in Crockpot are such a fun snack to serve when people come over. I used to eat these all the time when we lived in Hawaii and luckily they were easy enough to make homemade too. You can set it and forget it overnight for an easy Crockpot recipe or just cook all day. (post may contain affiliate links present, originally published 11/30)
Cajun Boiled Peanuts
Love spicy everything?? It is easy to add homemade or bottled seasonings to the pot to get it mild, medium or hot. If this whole idea is new to you you're in for a real treat. I know it might sound kinda' strange but the softened texture is totally different than anything else.
When I was little we would buy these at the corner market, in bags. I am not sure if that would fly nowadays but back in the early 80's it was just a thing. On Oahu it was so I thought it was just something that everyone did, and ate. Found out when I got older that it was something unique, but had to be shared.
FIRST – You should sign up for my free newsletter so you get new posts emailed to you twice a week and never miss out on anything! Let's talk a little bit about slow cooking shall we?? First off I have a few different varieties and I love them all. Each one has an occasion to be used like….
This is my favorite 6 quart programmable one with a locking lid so it's great for bringing to a potluck too.
If you just want to serve a few appetizers you should get this one that sit side by side one another.
I prefer not to use liners, but rather just spray olive oil inside before adding my food for easier cleanups.
Let me give you a peek of my pretty thang I bought recently. It goes with my kitchen so I can just leave it out on the countertop all the time. 😉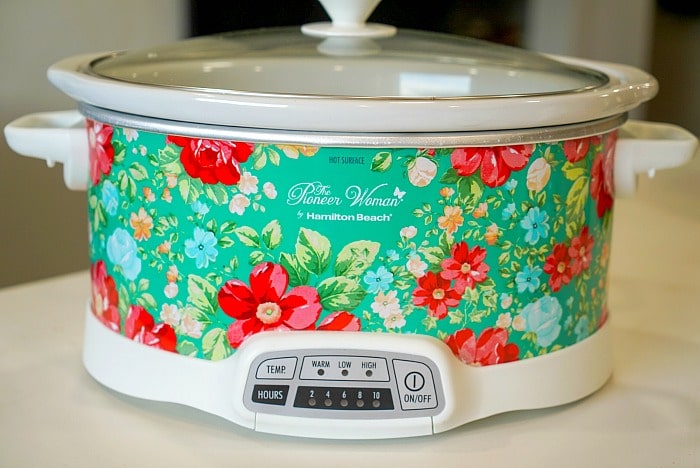 Slow Cooker Boiled Peanuts
These two words are synonymous really. You can easily fit 16 ounces at once. Of course you could make just half of that if you wanted to. Just cut everything by 1/2 and go. You would need to have a rather large size, more than 8 quart, to make more than what is directed down below.
1 bag of peanuts in shell shells in tact, 1 lb.
Water
Salt
1-3 tbsp cajun seasoning is optional but will make it hot if you want
What is the point of boiled peanuts? Well other than the fact that it is just kinda' fun to try something new they have a different flavor and actually more nutrition too. When boiling the shells it draws out four times the antioxidants of leaving them raw peanuts or roasted. So bonus right??
Literally all you do is dump your bag in there, sprinkle the seasonings and pour in the water. You want them to be submerged so the ones at the top aren't out and have a different consistency than the ones below. A true Southern snack you may remember from your childhood too….let's get started.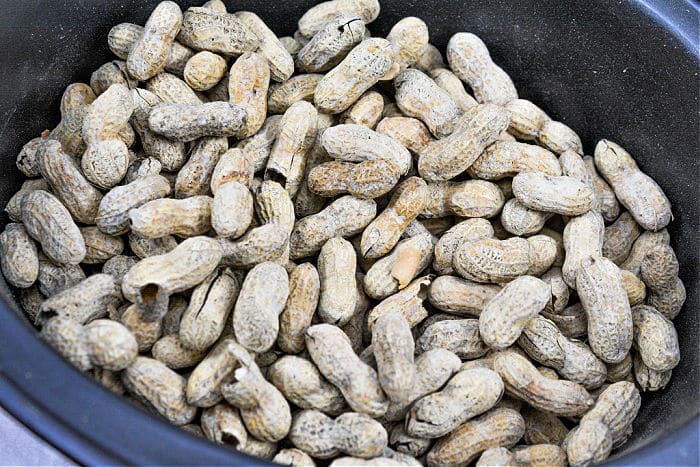 How to Eat Boiled Peanuts
These are a bit different than if you were eating them straight out of the bag, but the same idea. It's kinda' how I describe pumpkin seeds. Raw you would only eat the inside green seed but toasted with seasonings you pop the whole thing in your mouth. So kinda' but you won't actually eat these shells.
You WILL want to kinda' suck the whole thing though after pinching the sides so the nut is exposed. The salt and cajun seasoning (if you added that) will permeate the outside so popping the nut out while licking and kinda' sucking a bit of the shell around it is how it's done!
Instant Pot Boiled Peanuts
For a faster method you could use a pressure cooker instead to achieve the same outcome. Instead of 10 hours this will cut the cook time to just 45 minutes or so!! That is right, just follow the same instructions to cover the nuts with water and under high pressure set to 45 min. with a 10 minute natural pressure release.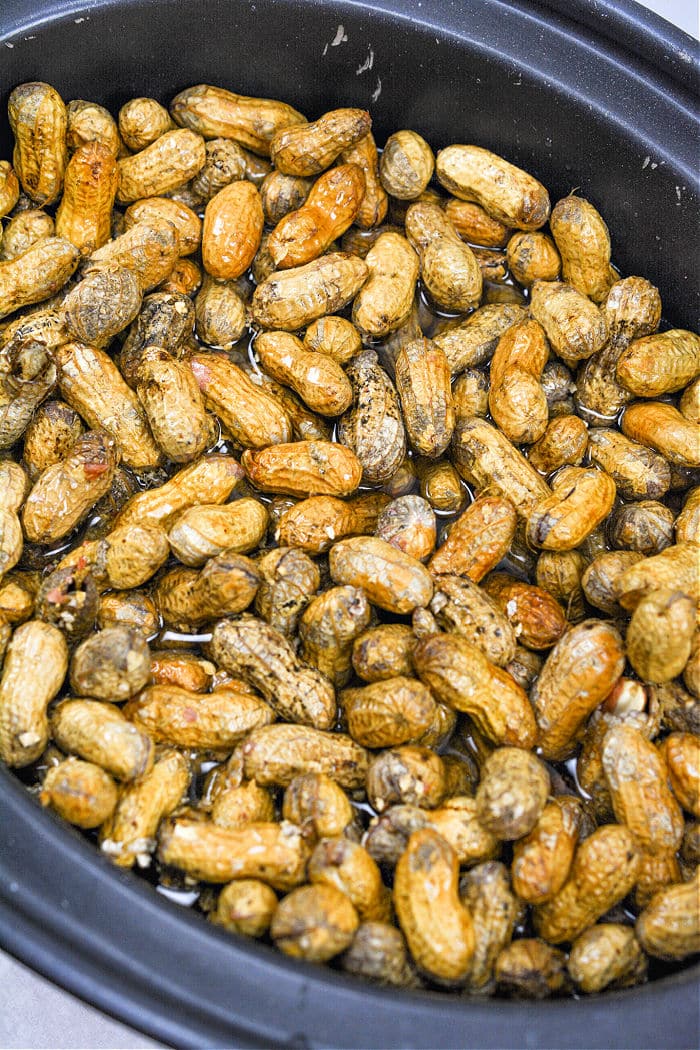 How to Boil Peanuts
If you wanted to use a pot on the stove you could, but you need to pay attention to it so it doesn't bubble over. You'd need a stock pot of sorts so they are covered. Set to medium heat so it is slowly bubbling. With a lid on tight all day long they would be done in just a few hours until tender. You can't set this overnight though, that's the downside.
Pour your bag of shelled peanuts into your slow cooker
Sprinkle salt, and seasonings for heat if you would like, over the top

cajun, dry Sriracha or red pepper flakes works well for a spicy boiled peanuts recipe
some swear by Old Bay inside too just like in our crab boil

Cover the peanuts with water on top
Cook Crock pot boiled peanuts on high for about 10 hours total. Best if you can gently stir, rotate once during the timing if you can. You can enjoy these warm or spoon out with a slotted spoon and sit on a baking sheet lined with paper towels to cool.
Do you use green or raw peanuts for boiled peanuts
For die hard fans you should use green peanuts, they are freshly harvested. That aren't really that color, don't worry. You typically can find these at farmers markets vs. the grocery store. Either way you would cook on high for the same amount of time, can switch to low for up to 24 hours.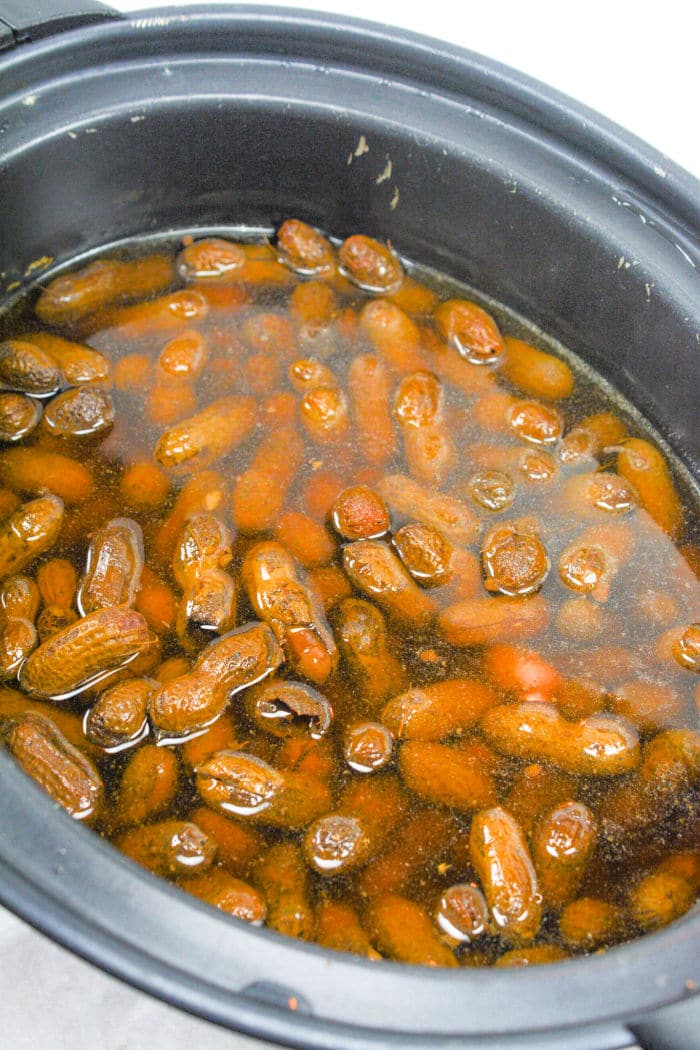 How do I Preserve Boiled Peanuts
If you don't have a large enough crowd to eat all of these right when they are ready you can save them for up to 10 days. You want to make sure to store them correctly first. Set on paper towels to absorb some of the liquid on the outsides. Allow to cool and then transfer into a gallon size freezer bag and into the fridge.
Enjoy right out of the bag cooled as a nutritious snack for the next week. It is so easy that you can make another batch quite easily after that one is gone or can't be saved any longer. The longer they sit the more the wet shells will start to break down and get a weird texture to them so ideally you should enjoy them within 48 hours.
If you are planning a road trip this may be a new thing you could bring to keep the kiddos busy in the backseat. Set the peanuts and salt in there 2 days before so they're done the day before. Package them up and grab 'em in the morning when you're on your way. Keeps everyone satiated and happy thru the hours.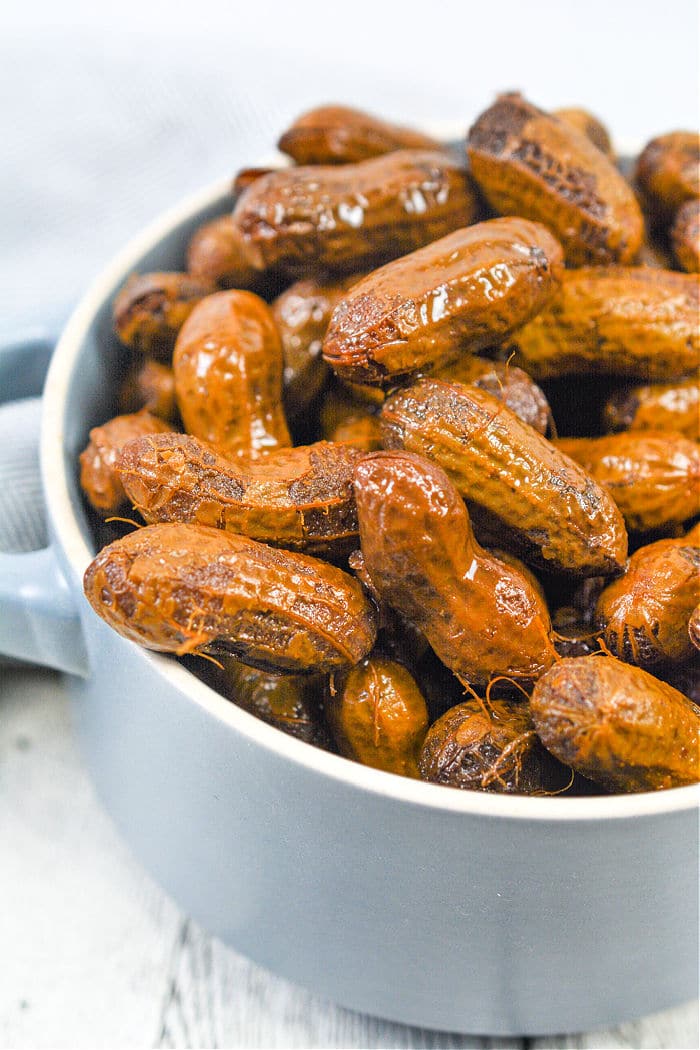 If you love adding flavor to other nuts, this is how to roast pine nuts too. Those don't have a shell at all so you can just pop them right in your mouth. Add a bit of heat like you did here if you like or leave plain to make pesto sauce with them.
Crockpot Cajun Boiled Peanuts
Whether you're from South Carolina and remember eating these with a Southern Dish Often Made with Buttermilk and Cornmeal during the winter months, or Hawaii and remember these from when you were younger, or just curious as to what these taste like, try them!!
Want to see a few of my favorite things that I am totally obsessed with?? Take a peek and see how many you might already have…twinsies!
Looking for more easy family recipes and tips? LIKE The Typical Mom Facebook page?
Then sign up for my free newsletter, and follow me on Pinterest! 😉
***** If you LOVED this recipe give it 5 Stars below and let everyone know what you thought about it. 😉
Crockpot Boiled Peanuts
How to make Crockpot boiled peanuts is here! Fun snack can be mild or spicy with cajun seasoning. Favorite salted treat during the holidays.
Instructions
Pour shelled peanuts into slow cooker, sprinkle salt over the top.

Pour water on top, they should be covered. Set to high for 10 hours total. Best if you can gently stir, rotate once during this time.
Nutrition Facts
Crockpot Boiled Peanuts
Amount Per Serving (1 oz)
Calories 3
Calories from Fat 1
% Daily Value*
Fat 0.1g0%
Monounsaturated Fat 0.02g
Sodium 4724mg205%
Potassium 28mg1%
Carbohydrates 1g0%
Protein 0.2g0%
Vitamin A 575IU12%
Vitamin C 0.01mg0%
Calcium 10mg1%
Iron 0.3mg2%
* Percent Daily Values are based on a 2000 calorie diet.