Carne Asada Crock Pot recipe that creates tender beef with bold Mexican flavors you love. Homemade shredded beef perfect for tacos, nachos or beef bowls.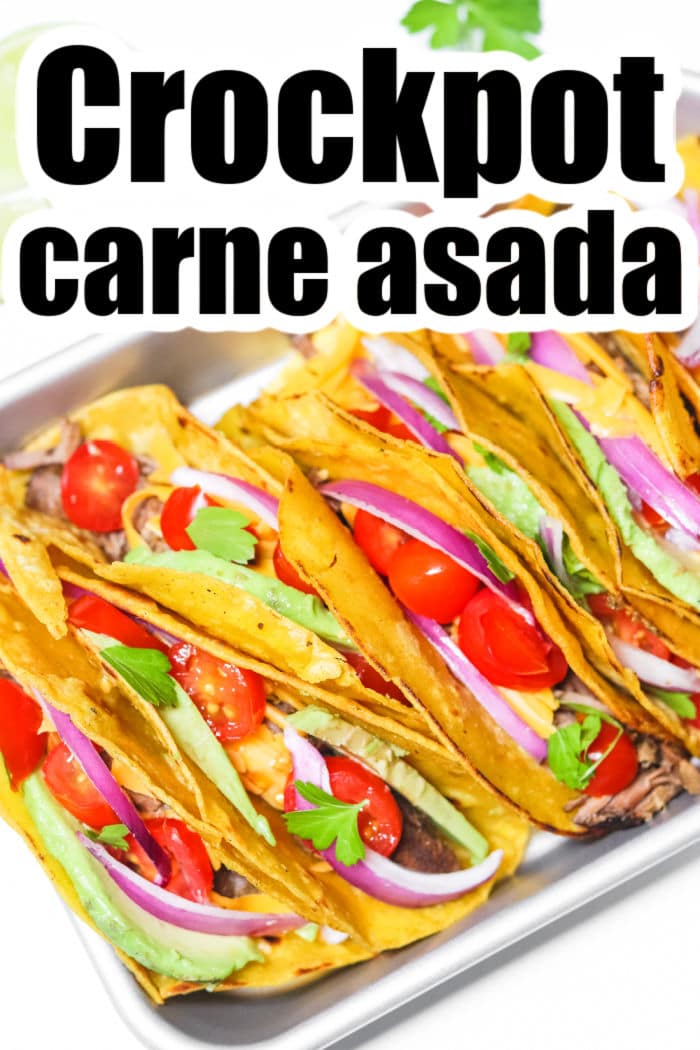 This carne asada Crock Pot recipe is simple and delicious with a dry rub that is bold. Comes out tender to slice and serve this steak inside tacos or alone as a low carb keto dinner idea. One of many easy Crockpot recipes we have on The Typical Mom website. (affiliate links present)
Slow Cooker Flank Steak
Yes you could use a variety of different pieces of beef to make this but this is the most common. With out yearly buy of a cow each year we get a few. First we made air fryer flank steak that was delicious. To get it really really tender though you need low and slow.
Sooooo we moved on to this one and what killer tacos they made I tell you. Tuesdays will likely scream for this, way better than plain ground beef for sure.
Let's talk a little bit about slow cooking shall we?? First off I have a few different varieties and I love them all. Each one has an occasion to be used like….
This is my favorite 6 quart programmable one with a locking lid so it's great for bringing to a potluck too.
If you just want to serve a few appetizers you should get this one that sit side by side one another.
I prefer not to use liners, but rather just spray olive oil inside before adding my food for easier cleanups.
Let me give you a peek of my pretty thang I bought recently. It goes with my kitchen so I can just leave it out on the countertop all the time. 😉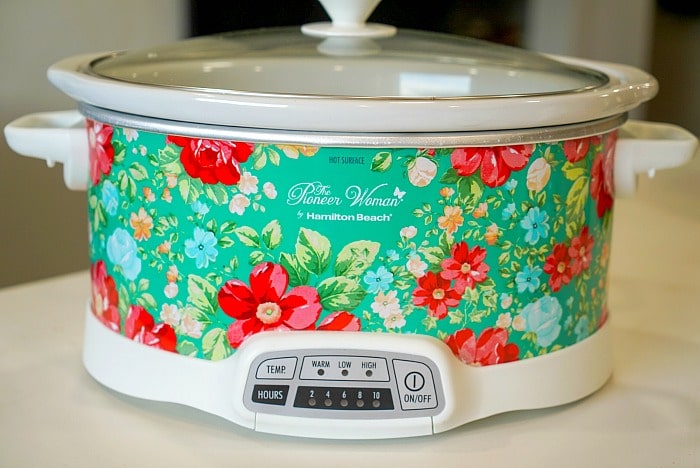 Carne Asada Crock Pot Recipe
You can use the best fajita marinade here or use our newest creation for bold flavors below. The best I think is a combination of a dry rub with a little bit of liquid which in this case is olive oil and fresh lime juice. That really boosts all of the goodness in the meat and the citrus will naturally tenderize your meat.
This is what you're going to need;
Piece of beef, flank steak is best, skirt steak is another cut of meat people like using
Smoked Paprika
Garlic
Oregano
Red pepper flakes, more or less depending on your heat desire

chili powder can be substituted

Salt and pepper
Olive oil
Orange juice or lime juiced
From there you would want to gather whatever you're serving this with or in. Small tortillas for tacos maybe or just over a bed of white rice.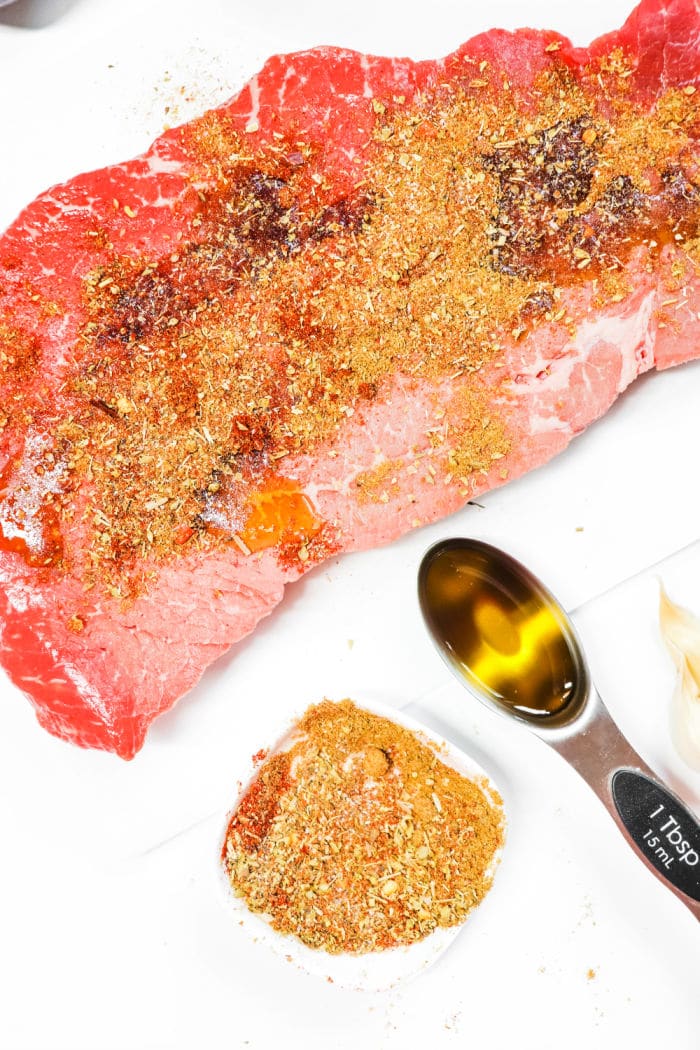 Does citrus help tenderize meat?
Yep! Not only does it add great flavor but it will naturally break down the fibers in the meat you're cooking so it cuts easier. Lemon or lime works, orange too I suppose but I tend to use the first two most often especially with Mexican recipes like this one.
Worried there isn't enough liquid to cook this, don't be. As it cooks, just as if you cooked it in a pan there will be juices let out on it's own. Those will mix with the seasonings on the outside so it will simmer and steam in all those wonderful flavors for hours and hours.
This is the case too when making Instant Pot steak. Sometimes people freak out and don't want to try it because the "rule" is that you need at least 1 cup of liquid but believe me when it is done there will be fluid at the bottom of the pot. You can discard this or better yet use a bit of cornstarch slurry on the stovetop to thicken it into an onion gravy.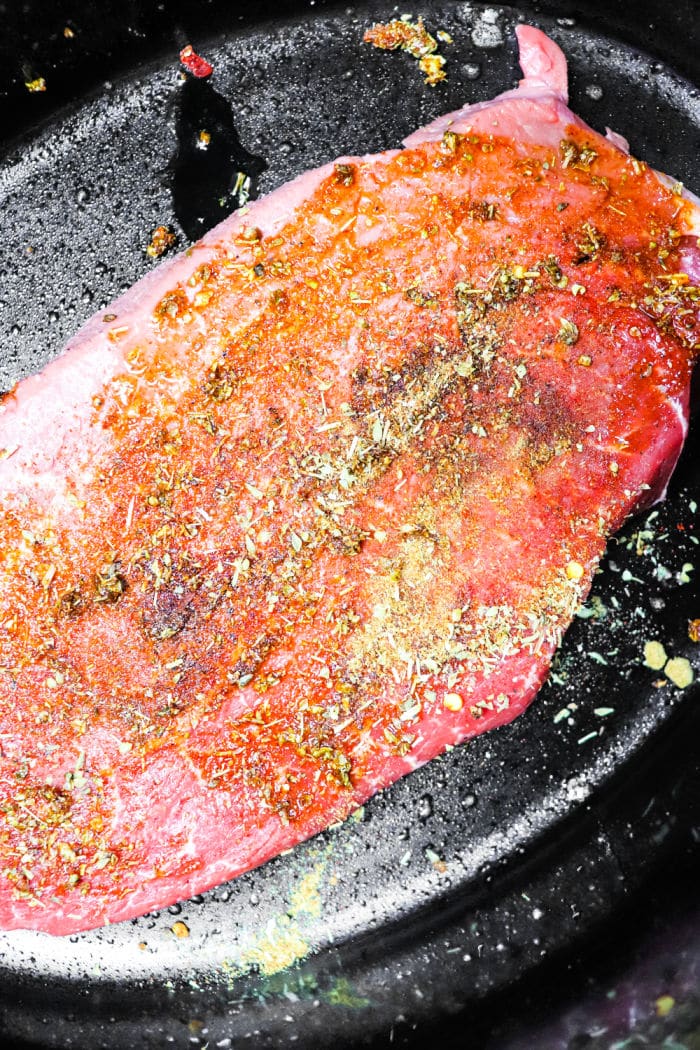 How to Make Carne Asada Tacos
Follow the directions below and then make a sort of toppings bar for taco night with your family or guests. You can include so many fun things for this. I mean the list goes on and on but here are just some that come to mind;
What to serve with carne asada
Avocado slices or guacamole for sure
Diced raw onions
Chopped cabbage or lettuce
Halved cherry tomatoes
Sour cream
We do the same thing when making our Instant Pot chili verde too, that recipe is made with pork and should be tried too.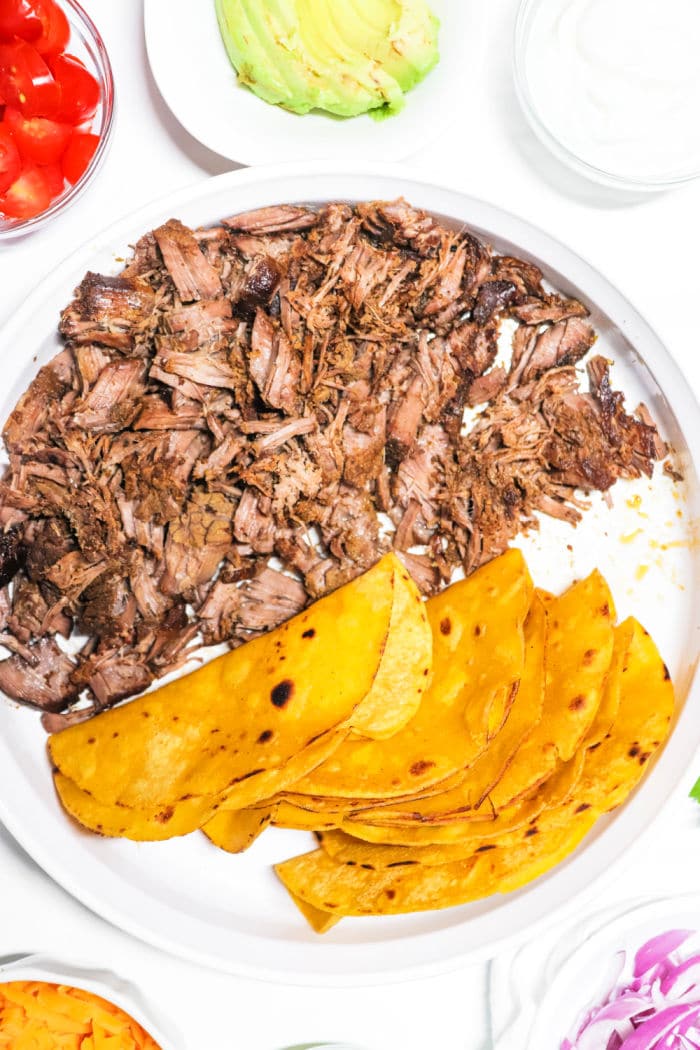 Crockpot Beef Recipe
Mix all of the dry seasonings together. Coat steak all over with olive oil and sprinkle the seasonings on top.
Lay the meat in your slow cooker and sprinkle minced garlic on top. Then squeeze lime juiced on top and cover.
Cook for about 7-8 hours on low or until meat is as done as you'd like.

If you want shredded beef cook a bit longer so it pulls apart easily with 2 forks.
When shredding the meat if it is still tough it may be thicker and need more time

After slicing your slow cooker carne, or shredding, leave meat in drippings in the pot as you serve so it can get soaked up.
Serve from the slow cook pot as steak tacos as you see here. Crockpot carne asada is super easy as you just dump and go in the morning and enjoy it when you're home after a busy day out.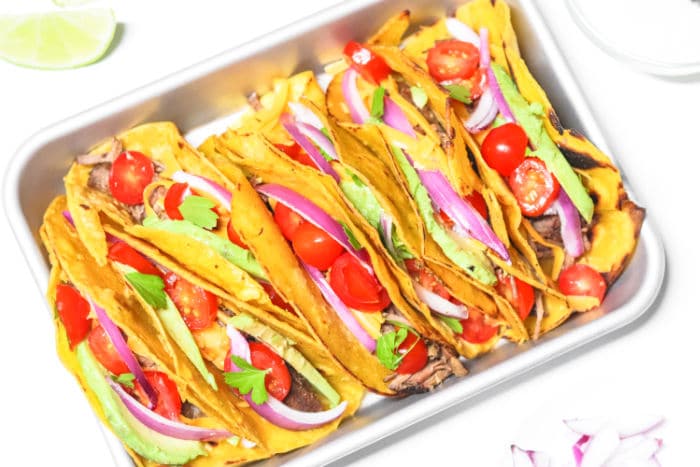 Slow Cooker Carne Asada
How to save leftover beef – You want to keep it moist so include as much sauce as you can in your container. Do not put it into the fridge to save until it is room temperature. From hot to cold may cause bacteria to grow so give it a good 30 minutes to cool off first. Airtight containers or freezer bags are the best to use.
Only slice what you will eat immediately and leave the rest of the piece whole, it will stay more moist that way as it cools. When reheating use a pan on the stovetop with all the liquid you saved. Warm on medium heat, could add a bit of soy sauce for moisture if needed.
You can print recipe below to keep it in your recipe box or just come back time and time again when you need instructions, we love "seeing you". A low in saturated fat and gluten free meal that everyone in your home will surely love and ask for more.
Want to see a few of my favorite things that I am totally obsessed with or visit my Etsy shop?? Take a peek and see how many you might already have…twinsies!
Looking for more easy family recipes and tips? LIKE The Typical Mom Facebook page?
Then sign up for my free newsletter, and follow me on Pinterest! 😉
***** If you LOVED this recipe give it 5 Stars below and let everyone know what you thought about it. 😉
Carne Asada Crock Pot
Instructions
Mix all dry seasonings together in a bowl. Coat steak all over with olive oil and sprinkle seasonings on top to coat.

Lay meat in slow cooker and sprinkle minced garlic on top. Then squeeze lime on top and cover.

Cook for 7-8 hours on low or until meat is as done as you'd like. If you want shredded beef cook a bit longer so it pulls apart easily with 2 forks.

After slicing or shredding leave meat in drippings in the pot as you serve so it can get soaked up.
Nutrition Facts
Carne Asada Crock Pot
Amount Per Serving (2 oz)
Calories 244
Calories from Fat 81
% Daily Value*
Fat 9g14%
Cholesterol 102mg34%
Sodium 529mg23%
Potassium 612mg17%
Carbohydrates 2g1%
Protein 37g74%
Vitamin A 161IU3%
Vitamin C 2mg2%
Calcium 53mg5%
Iron 3mg17%
* Percent Daily Values are based on a 2000 calorie diet.