Sweet Baby Ray's Slow Cooker bbq meatballs appetizer with pineapple is great. A cheap treat using Crockpot frozen meatballs or homemade. Serve on Hawaiian rolls as sliders or with toothpicks for a bite size finger food with guests for a party food.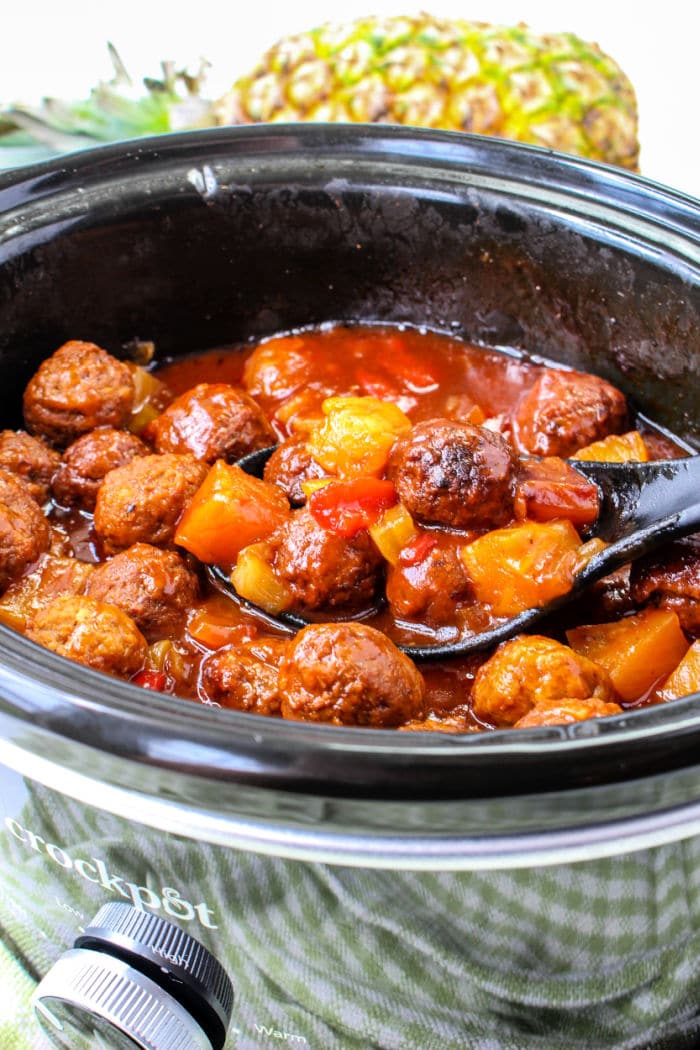 Ok so you don't have to be throwing a party for Christmas to serve slow cooker bbq meatballs, they make a fun dinner too. That is right, you can serve these over a bed of rice or as sliders for fun finger foods your kids will love. Just one easy Crockpot meals on our site. (affiliate links present)
Crockpot BBQ Meatballs
You literally could make these with just 2 ingredients if you wanted to. I mean a few more makes them better and better but the base remains the same. Choose your favorite barbecue sauce and a bag of your favorite brand of meat already formed and there you go.
I buy these babies in bulk at Costco because they're so versatile. This is just one way of how to cook frozen meatballs right at home, we will share others along the way. Read on folks. 😉
FIRST – You should sign up for my free newsletter so you get new posts emailed to you twice a week and never miss out on anything! Let's talk a little bit about slow cooking shall we?? First off I have a few different varieties and I love them all. Each one has an occasion to be used like….
This is my favorite 6 quart programmable one with a locking lid so it's great for bringing to a potluck too.
If you just want to serve a few appetizers you should get this one that sit side by side one another.
I prefer not to use liners, but rather just spray olive oil inside before adding my food for easier cleanups.
Let me give you a peek of my pretty thang I bought recently. It goes with my kitchen so I can just leave it out on the countertop all the time. 😉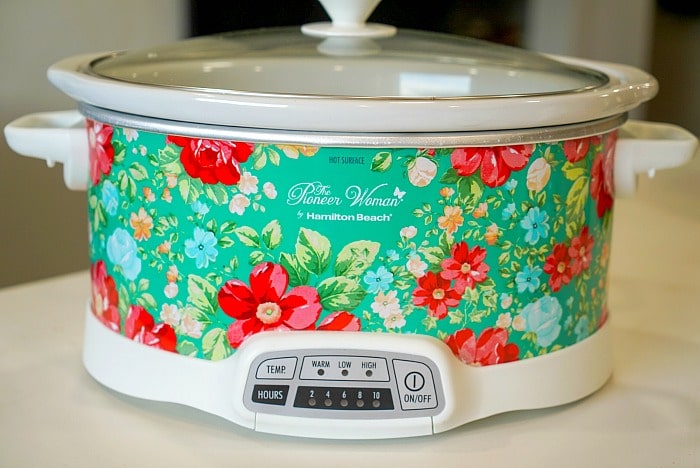 BBQ Meatballs Slow Cooker
You can see here what all we added. Sweet Baby Rays is not only delicious, has a few varieties, but is also usually the cheapest brand out there. I mean win all the way around y'all. Pineapple chunks or tidbits work the same, one is just a bit larger than the other.
Beyond that you can chop up any color peppers and onions you like. They will all cook down and get nice and tender with everything else kinda' like our slow cooker meatballs and gravy dish.
Crockpot BBQ Meatballs Recipe
Bag of meatballs still frozen

to speed up this process you could make this as Instant Pot frozen meatballs

Can of pineapple for sweetness
Jar of your favorite sauce, you could even use teriyaki sauce for beef instead as a second choice
Peppers and onions are a great addition
If serving as a starter have some toothpicks on the side to grab one at a time.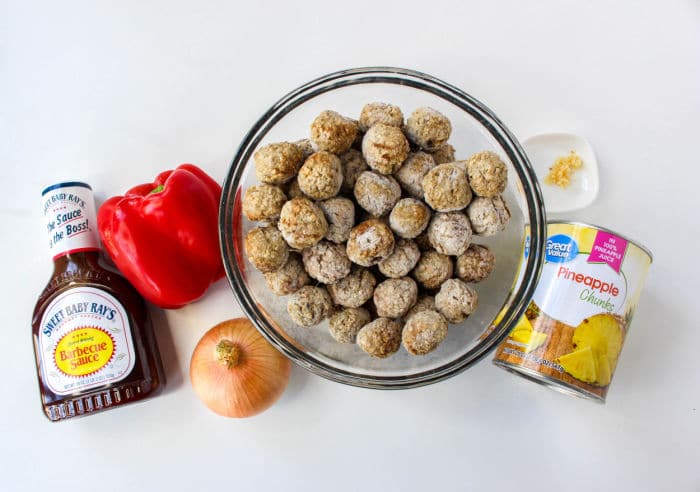 Sweet Baby Ray's BBQ Meatballs Crockpot
You can use your favorite brand of bbq sauces of course. It's easy to doctor whatever you use from there too. If you want it a bit spicy but still sweet then a bit of sriracha and/or red pepper flakes will hype it up just fine.
Should I brown my meatballs before putting in slow cooker?
Nope, no need for that. If you did thaw and brown ahead of time you would want to decrease the cook time or else they will get too done and start to dry out. Instead it is better if you throw in frozen meatballs right from the get go.
As always I do not recommend to cook on high ever, low is always better. If you wanted it done faster I would just make it in a pressure cooker. You only need 4 hours on low as is so that is rather quick and the perfect appetizer if you ask me.
Slow Cooker Barbecue Meatballs
Now only is this great served right out of the Crock pot with toothpicks as a Game day appetizer but it's a family favorite atop a bed of mashed potatoes or rice too.
Dump all ingredients into slow cooker, stir together so meat is coated with sauce. Close lid.
Slow cooker on low for at least 4 hours until meat is tender, but could go as long as 6 if needed. Serve as an appetizer or meal over Ninja Foodi rice.
Like I said you can follow these same instructions with a variety of other sauces. You could make a batch of these, one with Panda express sweet and sour sauce and another pot with a mixture of chili sauce and a jar of grape jelly.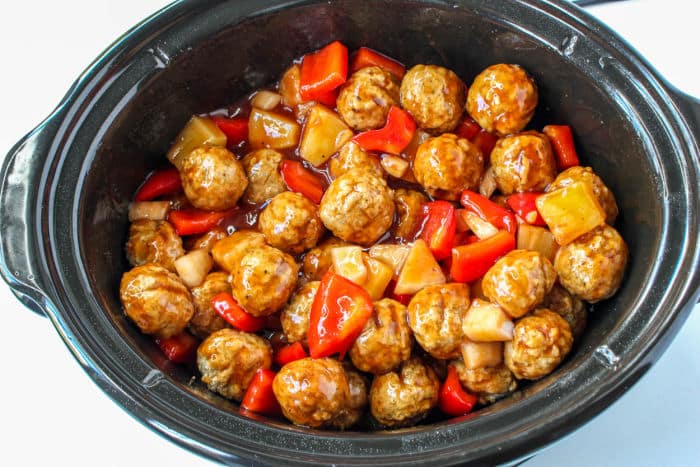 Just whisk up your favorite blend in a medium bowl, toss with your meat in the pot and try a new version. If it is a hit let us know what you created so we can give it a go the next time we have company over too. If you're in need of a gluten free version just make sure the bag you choose says GF, I have seen some.
Homemade meatballs can be made too but you'd need to either freeze them ahead of time, precooked, or brown. Reason being is that those would kinda' fall apart if you don't sear the outsides before tossing into the sauce(s).
What Goes Good with BBQ Meatballs
You can make kabobs tossed with our Homemade Honey BBQ Sauce and vegetables. Served over rice or on slider buns turns this into more of a meal. If you chopped them up a bit you could fill baked potatoes with them too, I mean think outside of the box with this one.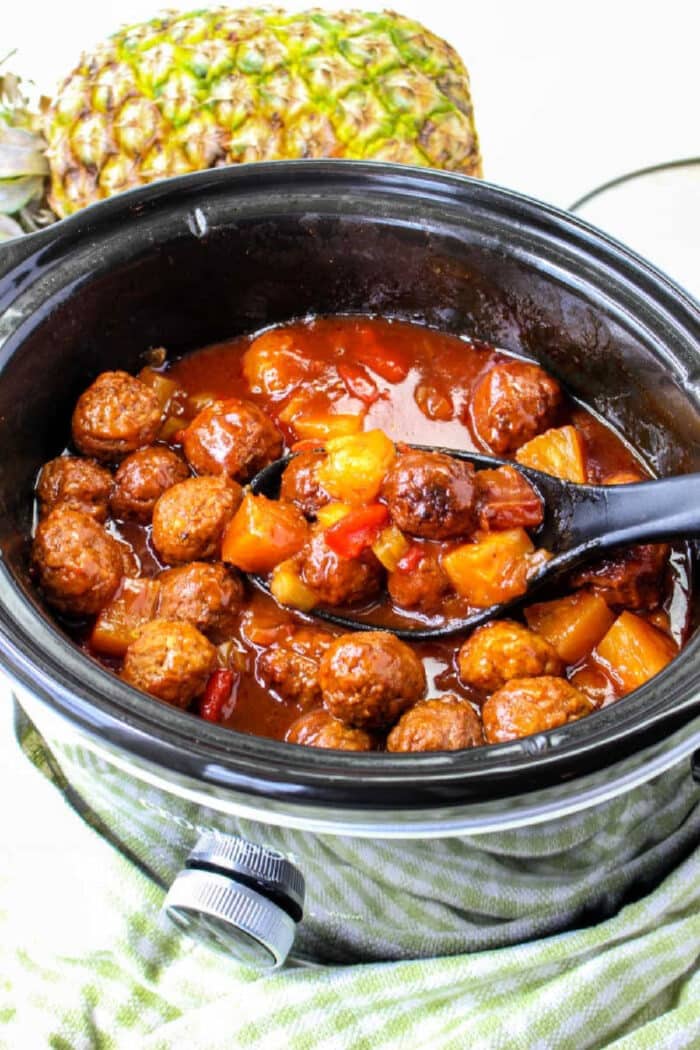 There is nutrition information listed below but it isn't super accurate because you'd need to refer to the brand and bag you chose. What is listed in the below recipe card is generally around what you would find with these 2 basic ingredients though. Jump to recipe and give it a go yourself.
Can you freeze leftover bbq meatballs
Since they are already sauced it is kinda' messy to do this but it is possible. Easiest is to just store in a sealed container in the fridge and reheat within 48 hours. If you won't eat them at that point you can set on a baking sheet with a bit of space between them. Slide this tray into your freezer for a few hours.
Once they are firm and hard, pour them into a freezer bag, seal shut and suck all of the remaining air out. Store in your freezer for up to 2 months. When you're ready to enjoy them again take out the # you want and put into a bowl to thaw in the fridge. Then add a bit more sauce and microwave for 2 minutes to reheat.
Thrown in the middle of a hoagie roll is a great way to serve leftovers with a bit more sauce and a slice of mozzarella cheese melted on the top of that. Oh yum y'all.
Want to see a few of my favorite things that I am totally obsessed with?? Take a peek and see how many you might already have…twinsies!
Looking for more easy family recipes and tips? LIKE The Typical Mom Facebook page?
Then sign up for my free newsletter, and follow me on Pinterest! 😉
***** If you LOVED this recipe give it 5 Stars below and let everyone know what you thought about it. 😉
Slow Cooker BBQ Meatballs
Sweet Baby Ray's Slow Cooker bbq meatballs appetizer with pineapple is great. A cheap treat using frozen meatballs or homemade.
Instructions
Dump all ingredients into slow cooker, stir together so meat is coated with sauce. Close lid.

Slow cooker on low for at least 4 hours until meat is tender, but could go as long as 6 if needed. Serve as an appetizer or meal over rice.
Nutrition Facts
Slow Cooker BBQ Meatballs
Amount Per Serving (1 oz)
Calories 307
Calories from Fat 144
% Daily Value*
Fat 16g25%
Cholesterol 54mg18%
Sodium 482mg21%
Potassium 409mg12%
Carbohydrates 26g9%
Protein 14g28%
Vitamin A 435IU9%
Vitamin C 19mg23%
Calcium 35mg4%
Iron 1mg6%
* Percent Daily Values are based on a 2000 calorie diet.