Slow cooker steel cut oats are great to make for a crowd during the holidays or on the weekend for your family. A tasty healthy breakfast is on it's way.
Have you ever made a batch of slow cooker steel cut oats before? If you love oatmeal for breakfast, this is something you must try! It's one of our favorite easy crockpot recipes here on The Typical Mom blog.
Ready for a hearty start to the day that is healthy and even great for your cholesterol??!! You've gotta' try a bowl of this in the morning.
BUT when we want to have breakfast for dinner, or I am making a few things for Christmas brunch, a larger batch is needed. Cooking steel cut oats are easy and better for you. They have a great texture to it too. A great way to start the day.
This is what it looks like. Yes it is different looking than what you might be used to. If you've only used old fashioned or quick oats to make cookies, you might be scratching your head.
What's the difference between oats and steel cut oats?
Steel cut and rolled oats are worlds apart in taste and texture.
Rolled oats easily absorb liquid whereby holding their shape, becoming pliable and slightly mushy.
However, steel cut oats absorb less liquid during their cooking time, leaving them with a firmer texture and a slightly nutty taste.

They do look like GrapeNuts don't they???
This is what you need to make slow cooker steel cut oats
Water
Salt
Brown sugar
Half and half
Cinnamon
You could add raisins too if you wanted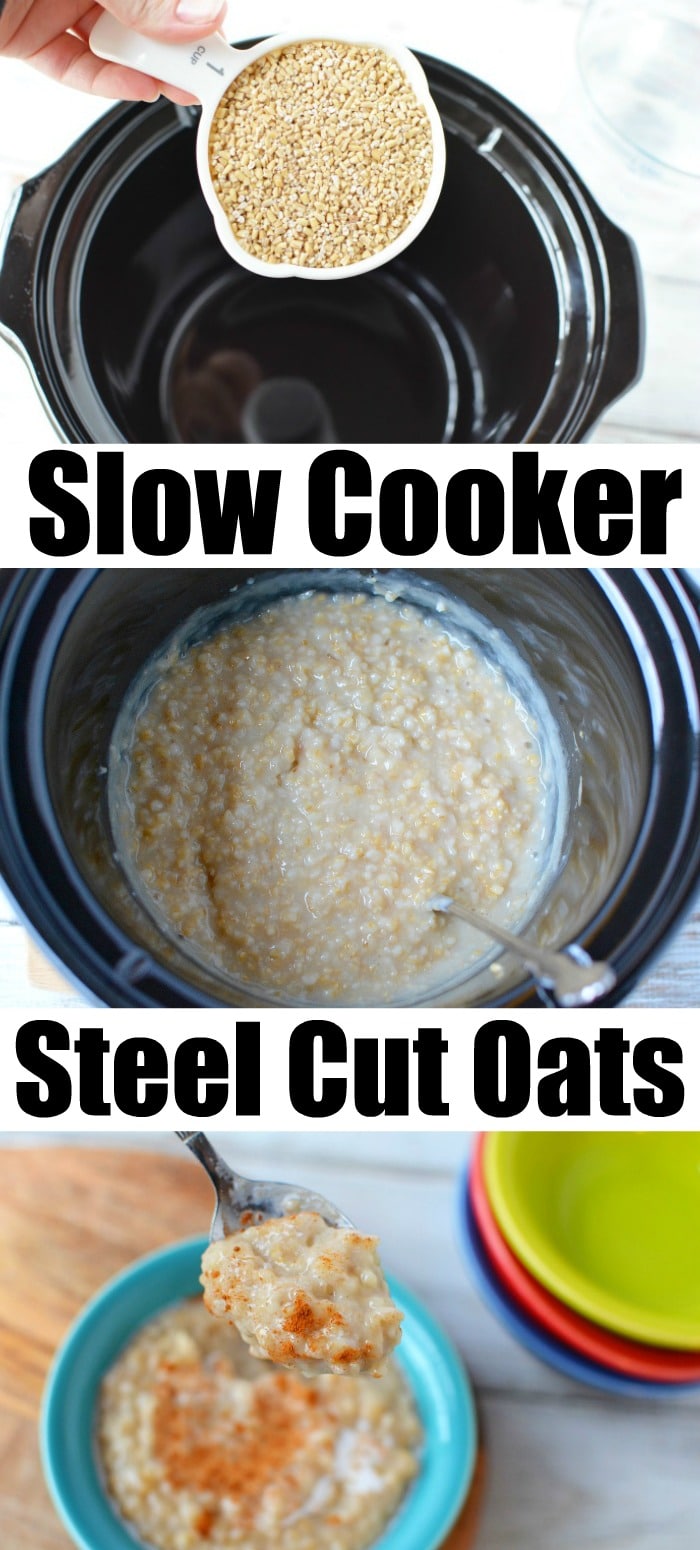 Are steel cut oats better for lowering cholesterol?
Studies show that just 5-10 grams of this fiber can lower your total and "bad" cholesterol. This type of oats have the lowest glycemic index because they're processed the least. This is why I was turned on to them.
I was on a quest to find natural "remedies" to my high cholesterol, that runs in my family, and fiber was high on the list. I wondered what I should eat for breakfast to lower my cholesterol:

this steel cut oatmeal was an easy way to do it, in a tasty way too!
What to put in oatmeal to make it taste better:
Real fruit – buy what is in season
Honey or brown sugar – duh
Some like to add milk, coconut milk, soy milk or almond milk instead of water
Cinnamon and/or nutmeg
Drizzle maple syrup on top or some inside while cooking
1/2 cup mini chocolate chips on top of the whole batch
Shredded sweetened coconut
You know what is a fun way to serve oatmeal if you're serving a large crowd for a get together or potluck?
Make an oatmeal bar! Make a large batch this way, or on the stovetop and have small bowls of toppings next to it with a stack of bowls and spoons. Then let everyone make their own perfect bowlful!
How do you add protein to oatmeal?
If the recipe calls to make in your Crock pot with milk or almond milk instead of cups of water
Add protein powder during the cooking process or when served
1/4 cup flax seed is tasteless really but adds protein and fiber
Nut butter can be stirred in or squeezed on top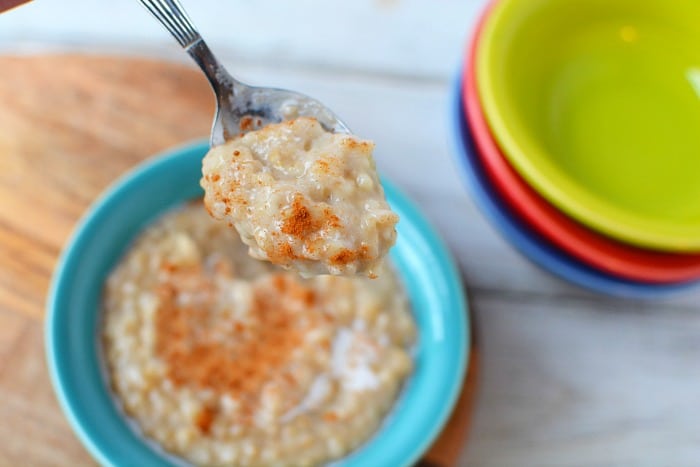 Tip: use a bit of coconut oil or olive oil cooking spray inside of the pot to prevent sticking before you add your ingredients. Cover and cook on low vs. high heat, it comes out more tender.
We have also made a quick batch of Instant Pot oatmeal before and that's great. Of course, instant oats work for a quick on the go morning too.
Either way you just can't go wrong with these. I love raisins and brown sugar on top but maple syrup is great for an added bit of natural sweetness.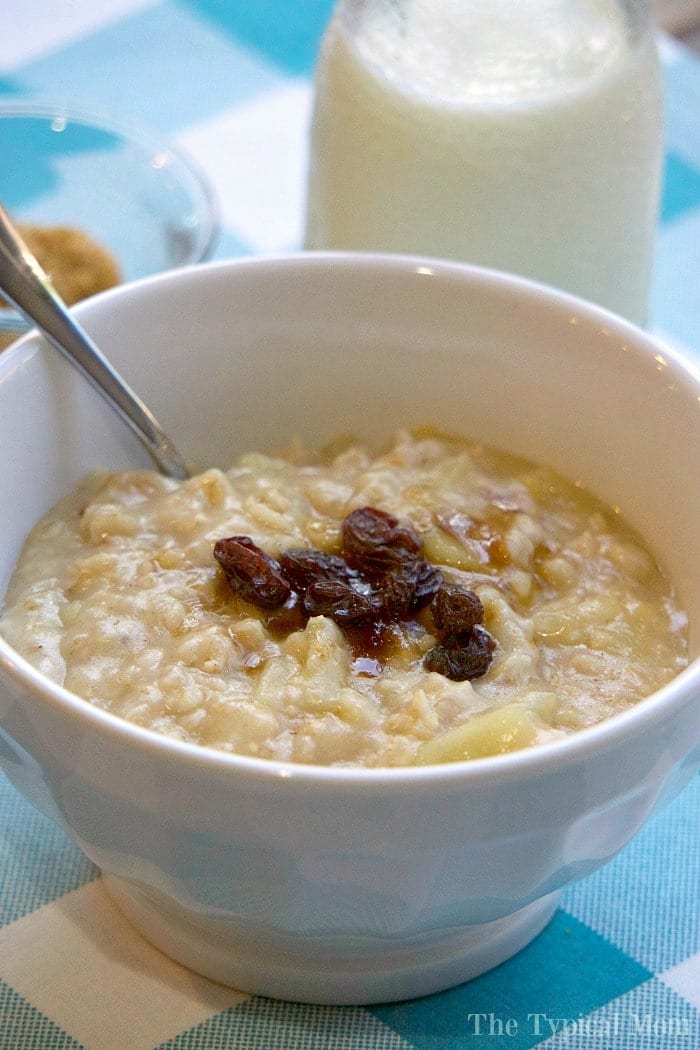 Want to try chocolate oatmeal? We've got a great option for that too using almond milk. It could be served as a dessert this way with sliced fresh strawberries on top.
If you've never tried a version like this I encourage you to do so. 😉
Looking for more easy slow cooker recipes?
Crockpot ham and beans is great for dinner using dry beans from scratch.
This slow cooker cheesy chicken and rice is amazing.
Then make some Crockpot cake
Slow Cooker Steel Cut Oats
Slow cooker steel cut oats are great to make for a crowd during the holidays or on the weekend for your family. A tasty healthy breakfast is on it's way.
Instructions
Add oats, water and salt into slow cooker. Mix together.

Cover and heat on low for 7-8 hours until oats are as tender as you'd like them to be.

Lift lid and stir. Stir in brown sugar and half and half, stir again. Serve with cinnamon sprinkled on top and more half and half on top too if desired.
Nutrition Facts
Slow Cooker Steel Cut Oats
Amount Per Serving (3 oz)
Calories 151
Calories from Fat 27
% Daily Value*
Fat 3g5%
Cholesterol 4mg1%
Sodium 112mg5%
Potassium 25mg1%
Carbohydrates 27g9%
Protein 5g10%
Vitamin A 36IU1%
Calcium 37mg4%
Iron 1mg6%
* Percent Daily Values are based on a 2000 calorie diet.