Slow cooker steel cut oats are great to make for a crowd during the holidays or on the weekend for your family. A tasty healthy breakfast you can enjoy with fruit, honey or milk. If you have only eaten oatmeal in the mornings you are in for a real treat here.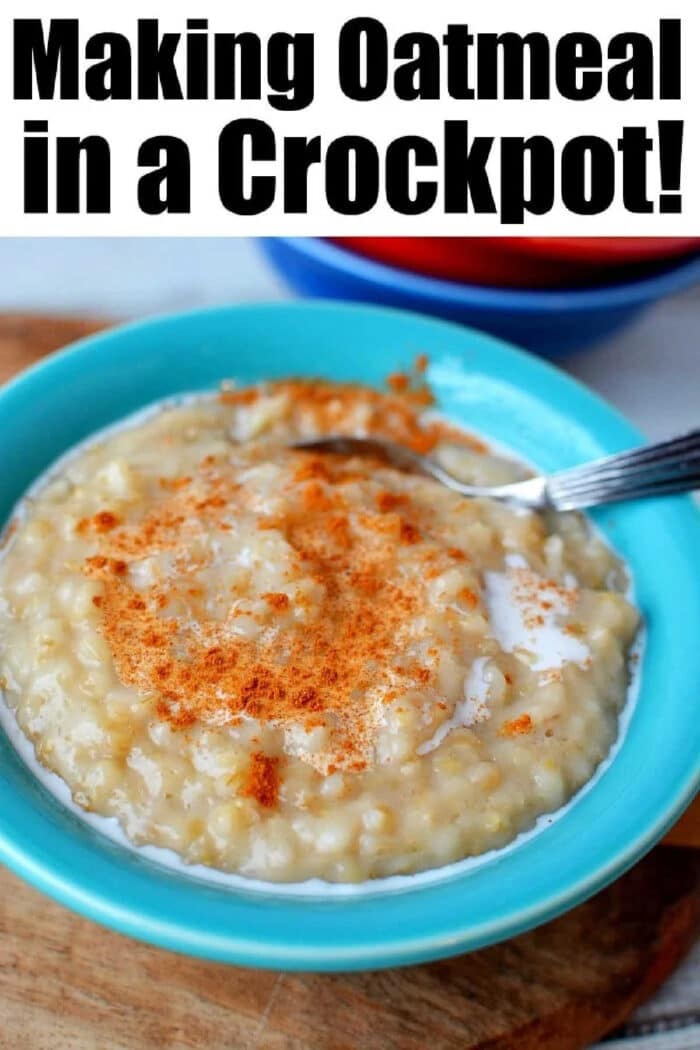 Have you ever made a batch of slow cooker steel cut oats before? If you love oatmeal for breakfast, this is something you must try! It's one of our favorite easy crockpot recipes here on The Typical Mom blog. (affiliate links present, originally published 1/21)
Crockpot Steel Cut Oatmeal
Ready for a hearty start to the day that is healthy and even great for your cholesterol??!! You've gotta' try a bowl of this in the morning. If you haven't messed around with all the different types of oats there are a few and each one is different in a variety of ways. Old Fashioned oats in Crockpot is just the start.
The quicker they cook the less nutritional value they offer, point blank. Another difference is the texture for sure. With quick oats they become mushier so if you like a little texture left in your bite this is the type you're going to want to cook. There is a lot more natural flavor in this variety too.
FIRST – You should sign up for my free newsletter so you get new posts emailed to you twice a week and never miss out on anything! Let's talk a little bit about slow cooking shall we?? First off I have a few different varieties and I love them all. Each one has an occasion to be used like….
This is my favorite 6 quart programmable one with a locking lid so it's great for bringing to a potluck too.
If you just want to serve a few appetizers you should get this one that sit side by side one another.
I prefer not to use liners, but rather just spray olive oil inside before adding my food for easier cleanups.
Let me give you a peek of my pretty thang I bought recently. It goes with my kitchen so I can just leave it out on the countertop all the time. 😉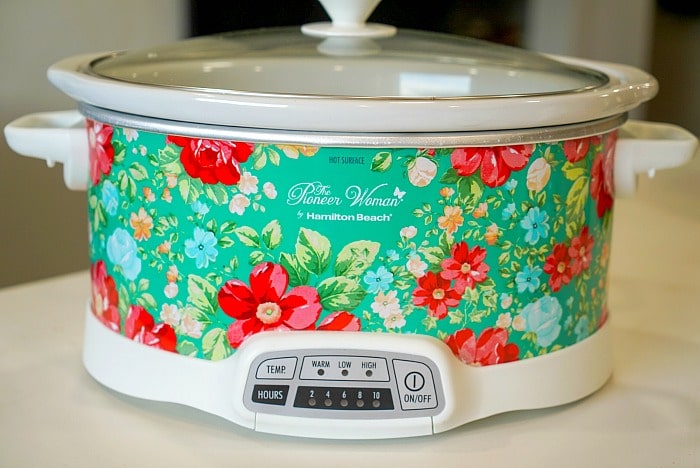 Quaker Steel Cut Oats Slow Cooker
BUT when we want to have breakfast for dinner, or I am making a few things for Christmas brunch, a larger batch is needed. Cooking steel cut oats are easy and better for you. They have a great texture to it too. A great way to start the day.
If you have never used this it may scare you, it kinda' did for me at the beginning. Like my mom always just bought the quick kind, that has the least nutrients for you. With those all of the outside hull is stripped away so it cooks faster and gets tender really fast.
With this type all of that fiber rich goodness is still in tact which means it will really help scrub the inside of your vessels and great to lower cholesterol. You may not be looking for the health benefits, but rather like a littler more texture to your dish which is an added plus as well.
Slow cooker steel cut oats
This is what the grains looks like. Yes it is different looking than what you might be used to. If you've only used old fashioned or quick oats to make cookies, you might be scratching your head.
Steel cut oats of course is what we are using
Water or some liquid, you could even use apple juice for more flavor
Salt, just a bit is good to create a little savory
Brown sugar is there for sweetness of course, there are sugar free options out there too
Half and half or whole milk for creaminess
Cinnamon is optional but needed in our house for sure
You could add raisins too if you wanted, the list of add ins goes on and on…
What's the difference between oats and steel cut oats?
Steel cut and rolled oats are worlds apart in taste and texture. Let me give you just a quick rundown. If you're just over it and want to get going you can click jump to recipe at the top of the screen y'all;
Rolled oats easily absorb liquid whereby holding their shape, becoming pliable and slightly mushy.
However, steel cut oats absorb less liquid during their cooking time, leaving them with a firmer texture and a slightly nutty taste.

They do look like GrapeNuts don't they???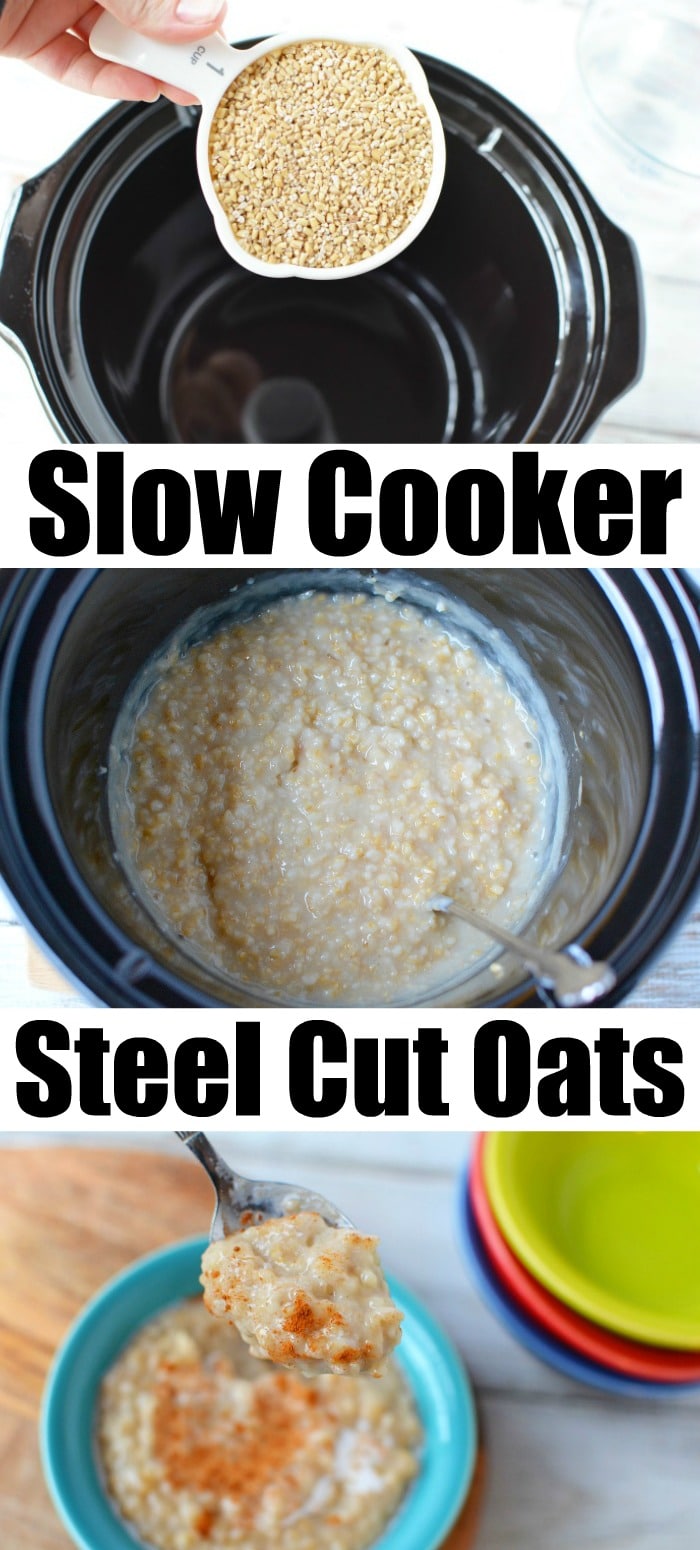 Are steel cut oats better for lowering cholesterol?
Studies show that just 5-10 grams of this fiber can lower your total and "bad" cholesterol. This type of oats have the lowest glycemic index because they're processed the least. This is why I was turned on to them.
I was on a quest to find natural "remedies" to my high cholesterol, that runs in my family, and fiber was high on the list. I wondered what I should eat for breakfast to lower my cholesterol:

this steel cut oatmeal was an easy way to do it, in a tasty way too!
What to put in oatmeal to make it taste better
Real fruit – buy what is in season
Honey or brown sugar – duh
Some like to add milk, coconut milk, soy milk or almond milk instead of water
Cinnamon and/or nutmeg
Drizzle maple syrup on top or some inside while cooking
1/2 cup mini chocolate chips on top of the whole batch
Shredded sweetened coconut is kinda' a nice add in as well as dried cranberries like Craisins if I can find those on sale.
You know what is a fun way to serve oatmeal if you're serving a large crowd for a get together or potluck? Make an oatmeal bar! Make a large batch this way, or on the stovetop and have small bowls of toppings next to it with a stack of bowls and spoons. Then let everyone make their own perfect bowlful!
For the kiddos to make them really happy I would even offer more sweets. I mean candy isn't really a breakfast thing but if it is a holiday all rules are off if you ask me. Choose things like chocolate covered raisins or Nerds are fun teeny tiny candies that pack a punch of different flavors.
How do you add protein to oatmeal?
If the recipe calls to make in your Crock pot with milk or almond milk instead of cups of water
Add protein powder during the cooking process or when served
1/4 cup flax seed is tasteless really but adds protein and fiber
Nut butter can be stirred in or squeezed on top for some added flavor too. That will oomph it up meaning it adds a bit extra creaminess to the dish, protein, and some heart healthy oils too.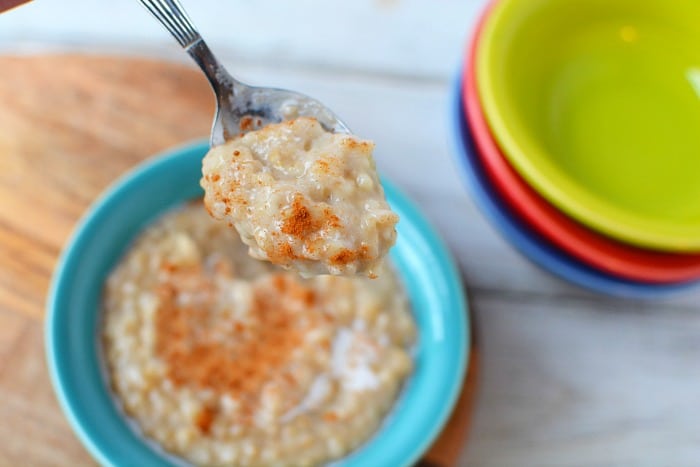 Slow Cooker Oatmeal
Tip: use a bit of coconut oil or olive oil cooking spray inside of the pot to prevent sticking before you add your ingredients. Cover and cook on low vs. high heat, it comes out more tender.
We have also made a quick batch of simple overnight oats for breakfast. That uses different oatmeal typically so it gets really tender in the fridge and fruit on the top is a must.
Another variety is to make baked peach oatmeal in the oven, that one is really great. Of course, instant oats work for a quick on the go morning too in the microwave.
Either way you just can't go wrong with these. I love raisins and brown sugar on top but maple syrup is great for an added bit of natural sweetness. My husband insists on some vanilla almond milk on top which makes it creamy and thins it out a bit, mine has to be really thick.
Everyone has their way of musts so let everyone alter their own bowl when it is done and just have fun with it y'all!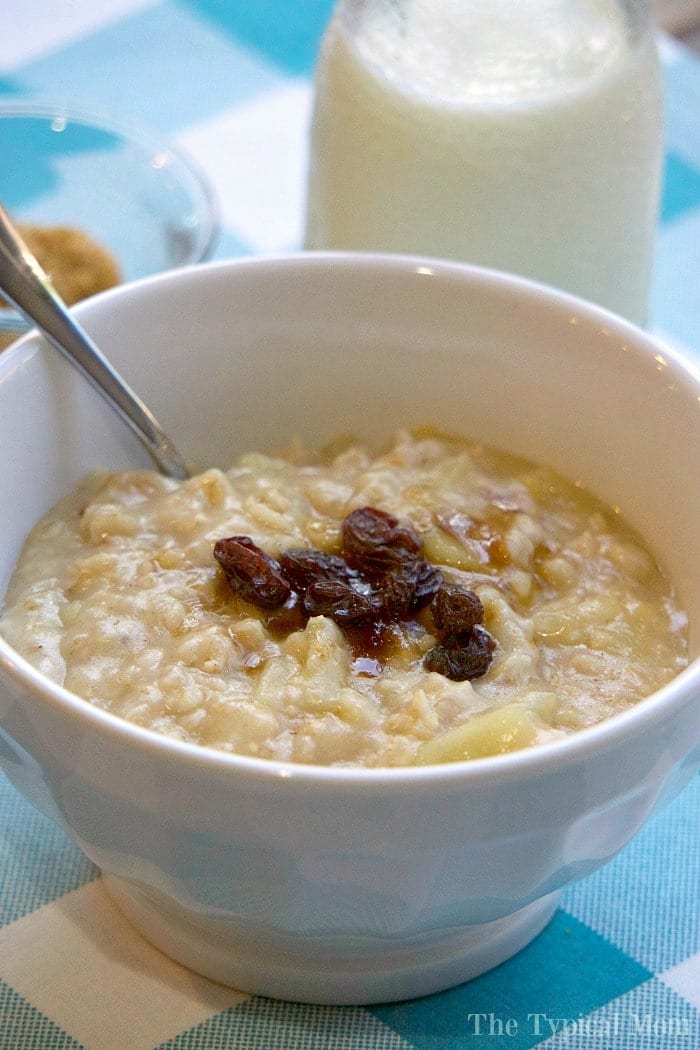 Want to try chocolate oatmeal? We've got a great option for that too using almond milk. It could be served as a dessert this way with sliced fresh strawberries on top.
If you've never tried a version like this I encourage you to do so. 😉 Looking for more easy slow cooker recipes?
Crockpot ham and beans is great for dinner using dry beans from scratch.
This slow cooker cheesy chicken and rice is amazing.
Then make some Crockpot cake
Want to see a few of my favorite things that I am totally obsessed with?? Take a peek and see how many you might already have…twinsies!
Looking for more easy family recipes and tips? LIKE The Typical Mom Facebook page?
Then sign up for my free newsletter, and follow me on Pinterest! 😉
***** If you LOVED this recipe give it 5 Stars below and let everyone know what you thought about it. 😉
Slow Cooker Steel Cut Oats
Slow cooker steel cut oats are great to make for a crowd during the holidays or on the weekend for your family. A tasty healthy breakfast is on it's way.
Instructions
Add oats, water and salt into slow cooker. Mix together.

Cover and heat on low for 7-8 hours until oats are as tender as you'd like them to be.

Lift lid and stir. Stir in brown sugar and half and half, stir again. Serve with cinnamon sprinkled on top and more half and half on top too if desired.
Nutrition Facts
Slow Cooker Steel Cut Oats
Amount Per Serving (3 oz)
Calories 151
Calories from Fat 27
% Daily Value*
Fat 3g5%
Cholesterol 4mg1%
Sodium 112mg5%
Potassium 25mg1%
Carbohydrates 27g9%
Protein 5g10%
Vitamin A 36IU1%
Calcium 37mg4%
Iron 1mg6%
* Percent Daily Values are based on a 2000 calorie diet.