Simple overnight oats you can top with anything you'd like. Try blueberry, peanut butter, chocolate or banana! Chia seeds are great with almond milk too.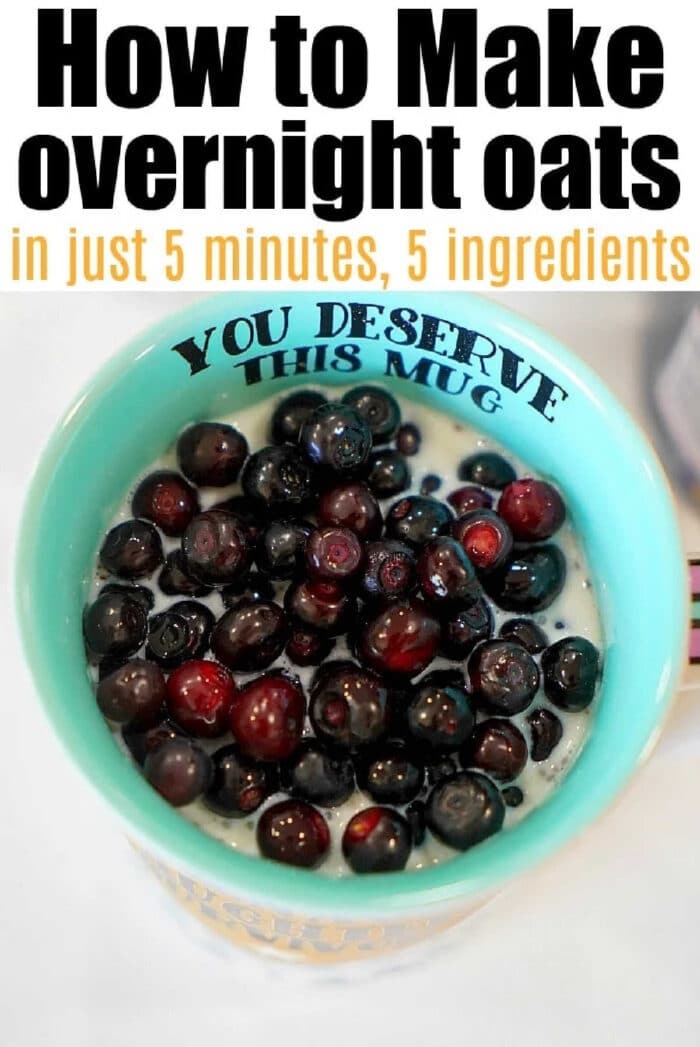 This simple overnight oats with yogurt recipe is super versatile! Add berries or protein powder to this base for a ton of varieties. A nutritious breakfast with fiber you'll love. (affiliate links present, originally published 8/20)
Dairy Free Overnight Oats
My husband is lactose intolerant so I get it. You can definitely use coconut, almond, plant based alternatives or cashew milk instead. Silk has a really great vanilla yogurt you can use for this as well. I have tried it and it is excellent.
Overnight Oats with Yogurt
You can choose any flavor you like with this. Greek is thicker which will help stiffen the overall consistency. If you have to use dairy free Silk yogurt that works too it will just be a bit looser overal.
What are overnight oats?
This term may be new to you. It is really a complete start to the day with rolled oats combined with milk and yogurt. Instead of boiling, your oatmeal soaks up the liquid over night in the fridge, allowing ingredients to hydrate that way.
Basic ingredients are oats, milk, yogurt and chia seeds.
The rest is up to you and you can swap out to create dairy free too.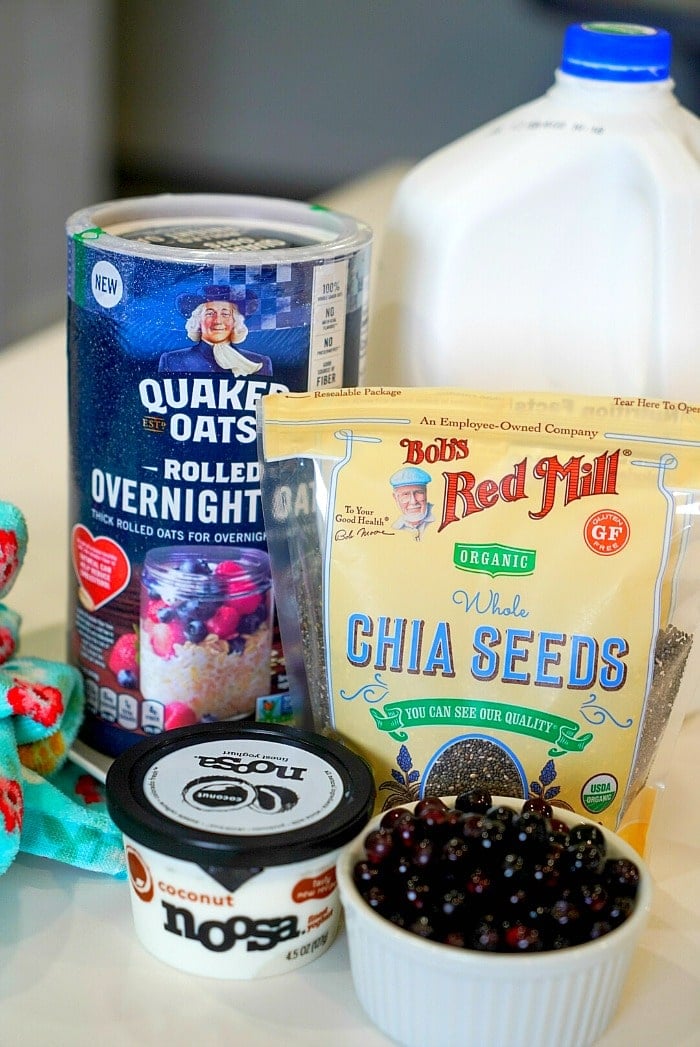 Are overnight oats healthy?
Oats have a lot of nutritional qualities. They're high in fiber, which is linked to lowering cholesterol and improving overall heart health.
Do you eat overnight oats cold?
Generally, eating cold is the preferred method. Of course if you'd rather have it warmed up you could certainly do so in the microwave.

I would transfer to a room temp. dish and heat in 30 second intervals stirring in between times.
Do overnight oats have to be in a glass jar?
Not really. I mean if I have clean 16 oz. mason jars with lids I prefer to use that. BUT often times I will use a large mug instead, no problem.
How do you make overnight oats taste better?
It's kinda' all about the mix ins right?? I love fresh berries on top but other ideas are: almond butter, cashew butter, chocolate chips, pumpkin butter, sunflower seed butter or peanut butter mixed in!
Overnight Oats with Milk
There is a lot of flexibility when it comes to the yogurt and milk you mix in too. Want a vegan oats dish? Use almond milk and/or yogurt made with coconut milk if you want. This is my favorite mix in!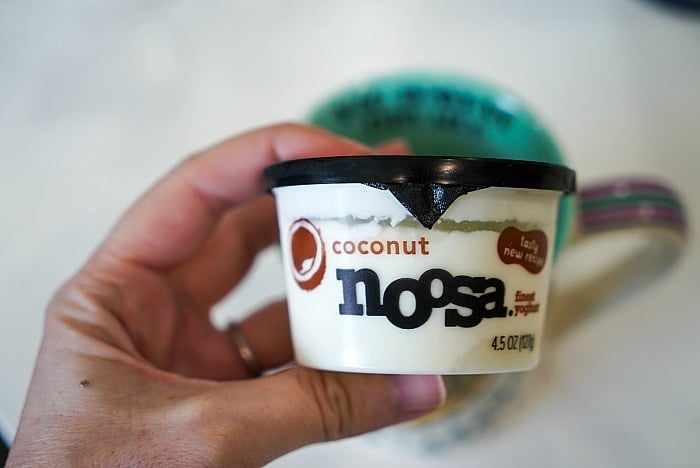 Overnight Oats with Yogurt
Greek yogurt is where it's at. It's thick with a ton more flavor than low fat varieties. Coconut yoghurt seriously goes well with any other flavors I have added in or on.
I found that these 4.5 oz. containers are perfect to add into 1 serving. Mix, take 1 bite and there you have the 1/2 cup you need. Of course if you are making these for your family you'd need to triple or quadruple the recipe.
Each one below will feed 1-2 people depending on how hungry they are.
The great thing about these when you have different taste buds in your house is you can really personalize each one.
I mean a handful of fresh diced berries is an easy choice. Summertime is best because there are SO many choices then. You could defrost frozen berries too but as always, fresh is always best.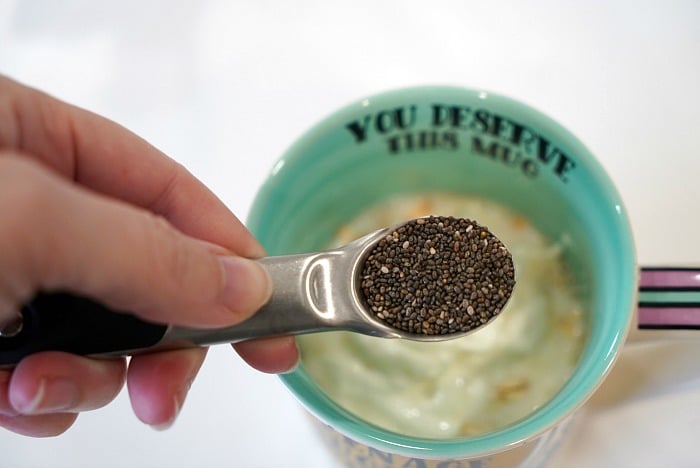 Healthy Overnight oats recipe
There is a printable recipe card at the bottom but this is a quick step by step for you.
Pour in your oats, then milk, yogurt, and chia seeds. Stir these together.
Top with berries, nuts, raisins or chocolate chips. You could instead incorporate items like peanut butter into the mix and/or on top.
Put containers into fridge to refrigerate overnight ideally. You could make them in the morning and enjoy in the evening if you wanted.
Which oats are best for overnight oats?
Old Fashioned rolled oats are the easiest and best to use
Alternatively I found this one that is specifically for this dish

I don't think it is necessary to buy this one but if you can find it, they worked quite well

DO NOT use quick oats or else you'll create a sort of mush overnight oats (some do prefer that texture though I suppose, so have at it if you do)
Steel cut oats aren't a good choice either.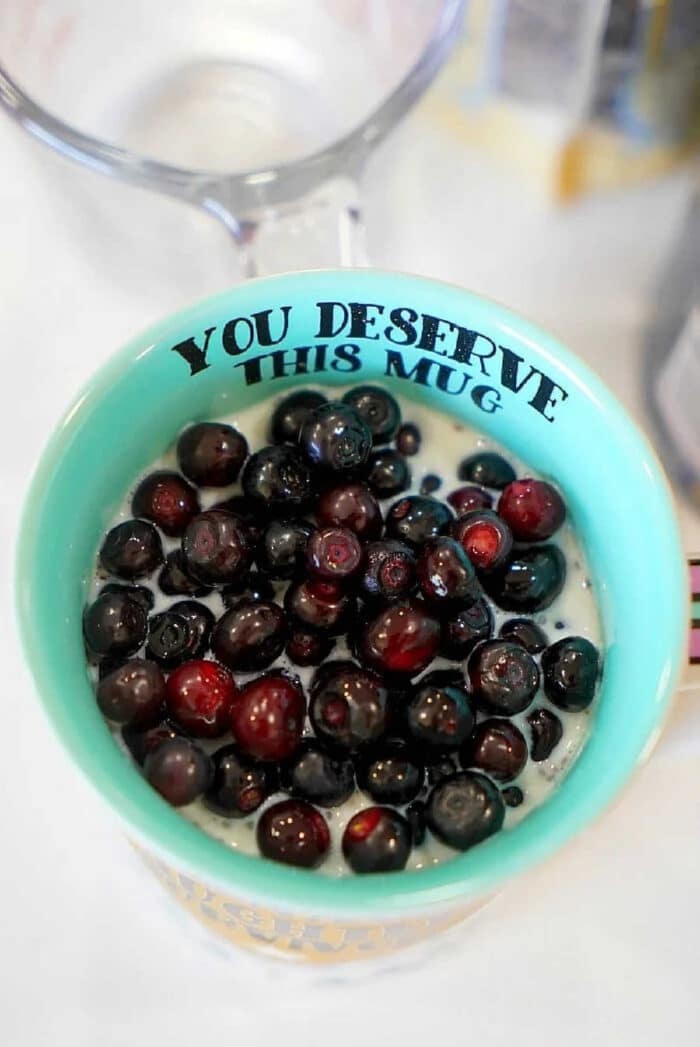 Overnight oats toppings
I mean use your imagination. Any and all diced up dried fruits are great if you are making this on the go on vacations, or;
Blueberries with a touch of vanilla extract
Banana slices
Sliced peaches or pears
1/2 c. Raisins and 3 tbsp. brown sugar is another one of our favorites
Blackberries or raspberries
Chocolate chips
Peanut butter is highly recommended, any nut butter out there really
Meal prep is super quick. Less than 5 minutes for each cup is needed. If you want to make 4-6 at a time just set cups up and go down the line. Add each ingredient and you'll be done in no time at all. Printable version of this easy overnight oatmeal recipe is below. Let us know what you love to add into your cups so we can try it too!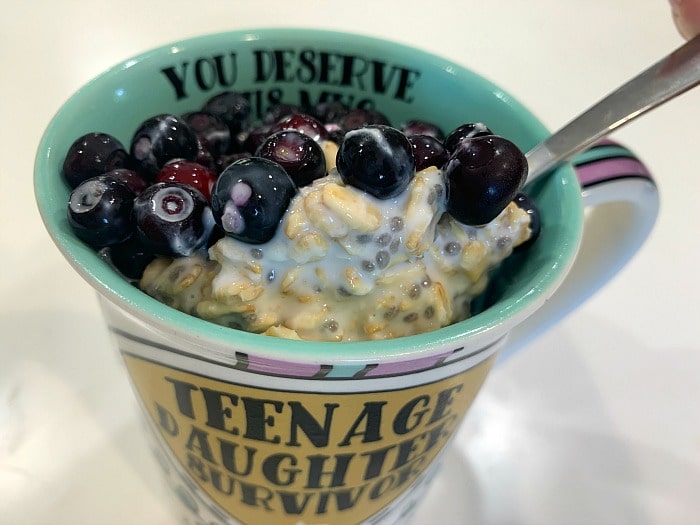 How to Save Leftover Overnight Oats
If you are a texture person this may not be a go for you. It will change over time as it sits in the cold fridge. Thickening you will likely need to mix in a bit of liquid, dairy is best, when enjoying yet again. I would suggest just making portions you know you will eat at a time, fresh, because that is best.
Refrigerate promptly: If you have leftover overnight oats that you want to save, transfer them to an airtight container or jar as soon as possible after serving. Seal the container tightly to prevent air exposure and place it in the refrigerator.
Assess the texture: When you're ready to enjoy the leftovers, take a look at the texture of the oats. Overnight oats tend to absorb liquid and become thicker as they sit, so you may need to adjust the consistency.
Add liquid if needed: If the leftover oats have thickened too much, you can add a splash of milk, water, or your preferred liquid to loosen them up. Start with a small amount and stir well. Add more liquid gradually until you achieve the desired consistency.
Customize the flavor: Overnight oats can be customized with various toppings and flavors. If desired, you can add fresh or dried fruits, nuts, seeds, sweeteners like honey or maple syrup, and spices such as cinnamon or vanilla extract. Mix in these additions to enhance the flavor and texture of the oats.
Serve and enjoy: Once you've adjusted the texture and added any desired flavors, your leftover overnight oats are ready to be enjoyed. You can eat them cold straight from the refrigerator or warm them up in the microwave for a short time if you prefer.
It's important to note that the texture of overnight oats may change slightly after being refrigerated, and they might not be as creamy as when freshly prepared. However, with some adjustments and additions, you can still make them delicious and enjoyable. Make sure to consume the leftovers within a few days for optimal taste and food safety.
Want to see a few of my favorite things that I am totally obsessed with?? Take a peek and see how many you might already have…twinsies!
Looking for more easy family recipes and tips? LIKE The Typical Mom Facebook page?
Then sign up for my free newsletter, and follow me on Pinterest! 😉
***** If you LOVED this recipe give it 5 Stars below and let everyone know what you thought about it. 😉
Simple Overnight Oats
Simple overnight oats you can top with anything you'd like. Try blueberry, peanut butter, chocolate or banana! Chia seeds are great with almond milk too.
Instructions
Pour overnight oats in bottom of your jar or mug. Top that with your milk, then yogurt, then chia seeds and stir.

Top with fresh berries if you'd like and refrigerate overnight.
Nutrition Facts
Simple Overnight Oats
Amount Per Serving (2 oz)
Calories 152
Calories from Fat 45
% Daily Value*
Fat 5g8%
Cholesterol 14mg5%
Sodium 61mg3%
Potassium 281mg8%
Carbohydrates 24g8%
Protein 5g10%
Vitamin A 517IU10%
Vitamin C 3mg4%
Calcium 162mg16%
Iron 1mg6%
* Percent Daily Values are based on a 2000 calorie diet.