Easy slow cooker green bean casserole recipe to serve as an Easter, Thanksgiving or Christmas side dish is here! How to make it the perfect texture with canned or homemade crispy fried onions on top.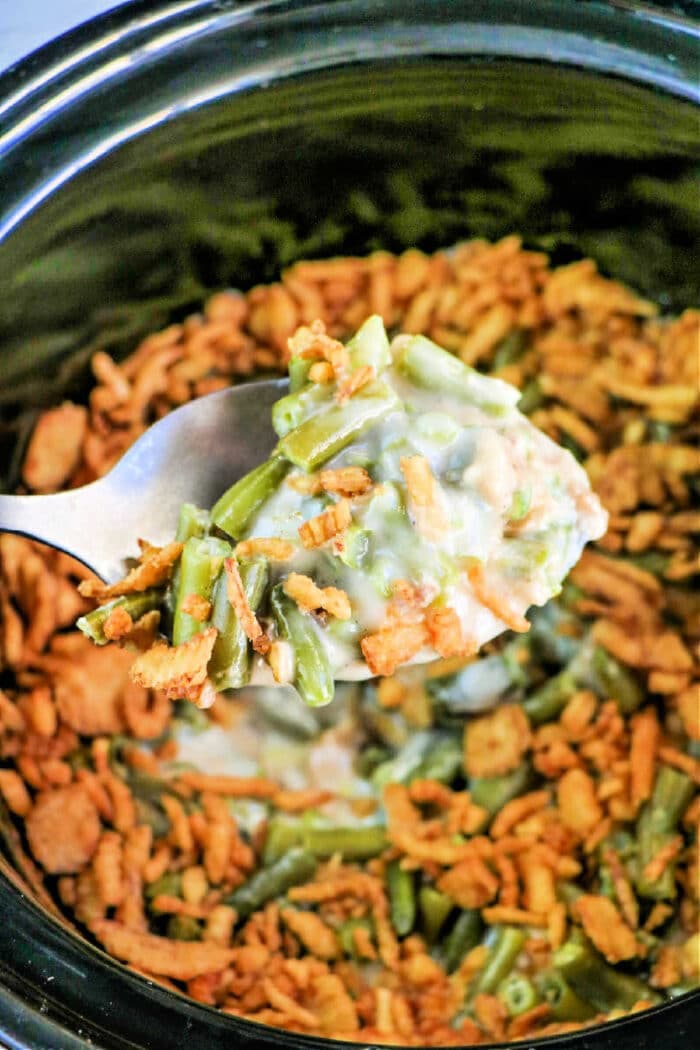 Looking to save room in your oven this holiday season? Try our slow cooker green bean casserole this year. Using frozen vegetables is key to perfection. Try this and many other easy Crock pot recipes on our site. (originally published 10/21, affiliate links present)
Green Bean Casserole in Slow Cooker
We have made this oven baked easy green bean casserole for years and years. I am sure you remember this dish at every holiday. It's probably always been baked in the oven though huh? Well this year should be different.
Easy is the name of the game right? It's a pain rotating all those dishes in your oven and worrying that your Cheesy Green Bean Casserole will get cold. There's just no way of ensuring it all comes out at the same time, and sometimes dinner lasts a long time. We have a solution for that if you use some countertop appliances. Here's how you avoid that.
FIRST – You should sign up for my free newsletter so you get new posts emailed to you twice a week and never miss out on anything! Let's talk a little bit about slow cooking shall we?? First off I have a few different varieties and I love them all. Each one has an occasion to be used like….
This is my favorite 6 quart programmable one with a locking lid so it's great for bringing to a potluck too.
If you just want to serve a few appetizers you should get this one that sit side by side one another.
I prefer not to use liners, but rather just spray olive oil inside before adding my food for easier cleanups.
Let me give you a peek of my pretty thang I bought recently. It goes with my kitchen so I can just leave it out on the countertop all the time. 😉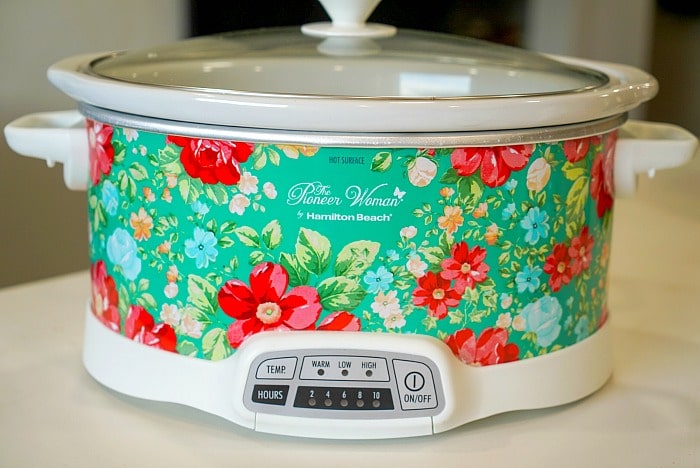 Crockpot Green Bean Casserole
No, there isn't a ton of variation to this dish on the whole. Beyond adding bacon and whether you want to make your own crunchy onions it remains the same. BUT there is a difference when it comes to the beans you use.
For all the varieties I share on The Typical Mom I recommend frozen green beans for sure. The texture holds up so much better. Nobody wants mush next to their slices of slow cooker turkey or Crockpot ham. It is also a cheaper way to go. Get them already cleaned, the ends cut off and sliced in half typically.
We live in a small town too so there aren't always fresh available in the Wintertime so this option is a must. Like I said though even if I had the choice of both I would go with frozen bagged because the texture when it is done is so much better. Trust me and try them this way, then decide for yourself.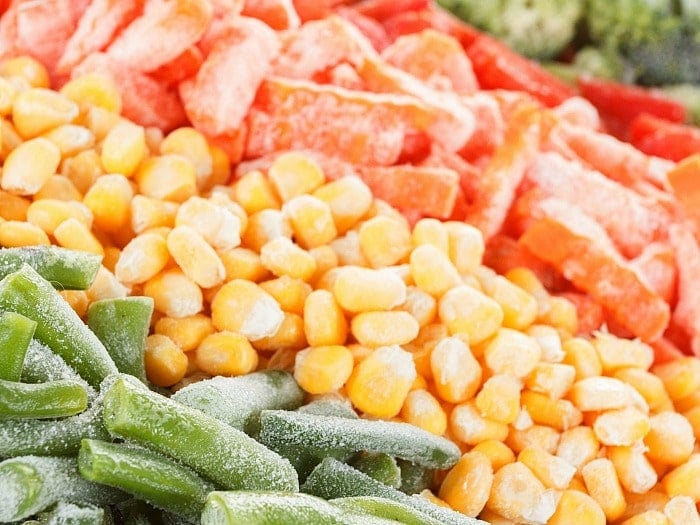 Crockpot Green Bean Casserole with Bacon
Totally opposed to using frozen? Okay, well then grab some fresh in your produce section and use those instead. Just stay away from canned unless you like a REALLY soft texture to your food. This is what was used below:
Fresh or frozen green beans – I prefer the latter
Cream of mushroom soup – cream soups in the can are fine or make it homemade if you prefer
Milk 2% or whole is best to keep it nice and thick
Parmesan cheese may be a bit different than other versions but a great add in for Thanksgiving dinner
Salt and black pepper and any other seasonings that are a must in your book
Use canned or make you can now make your own crispy fried onions. They are amazing if you have the time to make these fresh or the night before.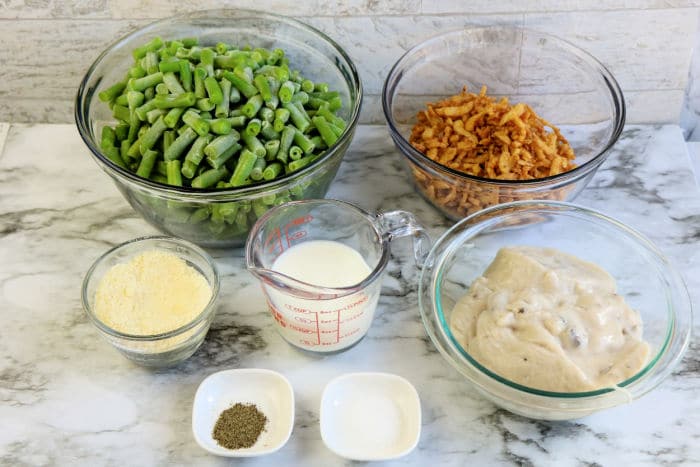 Once you have the ingredients you just throw it all in and stir to coat each piece. Then it's ready for take off. Like the original version "back in the day" you leave most of the crunchies for the top!
The biggest difference for this version is they won't get browned, unless you take out the liner and broil for a few minutes. If you are serving brunch you could just leave a bowl of them on the side for people to top as they like.
Can you mix up green bean casserole the night before?
That would be a hard NO from me. For one thing the beans would no longer be frozen and would soften too much while cooking. Secondly the onions would be icky. It literally takes 5 minutes so just do it the day of.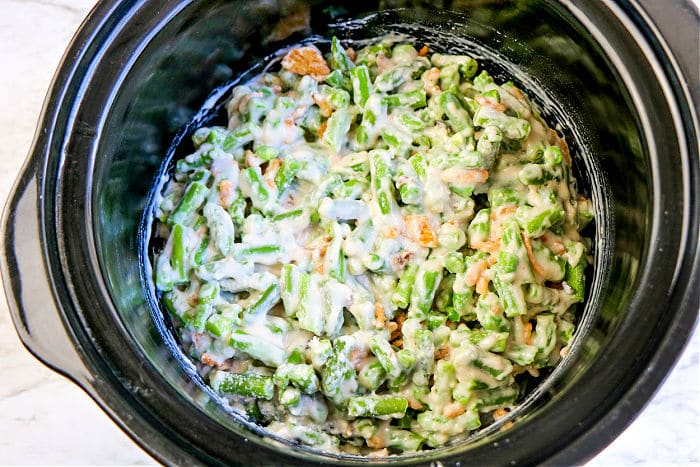 How long does green bean casserole last?
If you do have leftovers you should transfer them (once room temperature) into airtight containers. They will last about 3 days and reheated later to enjoy. Same goes for sweet potato casserole and mashed potatoes. I will say the next day is best for sure. Remember that the texture will change and it will get softer over time.
Does green bean casserole freeze well?
It does. I personally feel like the texture does get altered if you do though. It will last at least 3 months if frozen vs. storing it in your freezer. For reheating you'd need to let it defrost though, then microwave and stir every 30 seconds.
If you know you won't eat what's left in the next 2 days or so I would opt for this option. I like to use smaller containers that are 1 serving size so you can just take out and warm for one meal at a time. It will make them last longer.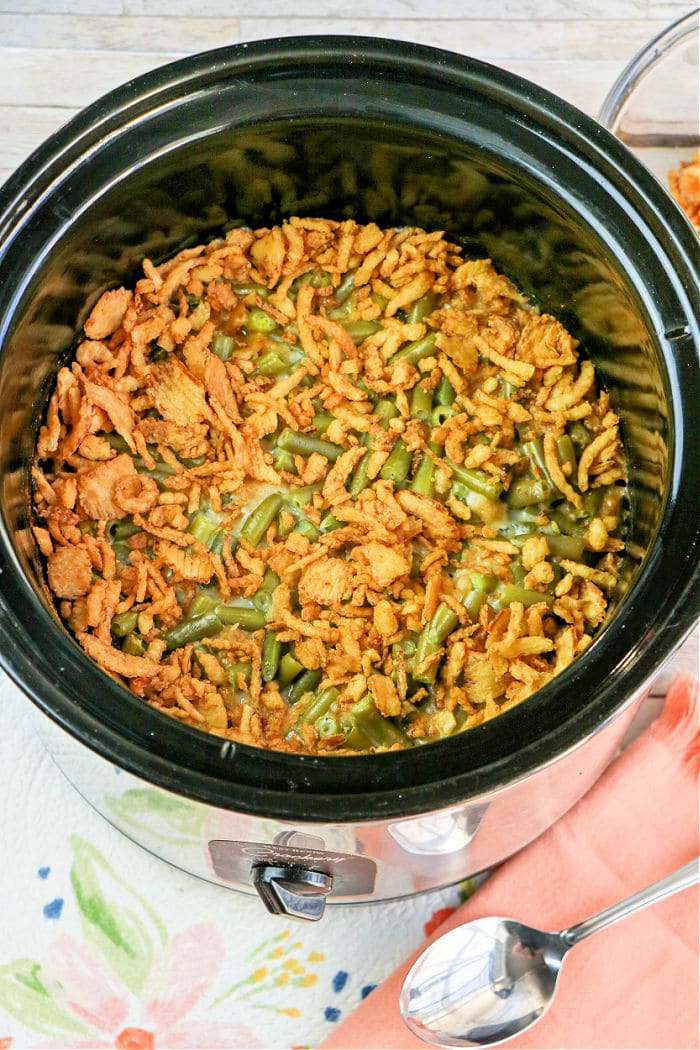 Crockpot Green Bean Casserole with Cream of Mushroom
There is a full list of ingredients with amounts needed below in the printable recipe card. You can adjust with precooked bacon bits, slices of mushrooms or even some red pepper flakes if you want some heat. Below is a quick step by step though so you can get the idea.
Spray inside of slow cooker with non stick spray. Then dump soup, beans, milk, cheese and salt and pepper (could use trimmed fresh green beans if you don't like canned or frozen) inside.
EXCEPT keep 1 cup of your fried crispy onions for the top (so only add 1/2 cup into the mix).
Mix together until combined. Cover and cook on high for 5 – 6 hours cooking time.
Before serving sprinkle the rest of your french fried onions on top of each plate.
We rarely have any of this part of the holiday meal left. In fact I make a double batch because it is my husband's all time favorite thing to enjoy. You will need a larger than a 5 quart pot if you wanted to make more than listed below. There isn't a huge time difference if you do this.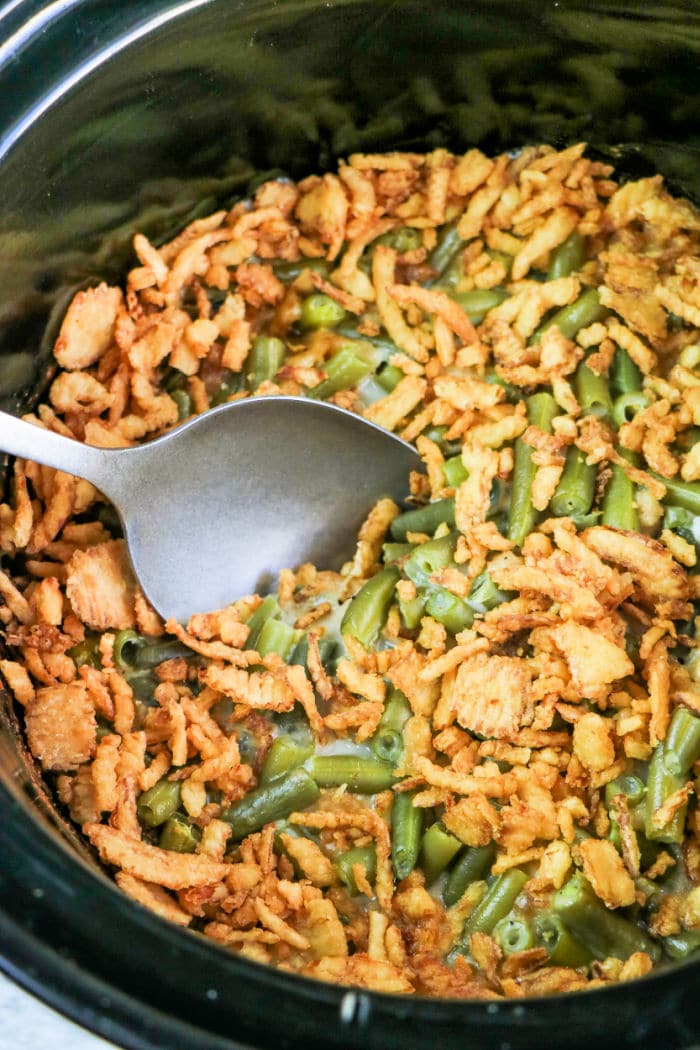 What goes well with green bean casserole?
Main dish Thanksgiving recipes are usually one of two main pieces of protein like;
Easter side dishes are typically the same as Thanksgiving or Christmas but we like to change it up a bit.
Honestly, in 2020 when it was just the 4 of us we made a turkey breast to share with just a bunch of easy side dishes. Those are what we wanted anyway.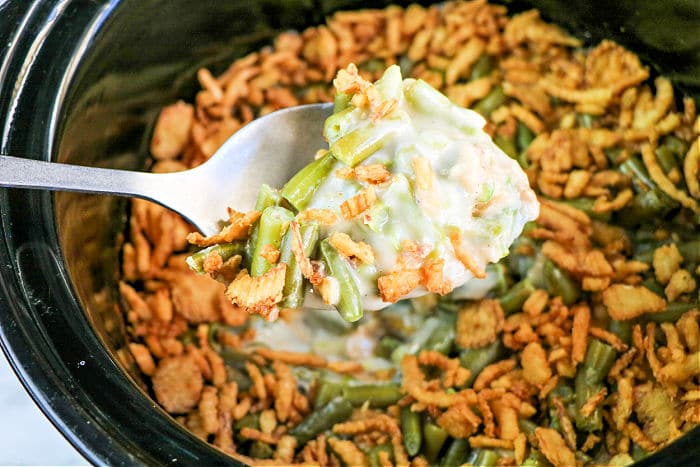 Green Bean Casserole with Bacon
How do you save your leftovers? This actually saves quite well so you can enjoy it the next day. I am sure you will have some meat left so don't get rid of any of this, they go really well together.
Just store in airtight containers or bags in the fridge. Reheat for about 1 minute in the microwave stirring halfway through. You could use an air fryer pot and put some in there too. At 380 for about 6 minutes that will do the trick too. Top with new crispy onions on top for the last minute and it won't be as mushy as without.
Want to make this faster? You can make this into Instant Pot green bean casserole too. If you need it done quickly this may be the answer. If I had a choice I prefer that it cooks low and slow all day in my Crock.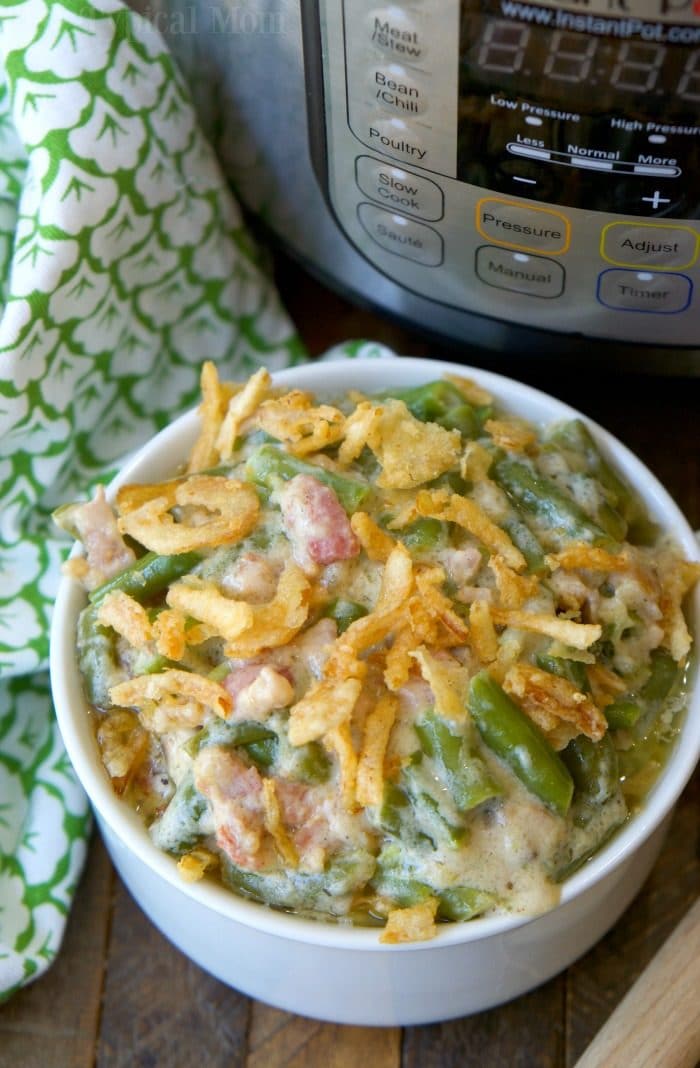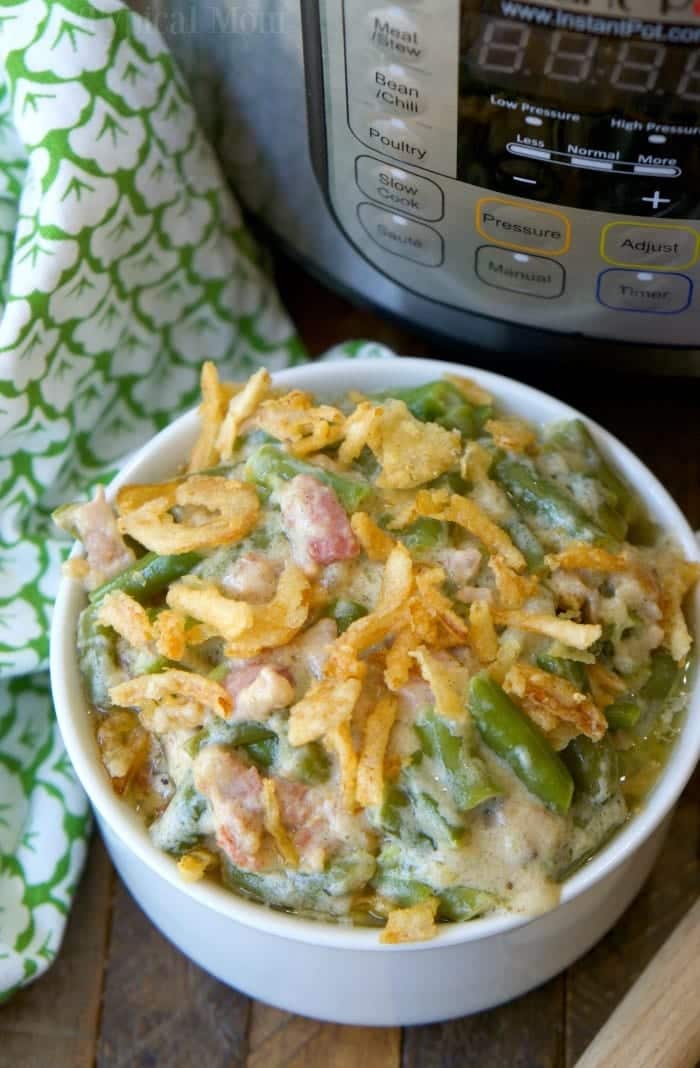 Yes there is a slow cooker function on Instant Pots and other pressure cooker brands but to be honest it doesn't work that well. I am not sure why this is other than the fact that the pot inside isn't as wide but others agree with me too. It's better just to go back to your "old fashioned" porcelain pot.
If you're making this for your family during the holidays, enjoy my friends. I love this time of year so we can all enjoy good food and reminisce on good times in the past.
Want to see a few of my favorite things that I am totally obsessed with?? Take a peek and see how many you might already have…twinsies!
Looking for more easy family recipes and tips? LIKE The Typical Mom Facebook page?
Then sign up for my free newsletter, and follow me on Pinterest! 😉
***** If you LOVED this recipe give it 5 Stars below and let everyone know what you thought about it. 😉
Slow Cooker Green Bean Casserole
Easy slow cooker green bean casserole recipe to serve as an Easter, Thanksgiving or Christmas side dish is here! How to make it perfect.
Instructions
Spray inside of slow cooker with non stick spray. Dump all ingredients inside EXCEPT keep 1 c fried onions for the top (so only add 1/2 cup into the mix).

Mix together until combined. Cover and cook on high for 5 – 6 hours or until tender as you'd like it to be.

Before serving sprinkle remaining french fried onions on top.
Nutrition Facts
Slow Cooker Green Bean Casserole
Amount Per Serving (2 oz)
Calories 155
Calories from Fat 72
% Daily Value*
Fat 8g12%
Cholesterol 10mg3%
Sodium 687mg30%
Potassium 331mg9%
Carbohydrates 15g5%
Protein 7g14%
Vitamin A 782IU16%
Vitamin C 12mg15%
Calcium 94mg9%
Iron 2mg11%
* Percent Daily Values are based on a 2000 calorie diet.