This Crockpot easy creamy tomato soup recipe is perfect for dinner. It only needs a few ingredients and can be made on your stovetop too. Smooth tomato soup packed with flavor and great for chilly days or year round really. Served with a grilled cheese it's sure to be your kids favorite meal too.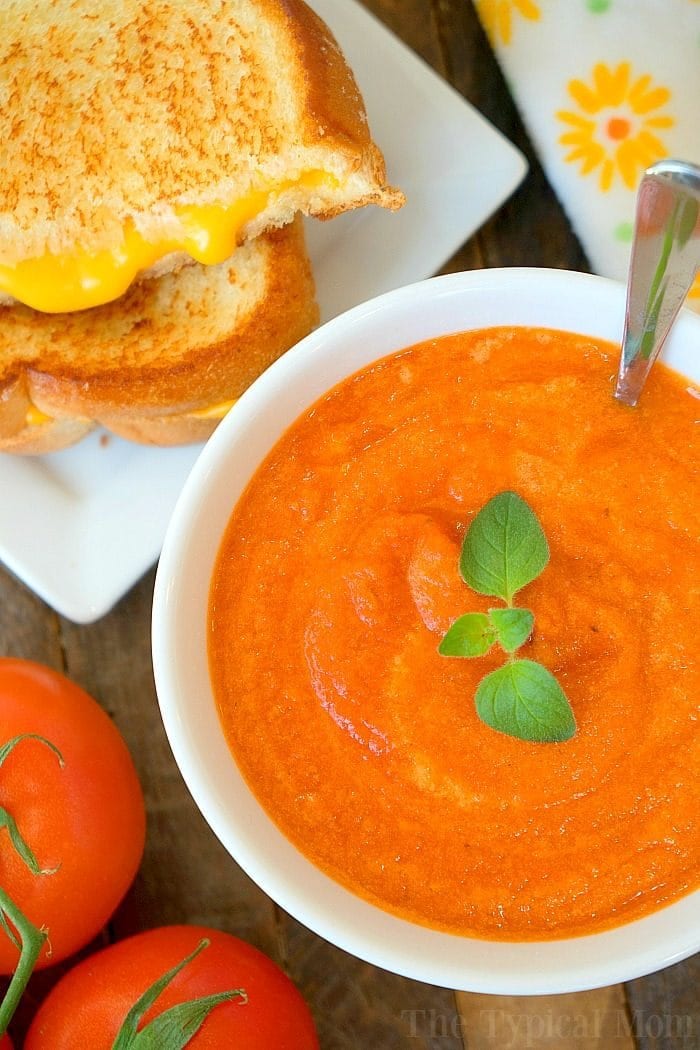 I'm all about simple recipes with just a few ingredients, and I love my slow cooker! That is where this deliciously easy creamy tomato soup comes into play. Your kids will too! 😉 It's one of our favorite easy crockpot recipes. Special thanks goes out to Horizon Organics for sponsoring this post so I could share this easy slow cooker tomato soup with all of you. (originally published 3/18, affiliate links present)
I have made this homemade tomato bisque recipe but it takes a quite a bit of time at the stovetop.
With just six main ingredients this Crockpot tomato soup is quick for me to throw together in the morning.
Whip up a couple of grilled cheese sandwiches when it's done, and have the perfect meal all five of us enjoy.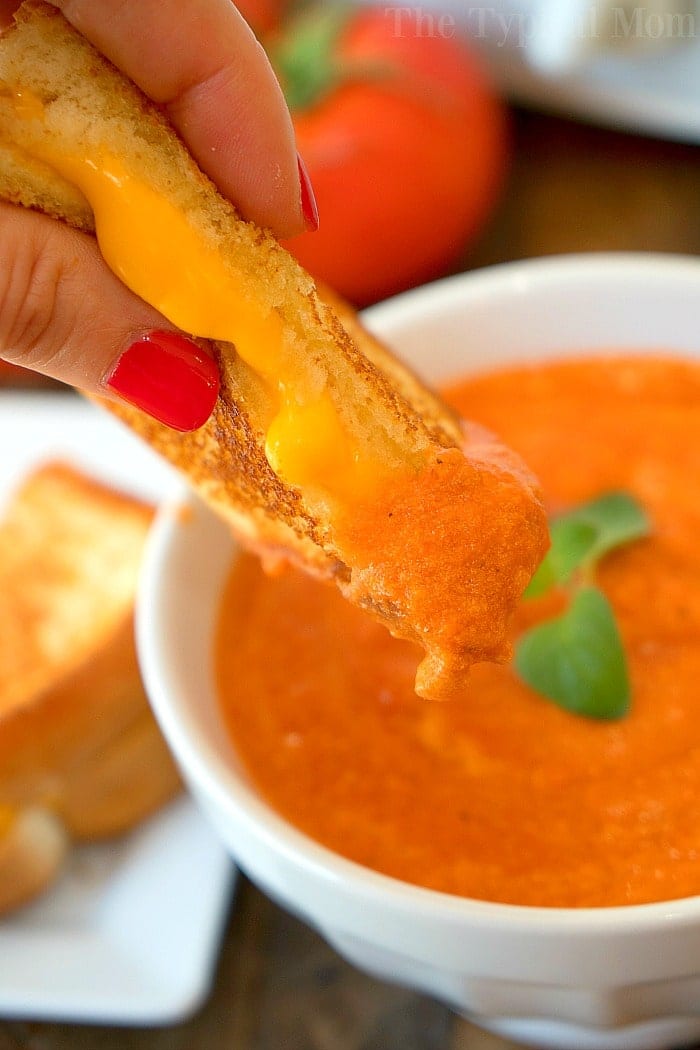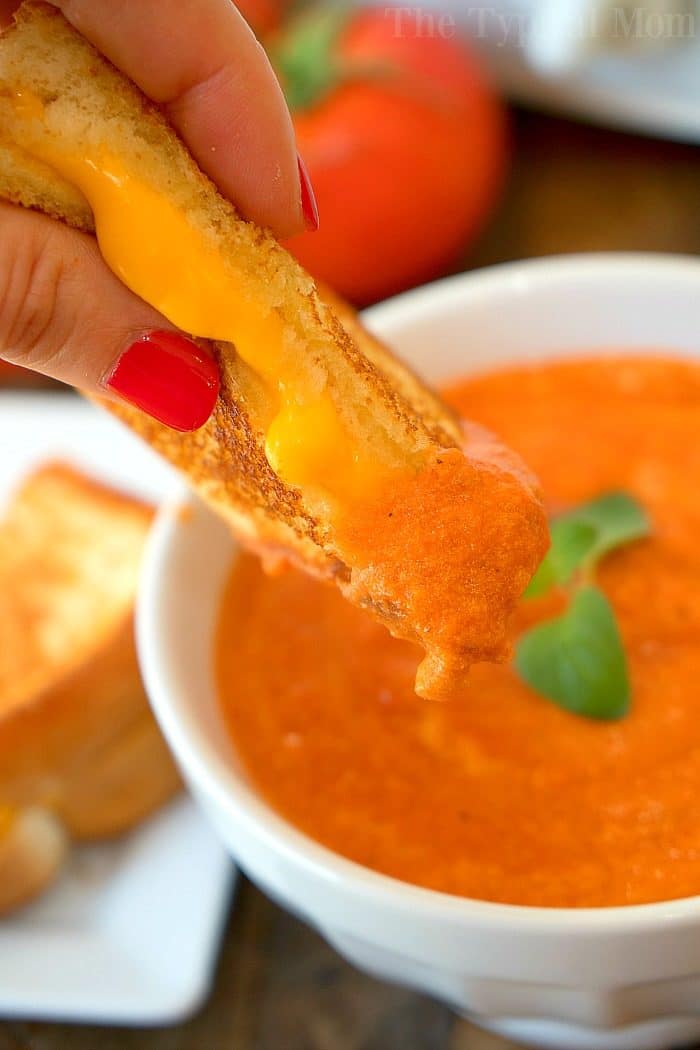 If you're a busy mom too who loves homemade tomato soup but doesn't have a lot of time to do it, you'll love this recipe. We have even more slow cooker soups here too. 😉
This is what you'll need to make this easy creamy tomato soup recipe
2 cans of petite diced tomatoes
Horizon Organic Half & Half
Chicken stock or broth
Onion and garlic
Flour
Fresh basil & Oregano
Season with salt and black pepper when done
To make grilled cheese you'll need:
Horizon Organic American Singles
Bread
Butter or olive oil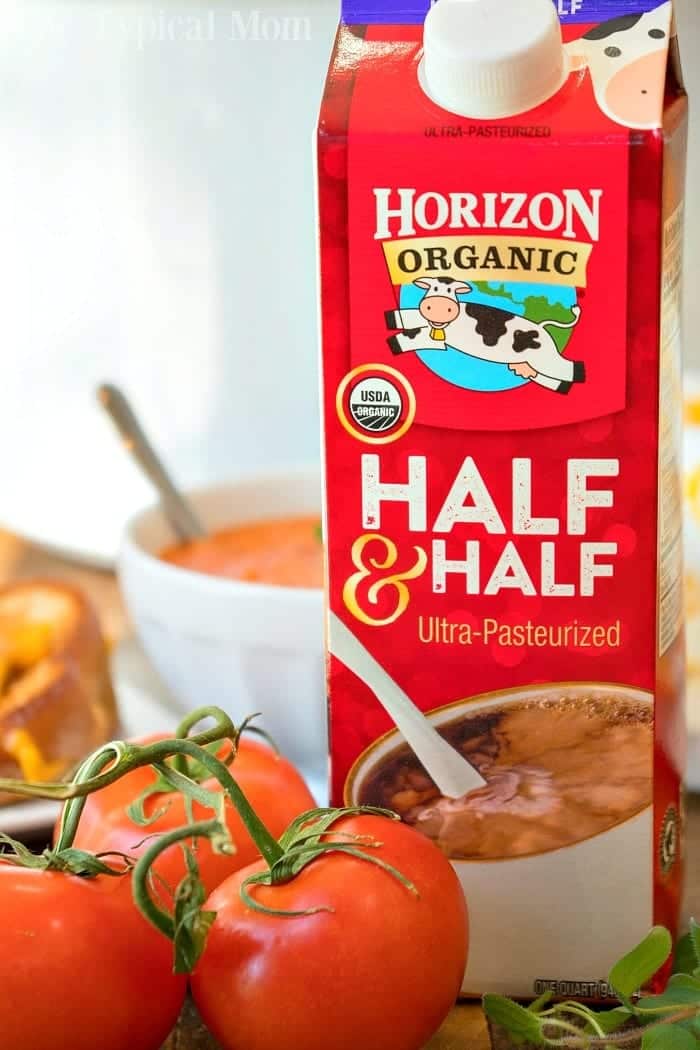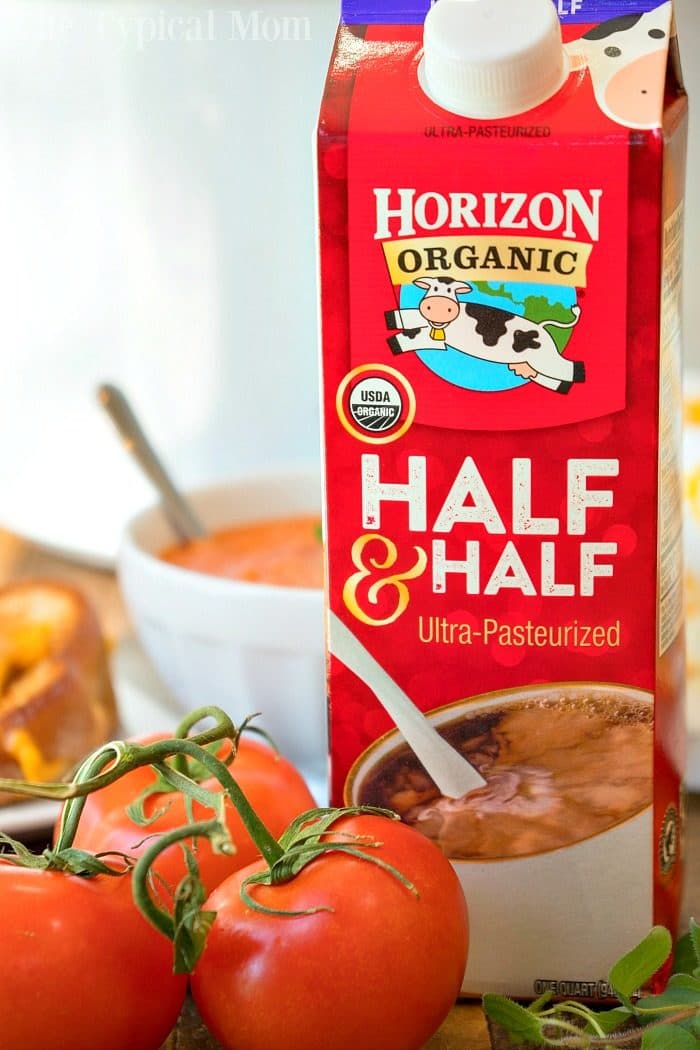 If you have the time you could even use fresh tomatoes to make this one pot meal. Typically I use two cans of petite diced tomatoes though. Let's just be honest here, we like really easy right.
I like to use what I have on hand so I have used chicken broth and/or vegetable broth when I thought I had chicken in the pantry but didn't. LOL. Just how life goes right??
I use half and half to make it really creamy but if you had their heavy cream on hand instead that would work too, NO worries my friend.
Tomato soup just isn't complete without a grilled cheese in my opinion (and my kids would agree). The best is when the cheese is just ooey gooey and it's perfectly golden on the outside.
With just the right crunch, but soft inside. I will say as a mom I have bought countless amounts of American singles. There is a big difference in their quality!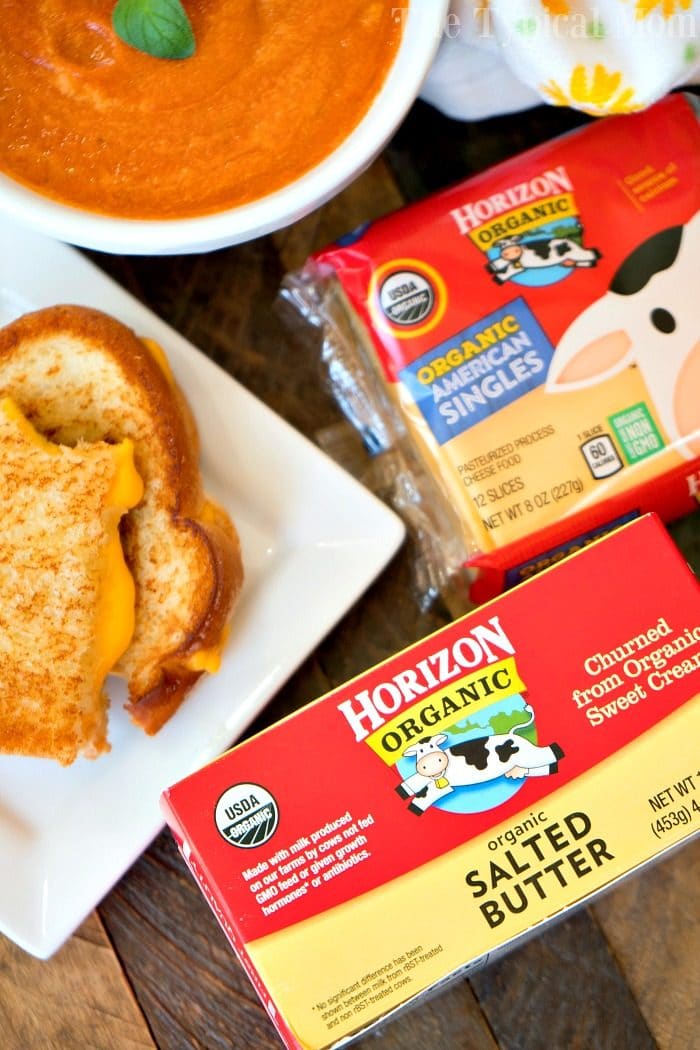 Hands down we all agree that these from Horizon Organic have an amazing flavor! Paired with this creamy tomato soup, and dunked inside before taking a bite seriously is some of the best comfort food around…and so simple to make I tell you.
I always have butter on hand so that's never an issue, and the spices I use are minimal since we really like tasting the tomatoes natural flavor.
A little oregano and basil are great additions to this slow cooker creamy tomato soup!
This recipe is enough to feed the five of us with our cheesy sandwiches on the side, if you have a larger family you can easily double it without an issue. The only difference is when you puree the soup (in step 8) you'll have to do that in two batches unless you have a really big blender. 😉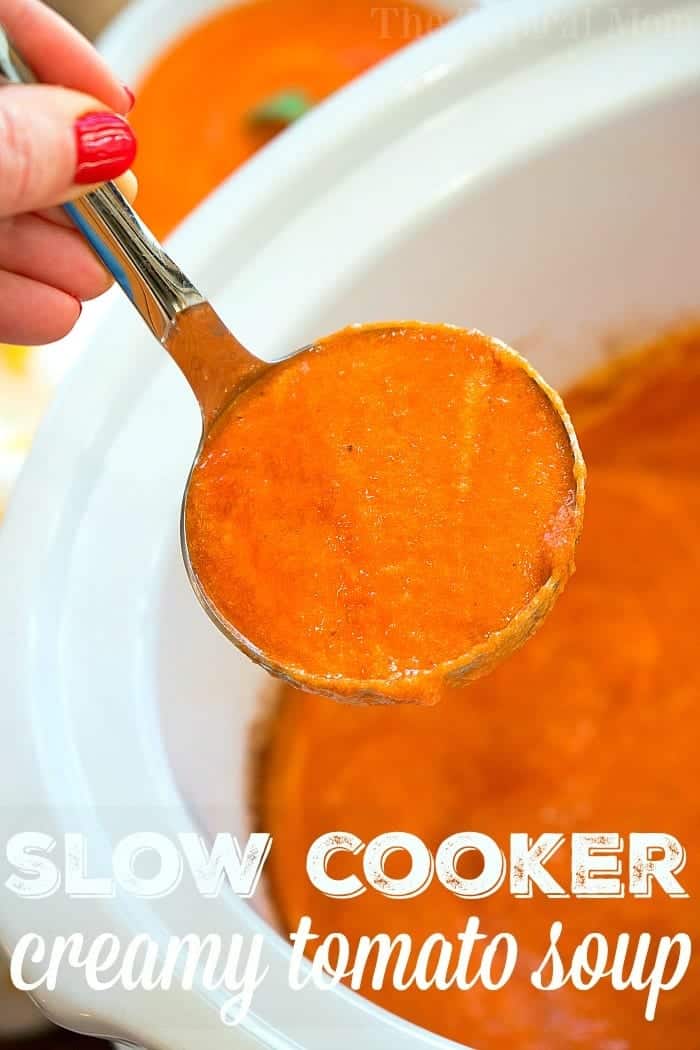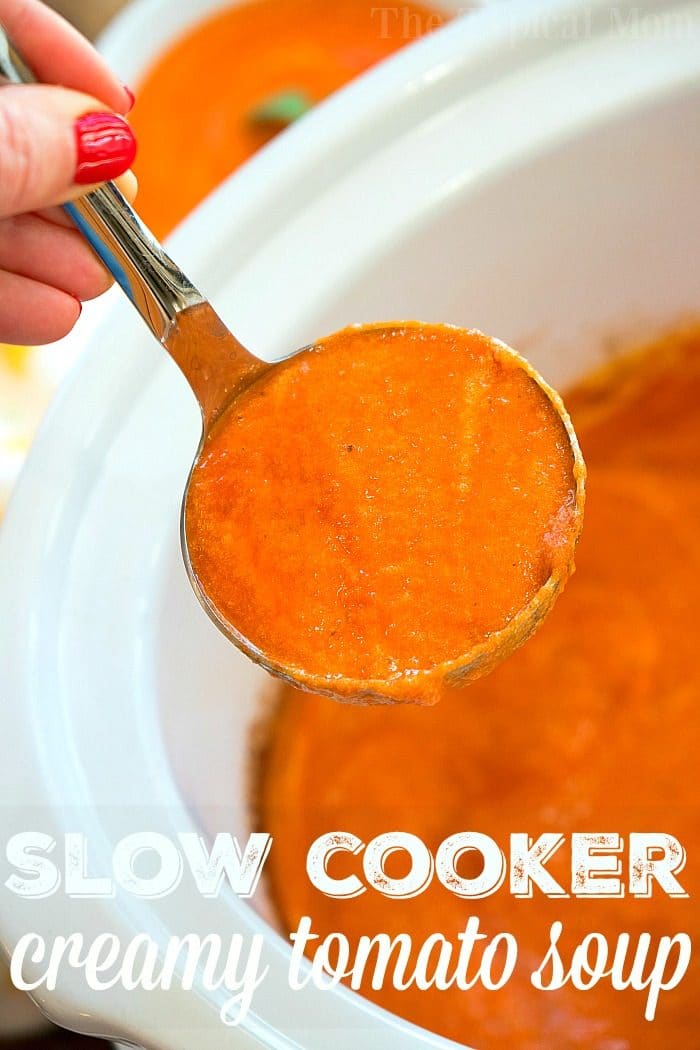 Can you double this crockpot tomato soup recipe?
Yes you could.
I personally like cooking it in these small batches because I feel it comes out better.
However if you were serving a large crowd you could double or triple it easily if you had a large enough pot or crockpot.
Go ahead and give this quick and easy meal a whirl. If your kids are apprehensive about vegetables I bet this might change their minds!
When it is cold outside this slow cooker tomato soup hits the spot (okay I have made it during the summertime too). Then try our version on the stovetop, and our Instant Pot tomato soup too!!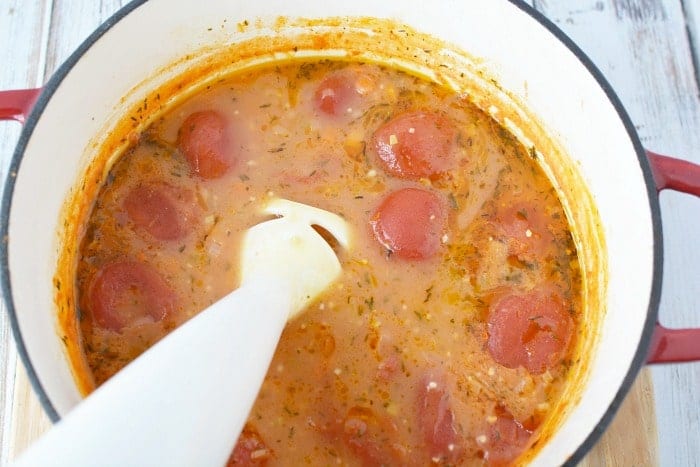 If making this on your stovetop follow the same directions below using a a large saucepan on low heat. Bring to a boil, a very slow rolling boil. Allow to cook for a good 30 minutes stirring intermittently throughout the time to avoid burning.
Blend until smooth. Using an immersion blender right in the pot works best.

Alternatively you can use a blender or food processor to smooth contents before cooking if you'd rather.

Then add half and half, reduce heat, and cook another 10 – 15 minutes or so.
Season with salt and pepper when serving!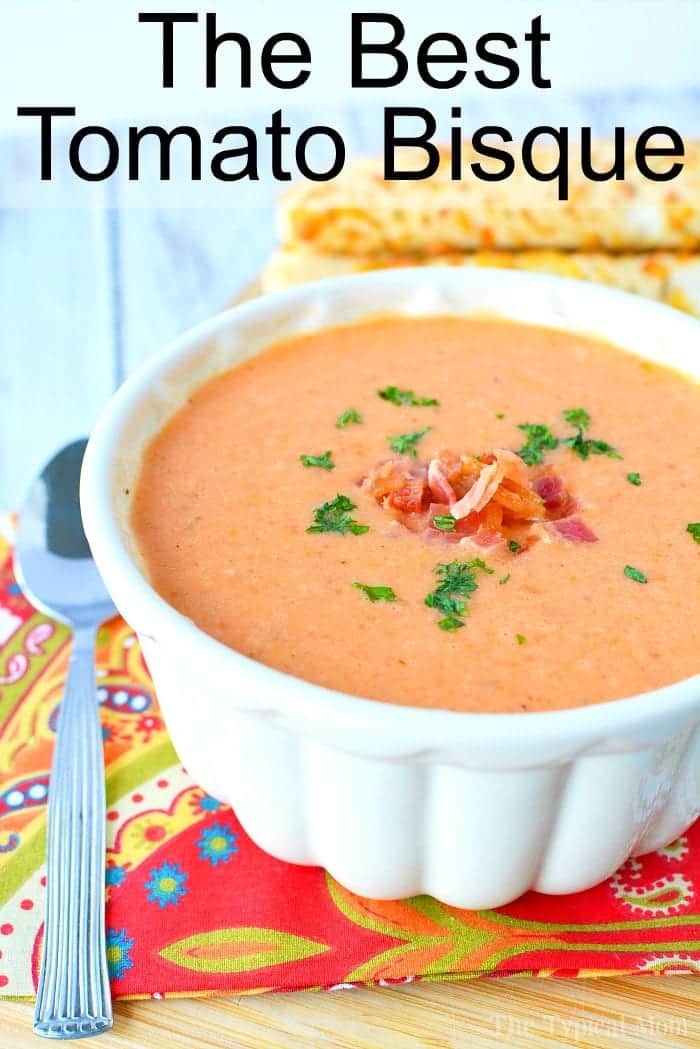 Can you freeze creamy tomato soup?
Yes but it is trickier than if there was no cream in it.
First you need to allow it to cool completely and then put it into a freezer container.
Then when you reheat it you need to leave it out for at least 2 hours on the counter or in the fridge to thaw out.
When microwaving after it's thawed, do so in small stints stirring in between sessions so cream doesn't curdle.

30 seconds, stir, 30 seconds, etc..

If curdling occurs use a whisk to break it up. Can add a bit of fresh cream to thin it out too.
What should I serve with tomato soup?
Grilled cheese of course
Our pull apart bread recipe is amazing
Saltine crackers
If you love this post sign up for my newsletter for more fun that will come straight to your inbox!
Easy Creamy Tomato Soup
Here's a Slow Cooker easy creamy tomato soup recipe that's perfect for dinner, and only needs a few ingredients! Smooth tomato soup packed with flavor and great for chilly days or year round really. Served with a grilled cheese it's sure to be your kids favorite meal too.

Instructions
Over low/medium heat on the stove heat your butter in a pan and add your diced onions.

Saute for a few minutes until onions begin to soften.

Sprinkle your flour on to the softened, butter covered onions and stir until coated. Cook for an additional minute and turn heat off.

Add this onion roux mixture to your slow cooker.

Pour your two cans of petite diced tomatoes on top of that followed by your chicken broth, and then sprinkle in your spices and garlic if you wish to add that.

Stir gently just so everything is combined, put top on and set to high for 3.5 hrs. If cooking on low set to 5.5 hrs.

If you are able to stir halfway through it is best.

Lift lid and use an immersion blender to blend until smooth in the pot. Or use a ladle to put all slow cooker contents into a blender. Set blender to puree for about 30 seconds or until all chunks are smooth.

Pour mixture back into your slow cooker and set to low.

Pour in your Horizon half and half, stir until combined.

Put lid back on and allow to cook on low for 30 more minutes.

If you want to pair your creamy tomato soup with grilled cheese make them now.

Over low heat butter two slices of bread. Put buttered side down of one piece of bread into a pan and add two slices of Horizon cheese slices, followed by the second buttered piece with butter side facing up.

Cook until butter and cheese is melted, flip, and allow both sides of bread to brown. Serve together!
Nutrition Facts
Easy Creamy Tomato Soup
Amount Per Serving (8 oz)
Calories 133
Calories from Fat 63
% Daily Value*
Fat 7g11%
Cholesterol 21mg7%
Sodium 468mg20%
Potassium 498mg14%
Carbohydrates 14g5%
Protein 3g6%
Vitamin A 520IU10%
Vitamin C 17mg21%
Calcium 85mg9%
Iron 2mg11%
* Percent Daily Values are based on a 2000 calorie diet.