This Crock pot apple dump cake with spice cake mix is ooey gooey with caramel and pecans in it too. Using a can of pie filling makes this easy with just 3 ingredients. Top with vanilla ice cream and OH MY it's a great slow cooker cake.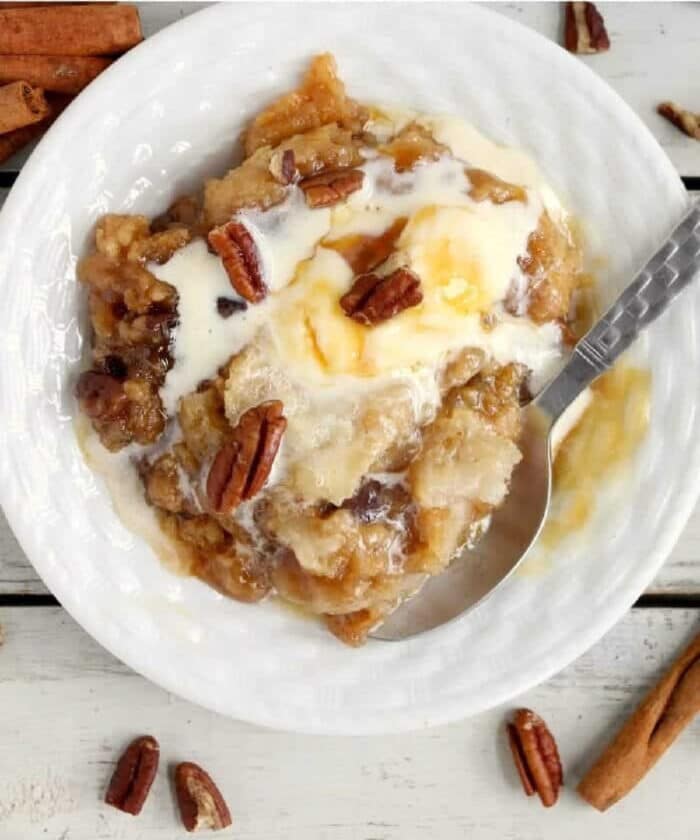 Ever wondered if you could make a Crockpot apple dump cake recipe and skip the oven entirely? Well we have a recipe for you that's beyond sweet. Find this and more on our Crock pot recipes page. (affiliate links present, originally published 1/20)
Crockpot Apple Dump Cake with Spice Cake Mix
Boxed cake mix recipes are the best. During the holidays you can find the spiced version, but white or yellow works too. Because I'm not a fancy baker and it's all about taste for us, not how pretty it is. If you can just scoop it up instead of slicing super pretty it's a go for me. Means it is super moist and ready to eat.
We do have a LOT of easy dump cake recipes on our site! Why? Because we are busy…..like always here and there and everywhere. With these I can throw it all together and bake, or slow cook in this case, with very few ingredients. The caramel is optional really, you could use just the butter for moisture really.
FIRST – You should sign up for my free newsletter so you get new posts emailed to you twice a week and never miss out on anything! Let's talk a little bit about slow cooking shall we?? First off I have a few different varieties and I love them all. Each one has an occasion to be used like….
This is my favorite 6 quart programmable one with a locking lid so it's great for bringing to a potluck too.
If you just want to serve a few appetizers you should get this one that sit side by side one another.
I prefer not to use liners, but rather just spray olive oil inside before adding my food for easier cleanups.
Let me give you a peek of my pretty thang I bought recently. It goes with my kitchen so I can just leave it out on the countertop all the time. 😉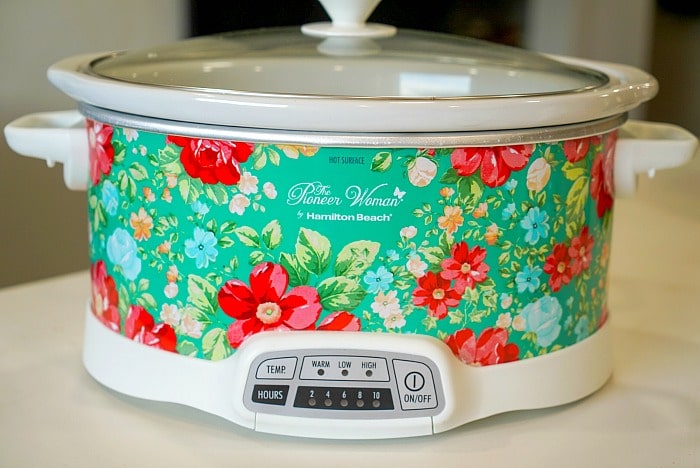 Slow Cooker Dessert Using Cake Mix
Years ago we made this Crockpot lava cake packed with lots of chocolate and cherry. OH MY was it gooey and amazing. We used a box of Devils food for that one because those two flavors taste amazing together. For this choose what goes with fruits.
This time we used a different cake mix and flavor of pie filling to make this Crockpot dump cake. With that said you could use this as a base and swap out different fruit fillings and mixes to make SO many different combinations. Mixed berry and white would be great, peach dump cake with yellow we love too.
A tip to getting this to slide out easily is to spray the inside of the pot with non stick spray. It will not come out sliced in pieces either way though. All of these should just be scooped with a large serving spoon, it won't be pretty. Your stomach won't care, really my friend.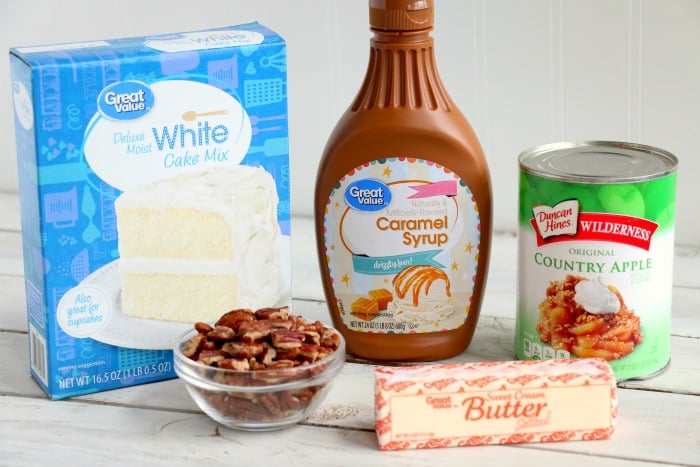 Apple Cinnamon Cake Slow Cooker
The main three that you have to add would be on the top. The rest are a optional but I would highly suggest the bottle of sundae caramel sauce. It not only adds sweetness but more moisture into the dish too. Instead of adding a bit more butter and making it heavier we thought this was a great way to cut it.
Box of cake mix

vanilla was used but if I can find spice cake mix I prefer that actually
yellow cake mix works great too
it's usually in stores at the beginning of August or so to make this Fall dessert, or buy it online here

Stick of butter

from the fridge, not melted butter

Can of pie filling

country apple pie filling was used this time

Bottle of caramel sauce
Nuts are a great add in

pecans were chosen this time
walnuts would be a good choice too
Of course you can use similar ingredients in the oven and make our apple spice dump cake in there, but I would give this one a whirl too. Then decide which one your family loves best. If you need to make this dairy free it is possible to do so. I use a vegan plant based butter product for my husband and it tastes surprisingly similar to the "normal" type.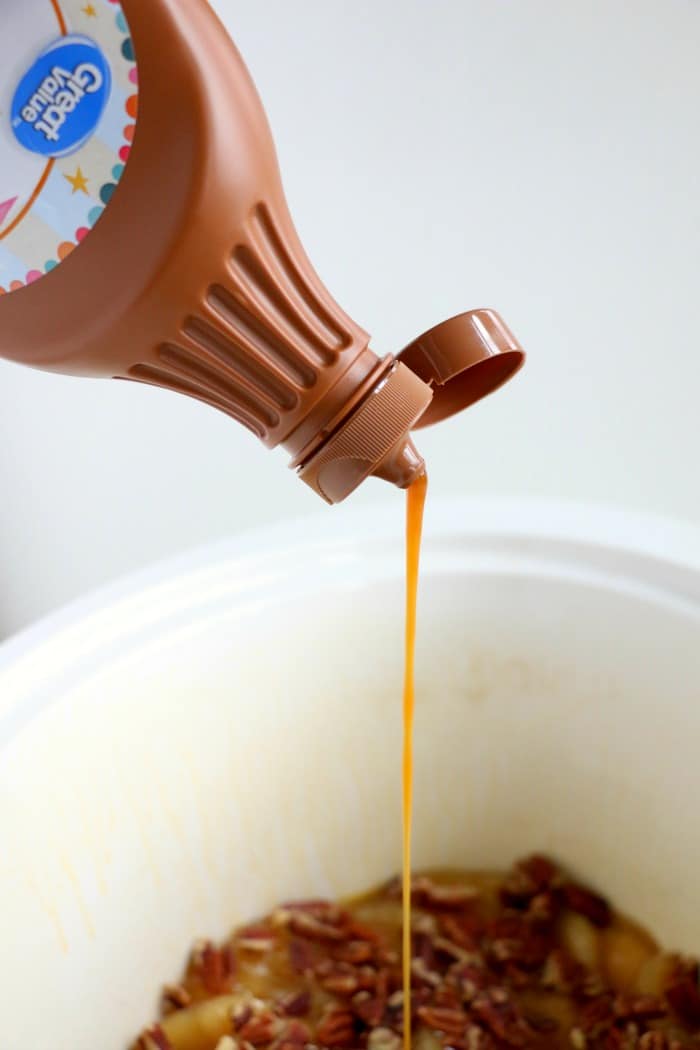 3 Ingredient Crockpot Apple Dump Cake
Now this recipe does not use fresh apples. If you're wondering what to make with lots of apples I would opt for our Crockpot apple crisp recipe. With that you peel Granny Smith apples, slice, toss with some flour to thicken the sauce, add a crumble topping and you will create the most delicious dessert with fresh produce ever.
First you'll want to spray the inside of your pot with non stick spray. This will be helpful for cleanup later.
Spread out your pie filling on the bottom of your slow cooker.
Sprinkle any nuts you want over that followed by your caramel sauce.
Now you want to sprinkle your dry cake mix on top of that evenly across the pot so it cooks evenly.

remember this will be a gooey scoop out slow cooker apple dump cake of sorts so it will not rise or be able to be sliced.

Slice your butter and place pats across the top evenly and then cover and cook set to low.
This will take 4-6 hours to meld together, serve when it is as firm as you'd like.

firm is a very loose term when it comes to this because remember it will be more like a thin bread pudding if I had to compare it to something, very wet.
Scoop out with a large spoon into bowls and serve as is or with a scoop of ice cream or whipped cream on top. When it is still warm it will melt all over the top and make it even creamier. Serve with a paper towel though because it's sticky!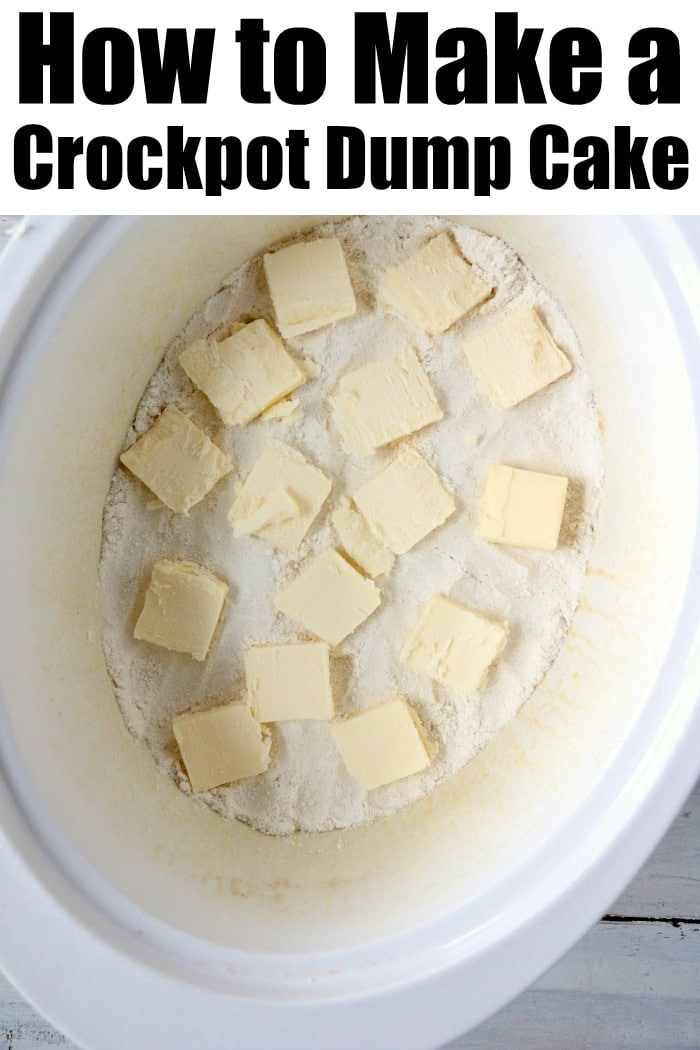 Slow Cooker Dessert Using Pie Filling
Another way to make a cake in Crockpot is to do it individually in ramekins, I have done that too. The nice thing about this way is it doesn't stick and it becomes more cake-like in consistency. The reason I like Crockpot recipes in general is because you can throw everything in and walk away. This one is closer to that quick method.
When it comes to dessert recipes I'm all about easy.
This is that in a nutshell.
Pie Filling recipes
Um these are kinda' my favorite. yes I have made my own with fresh fruit that is on it's way out but that takes quite a bit of work, I usually don't have the time for that. Nowadays you can even find lower sugar versions if that is important to you at the store.
This cherry pie filling dump cake does rise quite well and is truly EASY with just 3 ingredients!
Our blueberry pie filling dump cake cupcakes are really fun to throw together and taste like the most moist and delicious blueberry muffins ever.
Apple pie bread pudding uses apple like this one and is fantastic to bring to a potluck or just for a family treat.
We have options for fresh apple recipes here as well if you'd like to try those. Applesauce cake is a great one too. Printable recipe with nutritional information is below. If you use other ingredients it will vary a bit but really just enjoy it, everything in moderation my friends!
Want to see a few of my favorite things that I am totally obsessed with?? Take a peek and see how many you might already have…twinsies!
Looking for more easy family recipes and tips? LIKE The Typical Mom Facebook page?
Then sign up for my free newsletter, and follow me on Pinterest! 😉
***** If you LOVED this recipe give it 5 Stars below and let everyone know what you thought about it. 😉
Crockpot Apple Dump Cake
This Crockpot apple dump cake is ooey gooey with caramel and pecans in it too. Top with vanilla ice cream and OH MY it's a great slow cooker dessert.
Instructions
Spray inside of slow cooker with non stick spray. Spread pie filling on the bottom evenly.

Sprinkle nuts over the top of that followed by caramel topping.

Sprinkle dry cake mix on top of that covering other ingredients entirely. Pat down gently.

Put sliced butter on top evenly and close lid.

Cook on low for 4-6 hours or until it has firmed up on edges and browned.

Scoop out and serve topped with ice cream and more nuts.
Nutrition Facts
Crockpot Apple Dump Cake
Amount Per Serving (2 oz)
Calories 535
Calories from Fat 162
% Daily Value*
Fat 18g28%
Cholesterol 31mg10%
Sodium 705mg31%
Potassium 140mg4%
Carbohydrates 93g31%
Protein 5g10%
Vitamin A 397IU8%
Vitamin C 1mg1%
Calcium 164mg16%
Iron 2mg11%
* Percent Daily Values are based on a 2000 calorie diet.