Ribs in Air Fryer recipe that makes your beef or pork ribs come out tender and full of flavor. Enjoy as is with light seasonings like salt and pepper or smother with barbecue sauce and dinner is done in no time.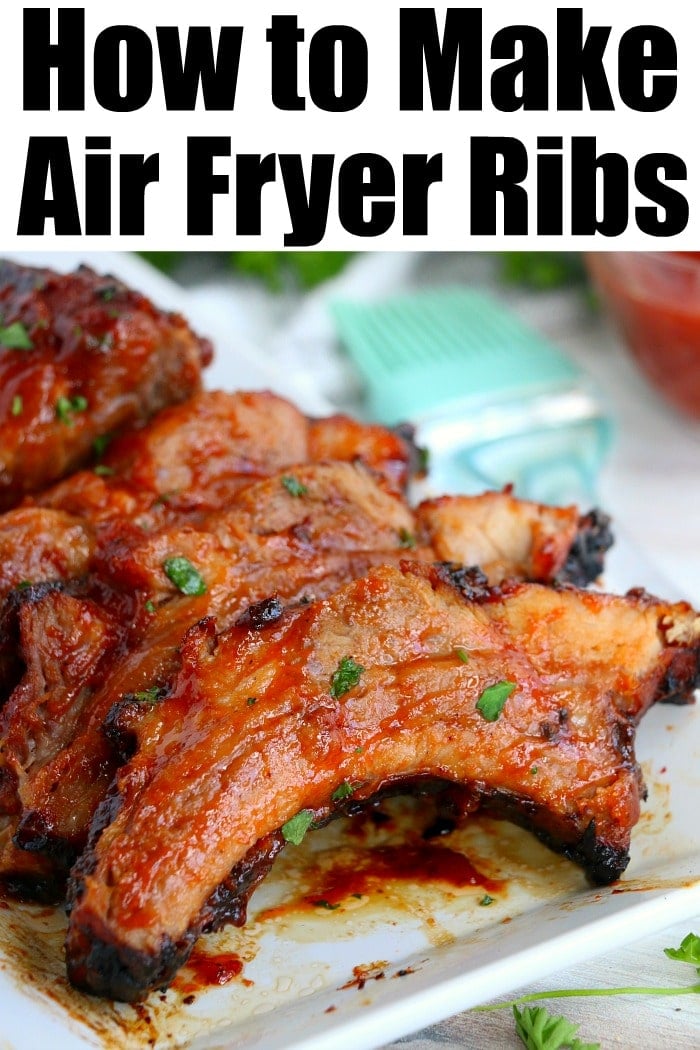 Have you made ribs in air fryer machine yet? If you're in a pinch and don't have all day to smoke or bake them, this is a great alternative for sure! One of our newest air fryer recipes here on The Typical Mom blog. (affiliate links present, originally published 3/20)
Air Fryer Ribs
We love to air fry everything I tell you! I have 2 traditional air fryers as well as making lots of Ninja Foodi recipes too. Any model will do if you follow these easy directions below. No pressure cooking required with this one, just the hot air will work to get these the perfect texture on the outside and in too.
If you have only cooked these outside on your grill or smoked ribs on your Traeger you are in for a real treat. When it is cold or snowing outside I am not about to spend much time cooking, it is all about my small kitchen appliances in that case.
FIRST – You should sign up for my free newsletter so you get new posts emailed to you twice a week and never miss out on anything! If you love air fryer recipes too, here are some resources to start with: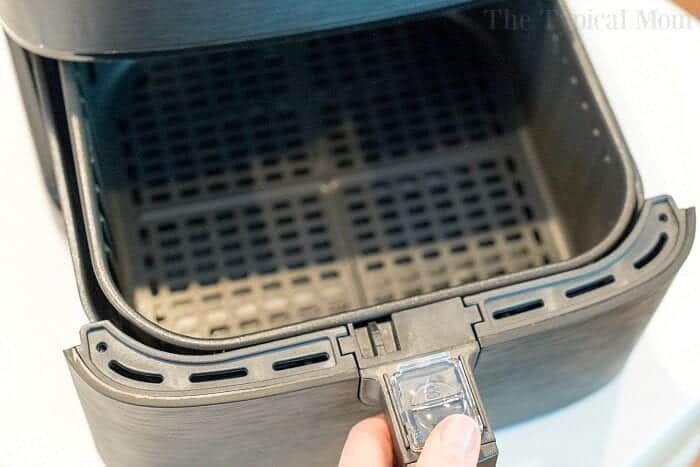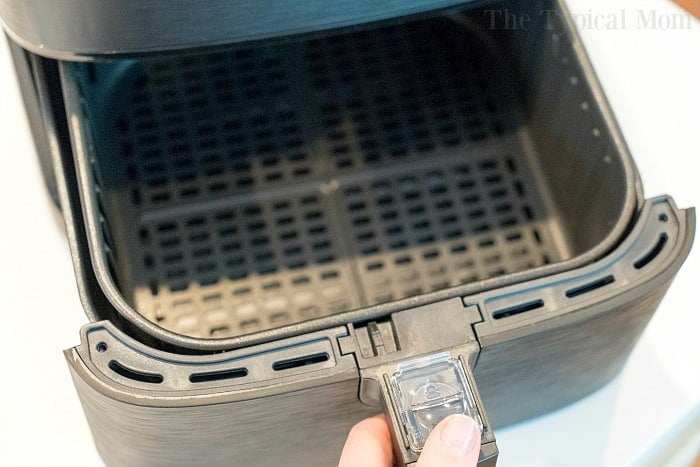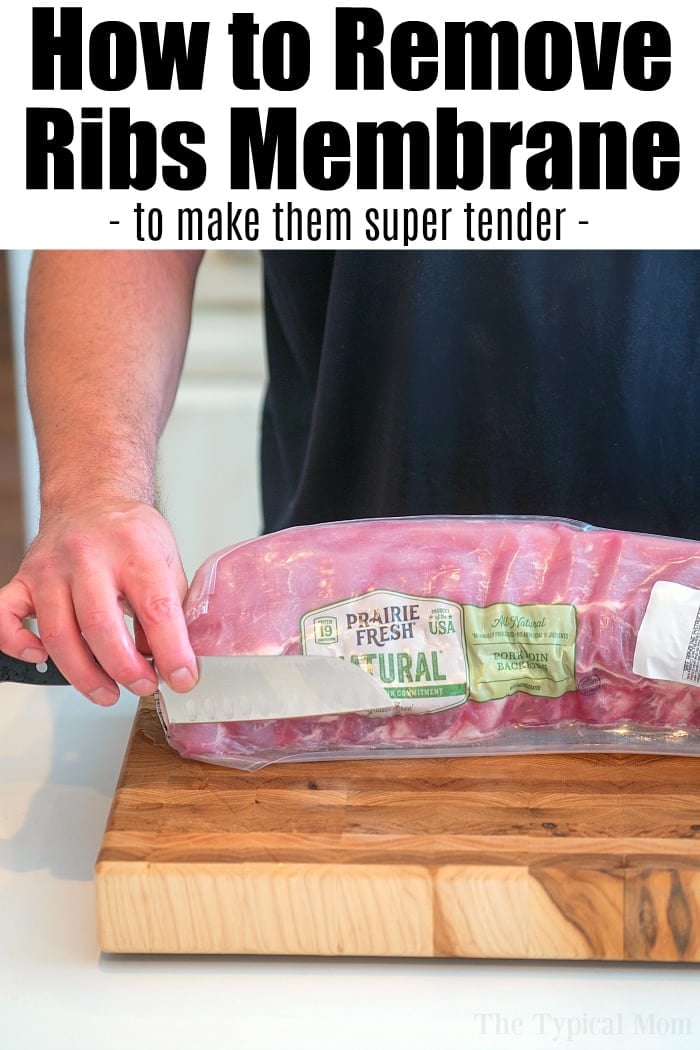 BBQ Air Fryer Ribs
Now let's talk about the #1 tip you MUST follow if you're making a tender ribs recipe. You must remove the membrane. That is the thin skin like layer on the bottom side of your rack. If you don't, they won't be nearly as perfect as if you did. Removing membrane from ribs is quite simple. If you have never done it, just click on the link and follow our step by step directions.
Fall off the Bone Air Fryer Ribs
This is a Game Changer y'all! I will start by saying that I am VERY particular when it comes to this food. If I have to pull at all with my teeth to get the meat off the bone, they weren't cooked correctly, period. This way surprisingly works amazingly well to have the protein pull away and literally melts in your mouth. A bit like our Crockpot ribs would, but much faster.
Is pork or beef ribs better?
Well I guess that would depend on whom you're asking. In my opinion there is NO question, pork!! If you want the tenderest ribs ever this is the rack of ribs you want to choose.
Pork is a leaner option too. What kind of ribs have the most meat? You can choose baby back ribs or spare ribs, the latter has more meat. Our country style pork ribs Instant Pot recipe is another amazing way to make these babies.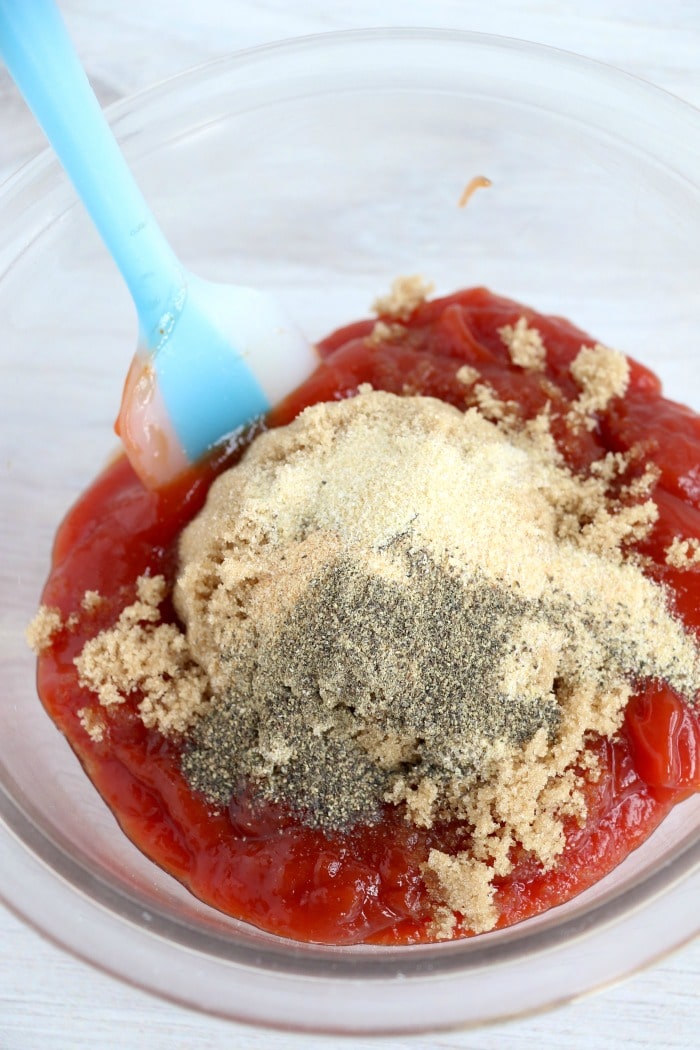 We have made these ribs in air fryer another way as well. First I have made Instant Pot teriyaki ribs and put on their air crisp lid to crisp the top. Those are pressure cooked and then air fried and come out fall off the bone tender. More work for sure but amazing as well.
The meat in is version won't be as tender as those because you're skipping the pressure cooker all together. BUT if you don't have that option then I'd give these a whirl and see what you think. For a quick ribs recipe I'd say it's a definite winner for dinner!
Is it better to boil ribs before cooking?
Some people do like to parboil spare ribs for a little bit in order to tenderize the meat. If you choose to do this, make sure to simmer them rather than cook them at a full boil for a long time. Boiling too long and for too high of heat may result in tough meat. I prefer to cook ribs in oven at 350 or air fry over all other methods.
How to cook boneless ribs in an air fryer
I'd follow the same directions. The timing should still work great and without the bones they should soften up even better.
Boneless Pork Ribs in Air fryer
You can use boneless or bone in for this one. The timing is going to vary depending on how much meat is on the bone, so there will be some wiggle room y'all.
Rack of ribs
Salt and pepper

or use our steak dry rub recipe here

Bottle of barbecue sauce or:

ketchup
brown sugar
garlic powder
onion powder
pepper
How do you prepare ribs?
First make sure you remove the membrane like I talked about above. Then you'll want to season the ribs on the outside with at least salt and pepper. Massage it in generously. Then brush on your favorite bbq sauce. Preheating your air fryer is important too so it cooks evenly right from the start.
Cooking ribs in an air fryer
Remove membrane from underside.

cut into pieces so it will fit into the basket

Season top and bottom with salt and pepper.
Brush on bbq sauce on both sides.
Preheat air fryer to 400 degrees fahrenheit.
Place inside with meat side facing down in air fryer basket.
Cook for 20 minutes.

make sure internal temp. is at least 145 degrees before consuming

Remove, lather ribs with bbq sauce again hitting all sides of the ribs.
Easy and delicious right??!!
Other ways to cook ribs are: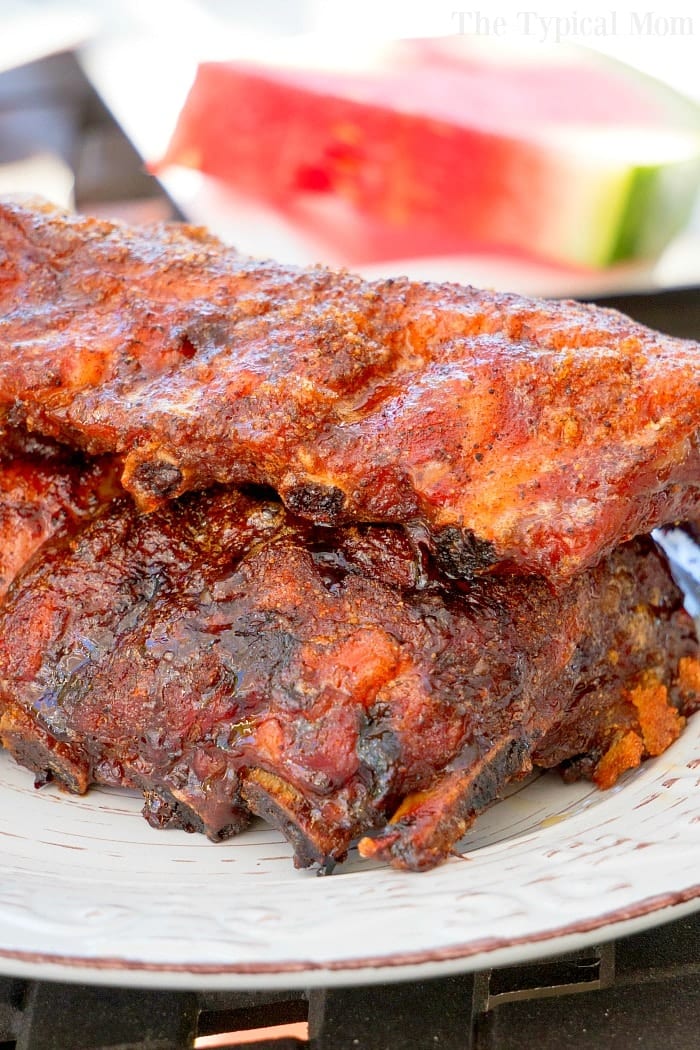 First off, this is the best way to make barbecue ribs on the grill ever. If you want over the top flavor massaged into the meat that is out of this world, try this. We have one for Crockpot Express ribs too if you have that machine.
We even have a recipe for pressure cooker short ribs, fresh or frozen if you want to try those too! About the same timing, maybe closer to 30 minutes total, great softness but won't get crisp.
Want to see a few of my favorite things that I am totally obsessed with?? Take a peek and see how many you might already have…twinsies!
Looking for more easy family recipes and tips? LIKE The Typical Mom Facebook page?
Then sign up for my free newsletter, and follow me on Pinterest! 😉
***** If you LOVED this recipe give it 5 Stars below and let everyone know what you thought about it. 😉
Ribs in Air Fryer
Ribs in Air Fryer recipe that makes your beef or pork ribs come out tender and full of flavor. Smother with barbecue sauce and dinner is done in no time.
Instructions
Remove membrane from ribs. This will make them much more tender, link to instructions above in post.

Cut rack in half (so it will fit). Rub salt and pepper on both sides

In a bowl mix together last 5 ingredients on list to make homemade bbq sauce, or us jarred.

Preheat air fryer at 400 degrees for 5 minutes, then spray basket with non stick spray.

Brush meat side of ribs with bbq sauce, then put into air fryer basket with bone side facing up.

Brush bbq sauce on top and close basket.

Cook for 20 minutes at 400 degrees, flipping over after 12 minutes. Remove when outsides are as crispy brown as you'd like them and meat is cooked.

Remove, brush on more bbq sauce and check internal temp to ensure it is cooked through. Serve
Nutrition Facts
Ribs in Air Fryer
Amount Per Serving (2 oz)
Calories 158
Calories from Fat 9
% Daily Value*
Fat 1g2%
Sodium 894mg39%
Potassium 311mg9%
Carbohydrates 38g13%
Protein 1g2%
Vitamin A 462IU9%
Vitamin C 4mg5%
Calcium 26mg3%
Iron 1mg6%
* Percent Daily Values are based on a 2000 calorie diet.