Frozen pizza in air fryer or Ninja Foodi works great! Crispy crust with melted cheese and pepperoni on top, it will become your new favorite method.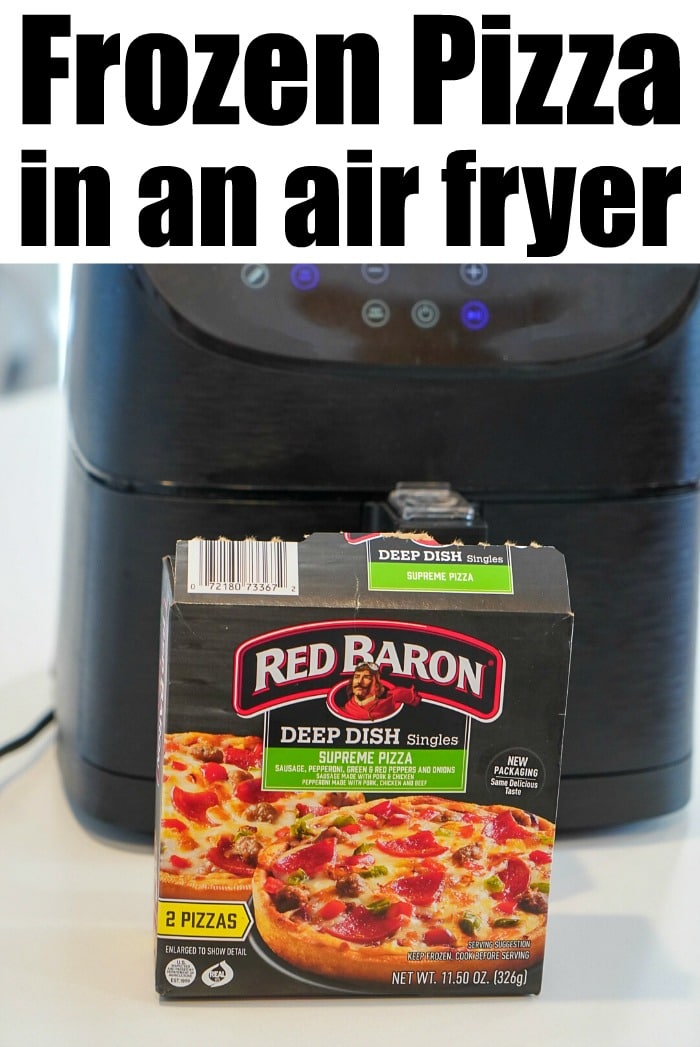 Frozen pizza in air fryer is a great new way to cook your favorite snack food! Want crispy crust and melted cheese without turning the oven on? Skip the microwave and try our new air fryer recipe.
You can make this in your Ninja Foodi or any brand of air fryer at your house.
I used this brand of personal pizza but there are lots of options out there in your local freezer section.
After this you are going to want to air fry everything like us!
The key to cooking frozen air fryer pizza is to set it to a lower temperature so the cheese melts but doesn't take so long that the crust burns. That's NO good. I had to test this one out a few times to get it just right. Timing will vary slightly depending on how thick your crust it, but not much.
I always start with looking at our air fryer cook times chart first when I am cooking something new like our air fryer grilled cheese and this.
It may not have the exact temperature and time I need but I can base it off something similar like how long the dough took to make our baked brie and go from there.
What is the best frozen pizza brand according to a wide spread poll?
Totino's
Whole Foods 365 Thin Crust Pepperoni Pizza
Amy's Cheese Pizza
Tombstone 5 Cheese Pizza
Newman's Own Thin & Crispy Uncured Pepperoni Pizza

if you can find uncured meats on top that is the BEST

Amy's BBQ Pizza
Now keep in mind these don't always offer a personal pizza size. Digiorno has one that is a bit larger than this one which is good too. Keep in mind how large your air fryer basket is when choosing.
How do I cook frozen pizza?
Of course you can pop it into the oven, or if there's a crisping sleeve included you may have put it into the microwave in the past.
STOP collaborate and listen!! (if you're my age you will know the reference to this immediately) 😉
THESE frozen pizza in air fryer instructions are easy and may change the way you cook this favorite snack food forever.
Preheat your air fryer to 360 degrees for 5 minutes
Unwrap your pizza and place it into your basket
Close the drawer

or close your air crisp lid with the Ninja Foodi

Set time to 5 minutes and then check
If you want it crispier or meltier set for an additional minute and continue to check until it is exactly how you want it.
Should I thaw frozen pizza before baking? NO! It is meant to go from frozen into your heat source immediately after taking the plastic wrap off the outside. Thawing it will alter the texture of the crust mostly and believe me you won't like it.
This is what you need to cook a frozen pizza in an air fryer
Air fryer oven
Mini pizzas that are frozen
You do not need cooking spray for the food but could spray a bit into the basket. I didn't have anything bubble over so it's not really necessary for this.
Not only do I think this is an energy saver vs. using your oven but with time to preheat and everything they are done in under 15 minutes, so it's faster.
Want to make more of a semi homemade air fryer pizza?? I have a recipe for that too!!
Next on our list is to make air fried frozen pizza rolls so we can cover all our basis
After you love this, here are a few other pizza recipes:
Frozen Pizza in Air Fryer
Frozen pizza in air fryer or Ninja Foodi works great! Crispy crust with melted cheese and pepperoni on top, it will become your new favorite method.
Ingredients
1

frozen pizza

mini personal size
Instructions
Preheat air fryer to 360 degrees. When done add frozen personal pizza and close. Air fry for 5 minutes, check and if you want top more browned add 1 more minute.
Nutrition Facts
Frozen Pizza in Air Fryer
Amount Per Serving (2 oz)
Calories 606
Calories from Fat 252
% Daily Value*
Fat 28g43%
Cholesterol 32mg11%
Sodium 1010mg44%
Potassium 344mg10%
Carbohydrates 66g22%
Protein 23g46%
Vitamin A 773IU15%
Vitamin C 3mg4%
Calcium 405mg41%
Iron 5mg28%
* Percent Daily Values are based on a 2000 calorie diet.