Should I thaw frozen pizza before baking in the oven? We will share how to cook frozen pizza perfectly here and answer all your questions.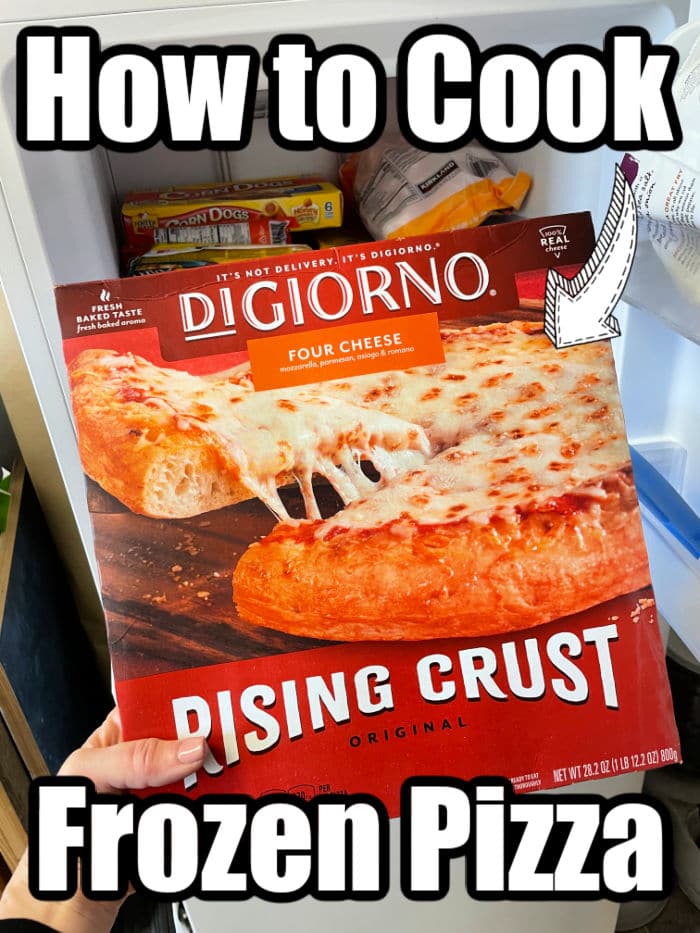 New to cooking frozen pizza and wondering all the things so it turns out just right? Well, should I thaw frozen pizza before baking might be a question you have on your mind. We will talk about why or why you shouldn't do this and the reasons why here. (affiliate links present)
How To Bake a Frozen Pizza
Well there are instructions on the back of every box you'd pick up at the store but they may not answer all the things either. In the oven is typically the device of choice if it is full size like Digiorno, California Pizza Kitchen or the other many brands out there.
We have actually did show you frozen pizza on the grill a few years back but that was kinda' just for fun. I mean it did work but unless your kitchen is under construction it wouldn't be the method of choice. It's better to cook in a device where the temperature is even the entire time.
Trader Joe's Frozen Pizza
Grocery stores typically have their own brand too. I find that in general they are okay, some better than others but the less you pay the fewer toppings and thinner crust you're going to end up with. I like Digiorno and Freschetta probably the best without the stuffed crust option. That is just kinda' weird, doesn't make it any better.
Frozen Pizza Air Fryer
This is an option if you are cooking individual pizzas that are small enough to fit into the basket. Those typically fit one at a time if you have a 5 quart or larger. A large air fryer typically has shelves and you may be able to fit 2-3 at a time that way.
If it is summertime and the last thing you want to do is turn on your oven then I would opt for this method. Just follow our air fryer frozen pizza directions and have at it. Pizza rolls in air fryer are pretty killer too as a snack. This will make for a crispier frozen pizza in the shortest amount of time, period.
Cooking Frozen Pizza
Now for the answer to the question we started with here, should you defrost frozen pizza before cooking it? NO, no and did I say no to that?? There are several reasons why this is not a good idea, let me break it down for you here:
Let me start by saying that it is unlikely it would grow bacteria in that short period of time so you don't have to worry about keeling over or anything, you'll be perfectly fine BUT…..
The ingredients were WELL tested to specifically go straight from the freezer to the shelf in your oven (or a pizza stone). If you defrost it first the timing will be totally off and you'd have to watch it almost the whole time to ensure it didn't burn. Who wants to do that??
Pizza dough that is already frozen is meant to be cooked right away. If you sit it on the countertop it will not only get super gooey and eeehhhhhk but it will sweat a bit and get yucky wet. Not only will it stick to the pan and probably not come off but the texture will be off when baked.
Frozen cheese has been tested to cook and melt well from hard. If you defrost it and then heat it it doesn't melt that great and once again, the texture is kinda' disgusting.
Get it??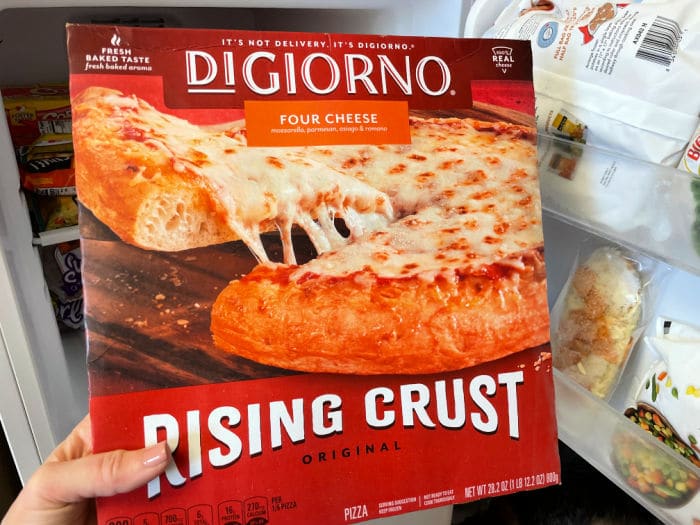 How to Cook Frozen Pizza
Time needed: 22 minutes
How to Cook Frozen Pizza
Preheat

Preheat oven to the temperature directed on the back of your box.

Unwrap

Remove your pie from the freezer and open the box. Unwrap the wrapper and discard. Do NOT thaw it out, they are meant to bake directly from frozen.

Bake

Once your oven is preheated, either set your pizza in the oven directly on the middle oven rack or use a pizza pan that has small holes on the bottom. This type of pan will get crust a little crispier than a baking sheet would. Bake the pizza for the time designated on the back of your pizza box.

FYI: If you thaw your pizza the timing and temperature will be completely off. It will be safe to eat but no telling what temp or length to cook them long. It will definitely cook faster.

Slice

When the top is lightly golden brown and cheese is melted, remove from the oven and set to rest for 5 minutes before slicing. This will help the cheese from melting all over the place and off of your pieces.
Now after it's done you might have leftovers. This is how to reheat pizza in air fryer so it tastes new again. Love cooking from rock hard to perfection? Give our frozen chicken breasts in oven a whirl another night for a healthier option.
Want to see a few of my favorite things that I am totally obsessed with?? Take a peek and see how many you might already have…twinsies!
Looking for more easy family recipes and tips? LIKE The Typical Mom Facebook page?
Then sign up for my free newsletter, and follow me on Pinterest! 😉
***** If you LOVED this recipe give it 5 Stars below and let everyone know what you thought about it. 😉