Air fryer mashed potatoes are easy to do! Want both baked potatoes and sweet potato mash as a side dish, you can make both at the same time. Here's how to make them for dinner tonight. Leftovers can be made into crispy air fryer mashed potato balls too!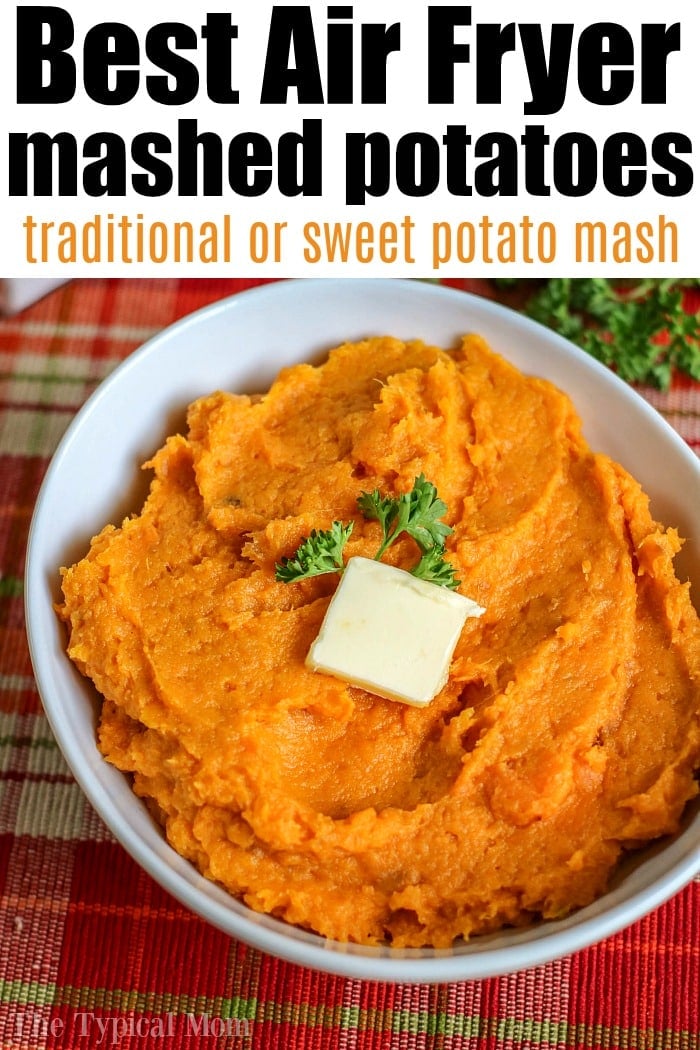 Are you wondering whether you should get another small kitchen appliance, but scared of losing counter space? We have the answer! Now you too can make these air fryer mashed potatoes and baked potatoes right at home with this 2 in 1 machine. Once you're in love and want even more air fryer recipes, come back for more. Special thanks goes out to Cosori for sponsoring this post. (originally published 10/19, affiliate links present)
Ninja Air Fryer Mashed Potatoes
I love multi function appliances, that's why this is so convenient. You can make these with either Russet potatoes or sweet like you see here. Any brand of machine works too but we will feature one in particular here. If you have a Ninja Foodi you can use that.
With that one you can actually make pressure cooker mashed potatoes in it too. There are two lids, one for each function. For both you can achieve a fluffy inside but with air crisp the skins will be, well crispy. You wouldn't need that if you are only mashing and that is done. You could though scoop out most of it, leave a bit, and add cheese for potato skins.
FIRST – You should sign up for my free newsletter so you get new posts emailed to you twice a week and never miss out on anything! If you love air fryer recipes too, here are some resources to start with: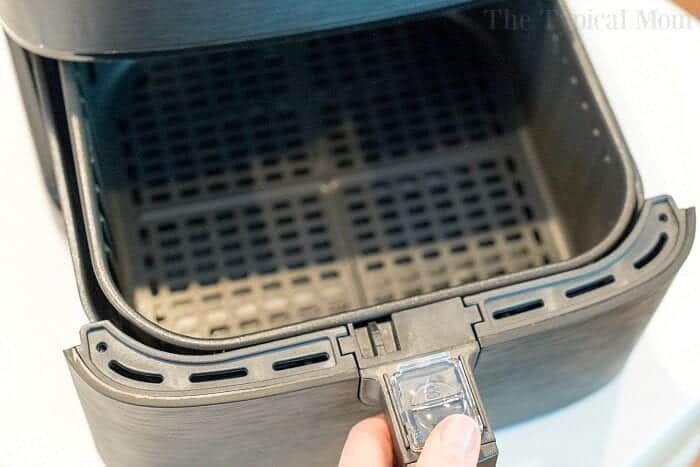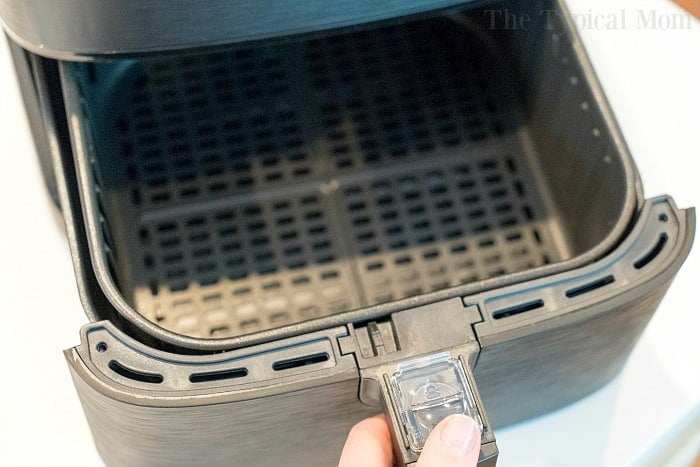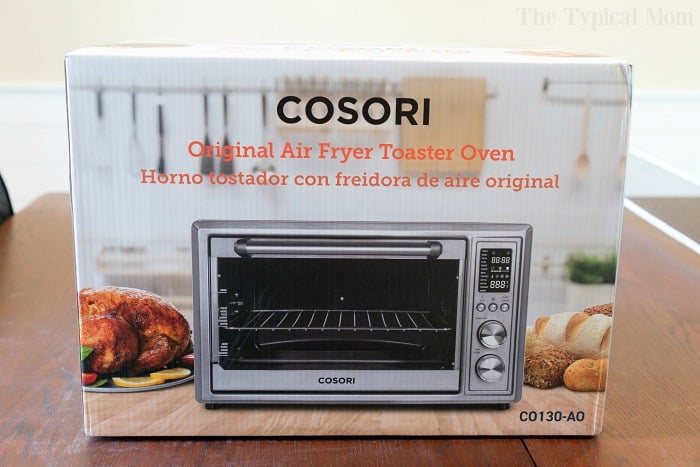 Mashed Potatoes in Air Fryer
We use a toaster oven each morning to make bagels and/or toast so we couldn't go without that. When I started sharing how much I loved my new Cosori air fryer some people mentioned that they loved the idea, but didn't have the room. THIS is the answer for y'all!
If you're anything like me you'd want an honest Cosori air fryer toaster oven review before purchasing an appliance such as this one, so let me give you a bit of information on it:
It is a 30L large capacity unit that fits 6 slices of toast, a 13-inch pizza, or 5 pound chicken.

Feeding 5-7 people, it's a great choice for a big family.

There are 3 rack positions, and comes equipped with several accessories.

Crumb tray, air fryer basket, food tray, wire rack, rotisserie fork set, and rotisserie handle included.

It has a nice bright LED screen for clear reading, it has 12 different functions; like toast, bagel, air fry, roast, broil, cookies, rotisserie and more. These are easy to control with a dial.

360° heat circulation, 2-speed fan, and 5 smart heating units mean the air fryer function crisps food like a champ!
Let me show you all the functions it has and how easy it is to use!
Ninja Foodi Mashed Potatoes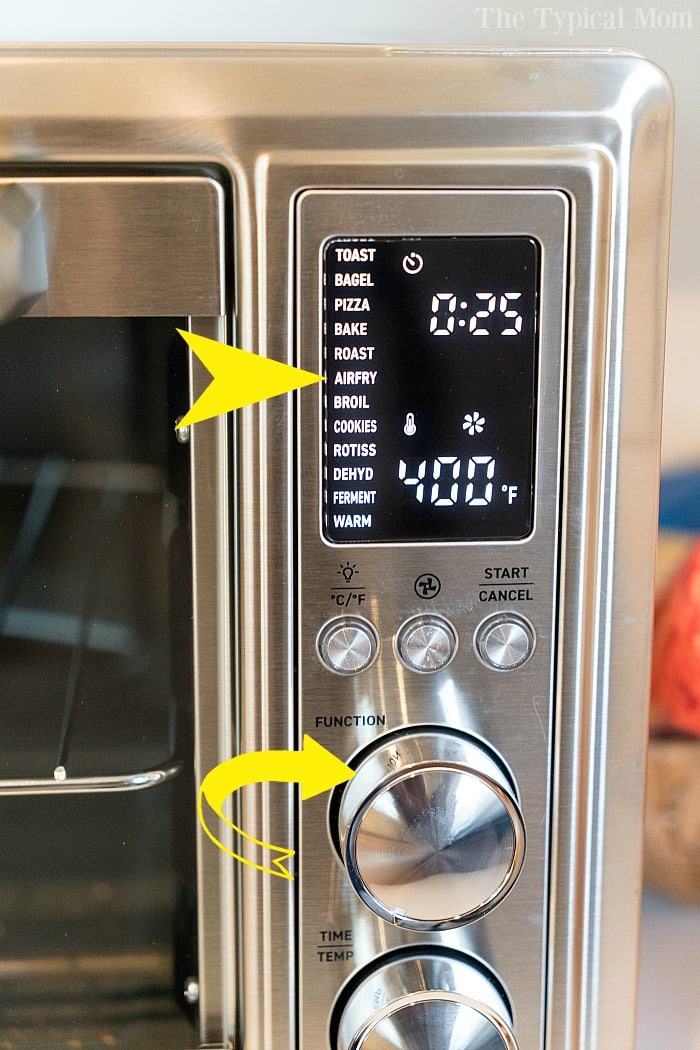 You have all of these options! You can:
Toast
Brown a bagel
Make a pizza
Bake
Roast
Air Fry is what we are going to use
Broil
Cook cookies
Use Rotisserie function for a chicken
Dehydrate, like making dehydrated apples
Ferment
And warm is a great function for leftovers or keeping a dish warm
Just twist the function knob to choose between all of these and land on the one you desire. Then press in Time/Temp and set those that are shown on the screen here. Press start and you're off. This is the first thing we made in it!
Russet or sweet potato mash is possible once you follow the following steps. It doesn't matter which type you prefer, the biggest difference will be their size. The larger the longer it will take. As is these are such a simple food with a TON of things you can do with them once they're cooked! You can make:
Air fryer baked potatoes

then we'll show you how to make mashed potatoes out of them

Sweet potatoes in the air fryer are so good

later we will make these into sweet potato mash
Are air fried potatoes healthy?
YES!! Air-fried foods are way healthier than deep fried foods in several ways. They are lower in fat and calories but get the same outside crispiness you love!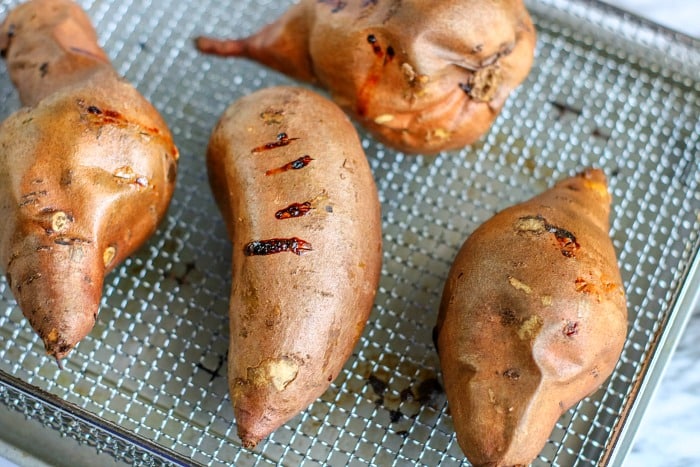 Can you put raw potatoes in an air fryer?
Of course, that's what you do with every air fryer potato recipe out there. Just follow the instructions and you'll love the results. To make diced potatoes in an air fryer:
Spray the air fryer cooking basket with the cooking spray. Add diced potatoes to the basket, and spray potatoes with olive oil too. Add any seasonings you want now.
This is how we make these air fryer sweet potato cubes you see here below.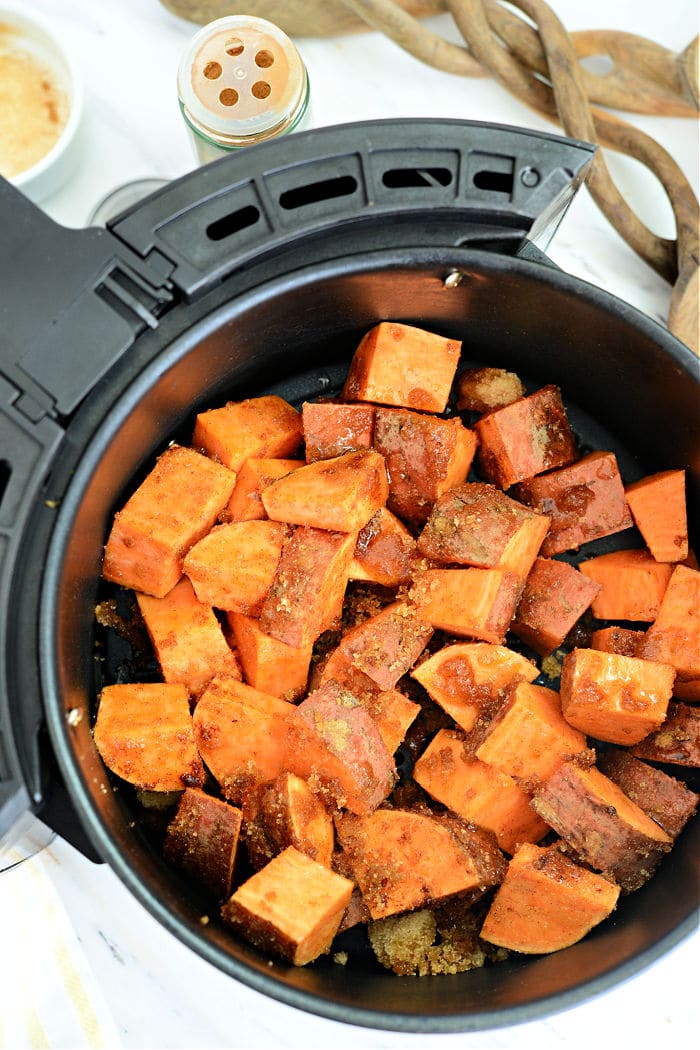 Cook at 400 degrees (not preheated) until brown and crispy on the outside. This will take about 20 to 24 minutes total.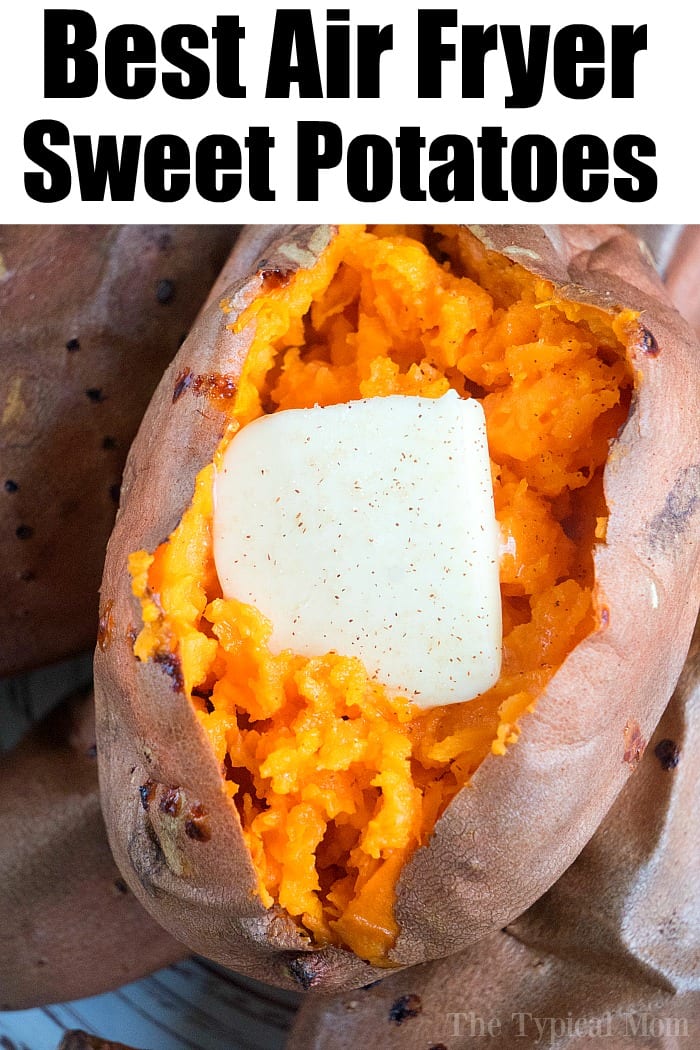 Creamy air fryer mashed potatoes
Sweet potatoes or russet for traditional style
Butter
Milk
Any other add ins you like in your taters like

cinnamon and sugar for sweetness
garlic salt and sour cream for savory potatoes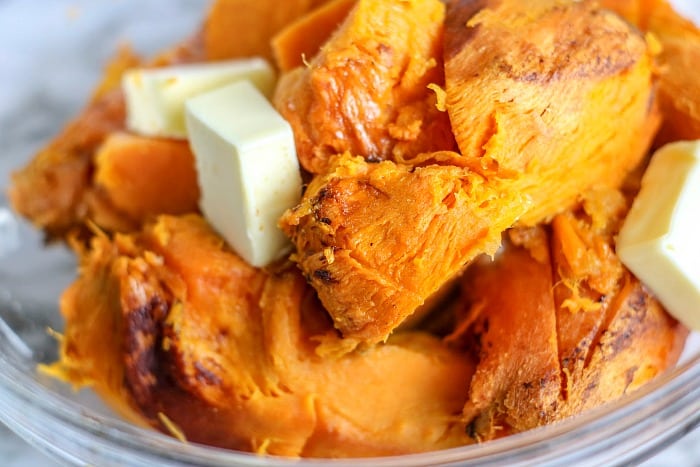 Here are the basic steps to follow when using your Cosori air fryer toaster oven: First you always want to wash and dry your potatoes to remove any debris. Drying the skin is an important step when air frying baked potatoes because you want them nice and crispy.
Now use a fork and poke all around the skins, then liberally rub olive oil all over them (I mean they'll be kinda' saturated at the start).
Put each one on top of the air fryer rack (looks like a grate with lips on the sides so items don't slide off).
Slide out your toaster rack and slide this air fryer rack in instead.
Close door and turn machine on.
Use function button to choose air fry mode.
Then push time/temp dial and set to 400 degrees for 45 minutes
I like to flip my potatoes halfway through the cooking process but it isn't totally necessary. Check after 45 minute by inserting a knife inside the middle of the largest potato to see if it's tender enough. If not add 3-5 more minutes until they are.
Now you can enjoy your potatoes just like this. Just slice, fill and eat BUT if you want air fryer mashed potatoes you'll want to let them cool enough to handle.
Then scoop out the insides into a large bowl and add all your favorite goodies into your mashed potato mixture!
Stir to combine and enjoy!
Leftover mashed potatoes in air fryer
Make potato cakes and place them in the basket at 370 degrees for about 6 minutes or until they're crispy brown on the outside.
You can of course just reheat them in a pan on low or in the microwave and serve them with air fryer steak tomorrow.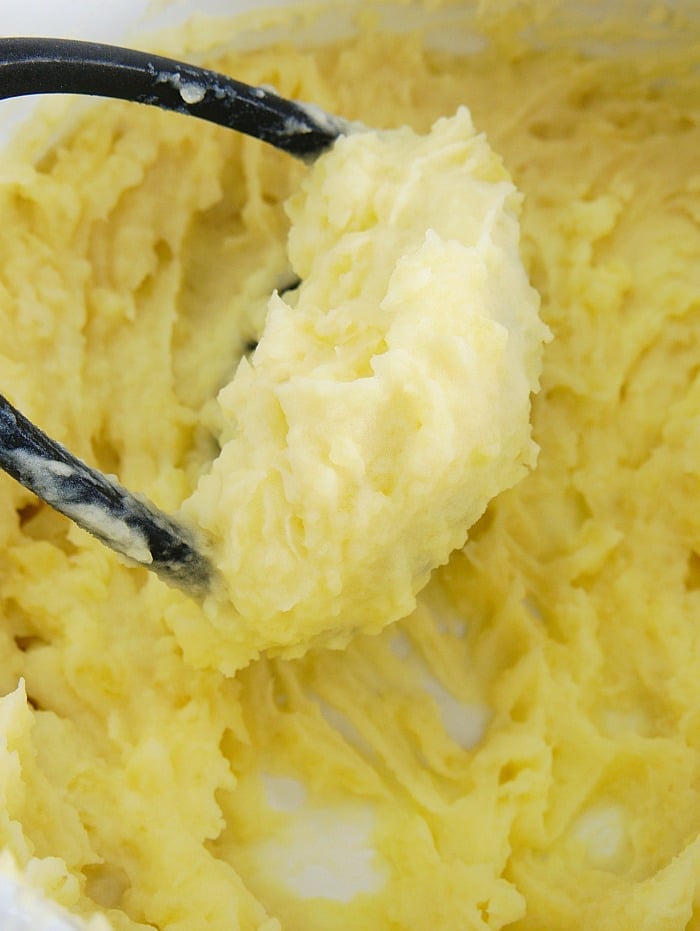 Ninja Foodi Air Fryer Mashed Potatoes
If you want to make air fryer potato skins following this method you can do that too! Just follow the instructions below but when you scoop out the middle of the potato make sure to leave a thick wall so you can twice stuff them.
Mash and add all the add ins you want at this time with the insides similar to mashed potatoes. With these you're going to want to add in a lot more goodies though like:
Bacon bits
Sour cream
Lots of shredded cheeses
Chives
Green onions
You can even add crispy fried onions inside and on top
Then refill them and place them inside your air fryer basket. Top each one with more shredded cheddar cheese and slide it into your air fryer toaster oven. Set to air fry, 400 degrees for about 5 minutes or until the cheese on top melts.
Want to see a few of my favorite things that I am totally obsessed with?? Take a peek and see how many you might already have…twinsies!
Looking for more easy family recipes and tips? LIKE The Typical Mom Facebook page?
Then sign up for my free newsletter, and follow me on Pinterest! 😉
***** If you LOVED this recipe give it 5 Stars below and let everyone know what you thought about it. 😉
Air Fryer Mashed Potatoes
Air fryer mashed potatoes are easy to do! Want both baked potatoes and sweet potato mash as a side dish, you can make both at the same time. Here's how.
Instructions
Clean potatoes and dry thoroughly. Prick with a fork all the way around potato.

Generously rub outside skins with olive oil, sprinkle salt on outsides if you'd like at this time. Can leave plain too, depending on taste you're desiring.

Put on air fryer rack or basket and set to 400 degrees for 45 minutes. Flip each one halfway through cook time.

Remove when the insides are tender (test with a knife inserted into the middle of the largest potato) and allow to cool enough so you can hold them.

Remove outside skins and put insides into a bowl.

Add softened butter and beat on low with electric mixer, or use potato masher to combine well. Slowly add milk and any other seasonings you'd like.

Sweet potato mash is great with a little cinnamon and/or maple syrup.
Nutrition Facts
Air Fryer Mashed Potatoes
Amount Per Serving (2 oz)
Calories 284
Calories from Fat 207
% Daily Value*
Fat 23g35%
Cholesterol 43mg14%
Sodium 192mg8%
Potassium 319mg9%
Carbohydrates 18g6%
Protein 2g4%
Vitamin A 12801IU256%
Vitamin C 2mg2%
Calcium 54mg5%
Iron 1mg6%
* Percent Daily Values are based on a 2000 calorie diet.