Sweet potato cubes oven baked are a great healthy and sweet side dish. Crispy on the outside and tender bites on the inside we love. If you wanted to try our air fryer sweet potato cubes but don't have that machine, try this!
Crispy baked sweet potato cubes oven cooked turn out great. A cheap addition to dinner packed with vitamins and fiber, even your kids will love this easy side dish. Orange roasted potato bites rock. (affiliate links present, originally published 8/22)
Roasted Sweet Potato Cubes
Almost everyone has made roasted potatoes with russets, but this sweeter variety is prettier with a ton more natural flavors. Unlike it's counterpart that really needs a bunch of butter, sour cream and bacon bits on or in it you can get away with just salt and pepper with these.
Toss with some olive oil which is great for you too and you have yourself a delicious vegetarian high satiating food to serve with any meal. Why would you choose this variety amongst all the others? Let's talk about that for a hot second shall we?
Are sweet potatoes healthy?
When we are talking about just the tater itself, and not what's adding to them, yes they are high in Vitamin C, B6, fiber, and proteins. If you keep it really simple like this and our air fryer sweet potato recipe you'll get the full effect of all of those. Once you start loading them up with butter, cinnamon and sugar it all kinda' goes downhill.
I mean it's not that those vitamins are going to go away but the healthiness factor is compromised if you know what I mean. Honestly, you really don't even need all of that. Yes, if you are making homemade sweet potato casserole it's kinda' expected that you'd find marshmallows on top etc… but for an everyday side just don't do that. 😉
How to Roast Sweet Potatoes
This is what was used in this batch, simple and sweet my friends.
Fresh sweet potatoes, not yams – look at the sign at the store

you can do something similar with butternut squash cubes

Olive oil
Diced air fryer roasted garlic – or use jarred
Salt and pepper

chili powder or red pepper flakes could add heat
A baking sheet is necessary, just spray with a little olive oil like we do with our roasted brussel sprouts with balsamic vinegar.
Next to our cabbage steaks this is probably my girls' favorite side dish ever. No need to cut it when it is done with a sweetness like at holiday meals and crispy on the edges.
I am a big texture person so I am all about tender and a little crunchy all at the same time. Unlike our Instant Pot cubed sweet potatoes you do get that here.
What is the best way to cube sweet potatoes?
First, use a peeler to remove skins. You don't want them to roll around with a knife in your hand so slice lengthwise 4 times and set 2 of the flat sides on your cutting board, one on top of the other. Then slice the top twice the long way, and down widthwise about 6 times for bite size pcs.
How Long to Bake Cubed Sweet Potatoes at 425
You'll need to set aside about 45 minutes to ensure the insides are nice and tender. If you also want the edges to get nice and crispy with a bit of caramelizing you'd want to toss a bit of brown sugar with your salt and pepper.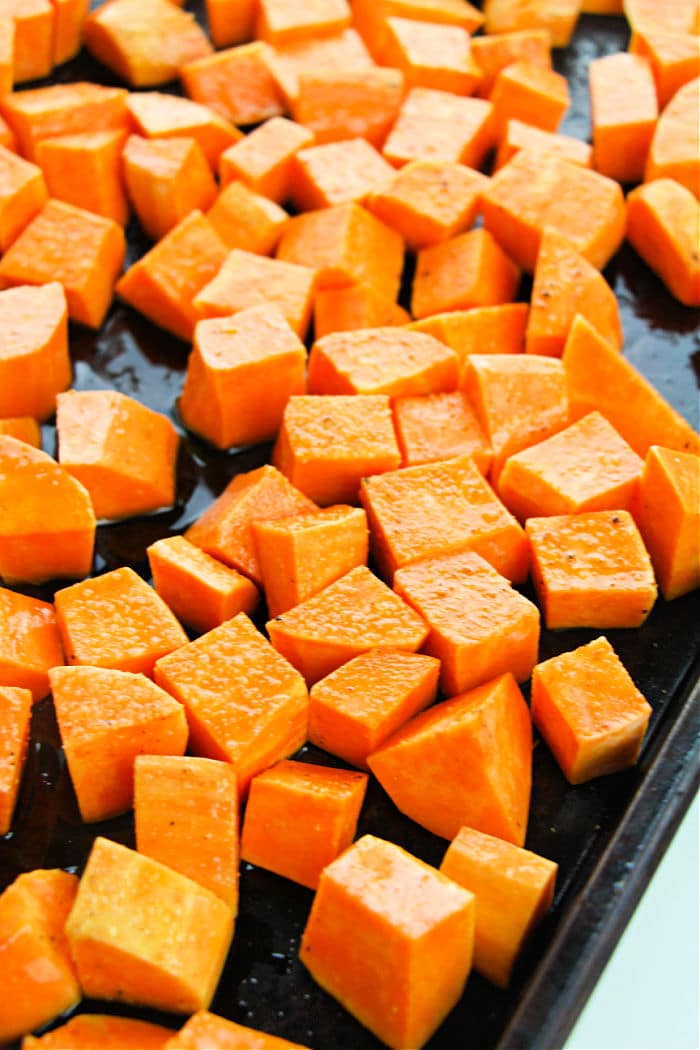 What Temperature Should I Bake my Sweet Potatoes?
400-425 degrees is typically best. Whole will obviously take longer, this is the best way to cook potatoes in that form. Since these are much smaller it won't take quite as long and will get crispier without the skin on, you don't want to eat that.
Start off by preheating your oven to 425 degrees. Peel potatoes and cut into 2 inch cubes. Throw into a bowl.
Drizzle with your olive oil on top and sprinkle with salt and pepper and any other seasonings you'd like. Toss together.
Wrap sheet pan in non stick aluminum foil, or set parchment paper on top and pour peeled and cut potatoes on. Do not overlap them, single layer is best. Bake for 25 minutes cook time.
Pull out and flip pieces over. Sprinkle roasted garlic on top, can season again with salt and pepper and bake again for 20 more minutes.
Test with a fork to ensure they are all tender.
If you want sweetness a good add on is a drizzle of maple syrup or a sprinkle of brown sugar and butter.
Sweet Potato Side Dish
If you wanted to make thinner sweet potato fries they would take closer to 25 minutes to bake. This is because the insides aren't as thick to get tender. Of course with either one of these the cook time will vary because your pieces won't be exactly the size of mine. Because of this keep an eye on them.
If your oven runs hotter or your baking sheet is on a higher shelf they may be done in 30 minutes vs. 40-45. Oven baked chicken breasts at 350 take about an hour so you could stick these in at about the same time, and take these out early to rest. Jump to recipe and give these a whirl to serve with dinner this week.
We like ours with butter and a bit of honey on top. My husband requires dairy free option so for him I use margarine or this plant based butter product I found that really is pretty close to the real one. 😉 If you just want a savory option, use salt and pepper with maybe a bit of chili powder for a bit of heat (or spicy if you like).
What are the benefits of eating sweet potato cubes oven baked?
Sweet potatoes are a good source of dietary fiber, vitamin A, vitamin C, and potassium. They are also low in calories and fat. Oven-baked sweet potato cubes are a healthy and delicious way to enjoy this nutritious vegetable.
What are some variations of sweet potato cubes oven baked?
1. Add your favorite herbs and spices to the sweet potato cubes before baking.
2. Top the sweet potato cubes with your favorite toppings, such as shredded cheese, sour cream, or bacon bits.
3. Serve the sweet potato cubes as a side dish or as a main course.
How do you store sweet potato chunks
If you do have leftovers they keep pretty well if you want to reheat it for the next day. Allow them to cool completely and then spoon into a container that can be sealed. When reheating transfer to a microwave safe dish and drizzle maple syrup or put a pat of butter on the top.
Microwave for about one minute to warm all the way through. You do want to add a bit of something to the top though to moisten them back up a bit for best results though.
Nutritional information is listed below but will vary slightly depending on the weight of the taters you use of course.
Want to see a few of my favorite things that I am totally obsessed with?? Take a peek and see how many you might already have…twinsies!
Looking for more easy family recipes and tips? LIKE The Typical Mom Facebook page?
Then sign up for my free newsletter, and follow me on Pinterest! 😉
***** If you LOVED this recipe give it 5 Stars below and let everyone know what you thought about it. 😉
Sweet Potato Cubes Oven
Sweet potato cubes oven baked are a great healthy and sweet side dish. Crispy on the outside and tender bites on the inside we love.
Instructions
Preheat oven to 425 degrees F. Peel potatoes and cut into 2" squared pieces. Put into a bowl.

Drizzle olive oil on top and sprinkle with salt and pepper. Toss.

Wrap baking sheet in non stick aluminum foil and pour potatoes on top, do not overlap them. Bake for 25 minutes.

Pull out and flip pieces over. Sprinkle minced garlic on top, can season again with salt and pepper and bake again for another 20 minutes.

Test with a fork to ensure they are all tender, remove and serve. * Could drizzle a bit of maple syrup or cinnamon and sugar mixture on top for added sweetness.
Nutrition Facts
Sweet Potato Cubes Oven
Amount Per Serving (1 oz)
Calories 193
Calories from Fat 45
% Daily Value*
Fat 5g8%
Sodium 98mg4%
Potassium 573mg16%
Carbohydrates 34g11%
Protein 3g6%
Vitamin A 24118IU482%
Vitamin C 4mg5%
Calcium 51mg5%
Iron 1mg6%
* Percent Daily Values are based on a 2000 calorie diet.