Easy fruit salad with Cool Whip or whipped topping recipe that's super creamy and easy to make.. The perfect 3 ingredient BBQ side dish or a light fruit dessert idea that everyone will love!
Whether it's summertime and you're going to BBQ, or you're looking for a refreshing side dish this creamy easy Cool Whip fruit salad is fantastic! You can use any fresh or canned fruits you like. I use what's on sale, and everyone loves it. (originally published 10/16, affiliate links present)
Creamy Fruit Salad
We live where are lots of strawberry farms and farmers markets. When the fruit is inexpensive and beautiful it is a perfect time to make an easy fruit salad. It's not only is it a great side dish you can call it "dessert" when you add these 2 ingredients to make a creamy fruit salad!
If if you can get your hands on a watermelon I would add chunks of that too. Next to our ambrosia recipe this is a favorite around here. Some of the same ingredients are used for this one except most are fresh fruits instead of canned. The choices of fruit for fruit salad are vast.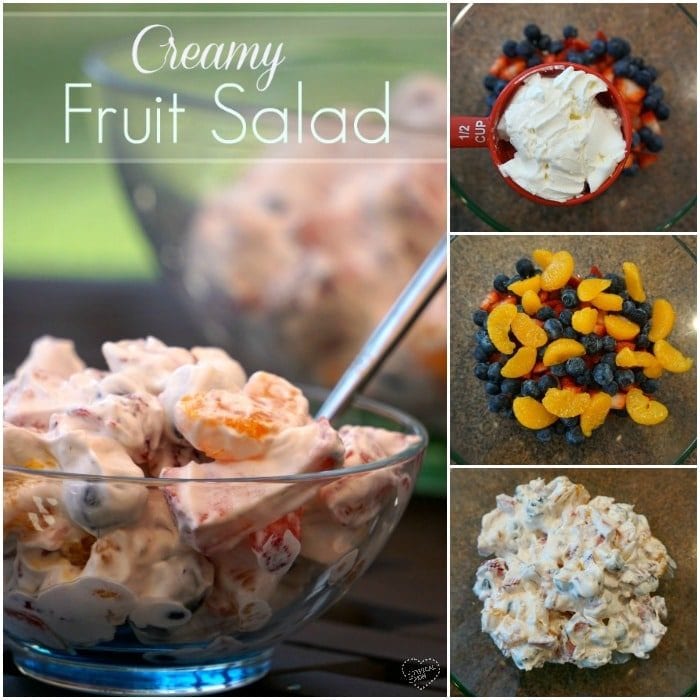 Ambrosia Fruit Salad with Whipped Topping
So first off this fruit salad recipe is very versatile. I typically use whatever fruits I find that are in season, look the best, and are the least expensive. When preparing a fruit salad with Cool Whip, it's essential to choose fruits that pair well with the creamy and sweet nature of the topping. Here are some fresh fruit options that work well;
Strawberries are juicy and vibrant berries that are firmer so they work well inside fruit salads. They add a burst of sweetness and a beautiful color to the salad.
Blueberries are nice and small, flavorful, and when they pop with the Cool Whip provide a burst of flavor and already bite sized so they need very little prep.
Seedless grapes in either red, green, or a mix of both are great. They add a refreshing and juicy element to the salad. If you have little ones you will want to slice them in half for safety reasons.
Pineapple tidbits add a tropical flavor with the sweetness of whipped topping.
Cut it into bite-sized pieces for easy eating. You can drain a can that is already sliced or this is how to cut a pineapple hack into diced pieces.
Cool Whip Marshmallow Fruit Salad
I mean you could add mini marshmallows in there too. If you are going to go there a handful of sweetened coconut and/or a few maraschino cherries are fabulous too.
Mandarin Oranges can be canned or fresh adding a refreshing twist to the salad with fresh fruit. Use fresh segments or drained canned pieces.
Kiwi will add a pretty vibrant green color and unique taste. Adding a bit of sweet tartness to balance the sweetness of the creamy topping.
Sliced bananas provide a creamy texture and a touch of sweetness. However, keep in mind that they tend to brown quickly, so it's best to add them when they are quite yellow, and fold in right before serving.
Mango will add a nice tropical flavor. Sliced, they bring a delightful sweetness and vibrant color to your fruit side dish.
Raspberries add a burst of flavor and a beautiful touch of red color to the salad.
Melon cubes like watermelon, cantaloupe, or honeydew can be cut into bite size pieces and added to the bowl for a juicy and refreshing element.
Remember to wash and prepare produce before adding them to the bowl. You can also garnish the fruit salad with a sprinkle of shredded coconut or chopped nuts for added texture and flavor. This time the blueberries and strawberries were buy one get one free so I focused on those and grabbed a can of mandarin oranges in light syrup to add as well.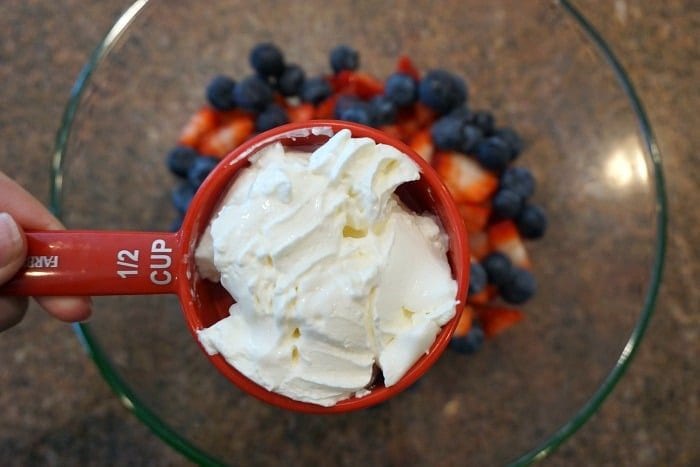 Fruit Salad with Cool Whip
The creamy mixture is just two ingredients, light or fat free sour cream and whipped topping…that's it!! It brings a creaminess to this delicious fruit salad recipe and a bit of sweetness too. I have added tiny marshmallows into the large bowl at times and called it ambrosia too.
Diced fruit that is fresh is best, could use drained fruit cocktail too
Sour cream – I have found dairy free varieties too
Whipped topping
For our fluff salad we use sour cream, for this and our pistachio ambrosia a combo of this and Cool whip is better I think. If you only use the tub it won't be as thick and won't coat the pieces quite as well.
Can I use frozen fruits in fruit salad with Cool Whip?
I mean technically you could but the texture would be totally different. Fresh fruit salad is way better since they remain firm. Using frozen you would need to defrost them first which makes them soft and a bit mushy.
Is Cool Whip the only option for the whipped topping in fruit salad?
No, Cool Whip is a popular choice due to its convenience and creamy texture. However, you can substitute it with homemade whipped cream or other whipped topping brands if you prefer.
Can I add additional ingredients to fruit salad with Cool Whip?
Common additions include mini marshmallows, shredded coconut, chopped nuts (such as walnuts or pecans), or even a sprinkle of cinnamon or honey for added sweetness.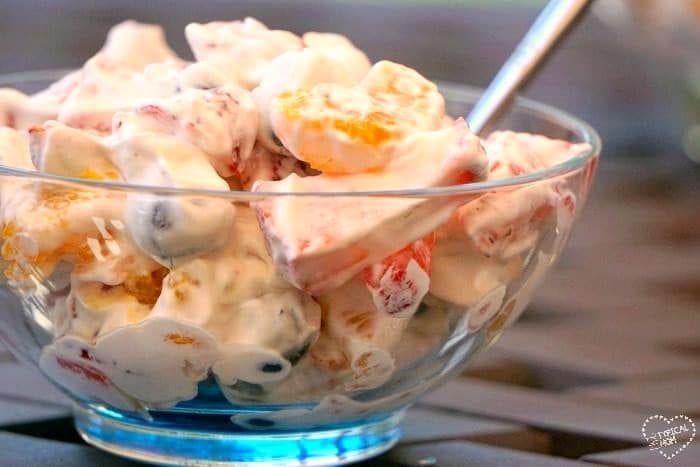 Fruit Salad with Fresh Fruit
If you are looking for more yummy side dishes to bring to church potlucks or special occasion we have a bunch of other ones that are either sweet or savory in flavor. Let's start with something else using whipped topping like our Cool Whip Cookies. Just a few others are;
This is a creamy easy fruit salad recipe that can be called dessert too. 😉 Now jump to recipe y'all and make a bowl yourself. If you tweak it in another way we haven't mentioned yet that is a hit let us know.
Want to see a few of my favorite things that I am totally obsessed with?? Take a peek and see how many you might already have…twinsies!
Looking for more easy family recipes and tips? LIKE The Typical Mom Facebook page?
Then sign up for my free newsletter, and follow me on Pinterest! 😉
***** If you LOVED this recipe give it 5 Stars below and let everyone know what you thought about it. 😉
Cool Whip Fruit Salad
Fruit Salad with Cool Whip
Easy fruit salad with cool whip recipe that's super creamy and easy to make.. The perfect BBQ side dish or a light fruit dessert idea that everyone will love!
Ingredients
1/2

c

sour cream

light or fat free is fine

1/2

tub

whipped topping

cool whip, 12 oz.

1

pkg

strawberries

1

pkg

fresh blueberries

1

can

mandarin oranges

drained
Instructions
Dice your strawberries, add your blueberries, and add mandarin oranges after draining the can.

In a small bowl gently whisk together your sour cream and whipped topping and then gently fold it into your fruit mixture.

Add mini marshmallows too if you desire! Chill in the fridge for an hour or so, covered with plastic wrap, keeps well for the next day too.
Nutrition Facts
Fruit Salad with Cool Whip
Amount Per Serving (3 oz)
Calories 33
Calories from Fat 18
% Daily Value*
Fat 2g3%
Cholesterol 7mg2%
Sodium 11mg0%
Potassium 38mg1%
Carbohydrates 1g0%
Vitamin A 165IU3%
Vitamin C 3.1mg4%
Calcium 20mg2%
* Percent Daily Values are based on a 2000 calorie diet.