Here's the best way to cut a watermelon so it's less messy and you can get every bit of fruit into your mouth. The trick to cutting watermelon sticks. The perfect finger sized pieces of your favorite fruit this summer. Skip the mess and I bet you'll never cut it in triangles again after method.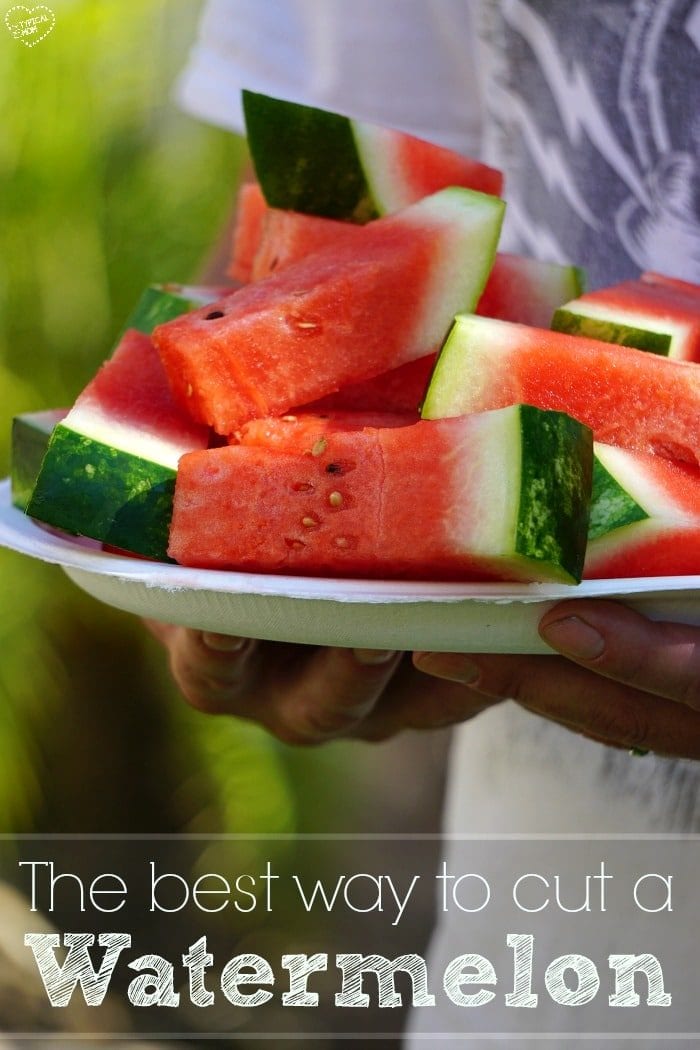 It's summertime!! What that means for us is sun, vacations, bbqs, and what do you need at every bbq……watermelon of course!! Here's the best way to cut a watermelon that makes it easier (and cleaner) for kids and adults to chomp down on this classic summertime fruit! This post brought to you by The Chinet brand. The content and opinions expressed below are that of The Typical Mom. (originally published 6/16)
Best way to cut a watermelon
Remember when you were a kid and your face was covered ear to ear in watermelon juice once you took a juicy bite out of that triangular sliced piece. Although that was fun and created lots of embarrassing pictures we'd probably laugh at in our forties, there is a much easier and cleaner way to cut a watermelon and it takes the same amount of time as it did the "old fashioned" way.
How to choose a ripe watermelon?
This is kinda' a guessing game right? Not anymore. First you want a yellow spot on one side ideally. Another one to look for is the sound. Stand the watermelon on it's side and thump on it.
If it has a hollow sound that means there's a lot of juice = good. Lastly you want it to have a dark green color, not white or faded green.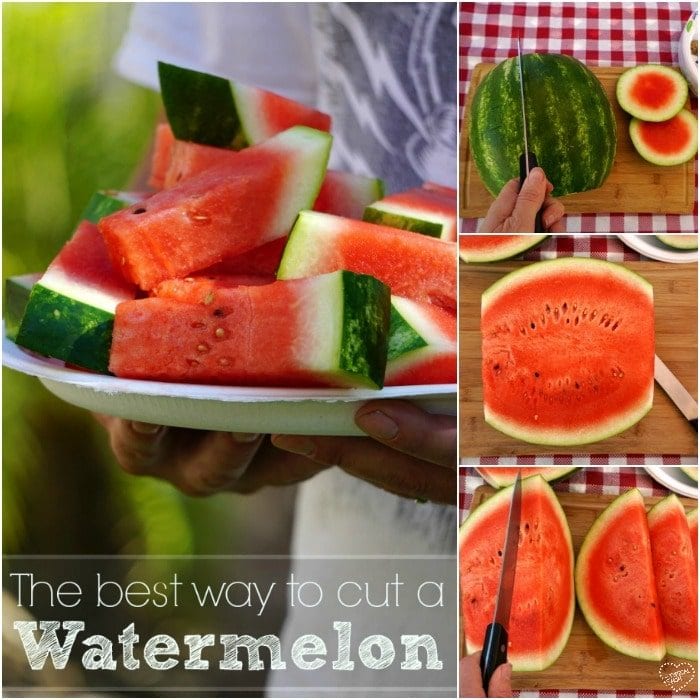 How to Cut Watermelon Sticks
This is perfect for your 4th of July or summer barbecue because everyone loves watermelon!
Here's the first method if you want large "smiles" AND smaller less messy watermelon sticks. If you want just finger size pieces I will show you that below as well. 😉
First you need to have some strong plates on hand that can hold the weight of your watermelon slices when they're ready to serve. Chinet Classic White

dinner plates are perfect for this!

Then cut off the ends of your watermelon, and it's on to step #2.

Cut the melon down the middle starting at one end you cut off down to the other end that has an end missing.

Put all the pieces you will discard on one of your plates so when you're done clean-up is easy….just toss the whole plate with rinds in one swoop. 😉
I'm all about an easy cleanup especially when we are doing a picnic of sorts.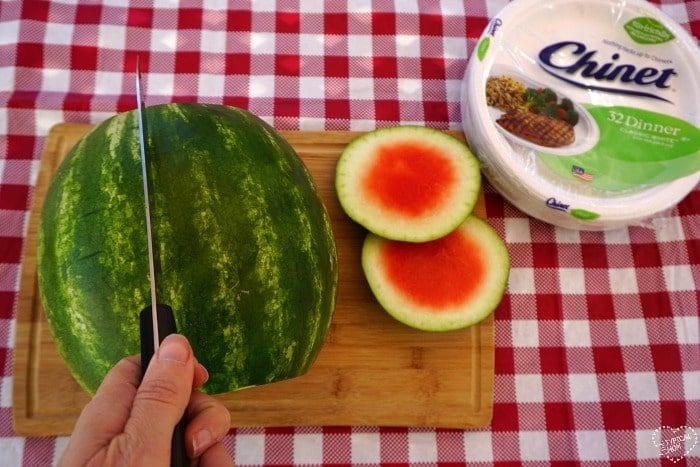 How to Cut Watermelon Slices
Now you will have two halves of your large juicy fruit. To make things safer you don't want it to roll or tumble away. Place the flat side down flat on your cutting board, that will keep it nice and secure.
How to Cut Triangle Watermelon
Time needed: 10 minutes
How To Cut a Watermelon
Slice in half

Put your whole watermelon on a cutting board with the stem end facing you. Use a sharp long knife to slice it equally in half.

Lay on cutting board

Put one half flat with the fruit side facing down flat on your board so it doesn't slide around.

Cut

Use that same long knife to slice into 1″ pieces so you will have half moon shaped pieces, you can enjoy them this way if you like.

How to cut a watermelon into triangles

If you want smaller pieces for little hands, slice those half moon shapes in half so the fruit end is shaped like a triangle.

Cutting watermelon sticks

If you want even smaller sticks, instead of slicing half moon pieces in half, lay down flat on the board and cut straight so you get long thinner sticks of fruit with the rind at the bottom serving as a holder.

How to cut watermelon cubes

Continue on with the sticks, but cut the red area into bite size pieces if you are using in a fruit salad
It is best of all if you can choose a seedless one but sometimes I make the mistake of not. Not a huge deal since my kids are older but if you have toddlers I would not choose the seeds in tact.
Best Way to Cut Up a Watermelon
Sometimes I want a variety of sizes, thus I use the cutting method above but if I am in a hurry with a bunch of kids at my house I opt for just smaller finger size watermelon slices because it is a lot less messy to eat and you can really get all the juicy red fruit in your mouth and less of the rind.
Kind of changes the way you see this summertime fruit doesn't it? I mean as a kid it was big slices or maybe those cut in half but that was it.
How to Cut Watermelon Cubes
Want them even smaller. Maybe you are making a fruit salad and want bite size pieces, no problem. It is wonderful that way too. Less mess if you use forks instead of getting all that juice dripping down your arm right? I would cut the same way but then cut off the rind and discard. Then cut that strip into 1.5″ pieces.
Or slice the watermelon in half
Use a melon baller to remove the inside of the fruit
Repeat this process until you have all you need
Discard the watermelon rind when done and enjoy this summer fruit however you wish.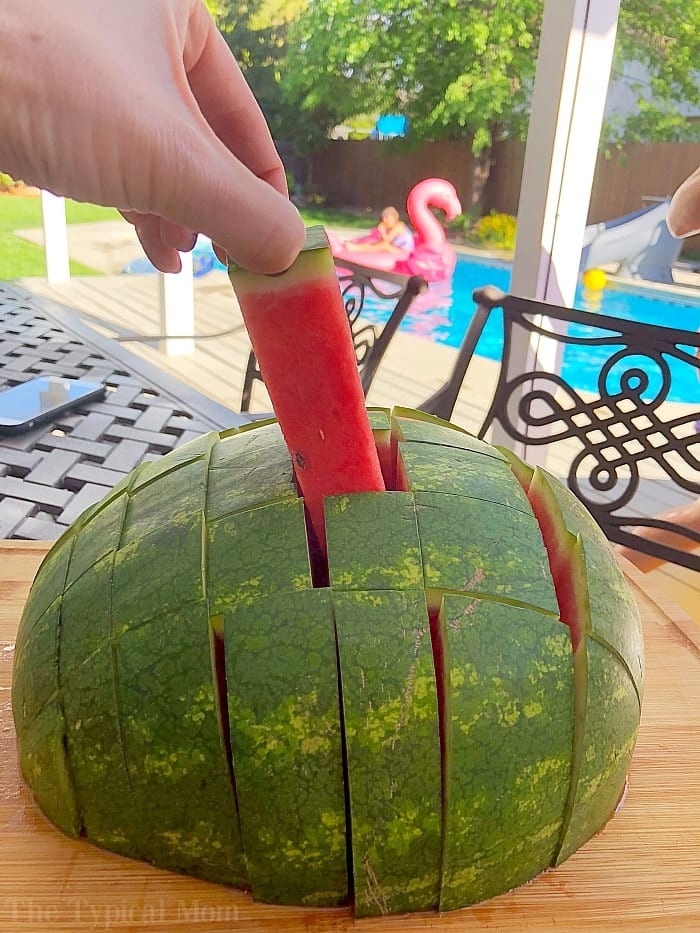 Either toss it in a bowl with other fruits and enjoy a few spoonfuls alongside of your smoked chicken thighs or you can add whipped topping and toss everything in that. I know, the kids love this one and it is oh so easy to make too. If you want to add a little more protein you can with our Greek yogurt fruit salad recipe.
Cutting Watermelon
I mean you don't really need a recipe of sorts for that, just add as much as you need and toss everything to coat well. You could even add some mini marshmallows into the mix so it is more like an ambrosia of sorts. Yes that is more like a dessert but it is fruit so it's healthier right? 😉
Either way you cut it watermelon is a sign for us that summertime has arrived and is the perfect side and addition to any barbeque in our opinion. If you're cooking outside try our barbecue ribs recipe, the perfect combo for sure.
Can you freeze watermelon?
If you have some left over, we never do, you might want to keep it for longer. First you can cover open end with plastic wrap and keep in the fridge for up to a week.
Can you throw it into the freezer though? You can but you'll want to remove the rind first. Cut sides that aren't a beautiful red off and then into smaller chunks.
Lay your pieces out on a baking sheet lined with parchment paper with space in between then.
Freeze for a minimum of 4 hours until hardened.
Remove from sheet and throw into a freezer bag.
Store in your freezer for up to 3 months.
Use in your favorite green smoothie to add sweetness or as a treat just popped into your mouth when it is hot.
I hope you learned how to cut it in several different ways in our post and this helps you enjoy it more in the future.