Here's an easy 10 minute Instant Pot pizza pasta recipe that my family loves! Super easy to dump it all in your pressure cooker and put in all of your favorite pizza toppings. A fun dinner recipe with a fun pizza twist that tastes even better the next day, if you have leftovers that is!
I'm obsessed with my Instant Pot! We just made this easy Instant Pot pizza casserole in just 10 minutes. It's one of our favorite Instant Pot recipes here on The Typical Mom! It's packed with all the flavors you'd expect but without the crust, noodles are used instead! (originally published 4/17, affiliate links present)
Pizza Pasta Instant Pot
Pair this Instant Pot casserole with a side salad and/or some pull apart bread. Then you'll have a quick meal your whole family will love. I mean who doesn't love this classic Italian dish right? If you want your kids to think you are superwoman at the dinner table, make this!!
Think of it as an Instant Pot pizza just in a pasta form! You can cook it in your Ninja foodi pot too though, Crockpot Express works too. We aren't brand specific y'all.
FIRST – You should sign up for my free newsletter so you get new posts emailed to you twice a week and never miss out on anything! Now let's start with a few basic tips:
Make sure to Bookmark our InstaPot recipes page. We add new ones each week!
Then PRINT this —–> Instant Pot cooking times cheat sheet that will help you understand how long meat, vegetables and beans take to cook in your pressure cooker.
For reference, this is the pressure cooker I have (a 6 quart) and use for all recipe creations.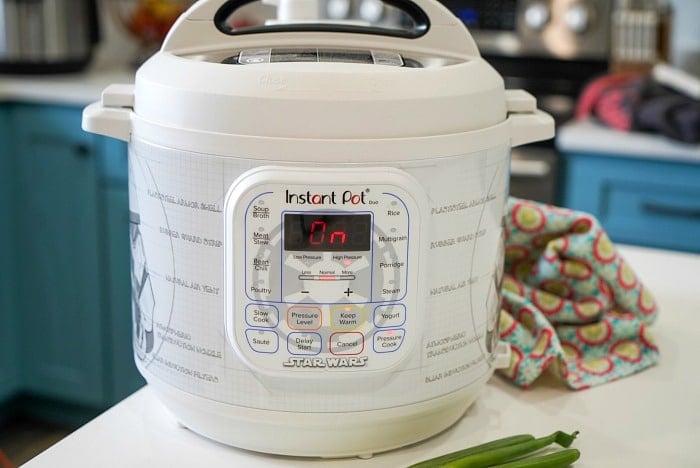 Ninja Foodi Pizza Pasta
If you love pizza, and pasta, this is a great dish to make in your pressure cooker! It is really quick to make, inexpensive, and I haven't met anyone yet who didn't think it was really yummy. It has all the flavors you love and you can load it up with any and all toppings you would normally put on your favorite "pie".
Pepperoni and mushroom are great, add olives too if you want. I mean the list goes on and on. If you love Hawaiian pineapple and Canadian bacon you could dice the meat up and use tidbits for that sweet and savory blend you love, typically on a crust.
If you have only used these ingredients on a flat edible surface you need to think outside the box more friends! We have made it with noodles also with our slow cooker pizza casserole dish, so so good.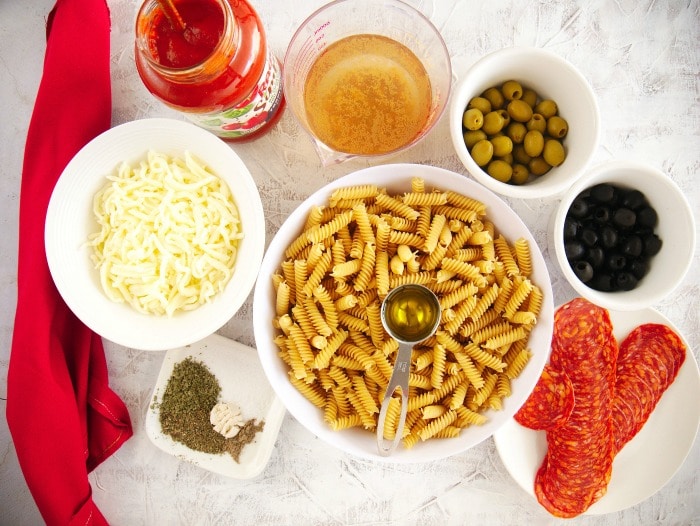 Then we used a more traditional way but with the same Crock with our Crockpot pizza instructions. That one was a really fun one to make with the kids to show them that baking doesn't have to happen only in the oven.
Instant Pot Pizza Pasta Casserole
I HIGHLY recommend you get a non stick pot
Noodles – rotini works well

there are gluten free noodles, but timing may need to be altered

A jar of or homemade spaghetti sauce
Water
Pepperoni
Mozzarella cheese
Mushrooms, olives, all toppings
What are the best toppings for pizza?
Pepperoni
Mushrooms
Onions
Sausage

you could add this at the beginning and saute with some olive oil
then follow steps starting at adding sauce etc..

Crumbled bacon
Sliced black olives
Green peppers are a fave to some

if you add these I'd include them in with your uncooked noodles so they soften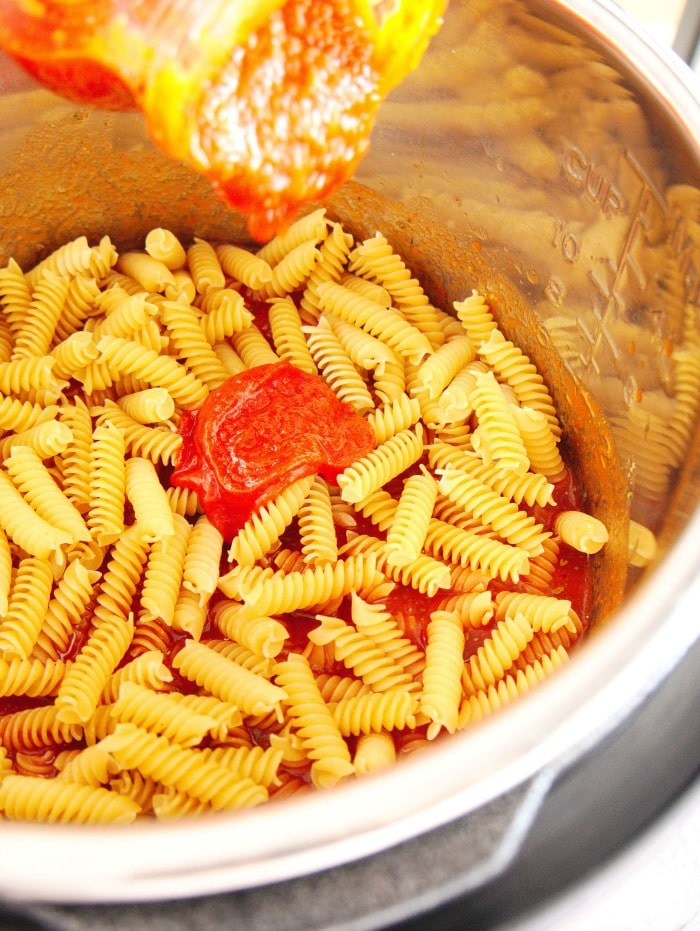 How long does it take to cook pasta in a pressure cooker?
It depends on whether you are adding it in with sauce and other ingredients, or just with water. When I make Instant Pot pasta I always make it similar to what you see here.
Cooking uncooked noodles inside a sauce with some additional liquid makes it taste amazing. The pasta soaks up all the flavors in your spaghetti or alfredo sauce, so much better than boiling in water on your stovetop.
For the most part small noodles like these take about 4-5 minutes to become perfectly tender. If you add meat and longer noodles into the mix, like our Instant Pot spaghetti, 8-9 minutes is better.
Of course if you prefer al dente I would decrease the time about a minute. If using egg noodles like we did in our Instant Pot tuna casserole, those only take 3 minutes followed by a quick release.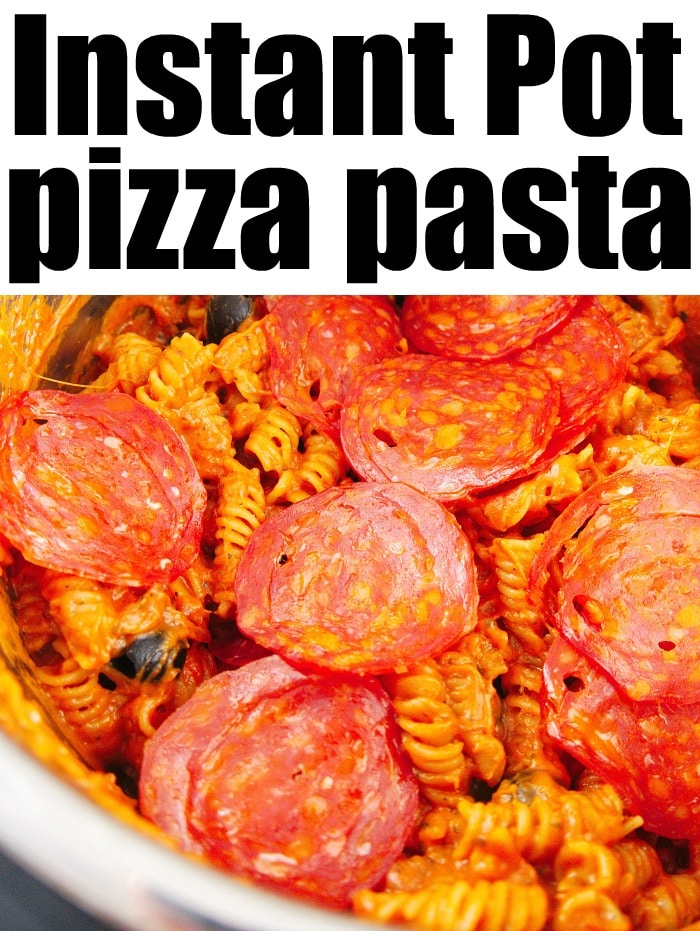 Pizza Pasta Casserole
If you wanted a low carb version of this you can follow our Ninja Foodi pizza spaghetti squash recipe. Now, you have an option as to when you add all of these wonderful pizza toppings. Here are the basic steps to follow:
If you want ground sausage or ground beef to be added, set pot to saute now with some olive oil. Cook until outsides are no longer pink, then turn pot off. Leave on bottom of pot.
Pour 3/4 of your pizza sauce inside with all Italian seasonings and a bit of olive oil.
Sprinkle in uncooked noodles, then remaining sauce. DO NOT Stir!
Add water or broth into your jar, shake to get remaining sauce out.
Then pour this into your pot, again DO NOT stir!
Gently submerge noodles into liquid but not a lot. You don't want them to be sitting on the bottom of your pot or the burn notice may appear.
Close lid and steam valve and set to high pressure cook for a 4 minute cook time.
Do a 1 minute natural release, then quick release steam.
Stir in cheese and pepperoni and all other pizza toppings to warm and melt it all.
Serve this with more cheese on top, I mean you can't get enough, and maybe some bread on the side.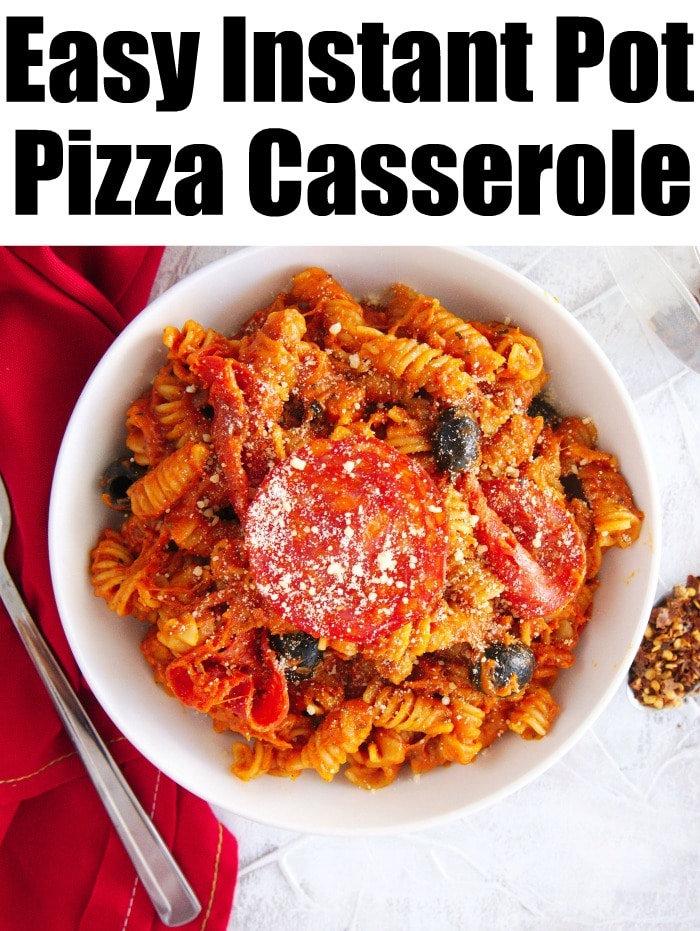 How do you keep pasta from sticking?
If you want to cook the noodles separately, watch the video we have in this post to see how to make it that way.
Add olive oil to the cooking water and/or other ingredients to keep the pasta from sticking.
Pasta shouldn't stick when properly cooked with this added ingredient.
Doing this will actually coat the noodles and prevent sauce from sticking.
This 2nd method just takes 3 minutes to cook your pasta with water to cover it well. Then add everything at the end, warm, and serve. We are busy. Both of us work full time. One thing we really strive for though is a dinner where we all sit down and eat together.
Eating together has been a great way to connect and honestly. It was hard for me to get everything I needed done at work and still cook a dinner until I started experimenting with my Instant Pot. It has been a lifesaver! Looking for more Instant Pot recipes?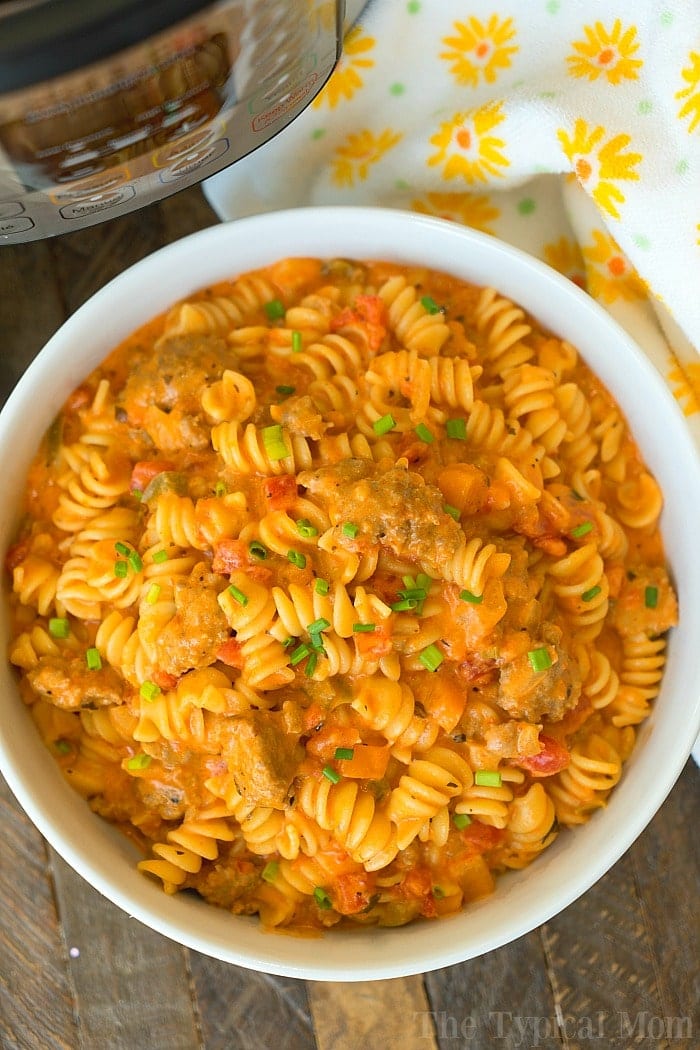 We hope these two methods of cooking pasta in an Instant Pot help you understand how to make it perfect. Beyond that, start creating your own recipes! As long as you understand the basic principals of cooking pressure cooker pasta, the sky is the limit!!
If you cook it separately with water first, you will probably never boil it on your stovetop again! It has really been a game changer for us. We even figured out how to make Instant Pot Kraft macaroni and cheese with NO draining required!
How long can I keep cooked pasta in the fridge?
If you have any leftovers, transfer it to a container rather than keeping inside the pot. To maximize the shelf life of cooked pasta, refrigerate it inside of a shallow airtight containers or resealable plastic bags.
Properly stored, cooked pasta will last for 3 to 5 days in the refrigerator.
You can serve this with no yeast bread, it's a great meal.
I hope this helps you understand how do you cook Instant pasta of all kinds! If you're looking for more ideas, here are a few we enjoy on a regular basis together.
Here's the printable recipe below that includes nutritional information such as calories, saturated fat, etc… Let us know what you think below in the comments after you make this!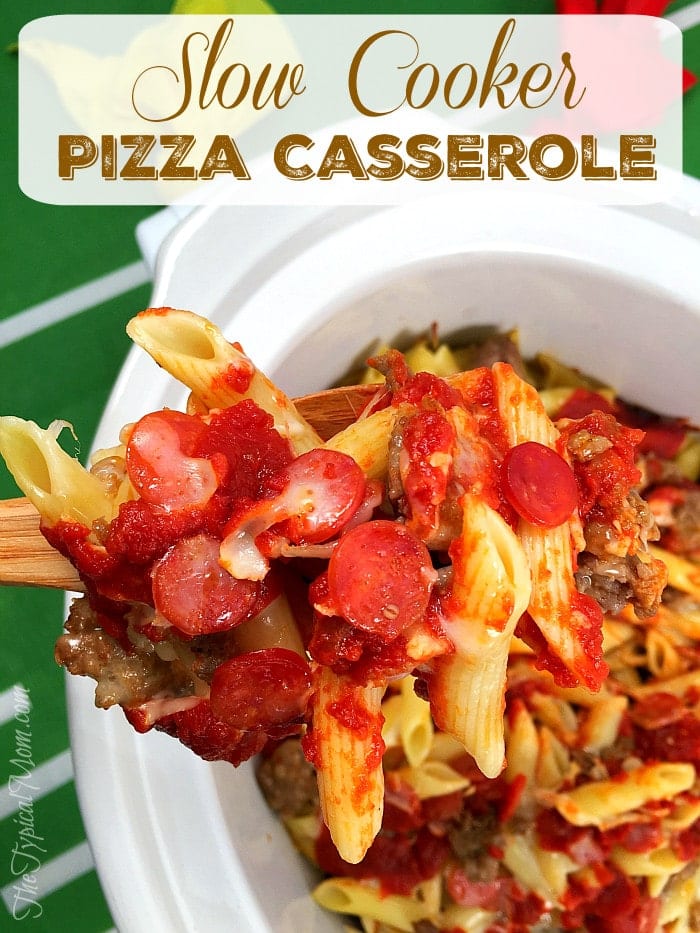 Want to see a few of my favorite things that I am totally obsessed with?? Take a peek and see how many you might already have…twinsies!
Looking for more easy family recipes and tips? LIKE The Typical Mom Facebook page?
Then sign up for my free newsletter, and follow me on Pinterest! 😉
***** If you LOVED this recipe give it 5 Stars below and let everyone know what you thought about it. 😉
Instant Pot Pizza Pasta Recipe
Here's an easy 10 minute Instant Pot pizza pasta recipe that my family loves! Super easy to dump it all in your pressure cooker and put in all of your favorite pizza toppings. A fun dinner recipe with a fun pizza twist that tastes even better the next day, if you have leftovers that is!

Instructions
Pour 3/4 of your spaghetti sauce into your pot. Add olive oil and seasonings, stir.

Dump in your uncooked noodles, DO NOT stir or submerge. Pour remaining spaghetti sauce on top. Pour water or broth into your spaghetti sauce bottle, put top on and shake. Pour all of this on top of your uncooked noodles.

GENTLY submerge noodles just so they are under liquid but not pushed to bottom of pot. (can add pepperoni on very top now if you want them hot and steamed, or add at end)

Close lid and steam valve and set to high pressure for 4 minutes followed by a 1 minute natural release, then a quick release.

Lift lid, stir contents. Add any and all pizza toppings including cheese into the pot and stir so everything melts and warms inside the cooked sauce and noodles.

Serve with parmesan cheese or additional mozzarella cheese on top.
Nutrition Facts
Instant Pot Pizza Pasta Recipe
Amount Per Serving (3 oz)
Calories 324
Calories from Fat 81
% Daily Value*
Fat 9g14%
Cholesterol 19mg6%
Sodium 906mg39%
Potassium 431mg12%
Carbohydrates 48g16%
Protein 14g28%
Vitamin A 543IU11%
Vitamin C 6mg7%
Calcium 136mg14%
Iron 2mg11%
* Percent Daily Values are based on a 2000 calorie diet.