I use this ham and cheese roll ups recipe all the time after a big holiday when I have leftover ham! Honestly it is something I threw together with what I had in the refrigerator one year (my kinda' recipe), and it's been used over and over again, especially after Easter and Christmas. The kids really love them because you can pick them up, and I love how easy they are to make. Let us know what you think!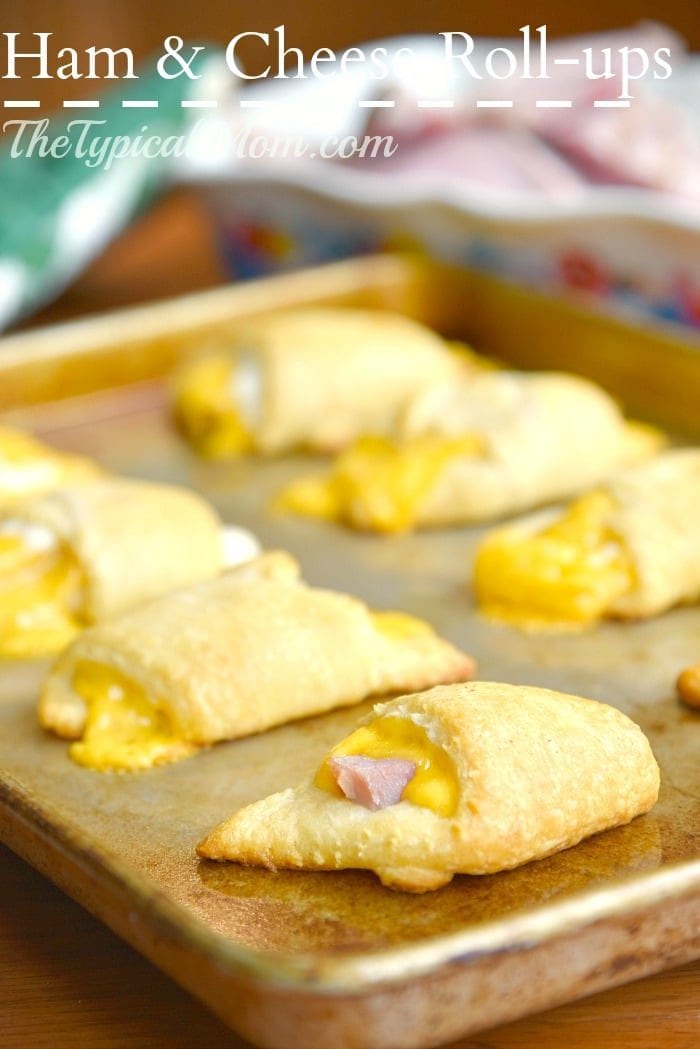 This is perfect for leftover ham, or turkey for that matter. Choose any kind of cheese you like, I chose sharp cheddar here, a little mayo and your pkg. of crescent rolls are all you need. Swiss cheese is actually really great too like the way we made this great leftover ham recipe. I don't like leaving any food to waste and when it comes to ham it's just too good to throw away. You could easily use lunch meat too, just roll up a piece and use in place of the ham you see here.
Use 1 crescent roll on a non stick sprayed pan, put 1 piece of ham, cheese, a small bit of mayo and roll it up with the cheese on top. The cheese will ooze a bit and go on to the pan but seriously that is the BEST part for me. If you allow them to cool once they are done the oozed cheese will harden just a bit and get crispy!! SO good!
Ham and cheese roll ups
Ingredients
1 pkg. refrigerated crescent rolls
leftover ham, turkey, or lunchmeat - 1 pc. per roll
sharp cheddar or swiss cheese - 1 pc. per roll
mayonnaise
Instructions
Spray cookie sheet with non stick spray. Lay a crescent roll down, top with 1 pc. of meat about the size of your finger. Add a slice of cheese on top of that and a small squeeze of mayonnaise on top of that. Roll your crescent roll up. Bake at 350 for about 12 minutes or until tops are nice and browned.
https://temeculablogs.com/ham-and-cheese-roll-ups/
Try it for lunch yourself, or dinner and just serve with a salad on the side. Makes it really easy and believe me when I say your kids will love this fun "finger food". If you love these ham and cheese roll ups you should try our ham and cheese egg rolls, those are really fun too!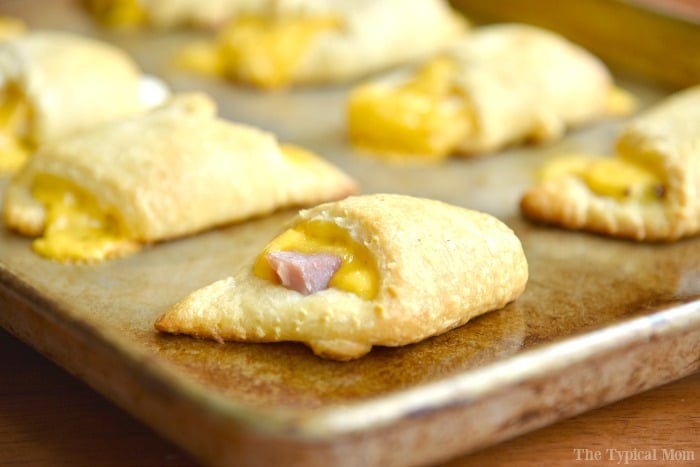 For more easy recipes, tips and crafts please LIKE The Typical Mom on Facebook and follow me on Pinterest! You can also sign up for my free weekly newsletter which is packed with goodies I know you'll love. 😉