How to cook fresh corn on the cob in a pressure cooker, air fryer corn on the cob, smoker, grilled, and how to boil corn too so kernels gets tender but not mushy! Here are our tips.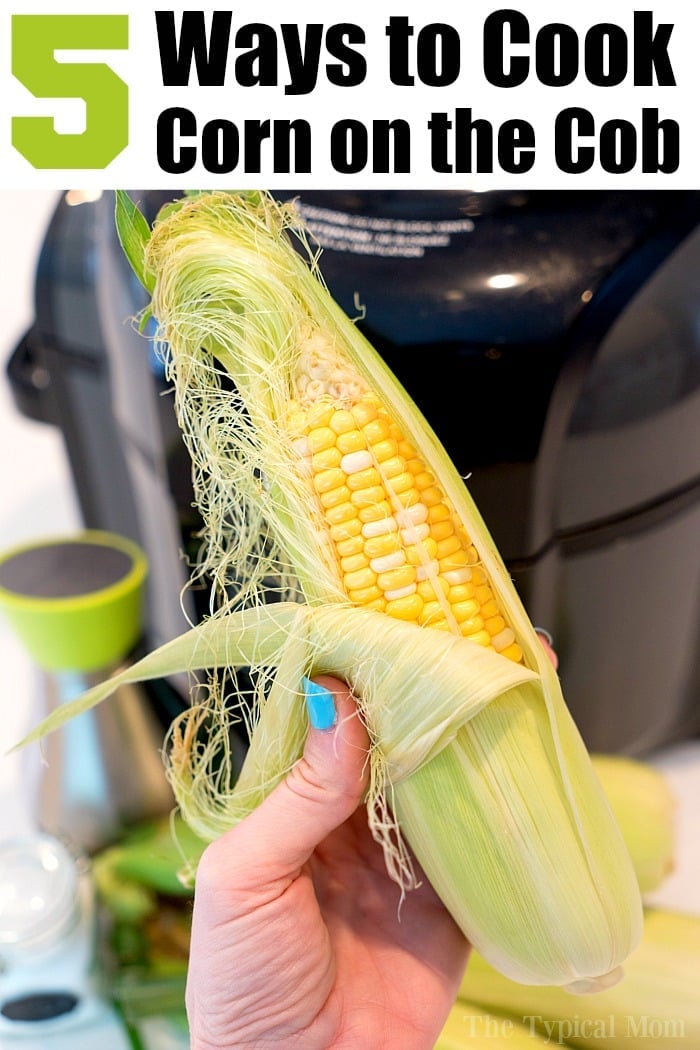 Wondering how to cook fresh corn so it's tender but not mushy or overcooked? Here are the 5 ways to cook ears of corn on the cob so you can try them all and decide which one is best! Little tips and cooking hacks we use to make every kernel perfect. The best vegetable side dish ever. (affiliate links present, originally published 6/19)
How to Boil Corn
Ok so this is the way your Grandmother did it, your Mom too and maybe you are guilty of…….
Are you still boiling your corn on the stovetop the "old fashioned" way??!! Please. Stop!
Yes you can do that when water boils, submerged, for like 6 minutes or until tender but you loose so many nutrients.
It's 2019 and there are 4 other ways of how to cook frozen corn on the cob (and fresh) that are WAY better than that. AND you can save water while you're at it because the most liquid needed is 1.5 cups. Yes. Seriously.
They are not only faster by a long way but keep the kernels nice and crispy but tender in the middle. A game changer if you ask me and I have never ever brought a pot of water to a boil to cook this ever again. This is where you need to start.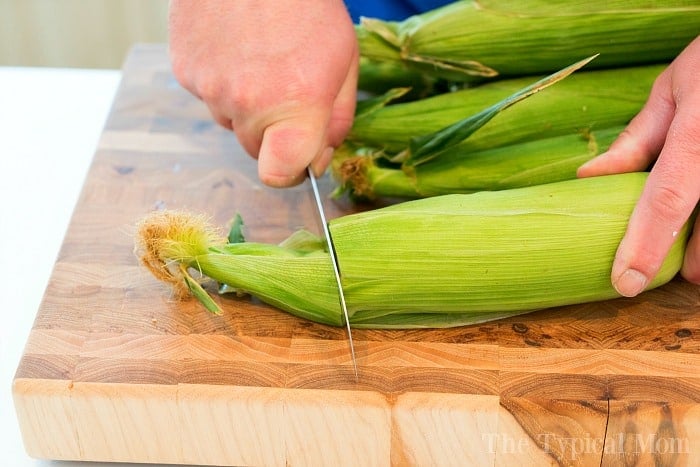 How to Cook Corn on the Cob
To get the best texture, keep all the vitamins in each and every kernel and cook vegetable quickly it really is best to stem them. You can do this with some water in the bottom of a pot with a basket or making Instant Pot corn on the cob is just SO easy!!
Many times when steaming vegetables in the microwave you will need safe dishes and a lid or use a plate on top. In this case since it is already wrapped in a nice tight "packaging" you can keep that in tact so it traps the steam. There is moisture in the kernels that will let loose a bit to steam right inside the husk!
Just put whole cobs with husks in tact into the microwave

using a rotating lazy susan inside is the best

Heat on high (or 100% regular heat) for a few minutes (refer to link above)

if you don't have a rotating plate inside I would turn it over halfway thru

Pull back and use a fork to test the tenderness, if not enough add 1 minute until it is just right for you
How to Cook Fresh Corn off the Cob in the Oven
Cooking corn off of the cob is quicker than the other. If on the stovetop you just pour it into a pot of boiling salted water for about 4 minutes. In the microwave you can add 2″ of water into a dish with your kernels, cover with a plate and heat for about 2-3 minutes until tender. In the oven you'd need to use a small Dutch oven with a few inches of water. That would take the longest but could be done.
Corn on the cob in the oven at 425 degrees takes 20-25 minutes in the husk until tender. Corn in the oven off of the cob at 425 in an oven safe dish with a few inches of salted water would take about the same amount of time. You wouldn't save cook time with this method, the others are better.
What is the easiest way to remove corn kernels?
This may be handy to have or necessary if you have kids. Yes, we had to do this for years and years when my girls had their braces and that was a no no. This is to remove the whole kernel, if making corn ribs you want to keep a bit of the cob on. This is how you do it.
Cut the top 1.5″ off the tip of the corn as you see above.
Husk the corn and discard the silks.
Put your cooked or uncooked cob on a cutting board with the cut end facing down.

Better yet! Use a large bowl with a smaller bowl in the center and put small end of cob on the inner bowl.
Slice kernels off as seen below but they'll fall in the bowl and there's less mess/waste.

Hold the other end with your hand.
Using a sharp knife starting at the top of the cob and slowly moving your way down.
The kernels will fall off on to the cutting board.
Then you can scoop them up and serve them on plates, or cook corn kernels if they are still uncooked.
I highly suggest using a bowl so the little pieces don't fall all over your countertop but a place will do if that is all you have.
How to Cook Fresh Corn on the Cob
We have discussed many ways here but we are going to quickly go over our favorite method of all. Air fryer corn on the cob is so easy and NO water is required for the kernels to get tender.
So we use our Ninja Foodi pressure cooker and air fryer machine to cook our fresh sweet corn.
Any brand will do.
This takes less than 10 minutes total.

no need to wait for water to bring to a boil

Kernels come out slightly tender but still have a nice "crunch" to them.
Great method if you want to throw some parmesan cheese on them and lightly brown that.
You can only really fit 3 full cobs at a time.
Now if you have a really large model, which they offer now, you may be able to fit more. I typically break mine in half no matter what anyway because sometimes that is all you need, and they fit better anyway like that.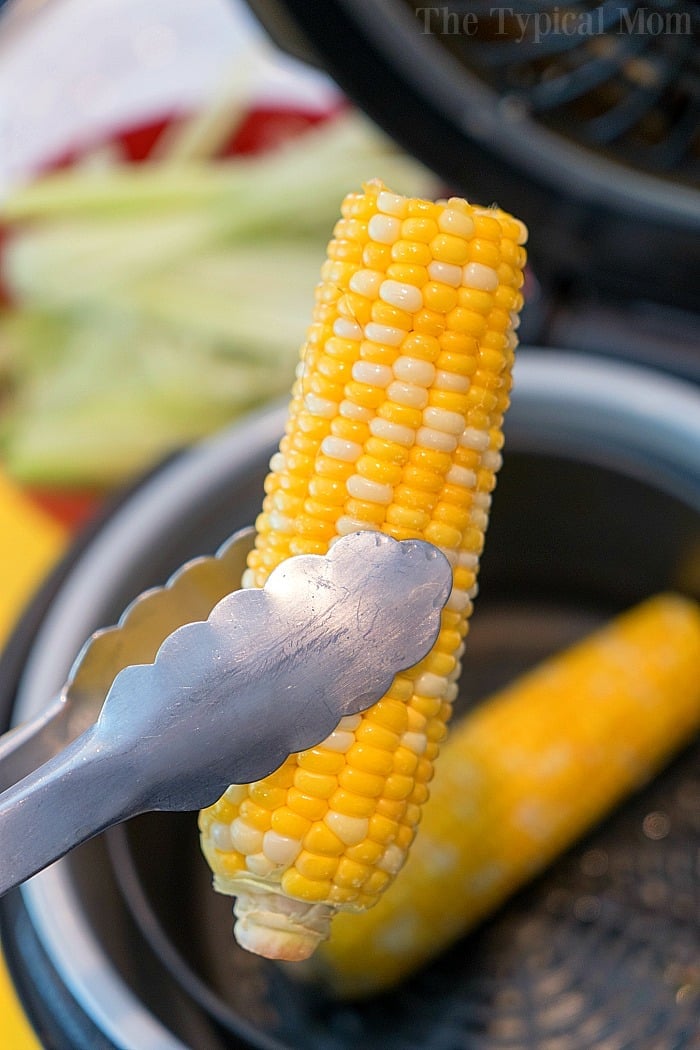 How Long to Boil Corn on the Cob Before Grilling
I have seen some people speak about this but it literally makes no sense to bother. Now on to how to smoke corn on the cob and why we love it this way. There is no prep work for this method, literally.
First off we LOVE making smoker recipes when the weather warms up. We only get a good 4-5 months of great sunny warm weather so every chance we get during those months you can always find us outside. You definitely have to soak it up since the rest of the year you'll find flurries or shoveling a lot of snow off your decks.
You can throw these on with your main dish on your pellet grill/smoker or electric smoker and everything will be done around the same time.
It's easy to test how tender the kernels are along the way. Just pull back the end of the husks and poke with a fork. Keep on the grill if your meat needs more time or you want them softer.
Kernels remain nice and firm but still tender at the same time.
Removing the husks is easy once they're done.
No prep necessary since you cook corn in the husk.
Traeger corn is killer I tell you.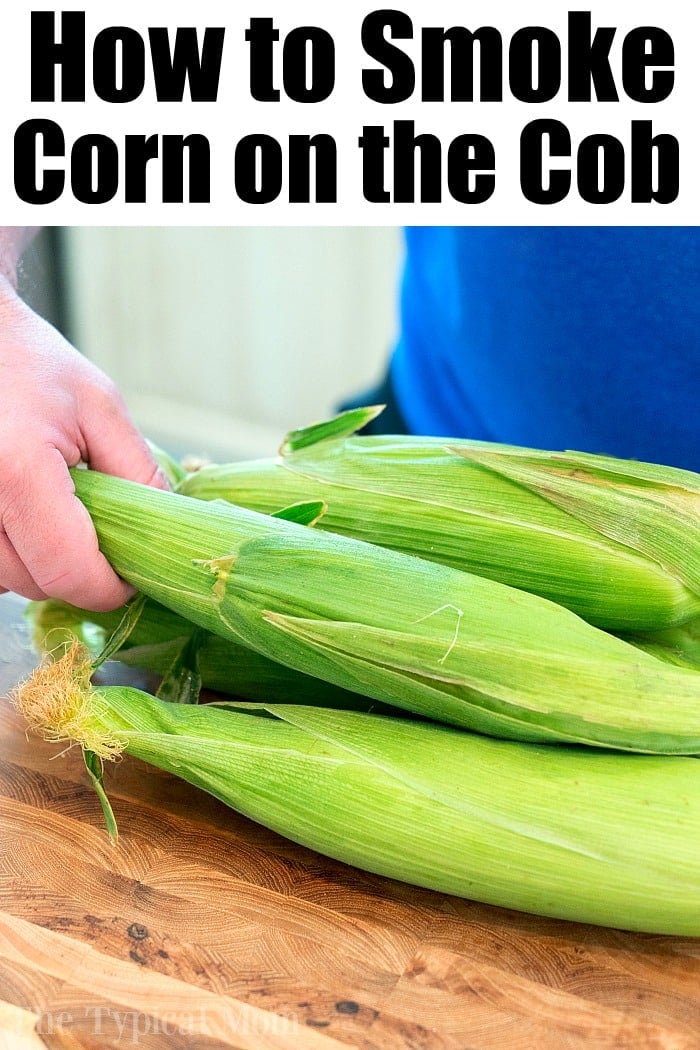 How to Steam Corn on the Cob
Once I made it this way there was NO going back to boiling water again.
Using your pressure cooker it takes just 3 minutes!
You can of course use a Ninja Foodi, Crock Pot Express or Mealthy to do the same thing.
It allows your vegetables to maintain all their nutrients vs. the loss when you boil them in water.
Kernels get tender but not mushy, they maintain a nice texture.
Add the corn fresh or frozen and it works well either way.
Instant Pot vegetable cook times can be found here for frozen and fresh corn
Now how to save leftover corn is not too hard. Unlike other veggies they keep their texture and don't get too soft when in the fridge. I mean you want to eat it within the next day or two but kept in a sealed container or baggie you can reheat it well in the microwave. Add a bit of butter to loosen it back up with a sprinkle of salt too.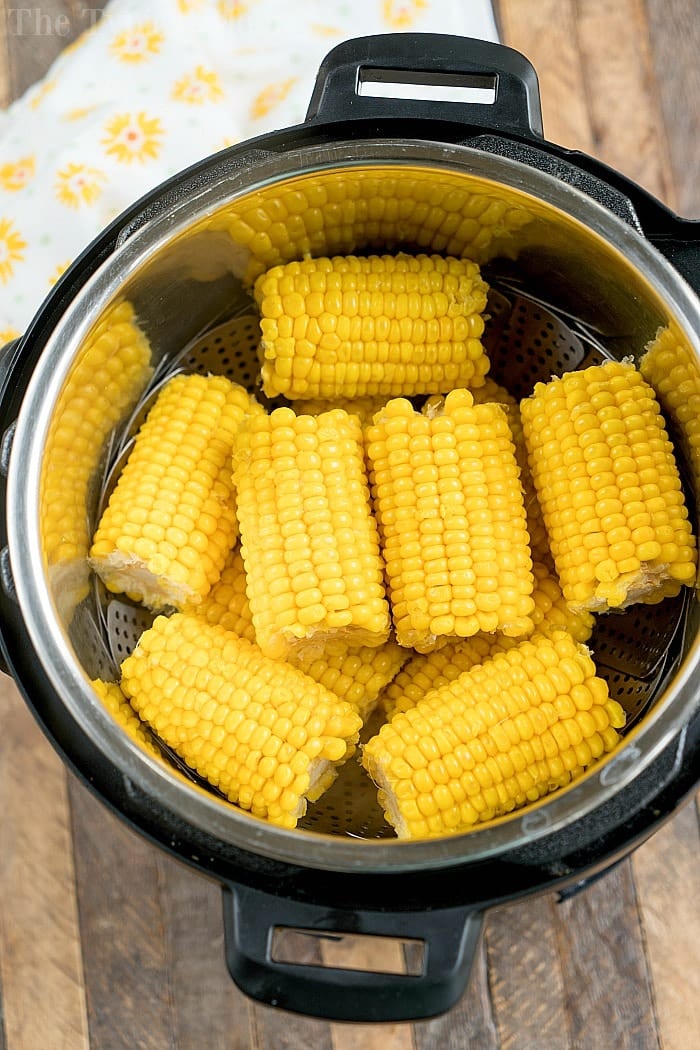 The last two are…..
#4 – This is how to grill corn
#5 – Of course you can always boil corn on the cob too.
Just fill a large pot with hot water and put it on the stovetop on med/high heat
Once it starts boiling add salt and drop the corn in without husks or silks attached
Cover the pot
Boil for 10 or more minutes, or until kernels are as tender as you'd like
Add butter salt and pepper and enjoy
BIG negative is this takes a good 30 minutes to do.
What do you use corn for?
Well there are TONS of great corn recipes too you should try like:
Next check out all the ways to cook brussel sprouts!!
Want to see a few of my favorite things that I am totally obsessed with?? Take a peek and see how many you might already have…twinsies!
Looking for more easy family recipes and tips? LIKE The Typical Mom Facebook page?
Then sign up for my free newsletter, and follow me on Pinterest! 😉
***** If you LOVED this recipe give it 5 Stars below and let everyone know what you thought about it. 😉
How to Cook Fresh Corn on the Cob
How to cook fresh corn on the cob on the grill, on a smoker, boiled kernels on the stove, in a pressure cooker or air fryer.
Instructions
Microwave – Keep cobs in the husk and put into microwave on high for about 4 minutes. It is best to have a rotating lazy susan inside machine to rotate, or turn over halfway thru if you don't. Peel back husk to check tenderness with a fork.

Boiled On Stove – Boil salted water over medium high heat until it reaches a rolling boil that doesn't stop. Remove husks and submerge cobs for about 4-6 minutes or until kernels are as tender as you'd like.

Air fryer – Remove husks, preheat machine to 400 degrees F for 5 minutes. Put cobs into basket without overlapping them. Spray with olive oil on top. Heat at 400 for 6-10 minutes flipping over halfway until as tender as you would like.

Pressure cooking – Pour 1 cup water into pot, lower down vegetable steamer basket or trivet. Set husked cobs inside. Close and seal lid and steam valve and cook on high pressure for 3 minutes with a 2 minute natural release.

When done dip or drizzle melted butter on top with a sprinkle of salt and enjoy.
Nutrition Facts
How to Cook Fresh Corn on the Cob
Amount Per Serving (1 oz)
Calories 77
Calories from Fat 9
% Daily Value*
Fat 1g2%
Sodium 14mg1%
Potassium 243mg7%
Carbohydrates 17g6%
Protein 3g6%
Vitamin A 168IU3%
Vitamin C 6mg7%
Calcium 2mg0%
Iron 0.5mg3%
* Percent Daily Values are based on a 2000 calorie diet.