So there's a debate out there amongst those who haven't purchased a pressure cooker yet, Instant Pot vs Crock Pot Express. Which one should you buy and what is the difference between the two you might ask. I have the answers for you from someone who uses both every day. I love them both but they are different.
Ok so I am a busy mom and was excited to try the Instant Pot when I first got one last Christmas. This year I got this version and now use both. I am here to say they're not the same, and will share what's the difference between the Instant Pot vs. Crock Pot Express here today so you can make an educated decision if you're thinking of buying one or the other. (affiliate links present, 2/18 original publish)
Crock Pot Express Pressure Cooker
What are they you might ask?? Well both pots have several functions, one of the most popular ones being a pressure cooker. You may be familiar with the old fashioned pressure cookers that were set on your stovetop, had a really large lid, and didn't have many of the safety features these "fancy" multi function pressure cookers have today.
Back in the day it was a bit scary for some to use one because when the pressure was released it didn't have an option to release slowly AND release quickly with just a small knob, these have somewhat solved that issue and I've never had an apprehension in using either one.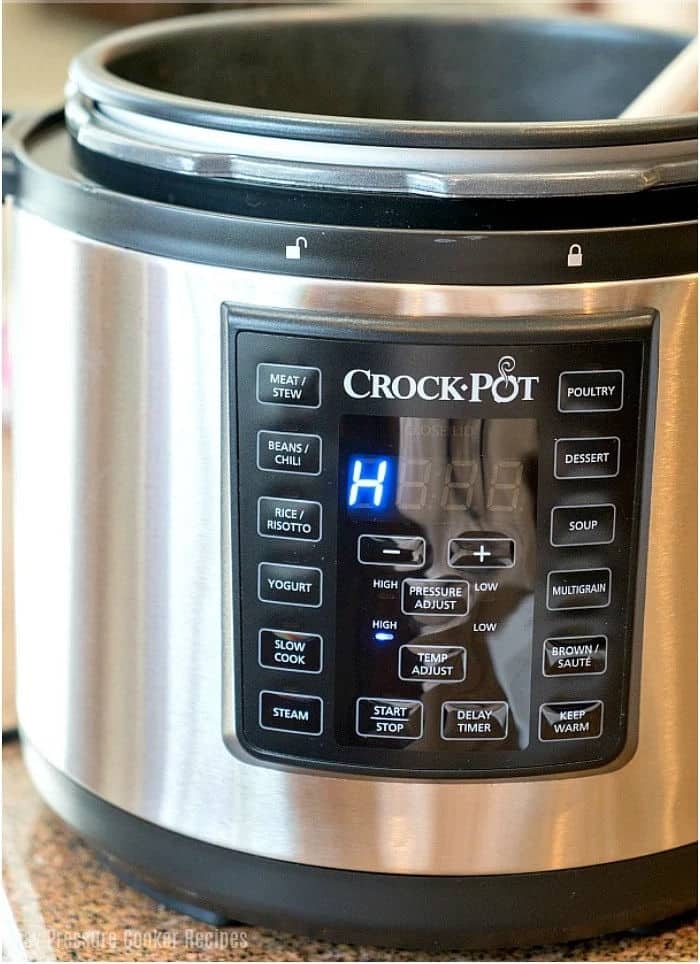 I just follow the guidelines to keep my hands, face, and all body parts away from the steam valve when releasing it and I've never had an issue. Let's be honest though. If you're new to pressure cooking, and making either Instant Pot recipes or Crock Pot Express recipes, they can be intimidating.
There are a lot of buttons and you don't know how long to cook anything. I'm here to say, IT GETS EASIER!! It took me maybe a week of cooking in it to get the lightbulb "ahhhh, I get it" moment and from there I had a good general idea of how long it took to cook pasta, rice, chicken, etc….
Is Crock Pot Express the Same as Instant Pot
Pretty much but first #1 Let's talk about price
The 6 qt. basic Instant Pot is going to run you about a hundred bucks, depending on the day, prices change quite a bit.
The Crock Pot Express varies depending on the seller and the day as well but is always cheaper. I've seen it as low as forty bucks with a note that the box was damaged
Can you Use Instant Pot Recipes in CrockPot Express
#2 Let's talk about the size
The Instant Pot comes in 3 sizes now. They have an 8 qt, a 6 qt (the one I have), and now a mini 3 qt pot which I have as well and would be perfect for a couple without any kids or meals for one
The Crock Pot Express pressure cooker only comes in a 6 qt (but is plenty big enough to feed the 5 of us0
#3 Let's talk about the functions of an Instant Pot vs Crock Pot Express Instant Pot functions. For the 7 in 1 model (picture below) Some faces depending on when you bought it. Some look slightly different but are basically the same.
Soup
Meat/Stew
Bean/Chili
Poultry
Multigrain
Porridge
9 in 1 model includes a Cake and Egg button too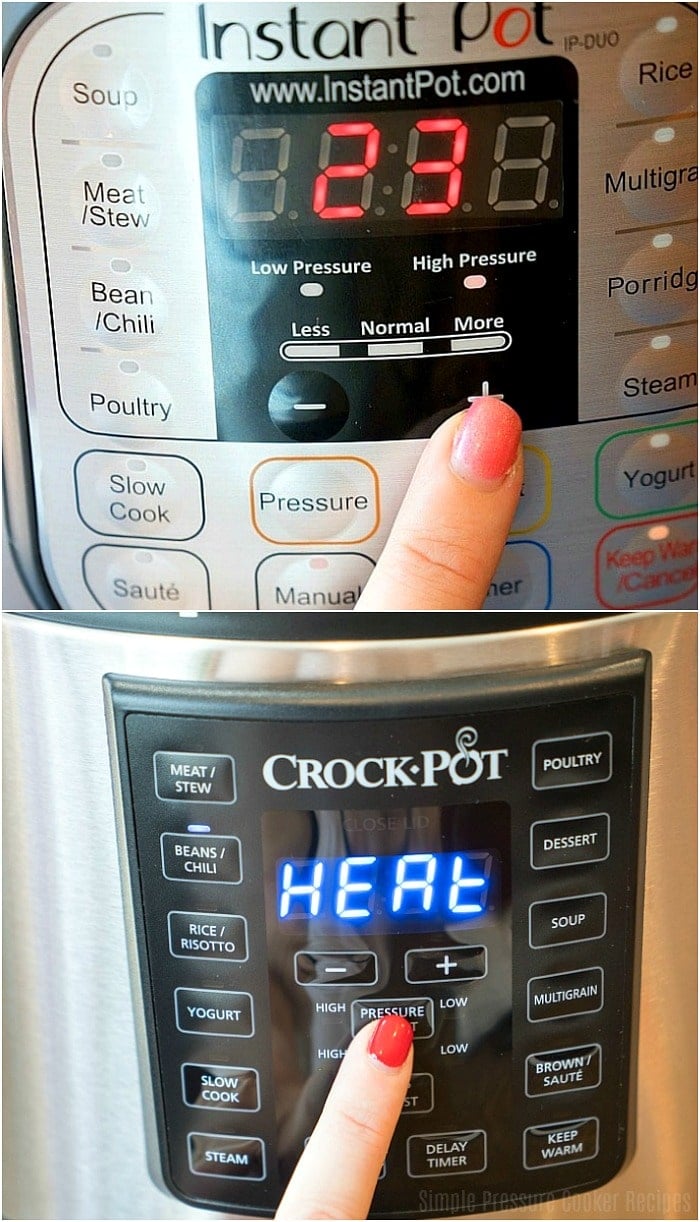 Crockpot Express Buttons
Buttons for the Crock Pot Express 8 in 1 are shown here above and are very similar
Meat/Stew
Beans/Chili
Rice
Poultry
Soup
Multigrain
Yogurt
Dessert is the extra button the IP doesn't have
#4 Let's talk about how the buttons are different. Both are multi use programmable pots but some are called something different.
Pressure Cooking

For the Instant Pot when I want to use the pressure cooker function (I use this the most often, almost 90% of the time) I push manual, pressure (push pressure again if I want it to toggle from low to high), use the + and – signs to adjust the time for the number of minutes it will take that dish to cook. From there it turns on immediately and you're pressure cooking begins.
For the Crock Pot Express when I want the pressure cooker function I press the type of food I am cooking and it is automatically programmed with whether it will need low or high. You can adjust that using the button I am pressing above (pressure) if you'd rather have it high vs. low and so forth. Then you use the + and – to adjust the time and have to press the Start/Stop button or nothing will happen (yes I have done this many times and doesn't make me happy).

Sauté (I use this A LOT)

For the Instant Pot there is a button where you can adjust it for low, normal, and more. This is helpful to adjust when sautéing meat etc..
On the Crock Pot Express you can adjust the heat as well (button under the pressure button, under my finger in the pic.) but you can only adjust it from low to high (not a huge deal but a difference between the Instant Pot vs Crock Pot Express non the less.

Does it make a difference to me and would this make me buy one over the other, no….although I prefer how the Instant Pot just starts right away after I set everything because I've forgotten to press start on the CPE a few times since it is just an extra step.
#5 Let's talk about the big difference to me after using both pots for a while now
Both inner pots are the same size (for the 6 qt. size) but the Crock-Pot Express has a non stick cooking pot which I LOVE!!

Only caution to this is you need to use wooden or kitchen safe plastic utensils to stir and serve so you don't scratch the inner surface.

There are fewer Crock Pot Express recipes out there to choose from.

Once you get accustomed to the buttons on the CPE though you can easily convert Instant Pot or pressure cooker recipes to work in your pot too, it is really easy actually and it won't take you long for your lightbulb moment either….and we are creating new Crock Pot Express recipes every day to share with you too. 😉
Which one should you buy??
That really comes down to personal preference. I like both for different reasons. To me there isn't much difference between the two now that I am familiar with the whole pressure cooking process. If you love Crock-Pot and their brand then go with the Crock-Pot Express pot. If price is an issue or a non stick cooking pot is a must I would choose this one too.
If you are looking for a plethora of Instant Pot recipes and don't want to have to learn how to adjust one from the other then I'd choose the Instant Pot. I do have some specific to this pot though like this Crockpot Express Pinto Bean Soup recipe. Either way you can't go wrong.
Should buy an Instant Pot vs Crock Pot Express
It shortens cook time!! – ribs that usually took several hours to get tender are done in 25 minutes
Enables busy families to eat together more often
Less clean up!! – you can brown meat and then pressure cook the entire meal in the same pot
After using mine for the past year…it's really a no brainer.