Free Crock Pot Express Cook Times cheat sheet printable that will help you know how long chicken, beef, pork, fish, beans and turkey takes to cook each one in a pressure cooker. We shared this Instant Pot cooking times sheet earlier but you might want one specific to this brand.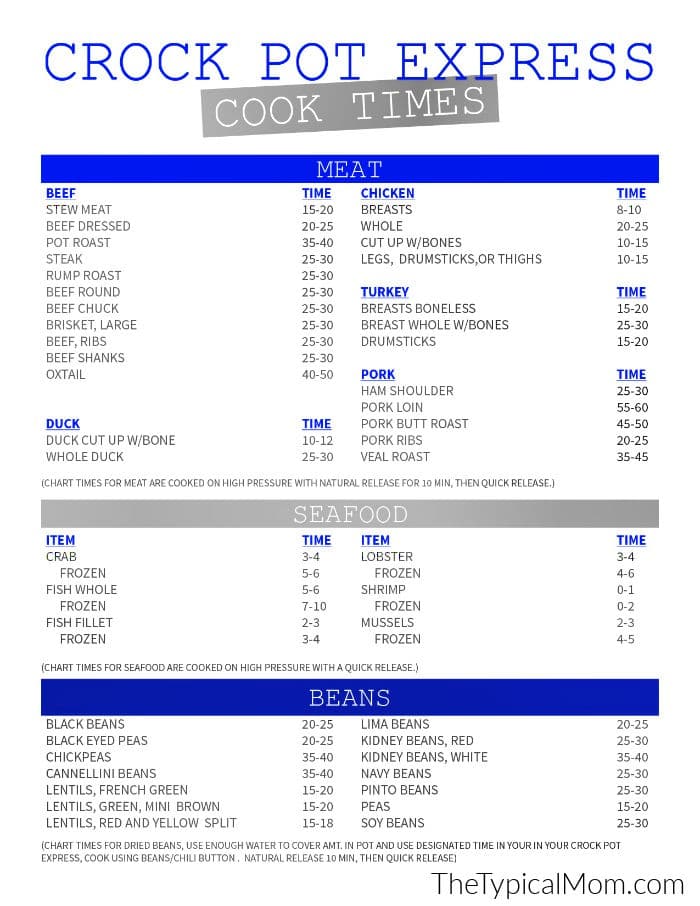 This Crock Pot Express cook times printable sure is handy. Whether you are a beginner to learning all about pressure cooking or a pro who uses this every day it's still great. Now you can cook dry beans, seafood, and other meat to tender without researching each one online. (affiliate links present)
Crockpot Express Cooking Times
I created a few of these, all for different machines but basically they all work the same way. The only difference would be our Ninja Foodi cook times printable because that one allows for the air frying function too. BUT now this brand does offer a special lid for that.
If you choose to grab a Crockpot Express air fryer lid you then could also use our air fryer cook times cheat sheet and air fryer frozen food cheat sheet times as well. I will say that the lid is helpful to crisp at the end but if you want to only use that function it is best if you just buy a machine that only does that, it works much better.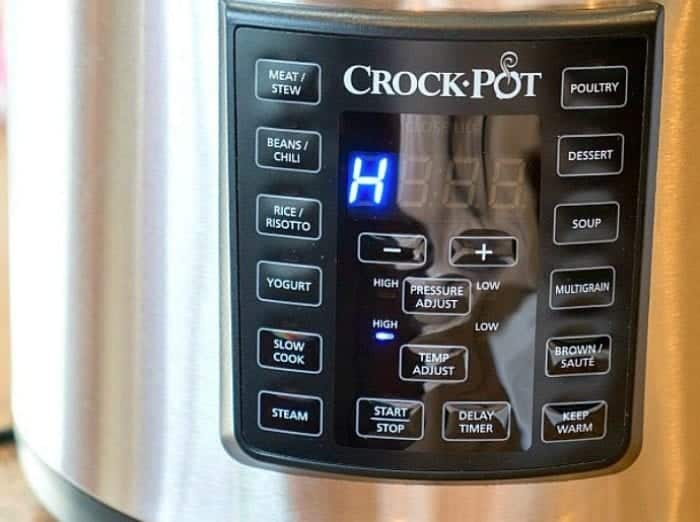 How Long to Cook Meat in Crockpot Express
We are really talking about the pressure cooker button though here. If you look at every different meat or cooking dry beans in a pressure cooker the high pressure is needed. It is best if you allow for a natural pressure release for everything too. That will make the beans more tender and the meat as well.
If you quick release you suck a lot of the moisture out of the pot and contents within it. Especially if you were to cook Crockpot Express ribs let's say you want them to be as fork tender as humanly possible. Not touching the steam valve and letting the steam come out very slowly (takes about 20 minutes) is your best bet.
Crockpot Express Cheat Sheet
If you would like a long list of cook times for veggies I do have a pressure cooker vegetables cook times sheet for you to print out as well.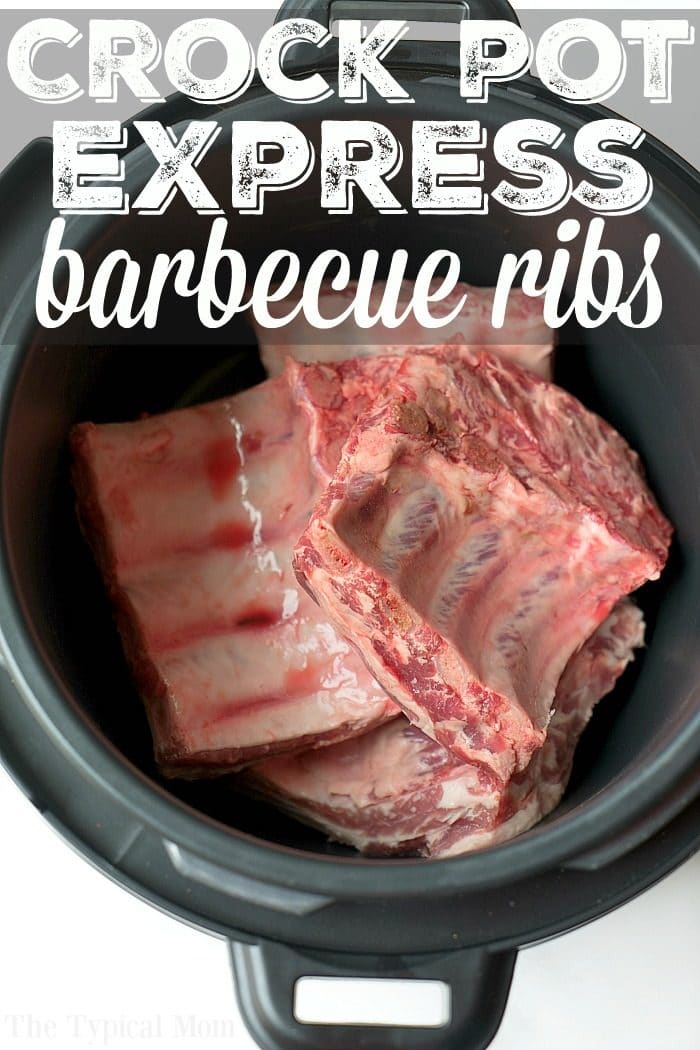 Crockpot Express Cooking Times
A few popular recipes you might want to try if you are new to using this multi cooker would be to cook chicken breast frozen in just about 15 minutes!! That is a game changer. Then drain the liquid, toss with your favorite sauce and serve on slider buns or over rice.
Knowing how to cook fluffy pressure cooker rice is important. If you're like us you'll make it on a weekly basis and there's nothing worse than crunchy grains.
Another wonderment you should know is how to cook a frozen roast in a pressure cooker. That comes in handy if you're forgetful and it's almost dinnertime.
Time needed: 5 minutes
Crockpot Express Cooking Times
Print

Here you can click the link to print this Crockpot Express Cheat Sheet!

Save

Use a magnet to save this printable on your fridge. To last longer you can laminate it and keep it handy near your machine so you know how long everything takes to cook.
Note: If you are new there are a few things to remember.
#1 is that the slow cook function does NOT work, just use your good old fashioned crock for those recipes.
There is a Crockpot Express community page on Facebook you can join and chat about questions or things you have made that turned out well.
When you use the dessert/bake function to make a cake or chocolate chip brownies it surprisingly turns out well but is more dense than in the oven.
You can use Instant Pot recipes in this pot the same way. From cooking meat, stew, casseroles and all the things this machine will change your life!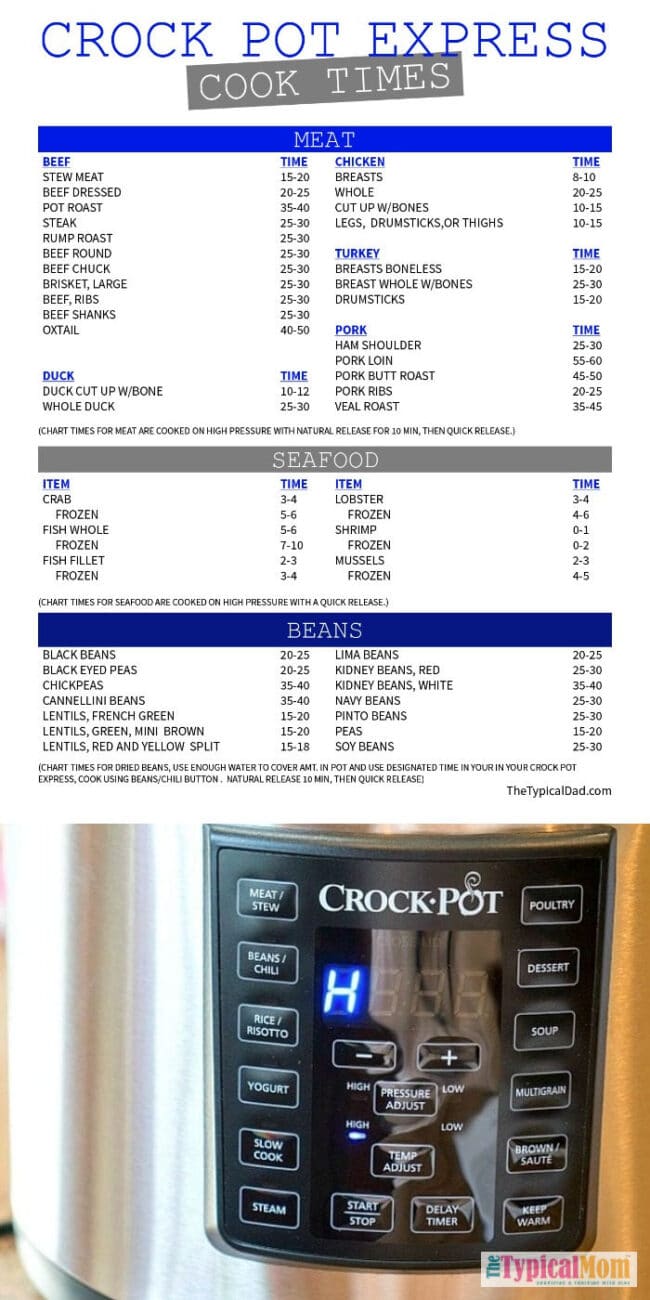 Want to see a few of my favorite things that I am totally obsessed with?? Take a peek and see how many you might already have…twinsies!
Looking for more easy family recipes and tips? LIKE The Typical Mom Facebook page?
Then sign up for my free newsletter, and follow me on Pinterest! 😉
***** If you LOVED this recipe give it 5 Stars below and let everyone know what you thought about it. 😉