Smores dessert recipes are to die for! If you want to skip the campfire and bake a marshmallow, chocolate and graham cracker treat in your oven tonight we have a lot of ideas.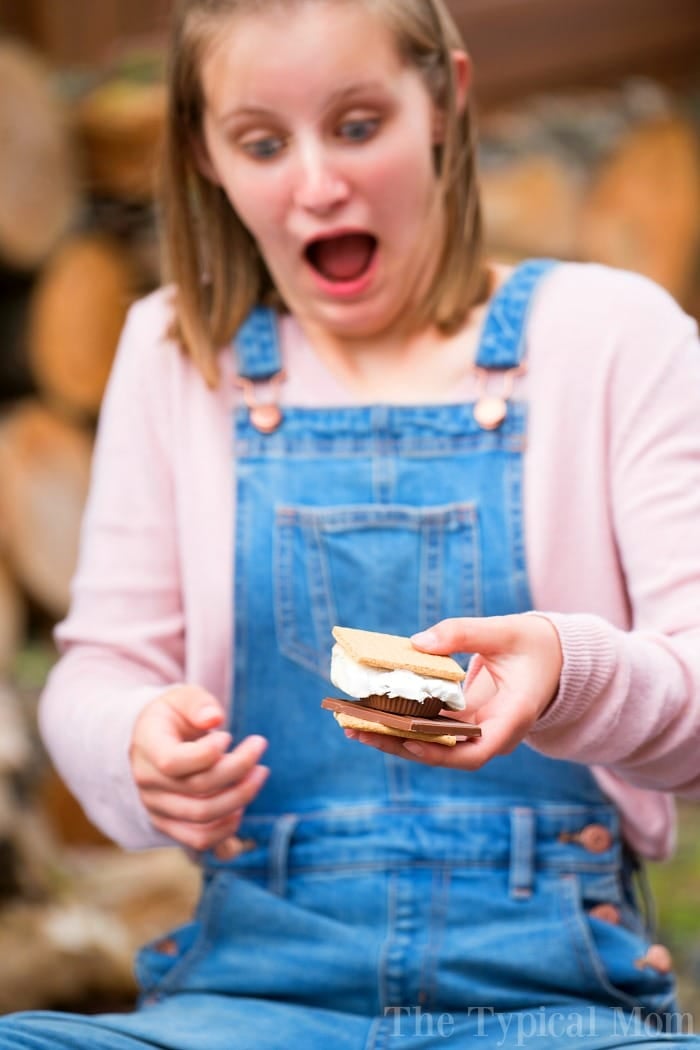 Have you tried making smores dessert recipes?? They're so good! If you're never doctored up brownie mix or incorporated them into a cake before this is a great way to do it. Transforms it from a boxed dessert to take almost like homemade. Get out your smores ingredients for these new favorite desserts. (affiliate links present)
What are smores made of you ask?
You might have everything in your cupboard already!
Chocolate
Graham crackers
Marshmallows
If you want to take them over the top though like we did above, add a Reeses peanut butter cup too!
We made this DIY fire pit last year and have been enjoying it quite a bit together. It cost us less than $100 and if you've ever thought about making one I encourage you to do so. It is easier than you might initially think.
BUT if you want a smores dessert you can make under your roof we're here to help!!
For 2 of these smores dessert recipes you'll need either cake mix or a box of brownies.
This smores poke cake always is a winner – It comes out so soft and gooey! I pushed pieces of Hershey bar on the top but you could opt for chocolate chips instead. If you don't know how to make a poke cake it is super simple!
You'll need the traditional smores items plus:
Chocolate cake mix – and ingredients to prepare this as directed on the box
I used a box of already smashed graham cracker crumbs
Mini marshmallows vs. larger ones for making toasted marshmallows over the campfire
Chocolate syrup

or use melted chocolate bars
But we aren't stopping there! There are other ooey gooey s'mores recipes for the oven and stovetop here too!
This one is something my kids can help me make. Now that they're older they can even do the part on the stovetop and they've surprised me with them. 😉 With your favorite sticky cereal treat on the bottom topped with s'mores ingredients on top, it is a fun way to change things up a bit.
Why is a Smore called a Smore anyway?
Well no one knows for sure who invented it but it first came out in a Girl Scout publication in the 20's! So….Loretta Crew is given the credit.
But we're not stopping there, here are more smores dessert recipes ……
Banana smores on the barbecue are SO good!! You can put them into the oven too if you don't have the grill going but the combo is delicious.
Want to make a whole BUNCH for a crowd all at once? Try sheet pan s'mores!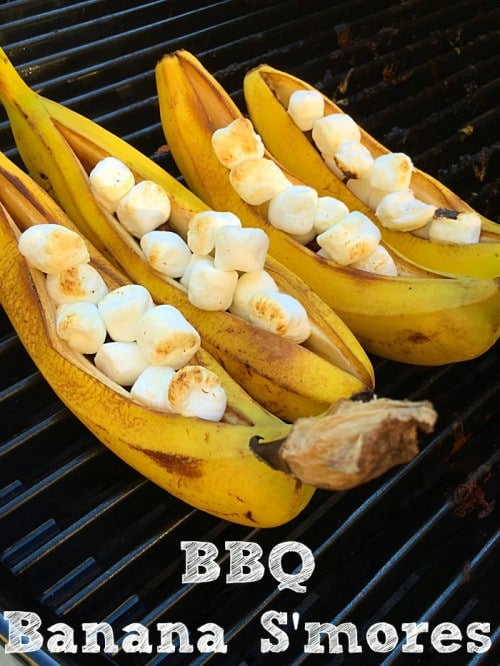 Can you microwave a marshmallow?
Yes!!
Just put 2 marshmallows on a paper plate or paper towel.
Do not put them in for more than 2 minutes or it will just be a mess!
Here's how to make microwave smores!
Get ready for something SO cute with this s'mores in a jar treat too!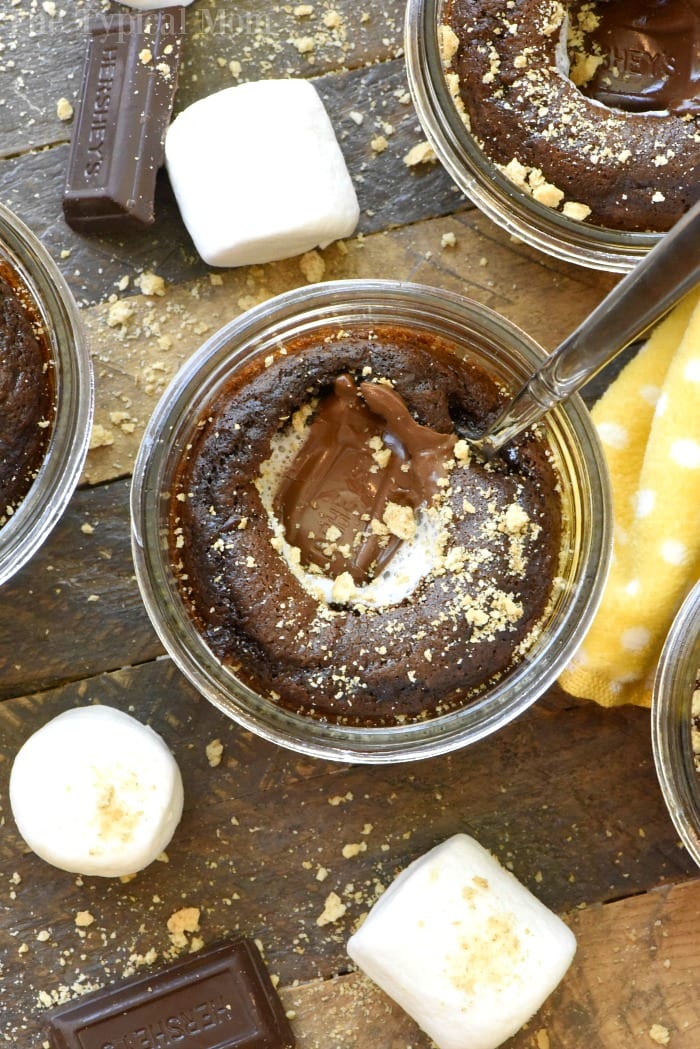 You will need these mini mason jars for this.
I promise you they'll be a real hit with everyone you serve them too.
Just preheat your oven.
Mix your ingredients for gooey chocolate cake using SODA as the mix in.
Bake
When they're done push a large marshmallow and a piece of chocolate in the center!
The hardest part really isn't hard at all but you do NOT want to overbake these. You want them just barely firm around the edges so they're still a bit gooey.
And finally here is a recipe for Smores brownies!
If you've never doctored up a box of brownies it's a sweet little trick to make them feel homemade.
This is what you need to make them.
A graham cracker crust

made with melted butter, sugar and crushed graham crackers

Mini marshmallows
Peanut butter cups – the mini versions
Box of brownie mix – this is our favorite
They're a bit like smores brownie bars if you will with layers of goodness and sure to please everyone!
Smore Brownies
Smores dessert recipes are the best! Smore brownies with a peanut butter topping or a jazzed up poke cake with marshmallows and graham crackers are our fave.
Ingredients
1

box

brownie mix

water, eggs, and oil needed to prepare as directed on box

2

c

mini marshmallows

15

graham cracker sheets

12 crushed for crust, 3 broken up into smaller pcs. for top

1

bag

mini peanut butter cups

1/3

c

butter

unsalted, melted

3

tbsp

sugar
Instructions
Preheat oven to 350 degrees and prepare a 9x13 baking dish with non-stick spray.

Prepare the crust:

In a food processor, combine the melted butter, graham crackers and sugar. Pulse until combined into fine pieces. Press the mixture into the bottom of your baking dish and bake for 10 minutes.

Prepare the brownie mix as directed on the box and pour over the graham cracker crust. Bake in the oven for 38-40 minutes, or until a toothpick comes out clean.

While baking, chop a ½ cup of unwrapped mini peanut butter cups and set aside.

When the brownies are done. Set the oven to broil 500 degrees. Top the brownies with your marshmallows, graham crackers and the ½ cup chopped peanut butter cups. Broil for 1-3 minutes. Watch closely! The marshmallows will brown quickly, remove once golden on top.

Allow cooling for 30 minutes and then top the brownies with the remaining peanut butter cups. Finish cooling and then cut to serve.
Nutrition Facts
Smore Brownies
Amount Per Serving (3 oz)
Calories 345
Calories from Fat 108
% Daily Value*
Fat 12g18%
Cholesterol 13mg4%
Sodium 291mg13%
Potassium 30mg1%
Carbohydrates 56g19%
Protein 3g6%
Vitamin A 160IU3%
Calcium 15mg2%
Iron 1.9mg11%
* Percent Daily Values are based on a 2000 calorie diet.