Want to know how long to cook corn on cob in microwave? It is so easy and only takes about 5 minutes if you do it right, but there is a kitchen hack to it. Steaming vegetables in a microwave is a game changer. So fast and gets each one tender.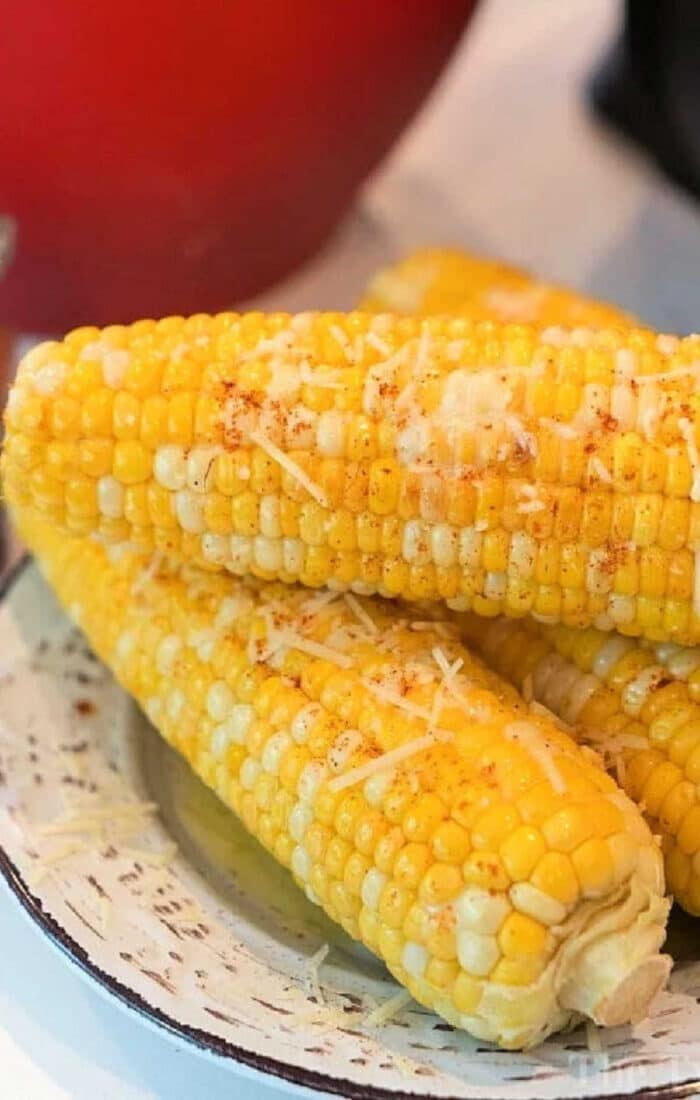 Microwaving corn on the cob is a game changer. Such an easy way to make veggies with your main dish to eat with your family. Staying crisp yet with tender kernels i tis cooked right in the husk with NO prep work necessary to begin with. One of our favorite microwave recipe out there. (affiliate links present)
How to Cook Corn on Cob in Microwave
Unlike when we microwave broccoli or carrots you don't need dishes at all for this one. Well, let me elaborate a bit on that one. We will share how to cook corn in the husk, without it wrapped in damp paper towels as well as microwaving frozen corn on the cob too. The first method and the one shared in the recipe card is the best overall.
If you are in an area where produce is not readily available you may have to buy frozen. That can be cooked to tender too but as with any other cooking method out there, other than air fryer corn, the texture won't be as ideal. For best results grab what you see here below.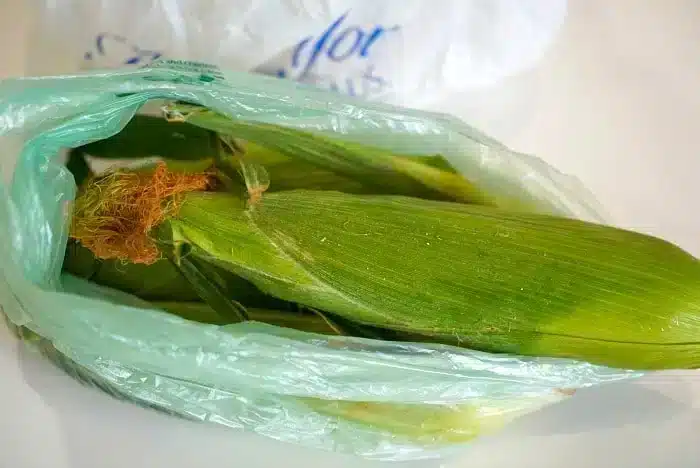 How to Microwave Corn
What you are going to need for any of these is the machine obviously. Some small units have a lot less power than "regular" sizes that tend to be 800-1000 watts. If you are in a small area like a hotel room or making an rv meal you likely will need 50% longer than shared below to account for the difference.
Wait until the kernels are easy to poke meaning they are nice and tender, perfect for biting off of the cob before seasoning. When you are waiting for them to get done you can melt some butter or just rub a stick all over and it will ooze all over. Then salt and you're ready. For more YUM I have a Mexican street corn variation below too.
We have shared how to cook frozen corn on the cob before, which can be done nuked as well. Typically those don't have the husks still in tact so you would need to use the method below with a few damp paper towels wrapped around them instead. They will release a bit of water with the ice so keep that in mind. You may want to put on top of a microwave safe plate to catch that.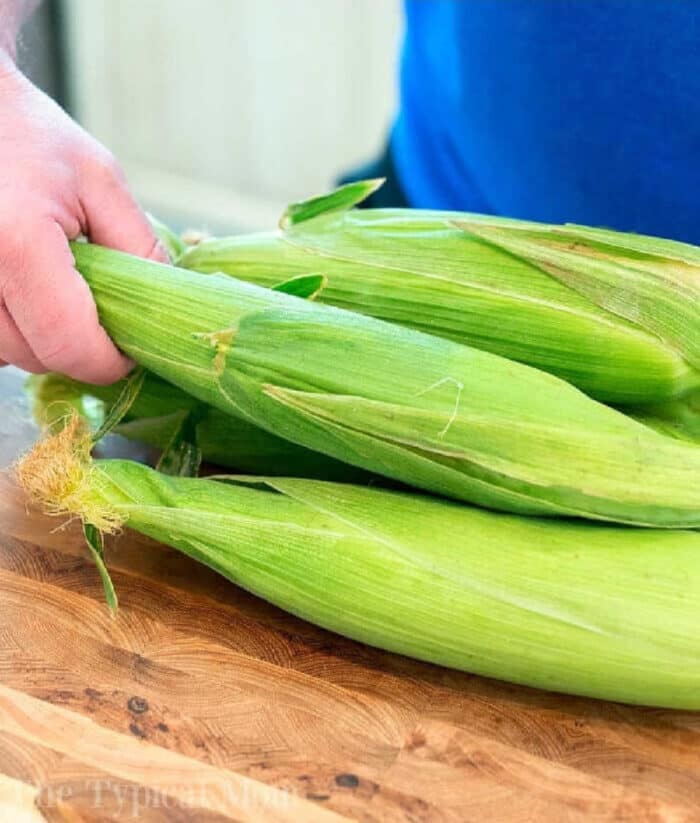 Microwave Corn on the Cob in Husk
I made these after microwaving brussel sprouts. They were such a surprising treat that cooked so fast I just kept going. This is the best way to do it so we will start with that one. There are printable instructions in the recipe card below you can keep on hand but typically after 1-2 times of making it you'll just remember. You just;
Just put whole cobs with husks in tact into the microwave

using a rotating lazy susan inside is the best

Heat on high (or 100% regular heat) for about 4 minutes – 5 min cooking time for perfectly cooked in our opinion.

if you don't have a rotating plate inside I would turn it over halfway thru

Pull back shucks and use a fork to test the tenderness, if not enough add ears of corn to cook 1 minute more, test again, until it is just right for you
Another favorite side dish that too is quite healthy is our acorn squash in microwave too. You need a dish for that one as they do leak a bit with juiciness but even my kids fell in love with these with a dash of brown sugar and butter inside. 😉
How to cook corn on the cob in the microwave with paper towel
If you wanted to make a heartier vegetarian meal with this I would recommend following how long to cook a baked potato in the microwave to pair these with. Now if you cannot find whole cobs with the outside still in tact, or you already shucked the corn that is okay. You can instead use a few paper towels to mimic the outsides, just;
Fold 4 paper towels in half so you have 2 long, 2 thick
Run them under cool water to dampen them.
Gently squeeze out excess water.
Lay down and wrap cobs inside wet paper towels, you can wrap 2 this way easily.
Then use the same timing as below for corn in the microwave, high power for 4-5 minutes until tender to your liking
Remove the corn, pour melted butter over ear or corn with salt and pepper and enjoy with your meal. You can do this method too if you really want to remove the husk beforehand, but don't understand why you would do that. In the husk and silks is best if possible.
Microwave corn on the cob shucked
I would not choose using a microwave to make our corn ribs recipe as I prefer a bit of crisp on those in the air fryer or grill, but could be done if that is all you have. For that you first slice the kernels almost off but with a bit of the cob in tact so they stay in strips.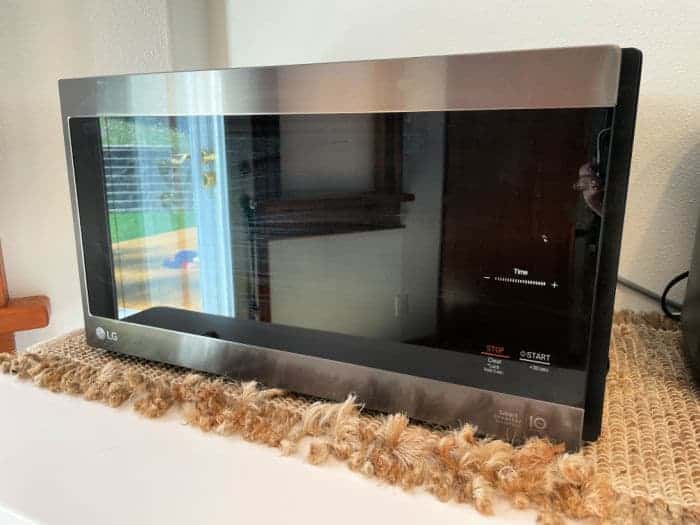 Mexican Street Corn
You may love grilled corn this way, and yes it is amazing if you can do that. BUT you can get the same flavors on top of your ear of corn in the microwave when done. You just need a fresh lime, cojita or feta works too and a bit of mayo. Another one of our fresh corn recipes we love, so very many different cob recipes to choose from.
1/4 c. mayonnaise & sour cream
1/2 tsp chili powder
1 tbsp. lime juice
1/2 c. cotija cheese
And let's round out our list with how to cook carrots in microwave which you can make savory or a bit sweet with some brown sugar.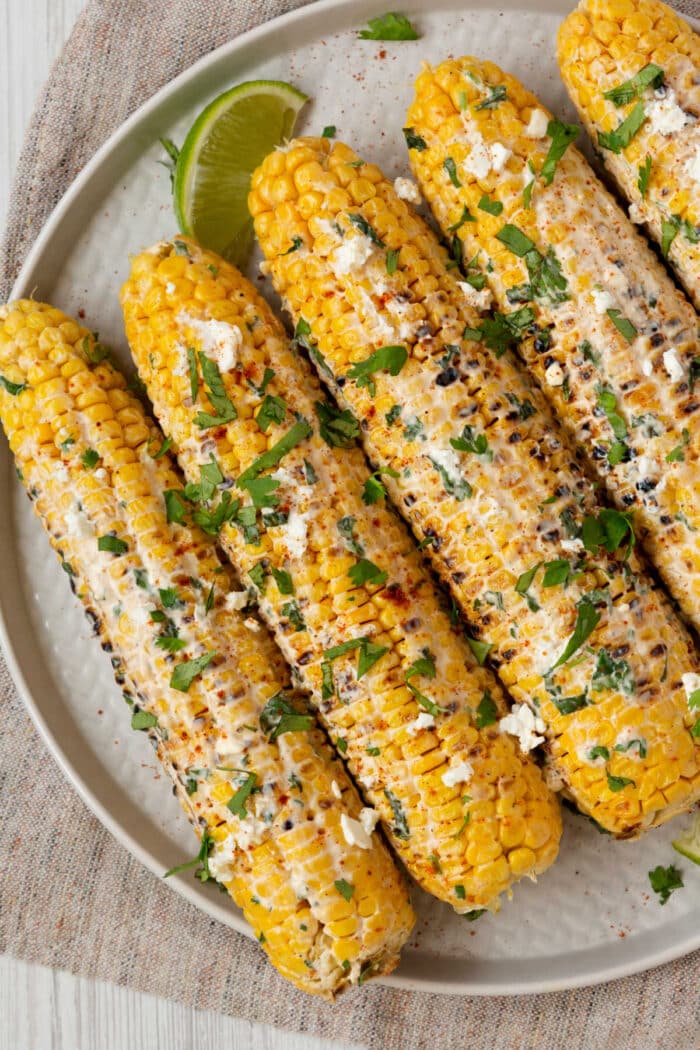 Want to see a few of my favorite things that I am totally obsessed with?? Take a peek and see how many you might already have…twinsies!
Looking for more easy family recipes and tips? LIKE The Typical Mom Facebook page?
Then sign up for my free newsletter, and follow me on Pinterest! 😉
***** If you LOVED this recipe give it 5 Stars below and let everyone know what you thought about it. 😉
How to Cook Corn on Cob in Microwave
How long to cook corn on the cob in microwave in husk or without the husk. Fresh or frozen is possible for microwaved corn as a side dish.
Ingredients
Instructions
Just put the whole cobs with husks still in tact into the microwave using a rotating lazy susan inside is the best

Heat on high (or 100% regular heat) for about 4 minutes (if you don't have a rotating plate inside I would turn it over halfway thru).

Pull back and use a fork to test the tenderness, if not enough, push husks back on and add 1 minute at a time, testing until it is just right for you
Nutrition Facts
How to Cook Corn on Cob in Microwave
Amount Per Serving (1 oz)
Calories 0.5
% Daily Value*
Fat 0.01g0%
Polyunsaturated Fat 0.003g
Monounsaturated Fat 0.003g
Sodium 0.01mg0%
Potassium 1mg0%
Carbohydrates 0.1g0%
Protein 0.02g0%
Vitamin A 1IU0%
Vitamin C 0.03mg0%
Calcium 0.01mg0%
Iron 0.003mg0%
* Percent Daily Values are based on a 2000 calorie diet.