How to cook halloumi cheese in air fryer, pan fried, or baked in the oven to golden brown and delicious. Sliced or cooked hasselback style with our special glaze it is delicious served warm or cold.
Our favorite way which we will share below is halloumi in air fryer but I will cover other methods as well along the way. You may have had this as a gooey bite at a restaurant and now want more, but at home. There are 3 great recipe ideas depending on how you want to cook it. (affiliate links present)
If you're a food enthusiast, you've probably heard of halloumi cheese. It is certainly a delicacy that boasts a high melting point. Makes it an excellent choice for grilling, baking or frying in a pan or Foodi. Its unique texture and ability to hold its shape when heated make it an ideal ingredient for a variety of dishes.
Air Fryer Halloumi
Here we will explore different ways of cooking halloumi cheese. From traditional pan-frying to the trendy air-frying technique, grilling and more all while retaining that sought after crispy goodness.
For those looking to cut down on oil consumption, we love crispy air fryer halloumi. The most excellent option if you ask us. Start by cutting it into thick slices and preheat your Cosori, AirWave or Ninja Foodi to 360 degrees F. Lightly coat the halloumi slices with olive oil or the more flavorful sauce mixture below to crisp up evenly.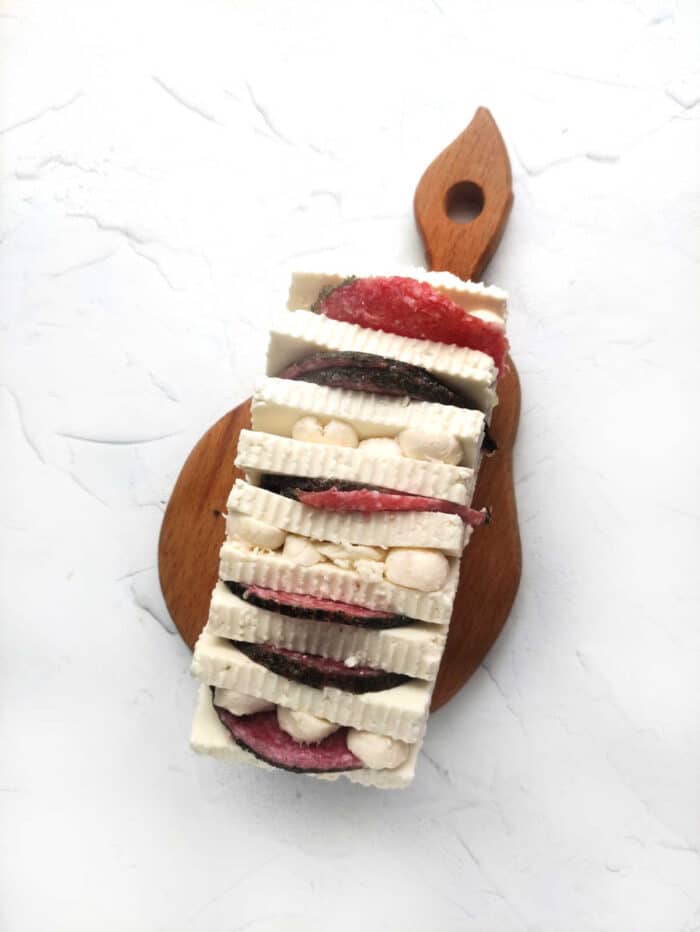 Place slices or sliced loaf (like we did here) in a single layer in the air fryer basket. Make sure not to overcrowd them. Cook the halloumi for about 8-10 minutes cooking time for our hasselback halloumi in the air fryer loaf style, or 6-8 for slices. Slices need to be flipped halfway through to ensure even browning.
The result? Crispy air-fried halloumi that is sure to delight your taste buds while maintaining a guilt-free cooking method. The only other time I put cheese into this device was to make air fryer baked brie, and that was amazing too.
Fried Halloumi
To begin with, whether you are deep or making pan fried halloumi, ensure it is cut into thick slices to preserve its structure breaking down during cooking. A medium heated pan is best for achieving that golden brown crust without overcooking the slices. Add a drizzle of extra virgin olive oil to the pan and let it heat up.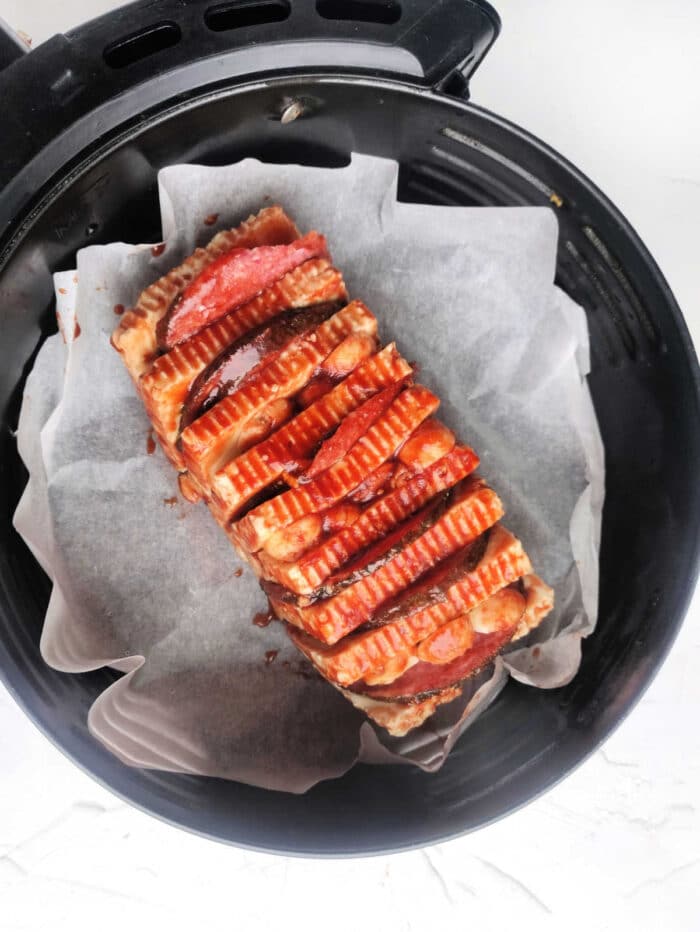 Once the pan is ready, carefully place the slices into it. Allow each to cook for approximately 2-3 minutes on each side. Keep an eye on them to prevent burning, and adjust the heat if needed. When they turn a gorgeous golden color, they are ready to be served.
Add a sprinkle of red pepper flakes for a delightful kick and a drizzle of lemon juice for a burst of freshness.
What is Halloumi Cheese
This is a traditional cheese that originated in Cyprus, a Mediterranean island nation. It is a unique, semi-hard cheese known for its distinctive characteristics and versatility in cooking. One of the key features that sets this type apart from other cheeses is its high melting point, making it ideal for grilling or frying without losing its shape and texture.
The cheese is typically made from a blend of sheep's, goat's, and sometimes cow's milk. The exact milk combination can vary depending on the region and the specific recipe used by different producers. The milk is heated and then coagulated using rennet, an enzyme that causes the milk to separate into curds and whey. The cheese curds are then gathered and formed into the traditional rectangular shape of halloumi cheese.
Halloumi Cheese Recipe
What makes this truly unique is its ability to retain its form even under direct heat, thanks to its special composition and processing method. This quality makes it a popular choice for grilling, frying, or even skewering on the barbecue, as it becomes crispy and golden on the outside while maintaining a slightly chewy, yet creamy texture on the inside.
It has a mild, slightly salty taste that complements various flavors and ingredients. It has become increasingly popular in many countries beyond Cyprus and the Mediterranean region, gaining popularity in international cuisines due to its versatility in cooking.
Grilled halloumi takes its delectable flavors to the next level. Preheat your grill to medium heat and lightly brush it with olive oil to prevent sticking. Place the halloumi slices on the grill and cook them for around 2-3 minutes per side or until they develop beautiful grill marks. The direct heat from the grill intensifies the savory taste, giving it a smoky edge.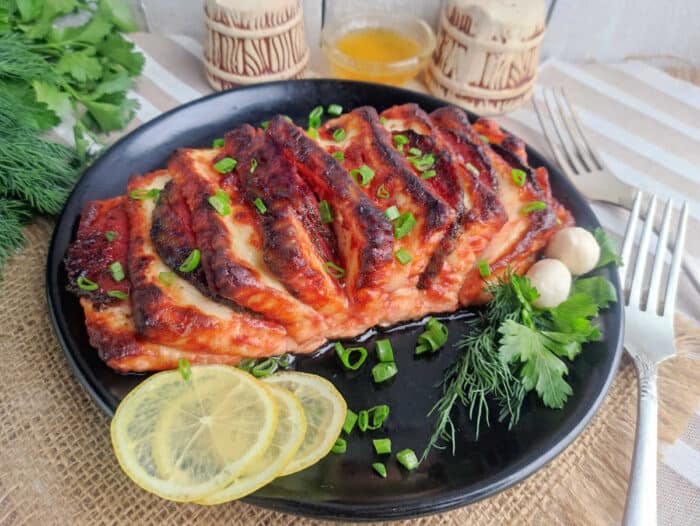 Baked Halloumi Cheese
If you're new to this type of cheese and wondering where you might be able to find it, try your local organic market. Trader Joe's Halloumi often times is an excellent option if you have one in town. Theirs is of high quality, perfect for various cooking methods.
Look for it in the cheese section of your local organic store or ask the manager if they can order you a block! Let's talk about how to bake in the oven on a sheet pan or in a cast iron skillet;
Preheat your oven to 390°F.
Slice into thick pieces. You can adjust the size of the slices according to your preference, but thicker slices tend to hold their shape better during baking.
Lightly grease a baking sheet or line it with parchment paper to prevent the pieces from sticking to the surface.
Place on the prepared baking sheet in a single layer, ensuring they are not touching each other. This will help them bake evenly and allow air circulation around each slice.

If you want to add some extra flavor, you can sprinkle a pinch of red pepper flakes, dried oregano, or black pepper
Put the baking sheet with the halloumi into the preheated oven and bake for about 10-12 minutes. Keep a close eye on the cheese, as it can go from perfectly golden to overcooked quickly. The halloumi should become slightly puffy and develop a beautiful golden-brown color.
How to Serve Halloumi Cheese
In addition to being used as a main ingredient in savory dishes, halloumi can also be enjoyed on its own, typically served in thin slices as part of a charcuterie board, often accompanied by olives, tomatoes, and cucumbers. It is also commonly used in salads, sandwiches, wraps, and as a vegetarian alternative to meat in many recipes.
Whether pan fried, grilled, or eaten fresh, this unique loaf offers a delightful experience for cheese enthusiasts and food lovers around the world. It really does have a truly unique taste, texture, and ability to hold up under heat too which makes it great for cooking in a variety of ways.
Traditional found in Mediterranean cuisines it has made it's way to the U.S. and thank goodness it has because we LOVE it!! Jump to recipe and try it yourself.
Want to see a few of my favorite things that I am totally obsessed with?? Take a peek and see how many you might already have…twinsies!
Looking for more easy family recipes and tips? LIKE The Typical Mom Facebook page?
Then sign up for my free newsletter, and follow me on Pinterest! 😉
***** If you LOVED this recipe give it 5 Stars below and let everyone know what you thought about it. 😉
How to Cook Halloumi Cheese
Instructions
Cut the halloumi cheese into 1/2 ″wide pieces, not all the way through. If you want to stuff it slide a piece of salami and mozzarella in between the slices gently so it doesn't fall apart. Alternatively you could slice all the way thru and lay these on top inside the basket.

Mix marinara sauce with honey and soy sauce. Stir in the spices. Brush the sauce on all sides of the stuffed halloumi, or on each slice if sliced.

Line the bottom of the fryer with parchment paper. Set the cheese block filled or individual slices not overlapping on the parchment. Air fry at 360 degrees F for 10 minutes (for a block) 6-8 min (for slices) or until top is golden brown to your liking.
Nutrition Facts
How to Cook Halloumi Cheese
Amount Per Serving (1 oz)
Calories 315
Calories from Fat 207
% Daily Value*
Fat 23g35%
Cholesterol 32mg11%
Sodium 1148mg50%
Potassium 69mg2%
Carbohydrates 4g1%
Protein 22g44%
Vitamin A 382IU8%
Vitamin C 0.3mg0%
Calcium 748mg75%
Iron 0.4mg2%
* Percent Daily Values are based on a 2000 calorie diet.